VALKYRIA "Goddess of Fire & Thunder" has 29225 friends.
About me: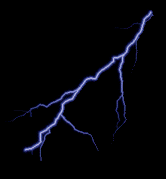 INTERNATIONAL-INTENSE-SWEET'N SOWER-VALKYRIA/DRAGON/WOLF/CREATURE-ROLLING STONE-PASSION-ROMANTIC-IMPULSIVE-DETERMINED-INDEPENDENT-DEEP/OPEN/MINDED-CANDLES-LOVER-ENERGY-EXTREME & BALANCE-WICKED-ORGANIZED-13-YING/YANG-69-MACABRE-ELEGANCE-999-MAGIC-MYSTERY-ESOTERICA-GLADIATOR-WARRIOR-HEAVY/METAL-GOTHIC-INDUSTRIAL-PUNK-TALENTED-COURAGEOUS-OUTRAGEOUS & OBSCENE ..& moore.. haha!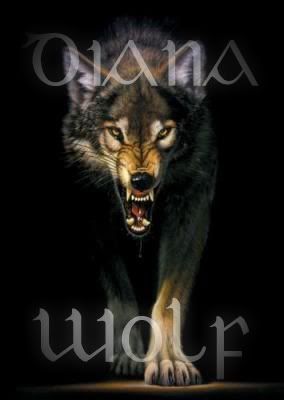 ..my caves;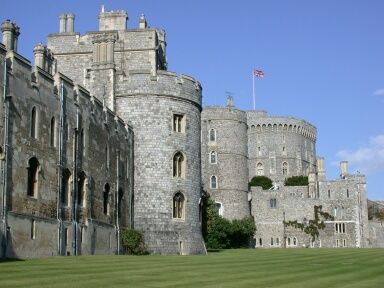 Windsor Castle (U.K.)
Coliseum (Rome/Italy)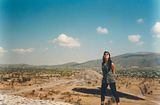 ..me on-top of the "Sun" Piramid.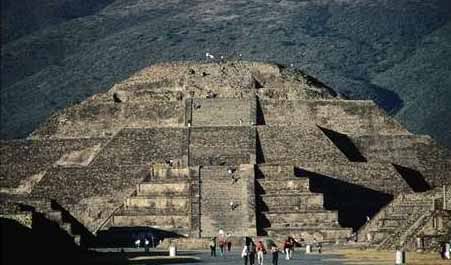 Piramides de "Tehotihuacan" (Mex.)

Hell-oh!!
My name is
Diana Wolf
..a Latin & Saxon Blooded "Creature" ..a Dragon with a Wolf's Soul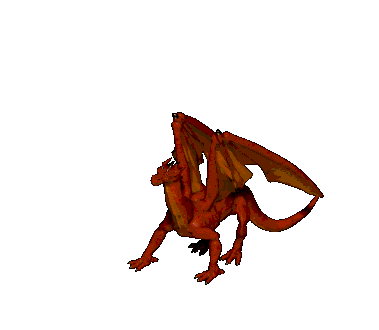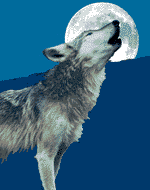 I love to live life to the fullest as I gain experience discovering this world. I'm a very passionate woman.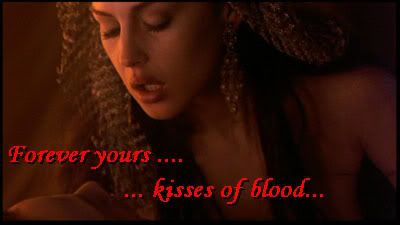 I believe working on keeping a balance within no matter what experiences you go through in life, you got to be true to yourself. No matter what you wear or style you may have in the moment. Thinking further than what you think you know. ..you learn 'till the day we die!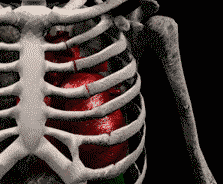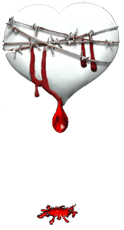 I'm a singer, songwriter, musician.. yeah.. a girl who can also play an instrument that is not only made of Flesh!
Music, yes.. I breathe through my ears!
I'm from England, born in Mexico City (2 Nationalities) from a British/Italian-Mom & my Dad is from Spain/German Blooded.
My home-base is in the Mexican Caribbean. Mexico is like living in a "Quentin Tarantinos movie" and you're the damn character! :)
And for those who don't know, there's people from all around the World & US living in this country too.
I also have some "Greek" blood-background from my Great-grand-mother. My grand-mom was born in Egypt and then she moved to Italy.
My main languages are English and Spanish & I understand a little of others.
I've lived in different places & I love traveling, visiting my family in Europe/ UK, crossing France to Italy/ Milan, Rome, South to Catania/Sicily (I love visiting the Volcano "Etna")
I love Spain! I also lived in the Philippines/Sebu when I was 3 years old (barely remember)
In Mexico City, Puerto Vallarta, Puerto Escondido, Cuernavaca, Acapulco, Cozumel, Cancun, Playa Del Carmen, (I love the Caribbean-my home base forever)
I also lived in FLorida 5 years, like Los Angeles, San Francisco/CA, etc, etc..
I'd say I'm from the planet in general.. (or maybe I'm from Another) :P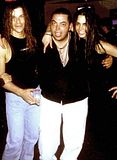 ...in Cancun-MEX w/ my bass player/left (old band) & friend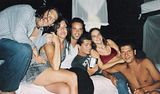 ...in Puerto Escondido-Oaxaca (International Surfing Beaches) MEX w/ some Surfing/friends from Israel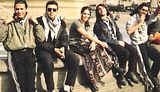 ...in the UK/LONDON w/ some Greek football team.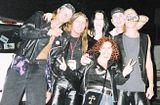 ...in US/L.A.-CA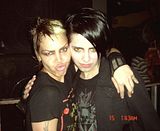 ..after a gig of mine in Mexico City w/ a friend "Sade"
I Love to travel, there's so much out there and here..... I've tasted the fear of Death through my veins.. you live one life, so live it!
...be part of the movie, don't just watch it!!

Been in the Music business singing/playing with several bands around since the age of 16. Remembering one of my 1rst Cover bands named "DILLINGER"
I'm always opened on working with new projects, meeting new people in the business. So, if U have any interesting ideas let me know.
Here's a link to some old "Sony Music" songs and "Demos" I've worked on, as an "example" ..but there's more songs in my closet..
www.myspace.com/6milliondollarweirdo
www.myspace.com/dianawolfmusic
(profile made from a fan "fLaka")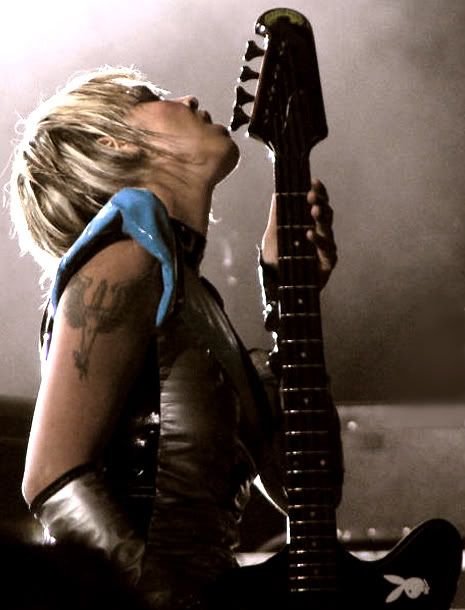 I go to a latin T.V. show (Telemundo) in MIAMI once in a while that I'm invited too..
For more info on "Demos & News" go to:
www.myspace.com/dianawolfdragon
I also played with some bands in Florida. This is just an old "demo" of one of my past "Metal-Goth" bands:
www.myspace.com/bonesilver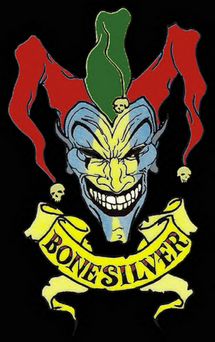 Also in Florida, I was playing the Bass aside from "BoneSilver" with a Punk-band. A tribute to "The Ramones" ..the band was called "The Remains" that Oz/guitar player from "BoneSilver" arranged.
Also can check-out for
BoneSilver
Jewelry/shop and more at;
www.bonesilver.com

I was also playing keyboards with an "Industrial" band in Florida called "KyDeity" ..can check them out at:
www.myspace.com/KyDeity
www.KyDeity.vze.com
www.KyDeity.com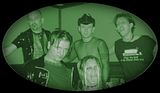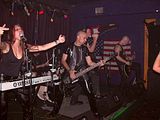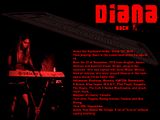 FL/USA
Also "DESTROYTION" ..this is a fun, cover band I was singing and playing with. Destroying the songs with a great twist of Distortion ..converting this in to what it is "Destroytion"
www.myspace.com/destroytion
I'm wild and mild. I hate fighting.. but don't get me mad.
Once a Singer/Solo-artist signed with SONY MUSIC.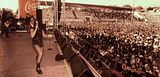 ..one of the massive concerts..
-->
News/Press
As a new artist in "Sony Music" by this time, the kind of bands, music I was alternating with where not my "cup of tea" in general, so.. I decided to terminate the contract with "Sony Music" as we had no Chemistry with the mutual ideas.
I'll work with a project for a while but I'll only stay unless I "feel" what I do.
It was a good experience. 5 Record Contract, Toured around, Music-Videos, Radio, blah, blah, etc..
After this, I've been invited to play the bass with other bands too.
I'll always follow my Heart. And I do like different kinds of Music.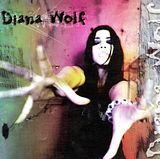 CD Cover ..me, when "solo artist" w/ Sony Music.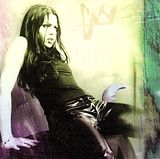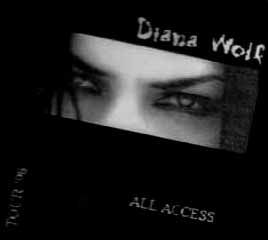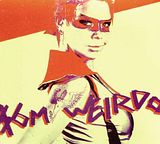 I played the bass'n 2nd Vocals in a band for a while when I was in Mexico City. $6MW: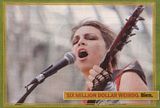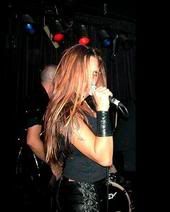 ..Singing with other bands..
..w/ my "Thunder Bird" Bass..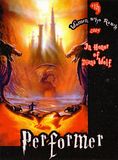 ..special thanx to San Francisco California!!
I love roll-acting in drama theater too. Can't stand the people who love living with Real drama in their lives though.
Singing/acting in the
"Jesus Christ Super Star"
Rock-Opera show, when I lived in Florida/US, I was
Jesus/SHesus!
-->
News/Press
..one of the covers/news papers..
Nominated as one of the Covers of the Year.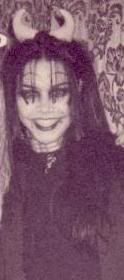 ..a "Halloween" pic of me taken in London..
Always looking forward to keep on Riding-the-Lightning in life no matter what, where, or how, and meeting cool-unique people on the way.
I Looooooooooove animals, all kinds! ..just don't hurt them! or-else!!!!!!!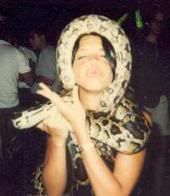 On the other hand.. I don't get offended by whoever criticises what i do, who I am, or judges me. ..don't know me ..don't know you ..don't care, wasted time.
I ignore the negative, superficial people that also like to judge others. ..they bore the HELL out of me.
This Wolf thinks the world has enough of follower sheep already ..we need more independent "eagles" ...
And yes.. I'm not the kind of many that will show you my typical tits and @ss just to call your attention.. it's HOTTER for me when it's More than just a body.. I search for a Heart that's connected with the Mind & Soul which makes it Powerful!
Keep the humor, but leave that fake pretending-ego aside, it just looks retarded! Think with logic, try to do something productive for yourself or for others..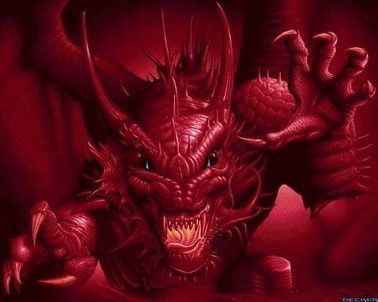 ..there's a difference between a "Bad-@ss" & an "@ss-hole" ..well.. being "Stupid" is Worse!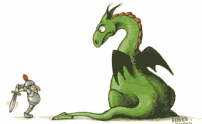 I get along with all kinds of people, as long as their not like the mentioned above.. hypocrite/cowards, superficial-negative minds that can't grow in life.. makes me sleep.
In a few words, I like to hang-out with people who have some Class, can Communicate, Creative, have some damn "Humor", original, talented, smart is-good, have your style, just be YOU! ..to be or not to be.
A "JOKER" has no HUMOR for stupidity!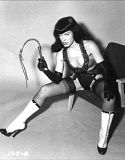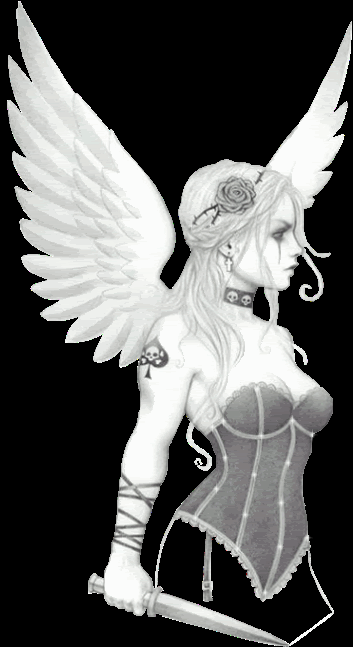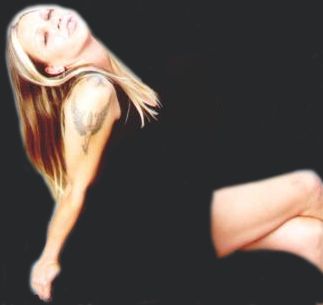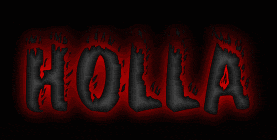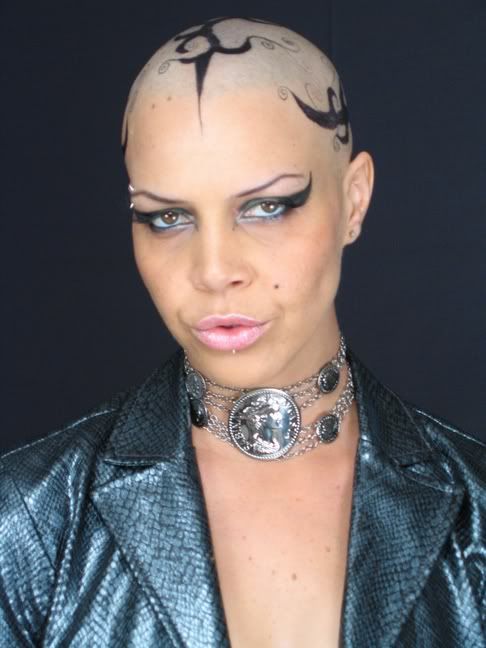 ...I'm an element of FIRE + FIRE, a SAGITTARIUS & a DRAGON-SNAKE in the chinesse-star-sign.
--> ...a Cold'n Hot-Blooded-Reptile baby, ...so watch out! ...D. :)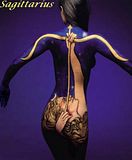 ..yep, I'm a Sag.. (thanx for the pic. Biachino!)
..also my babe "Morrison" was a Sag.. XO
Who I'd like to meet: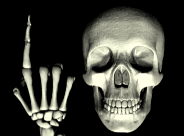 Whoever I ment to meet.. "Friends" I have a few.. you can count them in one hand they say.. but I'm sure there's more souls out there to fill 'em up.
I like people with a sense of humor, a piece of mind, an opened mind, crazy mind, original mind, ..just ..have a mind.
Beasts, Knights, Vikings, Gods, Dracula, Vampires, Demons/Devils with a f**king Heart, Mortals, Inmortals, Angels, Monsters, Elfs-(Aluxes), Reptilians, extraterrestial worlds, Purple Souls... etc...
-->(No stupidity.. God created all & created Satan to take care of the stupid!)
"stupid" refering to the "kind" I mentioned above (where the Red-Dragon is)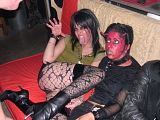 ..US/SF-CA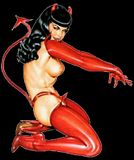 ...also like meeting Bands/Musicians, "Zackk Wylde" (my fav. Guitar Player), Song-Writers, DJ's, Producers, Directors, Actors, etc.. ..people in the business-entertainment field.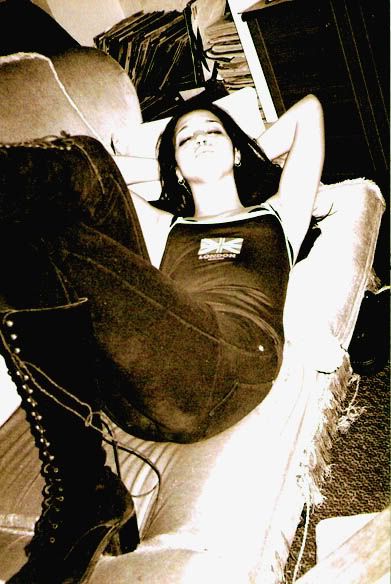 After-Hours in a house of.. "don't remember" ..party in London.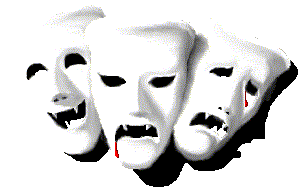 ----------------------------------------------->>QUIZZES: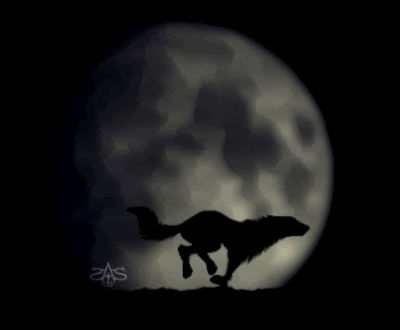 Your soul is as old as the hills. Your have lived more lives than you probably should have... maybe because of an important lesson not yet learned. Your soul has seen the human race rise and fall so many times because of a misjudgement and the unknown. Your goal in life is to learn as much as you possibly can about anything and everything, keeping your closest friends and family at arms length. This is probably one of your last lives. You may have one more before you souls journey is complete.
Take this
quiz
!
You Are a Hunter Soul
You are driven and ambitious - totally self motiviated to succeed Actively working to acheive what you want, you are skillful in many areas. You are a natural predator with strong instincts ... and more than a little demanding. You are creative, energetic, and an extremely powerful force. An outdoors person, you like animals and relate to them better than people. You tend to have an explosive personality, but also a good sense of humor. People sometimes see you as arrogant or a know it all. You tend to be a bit of a loner, though you hate to be alone. Souls you are most compatible with: Seeker Soul and Peacemaker Soul
You Are 100% Psychic
You are so very psychic. But you already predicted that, didn't you? You have "the gift" - and you use it daily to connect with others. You're very tapped into the world around you... Just make sure to use your powers for good!
You Have A Type A- Personality
You are one of the most balanced people around Motivated and focused, you are good at getting what you want You rule at success, but success doesn't rule you. When it's playtime, you really know how to kick back Whether it's hanging out with friends or doing something you love! You live life to the fullest - encorporating the best of both worlds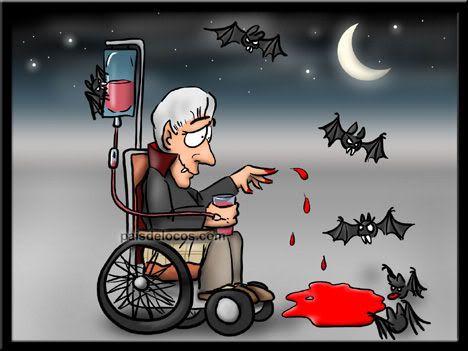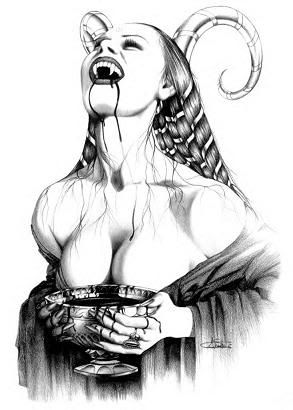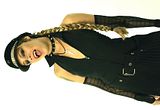 ..want a bite?
..this is how my baby would look like. ..cute!
Vampiric Evil
What type of evil being are you inside?
brought to you by Quizilla
Take the quiz:
Which of the four crownprinces of Hell are you?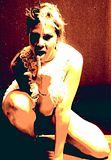 ..
Belial
Belial is the mercyless darkness incarnate, considered to be Devil's son on Earth, or even a variation of the Dark Lord. He is wicked, strong and represents sin - or rather the carnal side of Man, but also a lot of common sense. Associated with icy cold, lightless and unforgiving North. Also possibly with waste, ruins and death. Mostly, he is lawless, godless and without master although master over several - , dependant only on himself, preserving himself and surviving.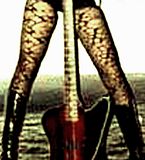 What Type of Killer Are You? [cool pictures]
brought to you by Quizilla

You kill for
revenge...
That is because you have lost something or
someone you held very dear. Now you can't seem
to get over the loss that marked your soul, and
the only solution is to go after the one person
who brought all this pain to you. Chances are
you are angry inside and you bottle everything
up and don't talk to anyone about it. People
may want to help, but you think that they can
never understand your pain and only get
frustrated because of this. But it is important
to see all that you have left and be thankful
of that even if you have lost something great.
It may not be true that Times heals all wounds,
but with time and talking about your feelings,
maybe the hurt will ease.

Main weapon: Yourself
Quote: "You can close your eyes to
reality but not to memories" -Stainslaw J.
Lec
Facial expression: Gritted teeth and
teary eyes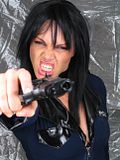 Gene Simmons.... You are a playboy/playgirl obviously. You have
good business skills and are dramatic. Many
people for the opposite sex go for you but you
can never tell if it is because you have good
sex appeal or for your money.
Which rockstar are you like?
brought to you by Quizilla
Take the quiz:
What dragon species are you?
Ultimate Elemental Dragon
You are the true ultimate dragon. You have the powers of all the other elemental dragons. You control everything and have interests in every part. for example the fire dragon loves things to do with fire whereas you like fire, water, lightning etc etc. You are considered dragon royalty.
Quizzes by myYearbook.com -- the World's Biggest Yearbook!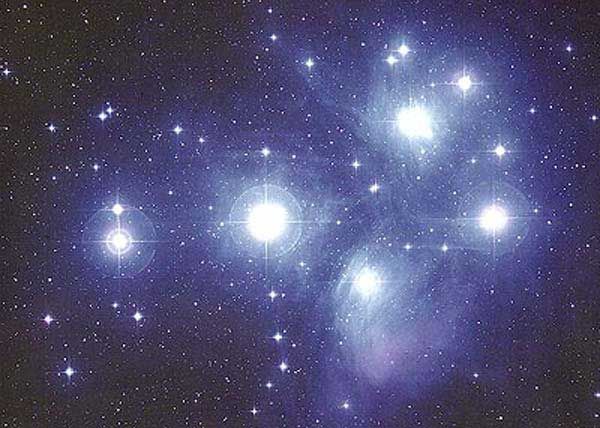 You are the Star card. The Star is the light of
hope. Shining in the night, sending light into
darkness, the stars provide direction to
sailors and are a field on which to dream.
Humanity used to look up at the sky and desire
to be there, to find out what it all meant, and
now we have been a distance into space and have
elementary ideas of the makeup of all the
different stars. This kind of achievement adds
further fuel to our hopes. The eternal,
slow-moving stars that will be long shining
past the end of our own existence provide hope
of immortality, and the vast space they suggest
and the very mystery they hold provide us with
excitement and knowledge yet to be discovered.
Which Tarot Card Are You?
brought to you by Quizilla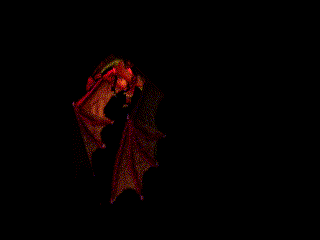 Diana Wolf Tribute (..thanx to Peter who made this! XO)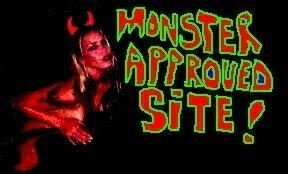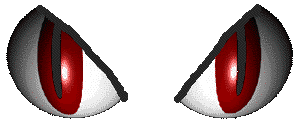 I like to Random my "Top-friends" once in a while, there's not a particular order..
Thanx for all your support and sorry if I don't reply straight away! :( ..sometimes I'm very busy! ..but your messages and comments are always Welcome!! XO

Play

Play Next

Add to queue
General

E-mail contact: dianawolfdragon@hotmail.com

Or: valkyria@myspace.com

  

..Ok, here we go! ..get ready:

MY HEAVY-ADDICTION; MUSIC, MUSIC, MUSIC & LOUD Music! (Music is an International Language)

BLACK, Dark-Camouflage, ..did I mention Music?!! :) .."Purple Souls", Night, Rain, Full-Moon, Stars, Jungle, Fire, Thunder, xxxercise, ..humor, soul-kissing, Castles, Mansions, Leather Masks, Chains, Hand-Cuffs, Raves, Dragons, Iron-Cross, Crosses, Gargoyles, HR-Giger, 13, Halloween, Racing/Fast Cars/Sport-Cars; Mustangs, Ferrari, Viper, Cobras, etc..

Watch out! this is my dads Monster-King "Cobra" creation.. his fastest machine Ever!!

(350 Nascar engine/450 horse power/6 gear box.. ..800kg weight/4 wheel disc brakes) :)

..

Bikes/Cross, Roller-Coasters, Tattoos!!, Piercings, Spiked hair, long hair, bald, just have a style..

Yachts, Swimming with Dolphins! ..Adrenalin-Sports like & done: SKY-DIVING!!--> Jumped already "10.000 ft" Mother F*ckers!! :)

Bungee-jump, Water-Skiing, Sea Diving, Riding Horses, Martial-arts like; Kick Boxing, Tae Kwon Do, etc..

Cooking and I love Spicy foods, Coffee, Tequila!

Acting-theater, mystery, suspense, etc...

Joker pics/toys, Violins, Sax, Arts, extreme-arts, Arrows, Swords, Daggas, whips..

BUT "Gore" does NOT turn me on.. so don't send me that kinda sh*t!

--> I like the "Tim Burtons" kinda humor..

I Love to TRAVEL ..there's so much out there!

...people who are in "touch" with their heart & soul...

A Balance between being intense and relax! is my thing.

I don't mind going to a Male-Strippers show, girls are fun too, Dancing-extreme-Dancing, Yenbes-Primitive-African bongos, After-hours-Parties, $$, great Cities, Natures Rivers, Mountains, Oceans, the

Caribbean

!

--> I Loooove Animals in general, & I luv lil Biting-Teasing-Destroyer-Parrots! and Reptiles like my lil baby Crocodile and also an Iguana! ..they're like little prehistoric-tiny-Dragons! :)

..damn it! ..just LIVE/GROW!

.. .. .. .. ..

..hungry eyes..

Music

--->ATTACKING ALL YOUR SENSES:

Rammstein:

LISA GERRARD

Nick Cave

Omar Faruk

ZONA GANJAH

Tiamat

Depeche Mode

Modjo

Polkadot Cadaver

Combichrist

Heroin Diaries

Disturbed

Muse

Sean Lennon

Skinny Puppy

Deadsy

Covenant

Skindred

ROB ZOMBIE

WHITE ZOMBIE

MINISTRY

PIG

Sisters of Mercy

She Wants Revenge

T REX

NINA HAGEN

SKUNK ANANSIE

Dr Zilch:

..great music Nuno, and your voice melts me! XO

Tourettes

:

..you rock Michele!

Him

Apoptygma Berzerk

VNV Nation

Scissor Sisters

Corrosion of Conformity

Robert Plant

Bauhaus

KMFDM

The Prodigy

Korn

Motorhead

M. Manson

Static X

Pantera..

NIN

Deftones

Electra-Kill

DUST

Poisonblack

Marazene

Deathstars

Mindless Self Indulgence

Karkis

Morgul

Prong

Primus

SYL

Alice Cooper:

..I remember when I saw them in Florida.. a Great Show! ..I was backstage and met the great Musicians that played w/ "Alice" like "Eric Singer" (KISS) ..etc! ..great people!

W.A.S.P. ..always will remember jaming/singing on the weekends in Florida, with Awesome drumer "Stetson" (playing with WASP) Miss ya guys!

Mr.Bungle

Ramones

ZackWild

The Cult

Queensryche

Anthrax ..one of my-

-favorites "Inside the Belly of-

-the Beast" LIVE (Persistance- -of Time)

Metallica

etc.. etc..

Castles in Spain

..luved-

-Recording'n Jamin' w/ this-

-band! (thanx to one of my-

-few special best friends.. my-

-Purple-Soul girl

Biachi

)

SF/CA/USA

AntiProduct

:

..luved jaming and All w/ ya guys! ..looking forward to jam/play w/ U guys again. ..you rock!

  

L.A./CA/USA

House of Pain

Concrete Blonde

Tito and Tarantula

Iggy Pop

Radio Head

Therion

MASSIVE ATACK

Enya

Sade

Enigma

Morphine

Litfiba

Mano Negra

Alaska

Tom Waits:

Leonard Cohen

The Residents

Pink Floyd

Dead Can Dance

Jorge Reyes

Bee Gees

...between others/entre-

-otros...

-->My Brother:

HUGO WOLF www.myspace.com/hugowolf

Rock Opera Singer:

-Reggae Music..

-70s Music..

Led Zepellin

The Doors

Deep Purple

Jimmy Hendrix

Jethro Tull

Rolling Stones:

-Boleros,

Gypsy Kings

,

etc..

-Techno

, Electro Music..

DJ Tiesto

DJ Sasha (many of these DJ's come and play in the Caribbean)

-Lounge..

Buddha Bar

-Classic Music,

Soundtrack symphonies..
Tchaicokvsky
Wagner/Flight of the Valkyries

,

Parcifal

, etc..

Carmina Burana

Maurice Ravel

Il Volo

Themes for Dreams:

www.myspace.com/classicalthemes1

..also respects to my aunt "Maria Montes" who sang opera with "Placido Domingo"

KARAJAN, one of the best directors:

..etc..etc..etc..

Movies

-Tim Burton films..

-David Lynch films..

-Alejandro Jodorowsky films..

Corpse Bride:

AUGUST RUSH

.45

Queen of the Damned

House of the Flying Daggers!!!!

The Illusionist

Fight Club

Young Guns

Lost Boys

King Kong

Somewhere in Time

Romeo & Juliet (Original)

City of Angels

5th Element

V Vendetta

Amadeus

Schindler's List

House of 1000 corpses

..etc..etc..etc..

Kill Bill:

Dracula:

Check this link out of my baby foamy Squirrel!:

http://www.illwillpress.com http://www.illwillpress.com/fash22.html

Television

Books

Heroes

Nature and it's Universe.. & my SON "WOLFGANG"

Syd Barret

QUOTES:

-The eyes are the windows to your soul..

-Instead of living like a Rat in a Castle, I rather be king of the Jungle..

-Some people need to see something to believe in it, Visionaries believe in something, because they see it..

-Some people never go crazy, what truly horrible lives they must lead.. (Charles Bukowski)
Status:

Single

Here for:

Networking, Friends

Hometown:

Pleyades

Body type:

5' 7" / Athletic

Ethnicity:

White / Caucasian

Religion:

Other

Zodiac Sign:

Sagittarius

Children:

Someday

Occupation:

Singer, Songwriter, Musician, Actress
SONY MUSIC (X company)

DF, MX

Record Label (Major)

'97/'98/'99

BONESILVER

Germany/Bavaria DE

Jewelry (www.bonesilver.com)

AKASHA MODELS

MX

Model Agency (www.akashamodels.com)

DIANA WOLF

International &, MX

Singer, Songwritter, Bass Player & Keyboards