Play

Play Next

Add to queue
Play

Play Next

Add to queue

7,052 plays

Play

Play Next

Add to queue

3,454 plays

Play

Play Next

Add to queue

2,631 plays
Find me on FACEBOOK .............
Genre: Country / Rock / Southern Rock

Location Sydney/Adelaide/Sea of Tranquility, Au

Profile Views: 37871

Last Login: 2/15/2013

Member Since 9/8/2007

Website http://www.msplinks.com/MDFodHRwOi8vd3d3LmZhY2Vib29rLmNvbS9wYWdlcy9WYW5jZS1CdWNraW5naGFtLzY0MjU3NTI2MjM2

Record Label Buster RecordSTuff.

Type of Label Indie

Bio

Always treading a fine-line in search of a good laugh, Vance Buckingham is rumoured to be the frontman and founding member of popular late 80's South Australian cult act Buster Hymanz & The Penetrators. While members sought anonymity through use of nom de plumes such as Buster Hymanz, Phil McCock, Seymour Bush, Ophelia Bush and Phil McCavity, it is known that many of these musicians are still musically active all across the world. Vance Buckingham is accredited for many of the songs from their setlist, including the very popular "Life Sucks – Coz My Girlfriend Doesn't", "Undercover Wench", "The Clap" and the unforgettable "How Can I Love You (If You Won't Lay Down)". It is understood that the band broke up after an unfortunate (and amazing) series of injuries over the space of 8 weeks in early 1991. Buckingham (Hymanz) broke his hand in a mechanical accident (resulting in microsurgery and partial amputation), McCock suffered a brain haemorrhage after a hotel carpark scuffle, Seymour Bush was catapulted through the window of a Volkswagen Beetle suffering major cuts to his face, Ophelia Bush was electrocuted and McCavity fell from a 3rd story balcony resulting in a shattered leg. Apart from some brief cameo and solo appearances in the late 90's, Buckingham all but disappeared from the music scene. Other bands that Buckingham has been associated with include : Fonzie (piano), The Knights (of the Round Turntable) (keyboards), Dr. Emmett Brown and The Flux Capacitor (1.21 Jigawatts of Bass Guitar), The Mirrors (guitar and vocal). Vance Buckingham was also known for appearing on the theatrical stage and in television commercials. Most notably the series of Jeans United commercials. In 2007, a new song "Grow Some Balls" appeared on the Vance Buckingham MySpace page, with all instruments said to have been played by Buckingham himself. FUSE Magazine Jan 2010

Members

I only have one .......... and it's not really all that impressive ! Although ........ I have had many Grrrr8 musicians assist me over the many, many years ..............

Influences

Jack (Daniels), Jim (Beam) & Johnny (Walker).

Sounds Like

Some "rusty" bloke working on getting his "groove" back !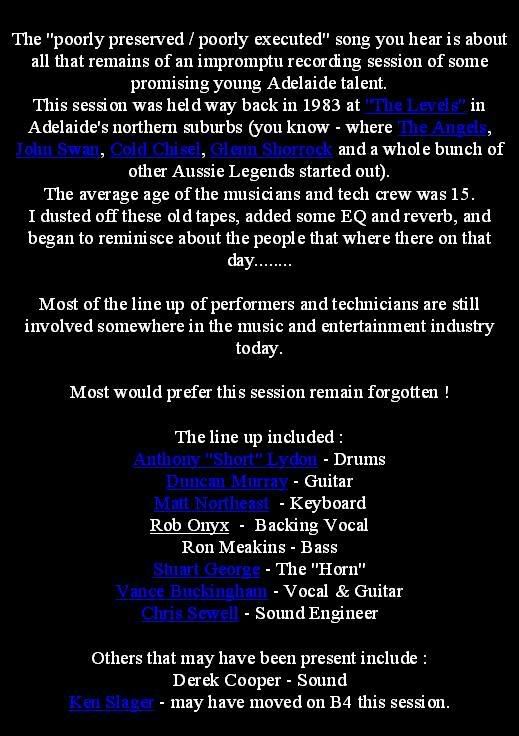 Vance Buckingham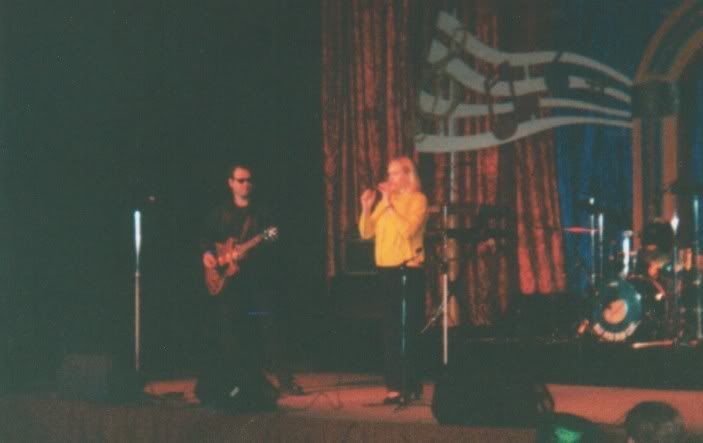 Member Since:
September 08, 2007
Sounds Like:
Some "rusty" bloke working on getting his "groove" back !
Record Label:
Buster RecordSTuff.
Vance Buckingham has 9896 friends.