Play

Play Next

Add to queue
Play

Play Next

Add to queue

169 plays

Play

Play Next

Add to queue

79 plays

Play

Play Next

Add to queue

240 plays

Play

Play Next

Add to queue

81 plays
Genre: Acoustic / Other / Visual

Location KANSAS CITY living in ATL!!!, Please select your region, Un

Profile Views: 110427

Last Login: 3/7/2013

Member Since 5/18/2006

Website http://www.msplinks.com/MDFodHRwOi8vd3d3LmZhY2Vib29rLmNvbS92ZW5vbW11c3RzcGl0

Record Label FE. ENTERTAINMENT 101

Type of Label Unsigned

Bio

.. Who says all poets rock backpacks, dreads or sell incense? Who says that being a poet meant being a REVOLUTIONIST, POLITICAL, CONSCIOUS or EROTIC? Who says you have to be HBO to blow? Since when did women NOT have a voice? I beg to differ 360 degrees..... NO. I don't rock a backpack...never have. I don't rock dreads...never will, and I dont sell incense...never have, never will..... Oh...and "NO" I don't have the three little letters in front of my name to signify my works. I don't need them to share the same stage with them...do I?.... THEREFORE, I have everything to say! I am to poetry what TuPac was to HIP HOP. I broke all the barriers. NO CHANTING! NO ACOUSTICS! Not the tree hugging type poetry that one may be accustomed to..... I am PROPHETIC POETRY, TESTIMONIAL POETRY, TRUE LIFE POETRY! I am a STREET POET! I represent the streets; meaning I am for ALL THE PEOPLE..... I am the PEOPLES POET. I shut NO ONE out....... .. . "......" .. I am the EXCLUSIVE 2011 Face of Tribeca Fashions, Former 1st LADY & Poet of HOOD HARD; courtesy of DJ Aaries, 1st Author of Jakaylah Paperback Publishing; courtesy of Kirsten Geter, 1st Lady of FEMALE EMPOWERMENT, a mentor for Creekside High Mentoring Program; courtesy of Maria Pinkston, a member of the Georgia Poets Society, a Motivational Speaker for Single Parents with Special Needs Children; courtesy of Antonio Canady Jr., OFFICIAL MELECHI Model; courtesy of Malachi aka Hustlin Boy/Dungeon Family, Spokemodel for PLUM JEAN; courtesy of Mykel Coleman, OFFICIAL 2009 HOTLANTA HAIR DIRECTORY VOL.6 MODEL; courtesy of Angela Smith, Underground Urban/Video & Event Model; courtesy of Frank Taylord from Taylord Entertainment, OFFICIAL Host for Bachelorette Expo; courtesy of Bev & TOYL Events, Former OFFICIAL HOST of EXPOSURE 101; courtesy of J Stephenson/Cracked Lens Ent, Event Coordinator, Promoter, Lyricist, Aspiring Ghost Writer, Craftsmaker, Advertising, Marketing & Promotions & Panelist.... .... FOR BOOKING: FE.ENTERTAINMENT101@GMAIL.COM .. .. .. .. .. .. .... JOIN THE MAILING LIST TO KEEP UP WITH MY WHEREABOUTS!!! .. .. ...... .. .. .... .. .. .. .. .. .. .. .. .... .. .. .......... .. .. .... .. .. .. .. .. .. .. .. .. .......... ...... .......... .... RATE MY PHOTO A "10" SHAWTY IS A TEN TEN TEN ......Rate My Photo....................

Members

IT'S JUST ME "VENOM" (Smokenword Artist) .. .. .. .. .. .. .. .. .. ...... 9/10/2008 RADIO INTERVIEW w/MO www.blogtalkradio.com/lushradioonline LIVE RADIO INTERVIEW w/ JSTYLZ FOXIE 105- COLUMBUS GA PART ONE .... .. .. .. .. .. .. .. .. ........Comment.. | ..Copy This.... PART TWO (THIS SEGMENT WAS INTERUPTED BY THE STORM) .... .. .. .. .. .. .. .. .. ........Comment.. | ..Copy This.... PART THREE .... .. .. .. .. .. .. .. .. ........Comment.. | ..Copy This.... .. .. CHECK OUT ALL THE VIDEO'S I'VE BEEN IN... .. LIL JAB "NEVA GON STOP" (DOA-DEATH OF AARIES) VENOM the ONLY FEMALE IN THE VIDEO .. .. .. .. .. .. .. .. .. PW ESQUIRE "BOTTLES" (VENOM- SEMI LEADING ROLE) .. .. .. .. .. .. .. .. .. MALACHI "THANG THANG"(VENOM-SEVERAL CAMEO'S) .. .. .. .. .. .. .. .. .. MALACHI "LOVIN BACK" 1:53-1:55 VENOM .. .. .. .. .. .. .. .. .. STACK MONEY BOYZ "DA LONG WAY" 0:37-0:38-VENOM .. .. .. .. .. .. .. .. .. BOC "BIG STACKS RUBBERBANDS" 3:47-3:50-VENOM .. .. .. .. .. .. .. .. .. HARDY BOYZ feat. LOONEY TUNEZ "BOW" 0:13-0:15, 0:21-0:23 VENOM .. .. .. .. .. .. .. .. .. EGA "MICHEAL JORDAN" 1:28-1:31 VENOM .. .. .. .. .. .. .. .. .. LIL JAB "MOSH PIT" 0:02-0:04 VENOM .. .. .. .. .. .. .. .. .. KADALACK BOYZ "NEVA SLIPPEN" 1:24-1:27, 3:11 VENOM .. .. .. .. .. .. .. .. .. SLIM OG "ON FYA" 2:51-2:54 VENOM .. .. .. .. .. .. .. ..

Influences

FEMALE INFLUENCES: My mother, Gwendolyn Brooks, Aaliyah, Foxy Brown, Jean Grae. .. MALE INFLUENCES: TuPac, Malachi, Gino Morrow, Rev. Gary Jones, Nas & Papoose. .. OTHER INFLUENCES: My children Bre, Jay & TC, Nae Nae (R.I.P) & Bryce (grandson) .. .. MY BIGGEST INFLUENCE .. FOOTAGE OF MY SON ANTONIO DOING HIS AT&T COMMERCIAL. CHECK FOR THE BOOK "ANTONIO & AUTISM ALIVE" COMING SOON!!! REMEMBER: THE CURE FOR AUTISM IS LOVE! .. .. .. .. .. .. .. .. .. Yo...this is MY FAVORITE POET, WRITER, LYRICIST, PROPHET, RAPPER, ICON...YOU NAME IT. TUPAC has done what NO OTHER MAN will EVER DO. ONE OF THE GREATEST MUSICAL INFLUENCES TO ME. .. .. .. .. .. .. .. "......"

Sounds Like

Me, myself and I
Bio:
Who says all poets rock backpacks, dreads or sell incense? Who says that being a poet meant being a REVOLUTIONIST, POLITICAL, CONSCIOUS or EROTIC? Who says you have to be HBO to blow? Since when did women NOT have a voice? I beg to differ 360 degrees.
NO. I don't rock a backpack...never have. I don't rock dreads...never will, and I dont sell incense...never have, never will.
Oh...and "NO" I don't have the three little letters in front of my name to signify my works. I don't need them to share the same stage with them...do I?
THEREFORE, I have everything to say! I am to poetry what TuPac was to HIP HOP. I broke all the barriers. NO CHANTING! NO ACOUSTICS! Not the tree hugging type poetry that one may be accustomed to.
I am PROPHETIC POETRY, TESTIMONIAL POETRY, TRUE LIFE POETRY! I am a STREET POET! I represent the streets; meaning I am for ALL THE PEOPLE.
I am the PEOPLES POET. I shut NO ONE out...
. "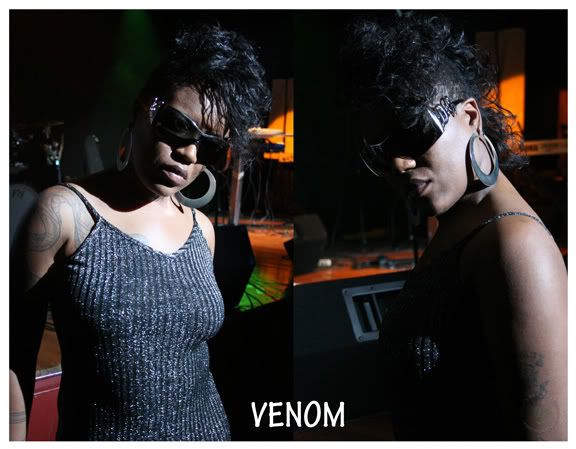 "
I am the Former 1st LADY & Poet of HOOD HARD; courtesy of DJ Aaries, 1st Author of Jakaylah Paperback Publishing; courtesy of Kirsten Geter, 1st Lady of FEMALE EMPOWERMENT, a mentor for Creekside High Mentoring Program; courtesy of Maria Pinkston, a member of the Georgia Poets Society, a Motivational Speaker for Single Parents with Special Needs Children; courtesy of Antonio Canady Jr., OFFICIAL MELECHI Model; courtesy of Malachi aka Hustlin Boy/Dungeon Family, Spokemodel for PLUM JEAN; courtesy of Mykel Coleman, OFFICIAL 2009 HOTLANTA HAIR DIRECTORY VOL.6 MODEL; courtesy of Angela Smith, Underground Urban/Video & Event Model; courtesy of Frank Taylord from Taylord Entertainment, OFFICIAL Host for Bachelorette Expo; courtesy of Bev & TOYL Events, OFFICIAL Host for EXPOSURE 101; courtesy of J Stephenson/Cracked Lens Ent, Event Coordinator, Promoter, Lyricist, Aspiring Ghost Writer, Craftsmaker & Panelist
FOR BOOKING: FE.ENTERTAINMENT101@GMAIL.COM .. .. .. ..
..
CLICK ON "RECORD BY PHONE" TO LEAVE ME A VOICE MESSAGE
JOIN THE MAILING LIST TO KEEP UP WITH MY WHEREABOUTS!!!
RATE MY PHOTO A "10" SHAWTY IS A TEN TEN TEN
Member Since:
May 18, 2006
Members:
IT'S JUST ME "VENOM" (Smokenword Artist)
..
9/10/2008 RADIO INTERVIEW w/MO
www.blogtalkradio.com/lushradioonline
LIVE RADIO INTERVIEW w/ JSTYLZ FOXIE 105- COLUMBUS GA PART ONE
CHECK OUT ALL THE VIDEO'S I'VE BEEN IN...
LIL JAB "NEVA GON STOP" (DOA-DEATH OF AARIES) VENOM the ONLY FEMALE IN THE VIDEO

PW ESQUIRE "BOTTLES" (VENOM- SEMI LEADING ROLE)

MALACHI "THANG THANG"(VENOM-SEVERAL CAMEO'S)

MALACHI "LOVIN BACK" 1:53-1:55 VENOM

STACK MONEY BOYZ "DA LONG WAY" 0:37-0:38-VENOM

BOC "BIG STACKS RUBBERBANDS" 3:47-3:50-VENOM

HARDY BOYZ feat. LOONEY TUNEZ "BOW" 0:13-0:15, 0:21-0:23 VENOM

EGA "MICHEAL JORDAN" 1:28-1:31 VENOM

LIL JAB "MOSH PIT" 0:02-0:04 VENOM

KADALACK BOYZ "NEVA SLIPPEN" 1:24-1:27, 3:11 VENOM

SLIM OG "ON FYA" 2:51-2:54 VENOM

Influences:
FEMALE INFLUENCES: My mother, Gwendolyn Brooks, Aaliyah, Foxy Brown, Jean Grae.
MALE INFLUENCES: TuPac, Malachi, Gino Morrow, Rev. Gary Jones, Nas & Papoose.
OTHER INFLUENCES: My children Bre, Jay & TC, Nae Nae (R.I.P) & Bryce (grandson)
MY BIGGEST INFLUENCE
FOOTAGE OF MY SON ANTONIO DOING HIS AT&T COMMERCIAL. CHECK FOR THE BOOK "ANTONIO & AUTISM ALIVE" COMING SOON!!! REMEMBER: THE CURE FOR AUTISM IS LOVE!

Yo...this is MY FAVORITE POET, WRITER, LYRICIST, PROPHET, RAPPER, ICON...YOU NAME IT. TUPAC has done what NO OTHER MAN will EVER DO. ONE OF THE GREATEST MUSICAL INFLUENCES TO ME. "
"
Sounds Like:
Me, myself and I
Record Label:
FE. ENTERTAINMENT 101
00:34 | 229 plays | May 26 2008
VENOM -"I PROMOTE"...AND I QUOTE!!! has 13130 friends.