Play

Play Next

Add to queue
Play

Play Next

Add to queue

739 plays

Play

Play Next

Add to queue

144 plays

Play

Play Next

Add to queue

103 plays

Play

Play Next

Add to queue

77 plays
Genre: Alternative / Pop / Rock

Location NEW YORK, Please select your region, Un

Profile Views: 11662

Last Login: 2/1/2012

Member Since 2/6/2010

Type of Label Unsigned

Bio

.......... Veronica Bellino's unique drumming style is characterized by intricate percussive patterns shaped by pop, funk, fusion and hard-rock visionaries. From the tender age of 12, carefully listening to timeless players such as Dave Weckl, Carter Beauford, and Danny Carey inspired Veronica to pick up the sticks and master her craft. She began by playing shows with local Long Island bands, then going on to hone her skills by studying with renowned teachers such as Fred Klatz of the Drummers' Collective in NYC, and Frank Cassara of C.W. Post, further expanding her ability and technique. As her musical career progressed, she embarked on many musical projects with industry pro's and rock legends. Veronica was the full time drummer for Favored Nations Entertainment recording artist Rob Balducci, promoting his record, "The Color of Light." Veronica performed with Balducci from 2004 to 2007, participating in a UK tour with Richie Kotzen (formerly of Poison and Shrapnel Recording) and US shows with Michael Schenker, Uli John Roth, Nuno Bettencourt (Extreme), UFO, James Labrie (Dream Theater), and Vernon Reid (Living Colour). In July 2006, the Rob Balducci band paired with label mate Dave Weiner (Steve Vai) for "A Night of Pure Guitar," a week long tour of venues in Pittsburg, PA, Indianapolis, IN, Kansas City, MO, St. Louis, MO, and Chicago, IL. With receiving recognition from the legendary rock drummer, Carmine Appice (Vanilla Fudge, Rod Stewart, Cactus, Ozzy Ozzbourne, Pink Floyd) Veronica was accepted as a member of his dynamic, explosive, physical drum show called SLAMM!! Described as "Stomp on steroids," Veronica joined Appice, along with 3 other eclectic drummers and a guitar player. SLAMM was seen on ESPN by millions, in a music video for NASCAR. Clips of the video were shown before, during, and after certain NASCAR races, featuring the Slammers wailing on tires, tool boxes, air wrenches, and the hood of a race car! In 2007, SLAMM performed 7 sold out shows at the Cutting Room in New York City, and 3 packed shows on New Years Eve at a 3000 seat performance center in Providence. In 2008, SLAMM performed at the Dunkin Donuts Civic Center along with Twisted Sister, Tesla, Winger, and many others for the Providence Station Family Fund. SLAMM member Zoilo Ruiz also recruited Veronica to perform with his dance and percussion troupe called the "Street Beats Group." Veronica performs at corporate events such as the 2009 US Open with Ruiz, along with others, delivering the excitement and energy of Off-Broadway hits such as "Blast" and "Blue Man Group." Veronica currently continues the movement of SLAMM!!, while performing and recording for artists such as Solis Rex. The album "Apocalyptica" was recorded in 2008 featuring Veronica on drums and Ron Bumblefoot Thal (Guns and Roses) on bass. Veronica joined LL Cool J's Platinum Harvest recording artists, 13 in February of 2009, illuminating the band's hip hop-rock sound with her sense of groove and musicianship. The group hit Wyclef Jean's Platinum Sound Studio in New York City to record their debut album, and filmed a national commercial directed by LL Cool J, for his Sears clothing line. 13 continues to lay the ground work for a new direction of rock and hip-hop, captivating audiences on stages such as the 2009 New York Marathon, with their fun spirited and energetic live show. With numerous gig commitments, corporate performances, and freelance recording sessions, Veronica Bellino's career can be safely assessed as on the move. Unanimous support from peers, press, and companies alike continues to propel Veronica's career to the next level. With an inimitable drumming style that balances progressively nuanced concepts with blistering chops and relentless groove, her sound is a percussive force that's always in demand. 
 .......... ..!!! Start Code To Apply Top Banner !!!!.. ...... ...... .. Custom top banner code by Eileen.. .. .. .. .. ...... ...... ..!!! End Code To Apply Top Banner !!!.. ...... .. ........MySpace Layouts.................. ....

Members

<object width="480" height="385"><param name="movie" value="http://www.youtube.com/v/eVVmZljUMTI?fs=1&hl=en_US"></param><param name="allowFullScreen" value="true"></param><param name="allowscriptaccess" value="always"></param><embed src="http://www.youtube.com/v/eVVmZljUMTI?fs=1&hl=en_US" type="application/x-shockwave-flash" allowscriptaccess="always" allowfullscreen="true" width="480" height="385"></embed></object> <object width="640" height="385"><param name="movie" value="http://www.youtube.com/v/L1hXecN471A?fs=1&hl=en_US"></param><param name="allowFullScreen" value="true"></param><param name="allowscriptaccess" value="always"></param><embed src="http://www.youtube.com/v/L1hXecN471A?fs=1&hl=en_US" type="application/x-shockwave-flash" allowscriptaccess="always" allowfullscreen="true" width="640" height="385"></embed></object> <object width="480" height="385"><param name="movie" value="http://www.youtube.com/v/VD20UXR8XKQ?fs=1&hl=en_US"></param><param name="allowFullScreen" value="true"></param><param name="allowscriptaccess" value="always"></param><embed src="http://www.youtube.com/v/VD20UXR8XKQ?fs=1&hl=en_US" type="application/x-shockwave-flash" allowscriptaccess="always" allowfullscreen="true" width="480" height="385"></embed></object> <object width="480" height="385"><param name="movie" value="http://www.youtube.com/v/Ot_wmHpE-eU?fs=1&hl=en_US"></param><param name="allowFullScreen" value="true"></param><param name="allowscriptaccess" value="always"></param><embed src="http://www.youtube.com/v/Ot_wmHpE-eU?fs=1&hl=en_US" type="application/x-shockwave-flash" allowscriptaccess="always" allowfullscreen="true" width="480" height="385"></embed></object>

Influences

Sounds Like
No recent updates in this category.
Why not...
Bio:

Veronica Bellino's unique drumming style is characterized by intricate percussive patterns shaped by pop, funk, fusion and hard-rock visionaries. From the tender age of 12, carefully listening to timeless players such as Dave Weckl, Carter Beauford, and Danny Carey inspired Veronica to pick up the sticks and master her craft. She began by playing shows with local Long Island bands, then going on to hone her skills by studying with renowned teachers such as Fred Klatz of the Drummers' Collective in NYC, and Frank Cassara of C.W. Post, further expanding her ability and technique. As her musical career progressed, she embarked on many musical projects with industry pro's and rock legends. Veronica was the full time drummer for Favored Nations Entertainment recording artist Rob Balducci, promoting his record, "The Color of Light." Veronica performed with Balducci from 2004 to 2007, participating in a UK tour with Richie Kotzen (formerly of Poison and Shrapnel Recording) and US shows with Michael Schenker, Uli John Roth, Nuno Bettencourt (Extreme), UFO, James Labrie (Dream Theater), and Vernon Reid (Living Colour). In July 2006, the Rob Balducci band paired with label mate Dave Weiner (Steve Vai) for "A Night of Pure Guitar," a week long tour of venues in Pittsburg, PA, Indianapolis, IN, Kansas City, MO, St. Louis, MO, and Chicago, IL. With receiving recognition from the legendary rock drummer, Carmine Appice (Vanilla Fudge, Rod Stewart, Cactus, Ozzy Ozzbourne, Pink Floyd) Veronica was accepted as a member of his dynamic, explosive, physical drum show called SLAMM!! Described as "Stomp on steroids," Veronica joined Appice, along with 3 other eclectic drummers and a guitar player. SLAMM was seen on ESPN by millions, in a music video for NASCAR. Clips of the video were shown before, during, and after certain NASCAR races, featuring the Slammers wailing on tires, tool boxes, air wrenches, and the hood of a race car! In 2007, SLAMM performed 7 sold out shows at the Cutting Room in New York City, and 3 packed shows on New Years Eve at a 3000 seat performance center in Providence. In 2008, SLAMM performed at the Dunkin Donuts Civic Center along with Twisted Sister, Tesla, Winger, and many others for the Providence Station Family Fund. SLAMM member Zoilo Ruiz also recruited Veronica to perform with his dance and percussion troupe called the "Street Beats Group." Veronica performs at corporate events such as the 2009 US Open with Ruiz, along with others, delivering the excitement and energy of Off-Broadway hits such as "Blast" and "Blue Man Group." Veronica currently continues the movement of SLAMM!!, while performing and recording for artists such as Solis Rex. The album "Apocalyptica" was recorded in 2008 featuring Veronica on drums and Ron Bumblefoot Thal (Guns and Roses) on bass. Veronica joined LL Cool J's Platinum Harvest recording artists, 13 in February of 2009, illuminating the band's hip hop-rock sound with her sense of groove and musicianship. The group hit Wyclef Jean's Platinum Sound Studio in New York City to record their debut album, and filmed a national commercial directed by LL Cool J, for his Sears clothing line. 13 continues to lay the ground work for a new direction of rock and hip-hop, captivating audiences on stages such as the 2009 New York Marathon, with their fun spirited and energetic live show. With numerous gig commitments, corporate performances, and freelance recording sessions, Veronica Bellino's career can be safely assessed as on the move. Unanimous support from peers, press, and companies alike continues to propel Veronica's career to the next level. With an inimitable drumming style that balances progressively nuanced concepts with blistering chops and relentless groove, her sound is a percussive force that's always in demand.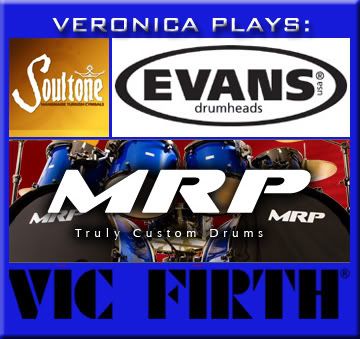 !!! Start Code To Apply Top Banner !!!!
...... ......
Custom top banner code by Eileen
..
Member Since:
February 06, 2010
Members:

Record Label:
Platinum Harvest / Boomdizzle Music