Play

Play Next

Add to queue
Play

Play Next

Add to queue

14,170 plays

Play

Play Next

Add to queue

212 plays

Play

Play Next

Add to queue

1,869 plays

Play

Play Next

Add to queue

5,632 plays

Play

Play Next

Add to queue

764 plays
Genre: Funk / Reggae / Rock

Location Oregon, US

Profile Views: 130145

Last Login: 5/29/2012

Member Since 3/1/2006

Website http://www.myspace.com/vinceblackmusic

Record Label I-Tone/Camp Creek Records

Type of Label Indie

Bio

A professional musician since I was 19, I believe in the power of music! I feel that with patience and overstanding, all people can find the Love that we need to go forward in Life. All of the good things in my Life are from the Most High God! The failures are mine. I know that there is forgiveness and redemption for all... As far as my music credentials are concerned, I have toured, recorded and played with a host of known reggae, blues and rock acts. My first tours were with a well known mid-western underground rock band call Euphoria BlimpWorks-Yama and the Karma Dusters, featuring Howard Berkman. Among the big acts in Jamaican reggae: Black Uhuru (grammy nomination), Andrew Tosh (grammy nomination), Wailing Souls, Dub Syndicate featuring drummer Style Scott, Prezident Brown, Dennis Brown, Eek-a-Mouse, Soul Syndicate featuring Fully Fullwood, Tony Chin and Santa Davis, Joe Higgs, Frankie Paul, Lee Perry, Ras Michael and the Sons of Negus, Ken Boothe, the Congos featuring Cedric Myton, Judy Mowatt, Sister Carol, Sister Nancy, Sister I-Live, Mikey Dread, Amlak Tafari, Tony Rebel, Tippa Irie, Sugar Minott, Johnny Osborne, Pinchers, Marcia Griffiths, Junior Marvin (Wailers guitarist), Winston Jarrett, Jah Big, Delroy Wilson, Prince Jazzbo, Hugh Mundell, Ras Midas, Yami Bolo, Jason 'Primitive' Barnes, Norris Man, the great Hopi reggae singer Casper Lomayesva, Tony Tuff, Rankin' Joe, Foundation, Leroy Sibbles, Pat Kelly, Norris Man, Daweh Congo, and so many others that I can't remember! In blues: the late, great Charles Brown, Mississippi Delta Blues Band, L.C."Good Rockin'" Robinson, the Blues All-Stars, Harvey Mandel, Sonny Rhodes, J.J. Malone and many others. I also have produced Brazilian bands, Black Maria, Arma de Jah, and Makoto. In Denmark I was in a great band called Wild Remain with Denmark's greatest drummer, Soren Berlev. He was in Denmark's biggest band, Gasolin'! I was in a great mid seventies rock band called Peak featuring Greg Correa, Mark Correa and Alex Sarmiento! Oh, yeah, I also played in punk and heavy metal bands (the Liars later to be known as Sudden Fun, Killa Hz, Z City Dragons) in England, San Francisco and Canada! ........ .. ..........I created my own profile using ..nUCLEArcENTURy.COM.. and you should too!.... ..Click below to order and hear samples of Vince's new CD, "Standing Up For Love" Also available on iTunes.... .. ........

Members

Vince Black:vocals, guitars, bass, drums and drum programming, keyboards, percussions, songwriter, producer, studio engineer. The new CD, "Standing Up for Love" features: Manas Itiene of Spearhead, drums on "Back Off" and "Jah Never Wanted" and backing vocals on "No Compromise", I-chele, backing vocals, and Joe Hall, rhythm guitar on "Back Off". Recorded at Pacific Quest Group studio. Santa Davis drums on "Hatred and Bitterness". Recorded in Los Angeles at Arki's Studio. "Hope You Love Jah" features the band Arma De Jah from Brazil with Vince playing lead and rhythm guitar and recorded at E studios in Curitiba, Brasil. .. .. .. .. .. .. .. .. .. .. .. .. .. .. .. .. .. ..

Influences

INTERESTS:Healthy vegetarian eating, history, people, travel.../ MUSIC: Rock, Reggae, Dub, Bass'n Drums, Blues, Jazz, Hip Hop, African, '60's psychedelic, Country, Ethnic (World), Funk, Soul, just about everything! Hendrix, Hendrix, Hendrix! / MOVIES: Documentaries, Action, Drama ('30's-'60's), some Romance, clean Comedy, old school Westerns ('50's and early '60's), Film Noir ('40's-'60's)/ TV: History, News, Sports (English Premier League Soccer, UFC, Boxing, Aussie Footy, Curling), Chappelle(?), Educational /BOOKS: Bible, Historical, Scientific Journals, non-fiction. religions, spiritual/ HERO: The Ultimate Super Hero, Yeshua, the Messiah (Jesus) .... .. .. .. .. .. .. .......... .. ...... .. .. .. .. .. .. .. .. .. .. .. .. .. .. ..

Sounds Like

Vince Black
No recent updates in this category.
Why not...
04:37 | 530 plays | Nov 25 2007
Bio:
A professional musician since I was 19, I believe in the power of music! I feel that with patience and overstanding, all people can find the Love that we need to go forward in Life. All of the good things in my Life are from the Most High God! The failures are mine. I know that there is forgiveness and redemption for all... As far as my music credentials are concerned, I have toured, recorded and played with a host of known reggae, blues and rock acts. My first tours were with a well known mid-western underground rock band call Euphoria BlimpWorks-Yama and the Karma Dusters, featuring Howard Berkman. Among the big acts in Jamaican reggae: Black Uhuru (grammy nomination), Andrew Tosh (grammy nomination), Wailing Souls, Dub Syndicate featuring drummer Style Scott, Prezident Brown, Dennis Brown, Eek-a-Mouse, Soul Syndicate featuring Fully Fullwood, Tony Chin and Santa Davis, Joe Higgs, Frankie Paul, Lee Perry, Ras Michael and the Sons of Negus, Ken Boothe, the Congos featuring Cedric Myton, Judy Mowatt, Sister Carol, Sister Nancy, Sister I-Live, Mikey Dread, Amlak Tafari, Tony Rebel, Tippa Irie, Sugar Minott, Johnny Osborne, Pinchers, Marcia Griffiths, Junior Marvin (Wailers guitarist), Winston Jarrett, Jah Big, Delroy Wilson, Prince Jazzbo, Hugh Mundell, Ras Midas, Yami Bolo, Jason 'Primitive' Barnes, Norris Man, the great Hopi reggae singer Casper Lomayesva, Tony Tuff, Rankin' Joe, Foundation, Leroy Sibbles, Pat Kelly, Norris Man, Daweh Congo, and so many others that I can't remember! In blues: the late, great Charles Brown, Mississippi Delta Blues Band, L.C."Good Rockin'" Robinson, the Blues All-Stars, Harvey Mandel, Sonny Rhodes, J.J. Malone and many others. I also have produced Brazilian bands, Black Maria, Arma de Jah, and Makoto. In Denmark I was in a great band called Wild Remain with Denmark's greatest drummer, Soren Berlev. He was in Denmark's biggest band, Gasolin'! I was in a great mid seventies rock band called Peak featuring Greg Correa, Mark Correa and Alex Sarmiento! Oh, yeah, I also played in punk and heavy metal bands (the Liars later to be known as Sudden Fun, Killa Hz, Z City Dragons) in England, San Francisco and Canada!
..
I created my own profile using
nUCLEArcENTURy.COM
and you should too!
Click below to order and hear samples of Vince's new CD, "Standing Up For Love" Also available on iTunes

Member Since:
March 01, 2006
Members:
Vince Black:vocals, guitars, bass, drums and drum programming, keyboards, percussions, songwriter, producer, studio engineer. The new CD, "Standing Up for Love" features: Manas Itiene of Spearhead, drums on "Back Off" and "Jah Never Wanted" and backing vocals on "No Compromise", I-chele, backing vocals, and Joe Hall, rhythm guitar on "Back Off". Recorded at Pacific Quest Group studio. Santa Davis drums on "Hatred and Bitterness". Recorded in Los Angeles at Arki's Studio. "Hope You Love Jah" features the band Arma De Jah from Brazil with Vince playing lead and rhythm guitar and recorded at E studios in Curitiba, Brasil.
Influences:
INTERESTS:Healthy vegetarian eating, history, people, travel.../ MUSIC: Rock, Reggae, Dub, Bass'n Drums, Blues, Jazz, Hip Hop, African, '60's psychedelic, Country, Ethnic (World), Funk, Soul, just about everything! Hendrix, Hendrix, Hendrix! / MOVIES: Documentaries, Action, Drama ('30's-'60's), some Romance, clean Comedy, old school Westerns ('50's and early '60's), Film Noir ('40's-'60's)/ TV: History, News, Sports (English Premier League Soccer, UFC, Boxing, Aussie Footy, Curling), Chappelle(?), Educational /BOOKS: Bible, Historical, Scientific Journals, non-fiction. religions, spiritual/ HERO: The Ultimate Super Hero, Yeshua, the Messiah (Jesus)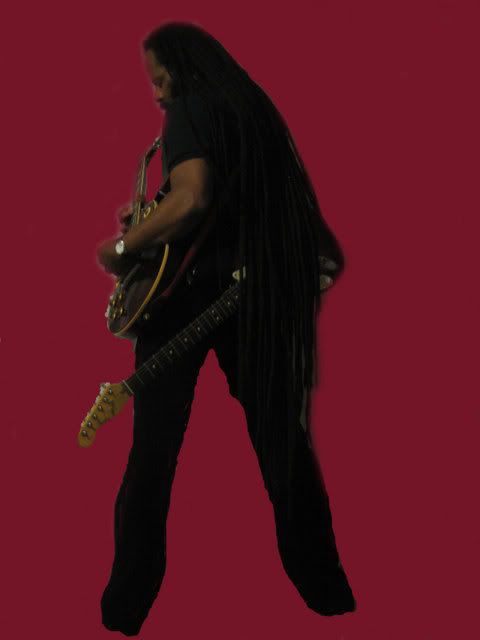 ..
Sounds Like:
Vince Black
Record Label:
I-Tone/Camp Creek Records