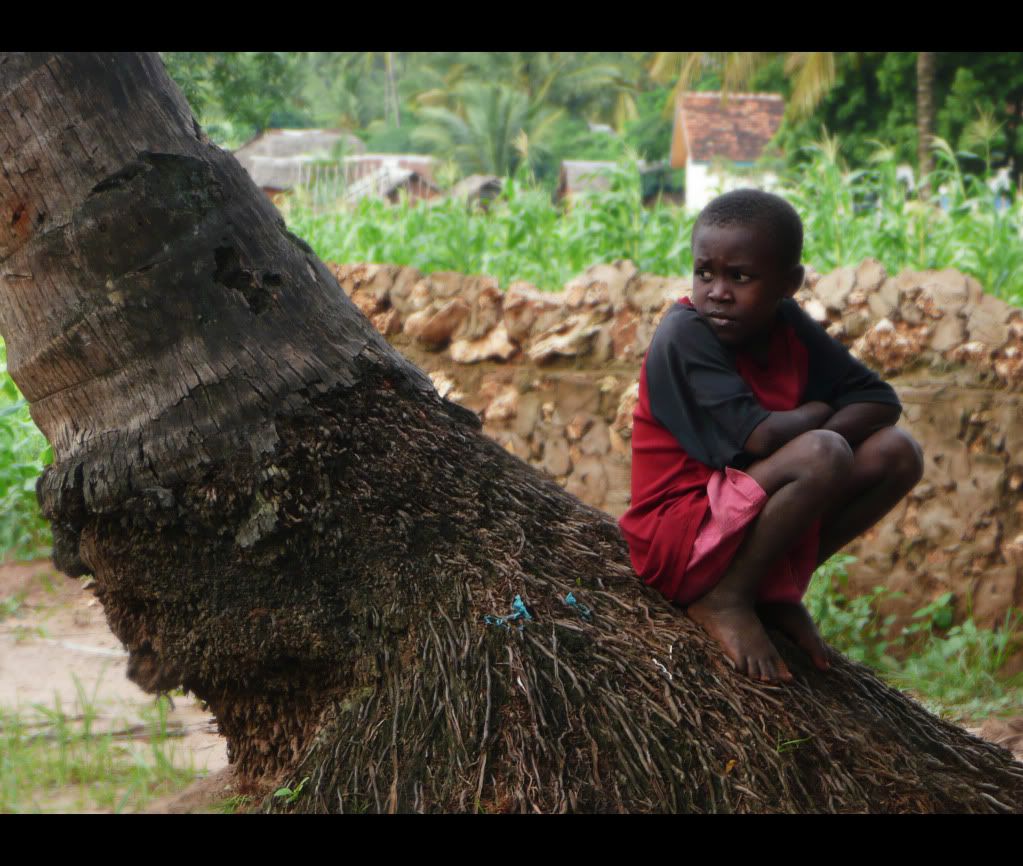 Kurz zu Kenias Bildungssystem
Seit 2004 wird in Kenia die Schulpflicht gesetzlich gefordert, ihre Einhaltung jedoch nicht überprüft. Viele Eltern sind auch nicht in der Lage, ihre Kinder in die Schule zu schicken,
da ihre Arbeitskraft zur Sicherung der täglichen Grundbedürfnisse der Familie gebraucht wird.
Die meisten Schulen und besonders die auf dem Lande, finanzierten sich nach dem sogenannten Harambee - Prinzip, sprich mittels Spenden. 2004 wurde durch die Regierung Kibaki die Zahlung von Schulgeld für die achtjährige Grundschule abgeschafft. Für 1,7 Millionen Kinder mehr wurde nun ein Schulbesuch möglich. Für Lehrmittel und Schuluniformen müssen jedoch nach wie vor die Eltern selbst aufkommen. Staatliche Investitionen in den Bildungssektor blieben bisher aus.
Das derzeitige Bildungssystem ist kaum in der Lage, der steigenden Anzahl von Schüler_innen gerecht zu werden.
Die Zahl der Lehrkräfte in Kenia nimmt stetig ab. Das aktuelle Lehrer-Schüler-Verhältnis von 1:100 spricht eine deutliche Sprache. An einen qualitativ guten und nachhaltigen Unterricht ist kaum zu denken. Eltern, die einen besseren Lernerfolg für ihre Kinder wollen, sind wiederum gezwungen, Schulgeld für entsprechende Privatschulen aufzubringen.


About me:
Karibu!
Tototo Project Majengo
Tototo Child Development Centre and Vision Nursary School for the Orphans and our goals
Tototo Child Development Centre and Vision Nursery School for the Orphans
Barani Area is situated in Kikambala, Division Majengo sub-location and its in Kilifi District.
It is about 400 m from the main road Mombasa - Malindi.
Barani area has got about 345 orphans children and a population of 1715 people. The people of Barani work as small scale farmers, fishermen, collectors and diggers of stones for selling to keep them living.
However due to the drought in the country Kenya, people of this area are really starving. As a result of starvation and poorness many children drop out of school and involving themselves in bad activities such as stealing, drug abuse, prostitution, child labour and many other activities to keep them living.
In 2001 there was a breakout of fire. The fire destroyed lots of houses and some people lost their lives. Consequently the development of this area deteriorated rapidly.
Therefore, the community-members sat down and thought of how to help these poor children, so a football-club for girls and boys was formed.
This program assists the children to come together and be taught many activities, such as bible-studies, girl-guides, boyscouts, choir and traditional dances just to mention a few. The football girls called Junior Stars were succesful and managed to go up to national level. Despite that they are lacking playing facilities, such as footballshoes, uniform, balls and many other to support them. Besides this, another project was formed called Tototo Child Development Centre in form of a nursery school called Vision Nursery School for the orphans below 10 years. It was started with 15 children and 1 teacher, within 3 months the number of children increased up to 189 children, age from 4 years up to 12 years, these are boys and girls and have 7 female teachers.
Our aim is to develop children behaviors, keep them off drugs and STD infection and to be a positive role model. Therefore on behalf of the Barani Community Members are kindly requesting to all well wishers, donors and any organization to help these poor children with the following : money, food, water, building structures, classrooms, toilets, textbooks, desks and pencils etc. Your contribution will assist these children a lot. Account for Donations: MISEREOR Account No: 10 10 10 Sort code: 370 601 93 Name: PAX Bank Aachen Stichwort: W30686 Projekt Majengo Kenya If you can help to build the school in Kenya, financially, we welcome donations. 


The tototo child development centre needs monetary and functional support in following items:
• Food programme and Medicine for the children
• school equipment for the children
• Water programme
• further extension of the school building
• sanitary facilities
• dormitory (one for boys and one for girls)
• Teachers support (volunteer)
Or support through our association in Germany:
Name: vivere e. V.
Bank: Volksbank Vogtland eG
Account number / Kontonummer: 50 47 17 90 00
Bank code/ Bankleitzahl: 870 958 24
subject matter / Betreff: kenya
Adress:
Vision Nursary School
Reg. Number : SS/KFI/LR/SHG/KIK-D/64/2007
P.O. Box 10023
Bamburi, Mombasa
Mr. Sylvester Wanje Kalenga
Mobile : 00254-721-416840
Email: visionsoweto@yahoo.com
Notice: this website it`s made by supporters of this project. ..
Support the school and get a picture!
http://www.mygall.net/sincerita
more Info:
http://www.myspace.com/vision.school.project/blog?bID=539982193#ixzz12g8EFn3M
If you like to read more, please visit our Blog. ..
Tototo Child Development Center
....
http://www.msplinks.com/MDFodHRwOi8vd3d3LmZhY2Vib29rLmNvbS9idXNpbmVzcy9kYXNoYm9hcmQv"
; target="_blank" style
Play

Play Next

Add to queue

Play

Play Next

Add to queue

Play

Play Next

Add to queue
Die Situation und wie ihr helfen könnt...
Ziel unserer Initiative ist ein Schulprojekt in Bamburi / Ostkenia, einem Dorf ca. 25 km nördlich von Mombasa gelegen.

Wir haben uns dem Projekt angenommen, sind quasi hineingewachsen. Während unseres Kenia - Trips, konnten wir die dort herrschende Lebenssituation sicher nur ansatzweise erfassen. Doch diese Einblicke haben uns so tief berührt, daß wir einfach nicht anders konnten, als etwas tun zu wollen, zu helfen.

Näher brachte uns das Dorf und das dort befindliche Schulprojekt Sylvester Wanje Kalenga, "unser" Barmann. Sylvester erzählte uns von dem von ihm gegründeten Schulprojekt und was wir dort tun könnten. So konnten wir die gravierenden Zustände mit eigenen Augen sehen. Vor Ort haben wir ein paar Strohmatten zum sitzen besorgt, sowie eine große Kiste Schreibhefte, Stifte etc., aber es gibt noch so viel mehr zu tun...

Es war herzzerreißend! Vielleicht um die hundert Kinder stürmten auf uns zu, entrissen uns förmlich die mitgebrachten Dinge, folgten uns neugierig auf Schritt und Tritt. Eine ganz besondere Art von Nähe ... Augen sagen soviel mehr als Worte... Die Dankbarkeit stand ihnen ins Gesicht geschrieben, sie zeigten uns ihre Freude, aber dennoch sahen wir auch die Trauer und den Schmerz in ihren Gesichtern. Bilder, die uns nicht aus dem Kopf gehen, unvergesslich...

Es fehlt hier an grundlegenden Dingen zum Lernen, so steht z.B. nicht jedem Kind wie bei uns immer ein Schreibheft zur Verfügung - von ausreichend Stiften ganz zu schweigen. Es fehlen einfach die finanziellen Mittel dafür...
Sylvester Wanje Kalenga, selbst als Englischlehrer ehrenamtlich an dieser Schule tätig, hat 2005 das Tototo Child Development Centre gegründet, um diesen Mißständen entgegenzuwirken. Leider sind die zur Verfügung stehenden finanziellen Mittel nach wie vor sehr gering bemessen, steckt das Projekt seit Jahren quasi in den Kinderschuhen. Anhand der Fotos könnt ihr euch ja ein Bild machen über die Lage vor Ort.
Zur Zeit unseres Aufenthalts in Kenia (Juni 2010) stand den Kindern als Schule einfaches provisorisch wirkendes Gebäude zur Verfügung. Mittlerweile konnte mit Hilfe von Spendengeldern ein neues Schulgebäude errichtet werden. Ein Anfang ist gemacht ...
Foto: http://www.myspace.com/vision.school.project/photos/2175644

Bildung bedeutet Zukunft, Leben für die Kinder von Bamburi!

Dafür bitten wir euch um eure Hilfe!

Was mit euren Spenden geschieht:

• weiterer Ausbau des Schulgebäudes
• Errichtung von Unterkünften für die Waisenkinder
• Bau von Anlagen zur Wasserversorgung
• Kauf von Schulmaterialien, Nahrungsmitteln sowie Kleidung (u.a. auch Bezahlung für Näher_innen)
• Finanzierung von Lehrkräften
• Etablierung einer ärztlichen Grundversorgung

Die Kinder würden sich riesig freuen, wenn wir sie unterstützen könnten, um ihre Lebenssituation zu verbessern!

Bitte fragt auch in eurem Bekanntenkreis nach, ob noch Jemand Unterstützung leisten möchte.

Wir werden euch über Fortschritte auf dem Laufenden halten. Fotos und Videos werden bei Neuigkeiten immer wieder aktuallisiert. So könnt ihr sehen, wofür die Spenden genutzt werden.

Wirklich jeder Euro hilft!

Vielen lieben Dank!