No recent updates in this category.
Why not...
WEAK RECEPTION hasn't earned any badges yet... have you?
General

Howdy, Welcome to the Weak Reception MySpace err space, also known as WeakReception.co.uk, we can't be arsed to put together a proper website so this is it for now.

We are alternative DJs and gig promoters based in Sarrf London. Check out our latest news and info on our forthcoming DJ / gig events at the top of the page. To be honest all the really cool kids sign up for our proper mailing list, to do this simply click here. Cheers, WR

DJING


Weak Reception DJ nights at Knights Park Bar, Kingston University ran for four years until we realised that we were too old to get away with prentending to be students! We have aso been resident DJs at the new-band-tastic 'Up' nights at The Watershed in Wimbledon. Now we are mainly invoved with various nights at Bacchus in Kingston. We have played one-off events at numerous venues including The Foundry in Shoreditch, The Queen Boadicea in Clerkenwell and even The Works in Kingston!!

We are always on the look out for new places to DJ in the London area so if you're a venue or promoter and are interested, why not drop us a line.

GIGS


We are currently booking post-rock / post-hardcore / experimental / electro bands for a new club night in London (venue TBA).

In the past we have put on gigs at The Peel in Kingston and back at our old stomping ground at Kingston Uni.

Get in touch if you're a band looking for gigs and you think we'll like you. We have so many crappy bands contacting us so before you put finger to keyboard please check out the sort of bands we work with, that should give you some idea of what we like.

PLEASE NOTE: WE ARE NOT, AND NEVER WILL BE, BOOKING METAL / HARDCORE / SCREAMO BANDS!!

Live photography from some of our gig nights...



At Knights Park Bar...

And at The Peel...

Music

A quick glance at the 'recently played' list in my iTunes: 65daysofstatic

,

Adult.

,

Annuals

,

Aphex

,

Arcade Fire

,

Ash

,

At The Drive-In

,

Beastie Boys

,

Beta Band

,

BRMC

,

Blur

,

Bright Eyes

,

Broken Social Scene

,

Capdown

,

Clap Your Hands Say Yeah

,

Clor

,

cLOUDDEAD

,

The Coopers

,

CSS

,

The Cure

,

Dave House

,

Deftones

,

Dodgy

,

The Earlies

,

Elbow

,

Explosions in the Sky

,

Flaming Lips

,

Four Tet

,

Fujiya & Miyagi

,

Godspeed

,

Goldfrapp

,

GLC

,

Her Space Holiday

,

Howling Bells

,

Idlewild

,

iLiKETRAiNS

,

Interpol

,

Jacob's Stories

,

Jeniferever

,

Jurassic 5

,

Kaiser Chiefs

,

Kate Bush

,

LCD Soundsystem

,

The Levellers

,

M83

,

Manics

,

Maximo Park

,

McLusky

,

Metronomes

,

Midlake

,

Mogwai

,

Mono

,

Mum

,

My Bloody Valentine

,

My Latest Novel

,

Neutral Milk Hotel

,

Once We Were

,

Peter Bjorn & John

,

Pixies

,

Pulp

,

The Raconteurs

,

Radiohead

,

Redjetson

,

Reef

,

Ride

,

Rival Schools

,

Shed Seven

,

Sigur Ros

,

The Smiths

,

Soulwax

,

Stapleton

,

Sufjan Stevens

,

Supergrass

,

Terrorvision

,

Thom Yorke

,

Tool

,

Turin Brakes

,

Tyler

,

UNKLE

,

White Stripes

,

Yo La Tengo

, Youthmovies

PREVIOUS WR LIVE NIGHTS

19/07/06 My Luminaries..
+ Morton Valence + The Voxx @ The Peel

09/06/06 Jeniferever..
+ Twentysixfeet + Nun of the Above @ The Peel

14/01/05 Mystery Jets + The Voxx @ Knights Park Bar

14/05/04 Nun of the Above + Dave House @ Knights Park Bar

13/02/04 Mystery Jets + Nun of the Above @ Knights Park Bar

28/01/04 Puscha + Koala @ Knights Park Bar

29/10/03 The DIY Cravings + Tyler Roberts @ Knights Park Bar

01/10/03 Cinemafor + ASLF @ Knights Park Bar

27/09/03 Semble + Tom McKean + Kite @ Knights Park Bar

03/06/03 Seachange + The Boxer Rebellion @ Knights Park Bar

13/05/03 Semble + Weston Green @ Knights Park Bar

01/04/03 Philtre + Supernashwan @ Knights Park Bar

04/02/03 The Cognition + Kjetil Morland @ Knights Park Bar

......

Television

Books

'High Fidelity' by John Hornby, 'Margrave of the Marshes' by John Peel, 'Going Deaf for a Living' by Steve Lamacq, 'The Last Party' by John Harris and anything else about being obsessed by music and running DJ and club nights.

Heroes

Some indie nights that have influenced us: Collision & New Noise @ Bacchus, Spank The Monkey @ K1 (now Bar Zen), Indie Club & Freakscene @ The Cavern, Kaleidoscope @ King's College SU.
About me:
FORTHCOMING WR EVENTS
WEDNESDAY 14TH MAY @ BACCHUS, KINGSTON
PLANET OF SOUND
Our fortnightly guest slot; joining fellow POS residents Jules and Jack for an evening of indie anthems from the 60s to present day. Entry is £3 all night. Doors: 10pm - 3am.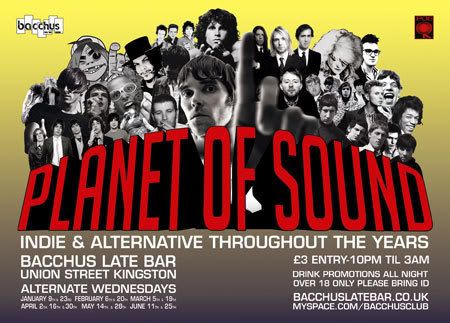 TUESDAY 20TH MAY @ BACCHUS, KINGSTON
MODERN LIFE IS RUBBISH
Our very own fortnightly BRITPOP, BAGGY, MID-NINETIES DANCE and OLD-SKOOL INDIE party.
We'll be playing stuff like: Ash, EMF, The Prodigy, The Charlatans, The Clash, Reef, Cornershop, Suede, Dodgy, Pulp, The La's, Shed Seven, The Smiths, Elastica, Terrorvision, Kula Shaker, The Jam, The Stone Roses, The Wonderstuff, The Happy Mondays and much much more!
Entry is £3 before 11 and £4 after. Doors open at 10pm and the music finishes at 3am. Special drinks promotions all night.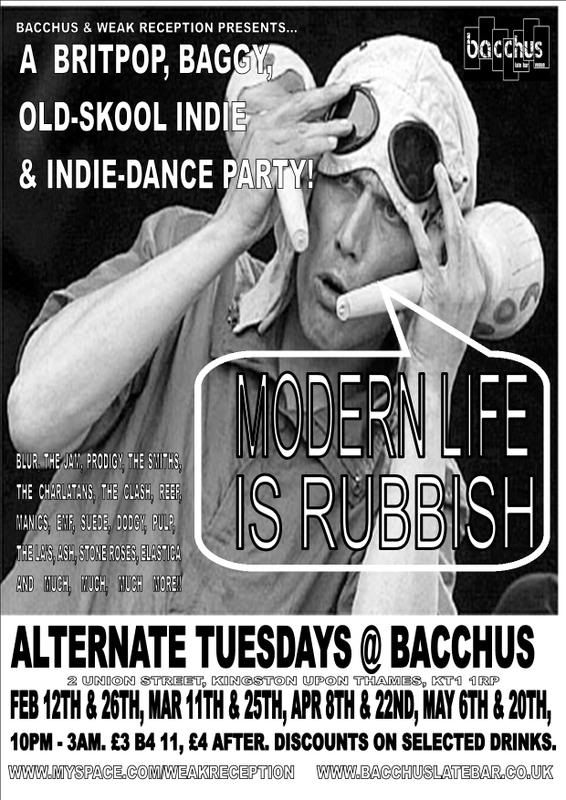 Bacchus is at 2 Union Street, Kingston Upon Thames, KT1 1RP. Bacchus is a strictly over-18 only venue, please bring ID to ensure entry.
Some of our previous flyers...

WE LIKE THESE PEOPLE...
Status:

Single

Hometown:

Newton Abbot, Devon... innit

Orientation:

Straight

Zodiac Sign:

Libra

Smoke / Drink:

No / Yes
Kingston University

Kingston Upon Thames, United Kingdom

Graduated:

2005

Student status:

Alumni

Degree:

Bachelor's Degree

Major:

Environmental Science

2000 to 2004