Play

Play Next

Add to queue
Play

Play Next

Add to queue

2,974 plays

Play

Play Next

Add to queue

2,368 plays

Play

Play Next

Add to queue

2,755 plays

Play

Play Next

Add to queue

1,822 plays

Play

Play Next

Add to queue

48,784 plays
'We Start Partys' are a dance/pop sensation, hailing from Bristol the five-piece are here to bring us kicking-and-screaming into their vision of the future...


Pop hooks, floor-filling drops, and screaming guitars, backed by pure energy and passion. Moves like you've never seen, and samples coming from an angles, their seamless sets take you on their journey with both intricacy and intimacy. As strobes and black-lights set the scene, they let their live show speak for itself. With a real connection to their following, a lust for performance and two UK tours providing an ever-growing fan-base, these boys have set theirs sights for the ears and eyes of the nation...


We Start Partys kick-off their 2nd UK nation-wide tour in November, in conjunction with the release of their self-titled 2nd E.P "We Start Partys!"
"What can be said about infectiously enthusiastic talent? Well, quite a lot it turns out. Hailing from Bristol and setting the radars blipping are We Start Partys, a mixture of of raw talent and relevance, combining good old fashioned rock/metal/thrash elements with the nu-school of Drum 'n Bass and Dub-Step, and here's the kicker; somehow, they keep it fresh, poppy and very very charged
- ..Listed Magazine - Bournemouth Live Review

"A modern day mix-tape guaranteed to get a party started"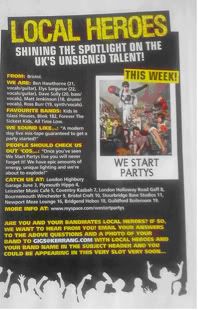 - ..Kerrang Magazine 2010

"I have no doubt that this band will feature in 2010, they have achieved a huge amount and I am certain that their live show would be fantastic"
- ..Ultimate Reviewer


This three track EP packs more of an energetic punch than most full lengths. "Lose It" is immediately memorable and fun to replay, "No Time For Tears" has a more punk/alternative sensibility to it you'll fall in love with, and "Frontin'" is an experimental dance track of sorts that stands out as being really unique and interesting. This collection may only be around 10 minutes in length, but it's very entertaining and addictive. Don't be surprised if you turn this EP on quite frequently"
- ..
Lexington Music Press on "It's Not The Winning"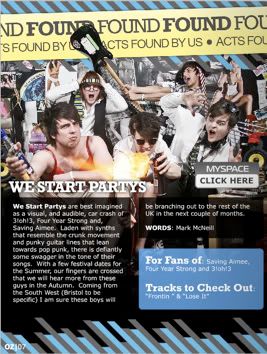 "We Start Partys are best imagined as a visual, and audible, car crash of 3!oh!3, Four Years Strong and, Saving Aimee. Laden with synths that resemble the crunk movement and punky guitar lines that lean towards pop punk, there is defiantly some swagger in the tone of their songs. With a few festival dates for the Summer, our fingers are crossed that we will hear more from these guys in the Autumn. Coming from the South West (Bristol to be specific) I am sure these boys will be branching out to the rest of the UK in the Next Couple of months"
- ..Our Zone Magazine 2010

Alas, the time has come where we have decided to set up some Street Teams all around the UK and we want YOU GUYS to help us run them. If you are interested please e-mail us at wspstreetteam@hotmail.co.uk with your name, town and phone number and we will get straight back to you!