No recent updates in this category.
Why not...
Whoopsy Magazine hasn't earned any badges yet... have you?
General

Freedom of Speech, music, movies, art, comix, sexxx, sports, hotrods and choppers, interviews, social/political rants, short stories, local news tidbits and gossip.... and shit-talkin' with Pisspot the Rabbit! HATES: shrink wrap, plastic CD cases, bulky press kits. LIKES: cardboard CD cases, band T-shirts.

Music

Movies

Television

Books

The public library has lots of them. We accept book review submissions.

Heroes

Larry Flint. Pam Grier. Alex Jones.
About me: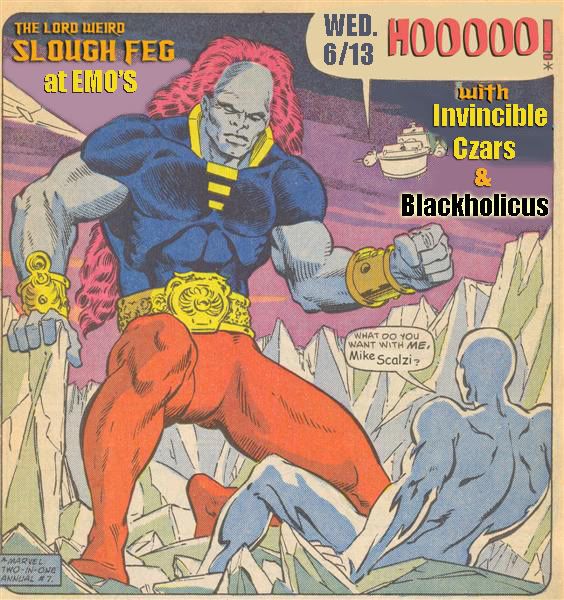 South-by-South-Whoopsy! at Trophy's: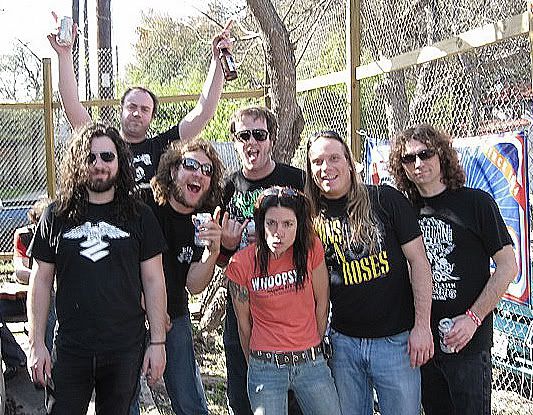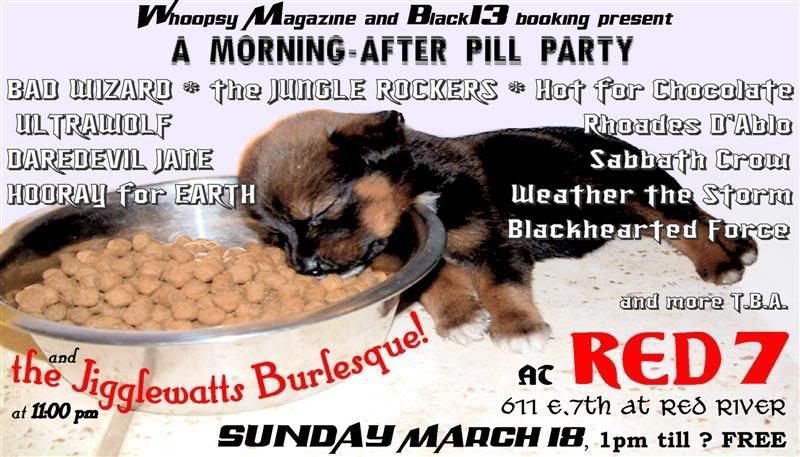 Whoopsy is an independent culture/entertainment magazine based in Austin Texas, featuring all kinds of music, movies, art, books, sex, hotrods & choppers, short stories, rants & raves, comix, inappropriate commentary, and a sports section that will make the hotdogs run out yo butt... www.whoopsymagazine.com.
WE OFFER BUTT-KICKIN' AD RATES! 20% off for local bands.
We do BOOKING in Austin, CD reviews, show previews, local business profiles... hook up!
Whoopsy is distributed free of charge at over 250 locations throughout the Austin area, and at select locations in San Marcos and San Antonio, TX. Our expanded, national distribution began December 2005 and ended when we figured out how much it costs to ship a bunch of newsprint. We'd rather keep our ads dirt-cheap for our Austin sponsors. If you want to subscribe to Whoopsy, advertise, or add your Austin-area business/venue to our distribution list, you can contact us here.
Whoopsy has an open submission policy and we're always on the prowl for writers, photographers, illustrators & layout designers, and ad sales reps.
If you want your CD reviewed, send us a brief introduction to the music and/or CD jacket graphics, and request our mailing address. For those who don't know this, it is advisable to familiarize yourself with a publication's style and antics before submitting material for review. If you're looking for a promotional review for your "press kit" we have writers for hire. ===============================================
PAST SHOWS...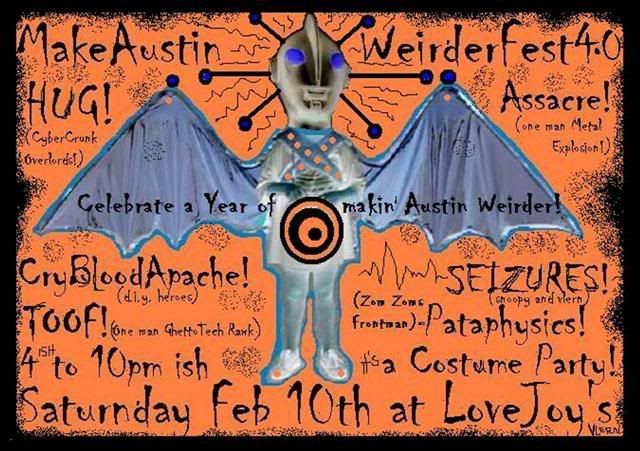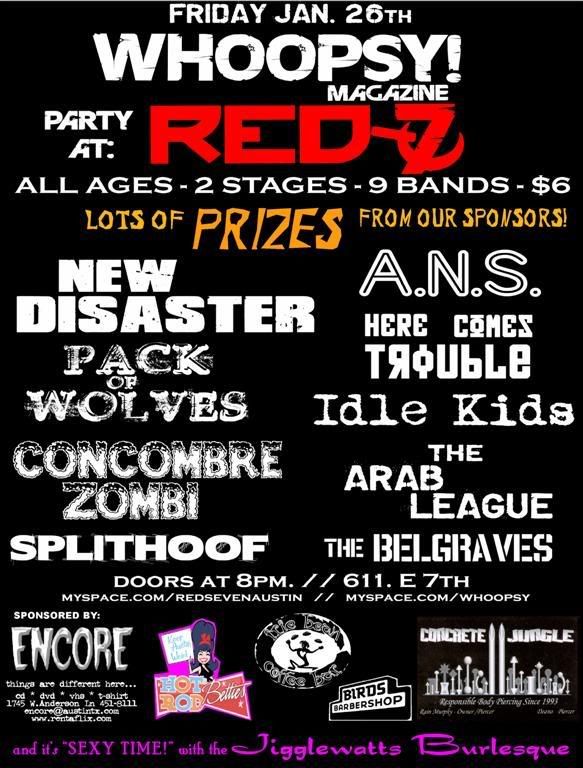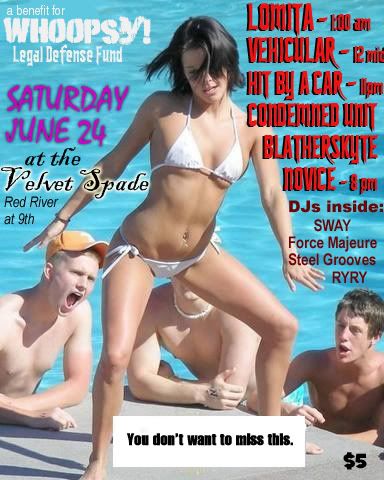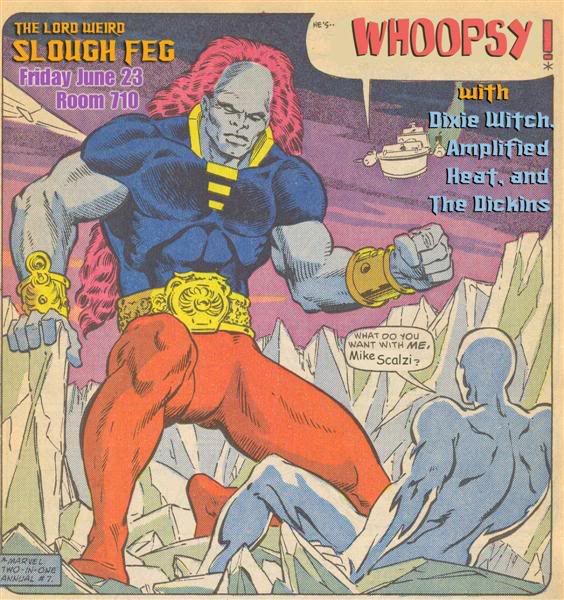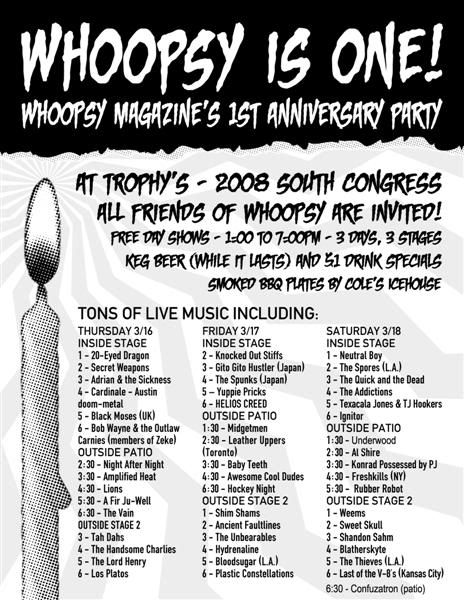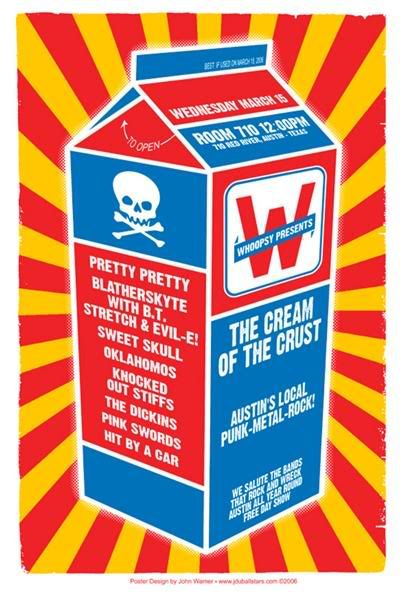 ....
Who I'd like to meet:
ADVERTISERS!
far-out new bands, record labels, promoters, video/media companies, beer & liquor sponsors... filmmakers, community activists, local business owners, evil clowns, superheroes, cowboys, wrestlers, monsters of any kind, writers, photographers, designers, artists, advertisers...
Status:

Swinger

Here for:

Networking, Dating, Serious Relationships, Friends

Hometown:

Austin, TX

Body type:

8' 10" / Body builder

Ethnicity:

Middle Eastern

Zodiac Sign:

Sagittarius

Children:

I don't want kids

Occupation:

Entertainer, Reporter