No recent updates in this category.
Why not...
WNyu Radio hasn't earned any badges yet... have you?
About me:
WNYU is New York University's radio station and is completely operated by NYU students. WNYU's studios are located in the basement of 5-11 University Pl. in Greenwich Village. WNYU's transmitter is located at University Heights in the Bronx, the former location of NYU. WNYU broadcasts on 89.1 FM with an effective radiated power of 8,300 watts weekdays from 4:00PM to 1:00AM, and on the Internet 24 hours a day, 7 days a week.
In the NYU dorms, WNYU can be heard 24 hours a day, 7 days a week, as the audio for WNYU-TVs campus information channel.
Please don't ask us to listen to your music through myspace. If you want to submit music please visit
our website
and follow the instructions on the page. This station is run entirely by full-time students and as such we don't have the time to listen to myspace music requests, sorry guys.
CLICK HERE TO LISTEN LIVE!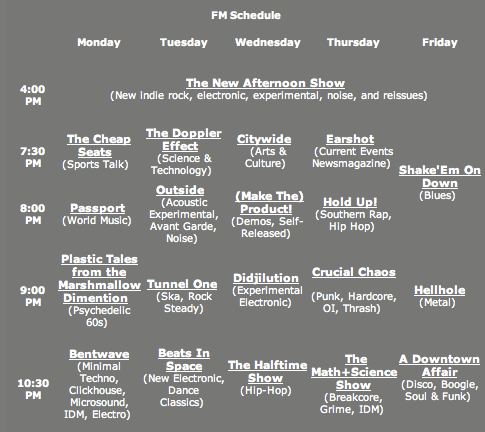 Stay Tuned for More of the Goods, Only on WNYU Radio 89.1 FM New York. ..
Note: we do not read myspace messages.
Who I'd like to meet:
..
Status:

Swinger

Here for:

Networking

Hometown:

New York

Orientation:

Bi

Body type:

Body builder

Zodiac Sign:

Capricorn

Education:

Some college

Occupation:

Bringing the Masses Sweet Tunes.
New York University

New York,NY

Graduated:

N/A

1980 to Present