No recent updates in this category.
Why not...
Wilbur Craig custom-order Any-Transpo hasn't earned any badges yet... have you?
General

DON'T MISS WATCHING THIS "WOW" VIDEO ALONG WITH THE OTHERS WHICH ARE ALL AVAILABLE FOR YOUR VIEWING PLEASURE IN THE VIDEO SECTION. ..

Making Cruisers and Choppers Move in Wood

..

Add to My Profile

|

More Videos

..

..

Not only is Capital Lumber Company a proud Sponsor of "Wood Art In Motion," but the Company's Owner is also a proud recipient of a piece of Wilbur's art ~ ..

1928 Plymouth

w/ suicide doors ..

..

..

Some can hear a tune and play it, others can look at an object and paint it, Wilbur Craig sees anything that moves and builds it… from wood. ..

Similar to Pablo Picasso or Wolfgang Amadeus Mozart, Wilbur is "savant." He was born an Artist. But unlike Picasso and Mozart whose talent was discovered before they were adolescents, Wilbur only recently discovered his artistic gift after retirement 16 years ago. ..

Imagine your favorite form of transportation - perhaps your very first car, created as a mirror reflection in its most "true-to-life" art form, using only dowel pins, toothpicks, walnut, maple and "1 X 10." From heavy machinery and farm equipment to classic cars, pck-up trucks, 18-Wheelers, motorcycles, planes and trains, all of Wilbur's art generates high performance via hand operable shifting gear. ..

The desired number of moving parts and cosmetic detail set the pace for pricing this one-of-a-kind art. You, the customer, are in the driver's seat and have steering control. So rev-up your motor and custom order to the purr of your heart. ..

All you need to do is send Wilbur 8 to 10 photographs - front view, rear view, side views, interior cab and under the hood. Then in 3 to 6 months, you'll be one of the eclectic few to own a priceless art hand-crafted from such magical hands and phenomenal artistic notion. ..

So, strap on your seat belt, shift into overdrive and cruise through the "Wood Art In Motion" gallery and enjoy a breathtaking ride! ..

..

CURRENT COMMISSIONED ART ..

..

Commissioned to create multiple motorcyles for "Biker Build-Offs" in which cycle enthusiasts will compete to put together in 2-3 minutes. ..

Chopper + Cruiser Disassembly for CYCLE TRADER Biker Build-Offs

..

Add to My Profile

|

More Videos

..

..

Commissioned to create a walking stick with the Rockabilly Band "Stray Cat" head. ..

..

RECENT ART SHOWS ..

..

Cheyenne Depot Days: 6/8-10 ..

..

Davis County Fair Car Show: 8/15-18 ..

..

THE "WOW" COLLECTION ..

CARS ..

..

..

..

..

TRUCKS ..

..

..

MOTORCYCLES ..

..

..

..

TRAINS ..

..

..

AIRCRAFT ..

..

..

18 WHEELERS ..

..

..

TRACTORS ..

..

..

BULLDOZERS ..

..

..

OTHER FARM MACHINERY ..

..

..

MILITARY VEHICLES ..

..

..

BUGGIES ..

..

..

..

STICK HORSES ..

..

..

RIFLES & PISTOLS ..

..

..

MAIL & KEY HOLDERS ..

..

..

HAIR DRYER & CURLING IRON HOLDERS ..

..

..

TRASH RECEPTACLES ..

..

..

Music

Television

..

Three actors are proud owners of military Jeeps from "WOOD Art In Motion" and here's what they have to say about it. ..

..

Quote from Tim Conway: ..

"Creative people have always been at the top of my hit list. I don't just mean people in show business, but people who create works for other people to enjoy well into the future. One of those people is Wilbur Craig. As a kid I used to watch guys make little train whistles out of a piece of wood and marvel at that~ but when I saw Wilbur's work I was overwhelmed. I was fortunate enough to be presented a gift that was a hand carved World War II Army jeep by Wilbur. It is unbelievable in detail and the details were crafted from memory by Wilbur. It remains in my office in a case for all to see. You can spend hours looking at it and wondering how such an art piece could be created with a knife and a piece of wood. To say that Wilbur just has a hobby is to say that Picasso did a little painting around the house. I keep thinking that little jeep is going to start up and drive right out of that glass case. I am honored to have in my possession a masterpiece by Wilbur Craig." ..

..

..

Quote from Ernest Borgnine: ..

"It's the most beautiful wood carving I've ever seen. The details are sensational." ..

..

..

Quote from Chuck Norris: ..

"I cannot thank Wilbur enough for the beautiful Jeep. It is absolutely incredible! We have a special place for it in our home. All of the hours that Wilbur put into making this "work of art" and only to give it to me. What a special gift! I will cherish it!" ..

..

Books

..

..

The above magazines have featured "Wood Art In Motion." Check back for BLOGS that will showcase full articles/photos. ..

..

Newspapers that have featured "Wood Art In Motion" --- ..

"From the Maker's Hands" WYOMING NEWS – Cheyenne, Wyoming Pages C1 & C8 August 1, 2004 ..

"A Bulldozer is a Thing of Beauty" THE SPECTRUM – St. George, Utah Pages A1 & A12 2000 ..

"One-of-a-kind Caterpillar" FOLKS – Peoria, Illinois Page June 16, 1995 ..

"Intricate Models Provide Challenge for Craig" DUBOIS FRONTIER – Dubois, Wyoming Page June 10, 1993 ..

..

Heroes

..

..

In loving memory of my best friend, "Art Assistant" and companion for 12 years, "Boss Town Dozer." 1-23-07 ..

..

And now, there is "Minnie." ..

..

..

..

..
ARTIST★Wood Art In Motion CARS CYCLES JETS TRAINS has 5031 friends.
Play

Play Next

Add to queue
About me:
..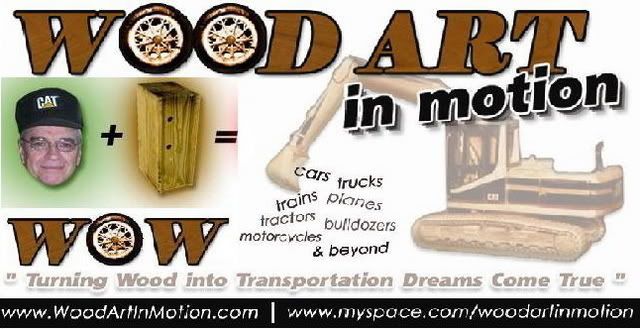 ..
Welcome to the world of "Wood Art In Motion" created by "WOW" Artist, Wilbur Craig. If the word "WOW" hasn't already escaped your mouth, please read and look on... and it inevitably will! ..
I GUARANTEE IT!!! ..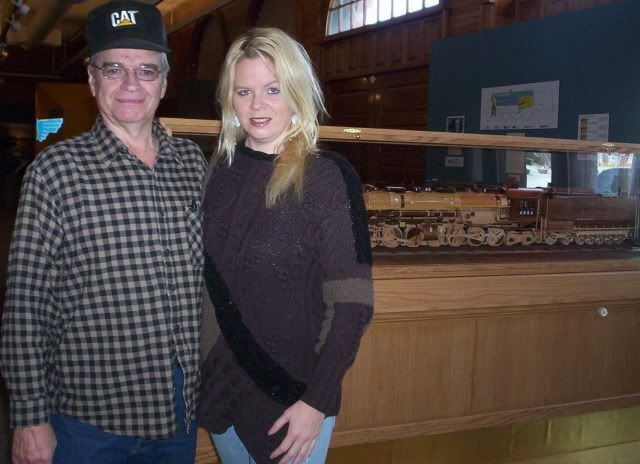 ..
ARTIST WILBUR CRAIG, REP "ANGEL" + BIG BOY
Wilbur was basically discovered by his very own daughter... ME! I am "Angel" and I am the lucky Artist Rep for Wilbur. While I monitor and maintain his cyber "WOW" world here... please know that Wilbur reads every one of your comments. It has taken me years to make Wilbur call himself an "Artist"... in fact, he still has problems with it! But one thing he has finally realized and accepted is that GOD gave him a gift and Wilbur is supposed to give his gift to others. ..
TURNING WOOD INTO TRANSPORTATION DREAMS COME TRUE
Wilbur is one of America's most unique and talented artists, creating a distinct niche in the art world. He turns wood into transportation dreams come true, otherwise known as "Wood Art In Motion". Wilbur magically transforms planks of wood into miniature automobiles, motorcycles, trains, airplanes, bulldozers, tractors, buggies, rifles, and much more. These are not carvings; all have moving wood parts and can be completely disassembled – piece by piece – down to the frame. Each piece of art is 100% wood and most have between 1,000 to 9,000 parts, made to a precision fit by hand. No nails, screws, string, rubber, plastics, glue or wire are used, just wood. Wilbur's works are created from memory, photograph or by sight. He creates each piece of art without drawings, kits, 'to scale' measurements, calculations, 'tool and die', precision instruments or lathe. He uses only his hands, a band saw, belt sander, scroll saw and planer. His ruler is his eyes; he takes no measurements. ..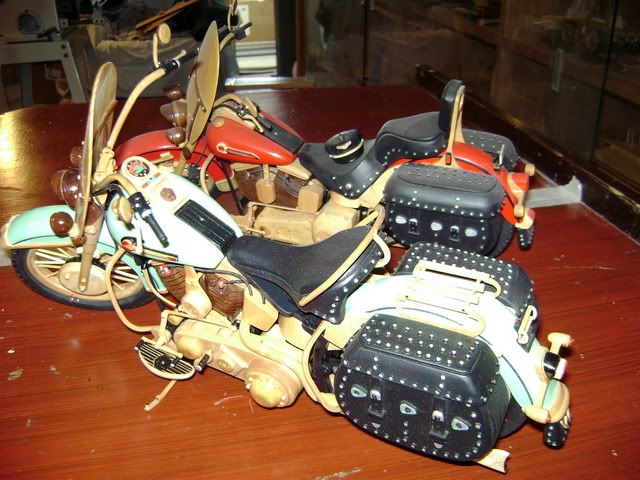 ..
2003 HARLEY SOFTAIL + 1957 74 HARLEY ~ 800 PARTS / 5 MONTHS
Wilbur's art functions with the exacting precision as found in the original parts of a full scale item, down to the finest of details including such small parts as windshield wipers, door hinges, seat springs, handles, oil dip sticks, cylinders of engines with pistons, transmissions and drive shafts, moving tracks, wheels that turn via a steering wheel, gears, blades, rippers, sleeper cabs outfitted w/ a closet and dresser filled w/ attire, glove compartments accessorized with tools and a flash light, CDs, a thermos of coffee, and even a cap as seen with the Harley Davidson Motorcycles (ABOVE)... and the list goes on and on. ..
..
1930s CASE 1550 ~ 75 PARTS / 3 MONTHS LABOR
Though Wilbur's talent was first seen at the age of 12 when he carved his first tractor, he never touched a piece of wood again until he retired at 57 and "out of the blue" just decided to carve a bulldozer one day by looking at a small plastic toy - the 1930s CASE 1550 (ABOVE) - Wilbur's first piece of art. And, that led to not one but three bulldozers as his wife, Jane, reminded him that he had three children and each should have one or a fight would begin! It didn't take long to figure out that this was much more than just a hobby or passion of Wilbur's. ..
..
1930 FORD MODEL A ~ 2,000 PARTS / 5 MONTHS LABOR
The 1930 Model A (ABOVE) was Wilbur's very 1st car. His Grandpa, Mom and Dad scraped together $75.00 to buy it for him on his Sweet 16 Birthday in 1950. Oh boy, does he ever wish he still had "her" today. Perhaps one day, Wilbur can make your 1st car or dream transportation "move in wood." ..
..
BIG BOY STEAM LOCOMOTIVE ~ 9,000 PARTS / 18 MONTHS LABOR
The ultimate piece of art in Wilbur's vast collection is a "Big Boy Steam Locomotive" which is six feet long, all wood, approximately 9,000 parts and was created from photographs of the real locomotive sitting in the Cheyenne railroad yard. Museum Curators appraised Wilbur's "Big Boy" in 2005 at a starting value of $100,000 and it has been insured accordingly. "Big Boy" is on exhibition at the Cheyenne Train Depot Museum in Wyoming... or as Wilbur likes to call it "God's Country!" ..
BIG BOY LOCOMOTIVE ART featured in Train Depot Museum
..
Add to My Profile
|
More Videos
..
..
HOME OF BIG BOY ~ COME FOR A VISIT!
The Cheyenne Depot Museum aka "Home of Big Boy" is located at 121 West 15th Street in Cheyenne, Wyoming 82003.
www.cheyennedepotmuseum.org
..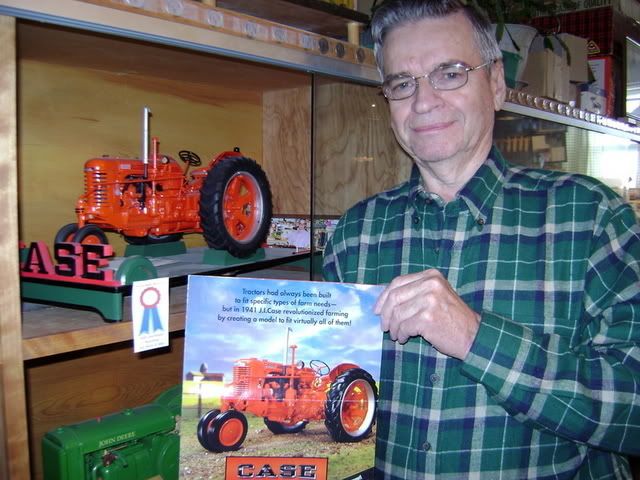 ..
1941 CASE TRACTOR ~ 3,500 PARTS / 6 MONTHS LABOR
Wilbur reveals the brochure of the 1941 CASE Tractor that he looked at to create the ABOVE art. Again, ALL of Wilbur's works of art are created from memory, photograph or by sight. ..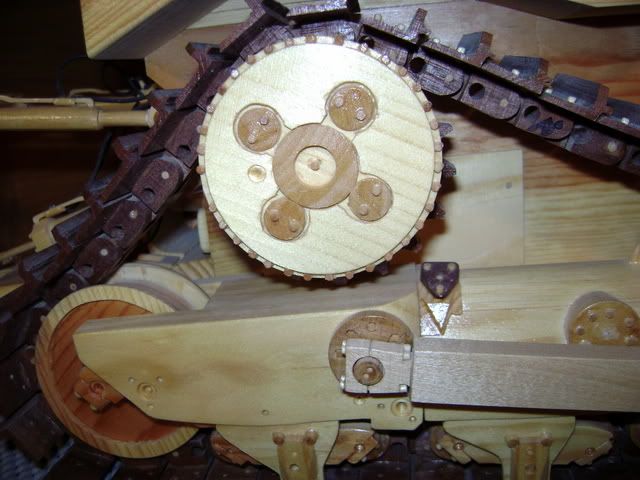 ..
1993 CAT D11 ~ 3,900 PARTS / 7 MONTHS LABOR
An up close and inspirational look at the incredible detail of the (ABOVE) 1993 CAT D11's moving wood track. ..
..
1941 JOHN DEERE MODEL A TRACTOR ~500 PARTS / 5 MONTHS LABOR
Hard to believe... I know. But yes the (ABOVE) 1941 John Deere Model A Tractor is made from all wood, no metal or plartic. Wilbur just also happens to be a brilliant Painter. And, he even makes hoses, tubes, coils and cables from wood. ..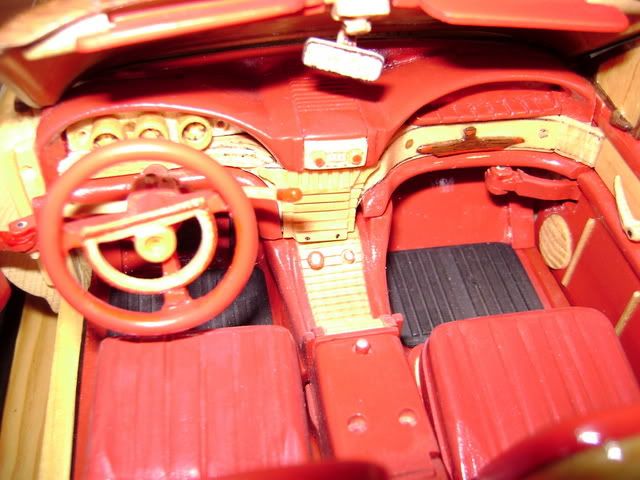 ..
1961 FORD THUNDERBIRD ~ 2,000 PARTS / 5 MONTHS LABOR
Just as much as the outside mirors the real thing, so does the inside. Check out the immacualte detail of Wilbur's 1961 Ford T-Bird (ABOVE.) ..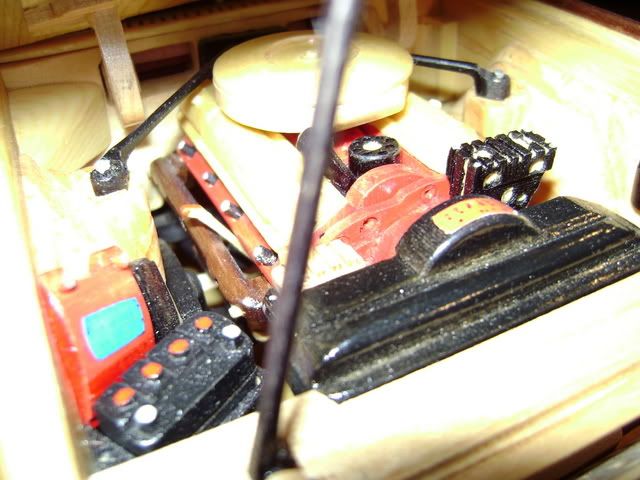 ..
1961 FORD THUNDERBIRD ~ 2,000 PARTS / 5 MONTHS LABOR
And if you think Wilbur misses a beat under the hood, think again. Look (ABOVE) at the precision motor assembly and detail of his 1961 T-Bird. ..
..
GOLDEN SPIKE CEREMONY of 1870
Wilbur loves to create things that have history. And this is why he replicated the "Golden Spike Ceremony of 1870." Wilbur created both engines ~ Union Pacific Railroad Locomotive No. 199 and Southern Pacific Locomotive, Jupiter No. 60. The photo above and video below show where the two locomotives met and the "Golden Spike" was driven. ..
Artist Replication of "Golden Spike Ceremony of 1870" in Wood
..
Add to My Profile
|
More Videos
..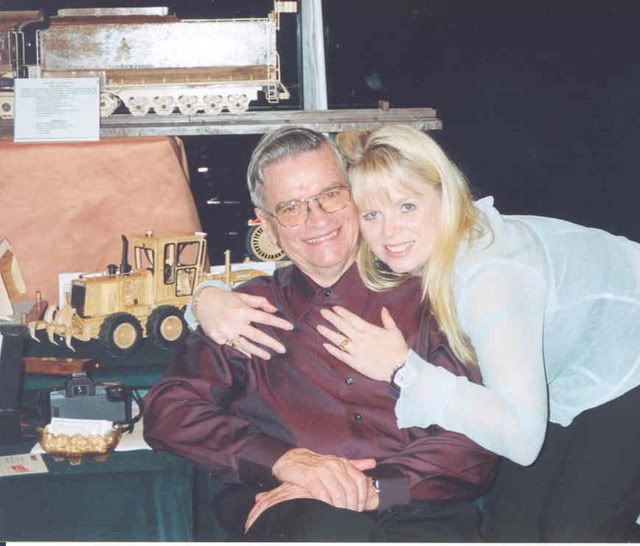 ..
GRAND JURY AWARD WINNER ~ Los Angeles Art Show
Though it was "challenging" to get Wilbur to realize that he is in fact an Artist, he now has no choice but to admit it. His art has received both local and national recognition in museums, art shows, corporate headquarters, TV, radio, web and print. Among several awards that Wilbur is so proud of, The New York Art Festival featured him as the "Grand Jury Award Winner" of the Los Angeles Art Show in September '04. ..
..
QUOTES FROM WILBUR
Regarding the 1935 Southern Pacific Cab Forward (ABOVE) ~ "It's no. 4294. When you look at a locomotive today, you can see the front and back end. With this one, everything is backwards. The cab is in the front end, which is normally the back end in another train. The reason they changed the cabs around was the smoke hit the engineers and it made them sick. It's a beautiful train, but when you see it, it's crazy." ..
"People don't believe I never went to art school or anything. I just tell them that it's a gift from God." ..
"I don't use strings, rubber bands, screws or nails. I can completely disassemble the things that I make." ..
"I don't draw pictures of anything. It's nowhere but in my mind." ..
"CAT offered to send me blueprints of tractors, and I said, 'I can't read a blueprint.'" ..
"I don't mark nothing. I just go and cut it." ..
"It's a big challenge just to see if you can do it." ..
"I don't know how I do it. But you gotta kind of engineer it to make it come out right." ..
"I've got enough in my workshop to start a museum." ..
"The reason I like history – is when they built older forms of transportation, there weren't any computers. There were engineers and they had to sit down with pens and pencils. That's history and some great engineers. Today, we all build stuff to whatever the computer says." ..
"I use walnut a lot of times because it's a hard wood, and it brings out the personality of the transportation. It also looks good against the white color of the pine and the maple." ..
"If I get an order (or commission) I use different kinds of woods that people ask me to use." ..
"I am very particular. Everything has to be just right." ..
"I've always liked bulldozers aince I was a kid. That was the first piece of art I made. That's how I got started in this." ..
"There's no such thing as a kit for none of this. I wouldn't have a kit in the first place." ..
"I don't even know what scale is." ..
"I guess a piece of wood is just a challenge to me." ..
..
But Tim Conway always says it best... ..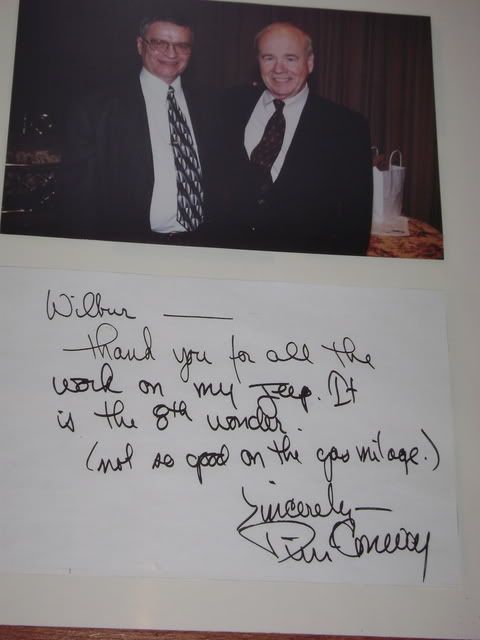 ..
..

Masthead Banner Made with MyBannerMaker.com! Click here to make your own!
..
Who I'd like to meet:
..
Our most precious friends:
..


Anyone that appreciates my art and especially those that would like to own it! ..


Art Collectors ..


Art Galleries ..


Art Shows ..


Artists ..


Artist Reps ..


Auction Houses ..


Authors ..


Automotive/Transportation Clubs ..


Automotive/Transportation Executives ..


Automotive/Transportation Shows ..


Automotive/Transportation Enthusiasts ..


Collectors ..


Execs of Transportation Companies ..


Graphic Artists ..


Illustrators ..


Investors ..


Magazines ..


Marketing Execs ..


Media Execs ..


Museums ..


Newspapers ..


Non-Profit Charitable Organizations ..


Online Auctions ..


Photographers ..


Promoters ..


Publicists ..


Publishers ..


Reporters ..


Sponsors ..


TV Networks ..


Vendors (Wood & Paint) ..


Web Designers ..


Wood Carvers ..


Writers ..

And did I say... our most precious friends:

Status:

Married

Here for:

Networking

Ethnicity:

White / Caucasian

Religion:

Christian - other

Zodiac Sign:

Taurus

Children:

Proud parent

Occupation:

Artist
etc PRODUCTIONS, LLC

Woodland Hills, CA US

My daughter's company that REPs my art