Play

Play Next

Add to queue
Play

Play Next

Add to queue

65 plays

Play

Play Next

Add to queue

86 plays

Play

Play Next

Add to queue

22 plays

Play

Play Next

Add to queue

14 plays

Play

Play Next

Add to queue

22 plays
Genre: Ambient / Black Metal / Folk

Location Salem, Un

Profile Views: 21306

Last Login: 12/8/2012

Member Since 12/3/2005

Website www.facebook.com/wrathfulplague

Record Label Metallic Media Records

Type of Label Indie

Bio

Wrathful Plague was founded in December of 2005 as a raw old-school black metal project by Nostaun. In April of '06, W.S. joined the band to provide drums/ambient keyboards and soon WP signed with E.E.E. Recordings. Wrathful Plague's discography includes their minimalistic debut album "The Frostbitten Path" (2006), which contains vibes and textures simlular to the early 90's Nordic vein, and their most recent release "Bitter Forest Winds" (2007) which marks an immense step forward both musically and production wise. In the fall of 2010 Wrathful Plague went back to the studio after a three year hiatus to begin working on their third full-length album entited "Thee Within The Shadows". On this third album, WP creates a nightmarish soundtrack, heavily incorporating dark ambient, madigral and orchestral/choral elements...while still sticking to their roots of raw primitive grimness. "Thee Within The Shadows" will also feature drums courtesy of "Shemyaz" of the Mighty Polish death/thrash metal horde "Cryptic". This album is set to be released in the spring of 2013. Wrathful Plague's black hymns work to create a cold, raw and medieval atmosphere with influences ranging from Tolkien's World & Germanic/Norse Paganism to the frostbitten and formidable power of "nature". Creating a trance inducing sound which is a nightmarishly unbearable plague for those unaccustomed to the world of raw primitive black metal. .. ...... ..Myspace Editor.... ..Pimp MySpace.. ....

Members

Nostaun - poetry, vile screams, chants, guitars, bass and keyboards. .. Shemyaz - Drums & Artwork ..

Influences

The works of J.R.R. Tolkien, frostbitten nights under a full moon, Germanic/Norse Paganism, Occultism, the bliss of misanthropy and frostbitten winter nights. Bands such as Darkthrone, Burzum, Moonblood, Isengard, Old-Satyricon, Velnias, Vlad Tepes, Absurd, Sapthuran, Bathory, Judas Iscariot

Sounds Like

PURE FUCKING COLD black metal with ambient/symphonic and medieval folk textures
Bio:
Wrathful Plague was founded in December of 2005 as a raw old-school black metal project by Nostaun. In April of '06, W.S. joined the band to provide drums/ambient keyboards and soon WP signed with E.E.E. Recordings. Wrathful Plague's discography includes their minimalistic debut album "The Frostbitten Path" (2006), which contains vibes and textures simlular to the early 90's Nordic vein, and their most recent release "Bitter Forest Winds" (2007) which marks an immense step forward both musically and production wise. In the fall of 2010 Wrathful Plague went back to the studio after a three year hiatus to begin working on their third full-length album entited "Thee Within The Shadows". On this third album, WP creates a nightmarishly diabolical soundtrack, heavily incorporating dark ambient, madigral and orchestral/choral elements...while still sticking to their roots of raw primitive grimness. "Thee Within The Shadows" will also feature drums courtesy of "Shemyaz" of the Mighty Polish death/thrash metal horde "Cryptic". This album is set to be released in the spring of 2011. Wrathful Plague's black hymns work to create a cold, raw and medieval atmosphere, which recalls the older music of bands such as Ildjarn, Satyricon and Darkthrone with influences ranging from Tolkien's World & Germanic/Norse Paganism to the frostbitten and formidable power of "nature". Creating a trance inducing sound which is a nightmarishly unbearable plague for those unaccustomed to the world of raw primitive black metal.
..
Myspace Editor
Pimp MySpace
Member Since:
December 03, 2005
Members:
Nostaun - blackened poetry, vile screams, chants, guitars, bass and keyboards.
Shemyaz - Hellish Drums & Artwork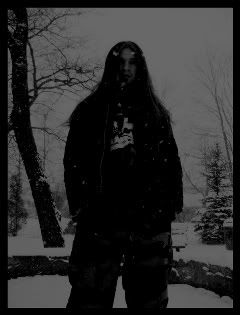 Influences:
Early 90's Norwegian Black Metal, the works of J.R.R. Tolkien, frostbitten nights under a full moon, Germanic/Norse Paganism, The Occult, the bliss of misanthropy, frostbitten winter nights, all things dark, grim and mystical, nature and bands such as Darkthrone, old-Mayhem, Burzum, Primordial, (old- Emperor), Judas Iscariot, Gorgoroth (with Pest), Leviathan, (old-Satyricon), Bathory, Ildjarn, (old- Ulver), Graveland, Isengard, Crebain, Aeturus, Windir, Hellhammer, Summoning and Xasthur.
Sounds Like:
Cold, minimalistic and pure-fucking-grim black metal adorned with ambient/medieval folk textures.....