Play

Play Next

Add to queue
Play

Play Next

Add to queue

2,302 plays

Play

Play Next

Add to queue

2,299 plays

Play

Play Next

Add to queue

43 plays

Play

Play Next

Add to queue

6,789 plays

Play

Play Next

Add to queue

15 plays
Genre: Indie

Location Chicago, US

Profile Views: 46631

Last Login: 12/12/2011

Member Since 1/27/2006

Website www.wulirecords.com

Record Label WuLi Records

Type of Label Indie

Bio

........ .... .. Started by Louis Svitek (Ministry, Mind Funk, MOD, Project.44, etc.), WuLi Records is a full service recording, merchandising and publishing company, dedicated to artist development and final recorded product distribution. Teamed with strategic partner ORyan Productions, WuLi is scheduled to release six new albums in late 2006/early 2007. WuLi Records is interested in opening national & international distribution channels for CDs, Videos and other merchandise for artists on the WuLi Records label. Exciting things are happening at WuLi Records: The REDD opened for Ice Cube on July 28th in Lake Tahoe, The Young Inno is close to signing-on as the opening act for a fast as lightening rapper from Chicago. The upcoming gritty Gangsta City documentary will also feature The Young Inno and be produced, mixed, and mastered by WuLi Records and ORyan Productions. In addition, WuLi Records scored the first four songs on the Mobfest produced CD titled The Heavy Side of Mobfest (Chicagos version of SXSW). And in another major score for WuLi Records, the all-star band WondaBred has agreed to terms for providing live- Yes! live music for any WuLi Records artists that wish to do their stuff for real! Live Rap/Hip-Hop/Hip Rock for the world to love. Currently WuLi Records and ORyan Productions use two private, state-of-the-art, digital recording studios featuring both Logic and ProTools HD to help meet their busy production schedules. All artists and WondaBred are on lock-down and focused on finishing their debut CDs on the WuLi Records label. Look for debut CDs from, The REDD, The Young Inno, Lee DeWyze, Cycotical Genius and others very soon..... ....The Redd...... .. You can tell that Chicago native The Redd started rapping at the age of sixteen. He carefully blends the flowing grooves of classic hip-hop with the tribal elements of rock. The result is the perfect backdrop for the hard up-front rapping that The Redd is pioneering. The rhymes are timeless and wise beyond their years. The music grips and touches everyone who listens. Redd firmly believes that music is the universal language of ALL people, which is why fans across all genres attend and love his high-energy performances. His influences go far beyond the standard rock/rap genre and range from rap to metal, from blues to soul, and from R&B to reggae. He is not easily labeled. And this is the way he wants it! The Redd is the first artist signed to Chicago's Wuli Records and he is extremely dedicated to putting the label and Chicago on the map. .. .. ....Young Inno........ .. M.O.A! -- Money Over Anything! -- is the mantra that keeps Young Inno focused, shining through in everything he does. Young Inno started playing music at the young age of 7. He worked the keyboards, banged the drums and wouldn't stop either until he was told to walk away. He keeps his music fresh by planning every step, composing every beat, and writing every word. Like many Wuli Records recording artists, he'd like to put Chicago back on the map. Inno grew up on the city's North Side in the notorious neighborhood of Cabrini Green. And Inno is damn proud of it. Young Inno has an agenda and he sees no reason to leave. His forward thinking, focus, natural musical instincts and hometown pride are just a few of the reasons why Young Inno will stay a staple in both the Chicago rap and music scene for many years to come. .. .. ....2 Unique........ .. Kirby and Big Cheese make up the duo 2 Unique. They bring the West Side of Chicago right to your speakers. Though their music is a group effort, Cheese writes the most of the lyrics and Kirby weaves the beats and the music together. Having been collaborating since the tender age of 16, it is no surprise that they know how to combine and draw upon each other's talents. Do not try to fit this duet into one genre. One minute they'll draw your mind to the historic 12 bars of BB King and the next minute they'll have you thinking of the rhythms of R Kelly. 2 Unique thrives in a live atmosphere where most R&B groups fall short. They love to feel their audience and draw energy from their fans. Their up-tempo, high-energy shows are just an example of their attitude. Of course, don't listen to us. 2 Unique lets their music speak for itself. Listen. .. .. ....Cycotical Genius........ .. .. Cyco is the first lady of Wuli Records! But this queen is no princess she's the hardest working artists on Wuli Records, and it shows through in every rhyme she puts to wax. This Chicago native comes from a very musical family. Cyco is classically trained, she can play five instruments and she had her rap debut in the third grade! Just because she is working on her first record doesn't mean you can call her a rookie. She wants to reach her fans, she wants to relate to them, she wants to have fun with them and she wants to make sure they know she is a hard working person just like them. Cyco is more intent on being cool than being platinum to the "fullest to the fullest-tivity." Cyco believes image only last for so long so she refuses to get caught up in the "trendy style trap" many succumb to. Her stage presence is akin to a full out attack on the audience which plays right into her high-octane outlook. Call her a female rapper at your own risk because she will get in the ring with guys and girls alike. This Cycotical Genius will leave most of them hobbling to a neutral corner. .. .. ....Lee DeWyze........ .. .. If you close your eyes and listen to Lee play, you will hear a mature singer song-writer. When you open your eyes you will see a shockingly young man. Checking in as the youngest member of the Wuli Records, you would assume he has a lot to learn. Listening to his lyrics, the feeling in his voice, and the instrumentation in his tracks, you will go back on your assumptions. Lee is more into song building then he is into song writing as each track seems to have its own pulse. Lee could care less what is popular, what is "in", or what the masses think is good. Dewyze is doing this for the sport, and if he happens to accomplish his goals of being musically self-sufficient then so be it. If not, he knows he will still be playing for the love of the "game." Names like Cat Stevens, Bob Dylan, Dave Mathews and Damien Rice make up just a few of his influences, and like those gentleman, he is looking to touch his audience and relate to them. Considering Lee Dewyze isn't old enough to hold a beer, you will be amazed how instinctually inclined his music and songwriting are. You should start listening to him now because at the pace he is going, his name will be on the tongue of millions. .. .. ....The Waking........ .. The Waking was formed in early 2004 when former members of Hybreed and Spent began jamming. The first demo was engineered and recorded by Louis Svitek (Ministry, M.O.D.) and is available through the website. The Waking are featured on a internationally distributed paintball DVD (episode 42) released through Traumahead Sportz, which can be viewed at traumaheadsportz.com. At the present time, they will be playing a few shows and recording for the upcoming CD. .. .. ......

Members

.. .... .. .. .. ...... .. .. ....The Redd.... .. .. .. .. .. .. ...... .. .. ....Young Inno .... .. .. .. .. .. .. ...... .. .. ....2 Unique .... .. .. .. .. .. .. ...... .. .. ....Cycotical Genius .... .. .. .. .. .. .. ...... .. .. ....Lee Dewyze.... .. .. .. .. .. .. ...... .. .. ....The Waking .... .. .. .. .. .. ...... .. ..Flyer_1.. .... .. .. .. ...... .. .. ...... .. .. ......CLICK HERE...... .. .. .. .. .. ...... ..

Influences

Sounds Like

.... .. .. .. ...... .. .. ..(Click ..here.. to purchase album).. .. .. ...... .. .. ..(Click ..here.. to purchase album).. .. .. ...... .. .. ..(Click ..here.. to purchase album).. .. .. .. .. .. .. .. .. .. .. .. .. .. .. .. .. .. THE WAKING .. Number one in illinois! The time to take over the world has come! .. http://topartists.myspace.com/index.cfm?fuseaction=music.topBands
04:12 | 233 plays | Jan 16 2007
Bio:
....
Started by Louis Svitek (Ministry, Mind Funk, MOD, Project.44, etc.), WuLi Records is a full service recording, merchandising and publishing company, dedicated to artist development and final recorded product distribution. Teamed with strategic partner ORyan Productions, WuLi is scheduled to release six new albums in late 2006/early 2007. WuLi Records is interested in opening national & international distribution channels for CDs, Videos and other merchandise for artists on the WuLi Records label. Exciting things are happening at WuLi Records: The REDD opened for Ice Cube on July 28th in Lake Tahoe, The Young Inno is close to signing-on as the opening act for a fast as lightening rapper from Chicago. The upcoming gritty Gangsta City documentary will also feature The Young Inno and be produced, mixed, and mastered by WuLi Records and ORyan Productions. In addition, WuLi Records scored the first four songs on the Mobfest produced CD titled The Heavy Side of Mobfest (Chicagos version of SXSW). And in another major score for WuLi Records, the all-star band WondaBred has agreed to terms for providing live- Yes! live music for any WuLi Records artists that wish to do their stuff for real! Live Rap/Hip-Hop/Hip Rock for the world to love. Currently WuLi Records and ORyan Productions use two private, state-of-the-art, digital recording studios featuring both Logic and ProTools HD to help meet their busy production schedules. All artists and WondaBred are on lock-down and focused on finishing their debut CDs on the WuLi Records label. Look for debut CDs from, The REDD, The Young Inno, Lee DeWyze, Cycotical Genius and others very soon.....
The Redd
..
You can tell that Chicago native The Redd started rapping at the age of sixteen. He carefully blends the flowing grooves of classic hip-hop with the tribal elements of rock. The result is the perfect backdrop for the hard up-front rapping that The Redd is pioneering. The rhymes are timeless and wise beyond their years. The music grips and touches everyone who listens. Redd firmly believes that music is the universal language of ALL people, which is why fans across all genres attend and love his high-energy performances. His influences go far beyond the standard rock/rap genre and range from rap to metal, from blues to soul, and from R&B to reggae. He is not easily labeled. And this is the way he wants it! The Redd is the first artist signed to Chicago's Wuli Records and he is extremely dedicated to putting the label and Chicago on the map.
Young Inno
....
M.O.A! -- Money Over Anything! -- is the mantra that keeps Young Inno focused, shining through in everything he does. Young Inno started playing music at the young age of 7. He worked the keyboards, banged the drums and wouldn't stop either until he was told to walk away. He keeps his music fresh by planning every step, composing every beat, and writing every word. Like many Wuli Records recording artists, he'd like to put Chicago back on the map. Inno grew up on the city's North Side in the notorious neighborhood of Cabrini Green. And Inno is damn proud of it. Young Inno has an agenda and he sees no reason to leave. His forward thinking, focus, natural musical instincts and hometown pride are just a few of the reasons why Young Inno will stay a staple in both the Chicago rap and music scene for many years to come.
2 Unique
....
Kirby and Big Cheese make up the duo 2 Unique. They bring the West Side of Chicago right to your speakers. Though their music is a group effort, Cheese writes the most of the lyrics and Kirby weaves the beats and the music together. Having been collaborating since the tender age of 16, it is no surprise that they know how to combine and draw upon each other's talents. Do not try to fit this duet into one genre. One minute they'll draw your mind to the historic 12 bars of BB King and the next minute they'll have you thinking of the rhythms of R Kelly. 2 Unique thrives in a live atmosphere where most R&B groups fall short. They love to feel their audience and draw energy from their fans. Their up-tempo, high-energy shows are just an example of their attitude. Of course, don't listen to us. 2 Unique lets their music speak for itself. Listen.
Cycotical Genius
.... ..
Cyco is the first lady of Wuli Records! But this queen is no princess she's the hardest working artists on Wuli Records, and it shows through in every rhyme she puts to wax. This Chicago native comes from a very musical family. Cyco is classically trained, she can play five instruments and she had her rap debut in the third grade! Just because she is working on her first record doesn't mean you can call her a rookie. She wants to reach her fans, she wants to relate to them, she wants to have fun with them and she wants to make sure they know she is a hard working person just like them. Cyco is more intent on being cool than being platinum to the "fullest to the fullest-tivity." Cyco believes image only last for so long so she refuses to get caught up in the "trendy style trap" many succumb to. Her stage presence is akin to a full out attack on the audience which plays right into her high-octane outlook. Call her a female rapper at your own risk because she will get in the ring with guys and girls alike. This Cycotical Genius will leave most of them hobbling to a neutral corner.
Lee DeWyze
.... ..
If you close your eyes and listen to Lee play, you will hear a mature singer song-writer. When you open your eyes you will see a shockingly young man. Checking in as the youngest member of the Wuli Records, you would assume he has a lot to learn. Listening to his lyrics, the feeling in his voice, and the instrumentation in his tracks, you will go back on your assumptions. Lee is more into song building then he is into song writing as each track seems to have its own pulse. Lee could care less what is popular, what is "in", or what the masses think is good. Dewyze is doing this for the sport, and if he happens to accomplish his goals of being musically self-sufficient then so be it. If not, he knows he will still be playing for the love of the "game." Names like Cat Stevens, Bob Dylan, Dave Mathews and Damien Rice make up just a few of his influences, and like those gentleman, he is looking to touch his audience and relate to them. Considering Lee Dewyze isn't old enough to hold a beer, you will be amazed how instinctually inclined his music and songwriting are. You should start listening to him now because at the pace he is going, his name will be on the tongue of millions.
The Waking
....
The Waking was formed in early 2004 when former members of Hybreed and Spent began jamming. The first demo was engineered and recorded by Louis Svitek (Ministry, M.O.D.) and is available through the website. The Waking are featured on a internationally distributed paintball DVD (episode 42) released through Traumahead Sportz, which can be viewed at
traumaheadsportz.com
. At the present time, they will be playing a few shows and recording for the upcoming CD. ..
..
Member Since:
January 27, 2006
Members:
.... ..
.. ..
..Flyer_1.. .... ..
.. ..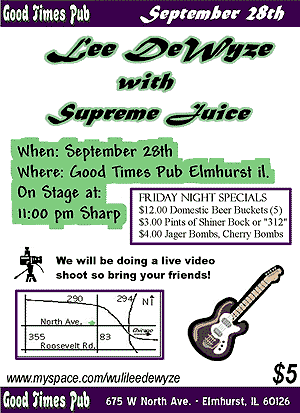 Sounds Like:
.... ..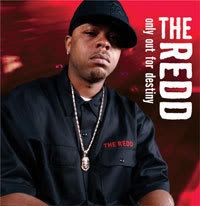 (Click here to purchase album)
(Click here to purchase album)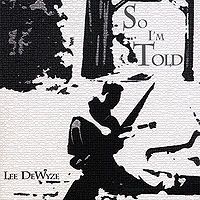 (Click here to purchase album)
.. ..
THE WAKING
Number one in illinois! The time to take over the world has come!
http://topartists.myspace.com/index.cfm?fuseaction=music.topBands
Record Label:
WuLi Records