No recent updates in this category.
Why not...
Tori Pacifico hasn't earned any badges yet... have you?
General

*My music is everything to me. It's my life.
*I'm a theatrekid. ((stagecraft?))
*I sing.
*..I pole vault...
*I flirt.
*I'm basically invisible half the time.
*I hang with the guys more than the girls.




Music

**The Academy Is...
*AFI
*Aiden
**Alkaline Trio
*All-American Rejects
*All Time Low
*American HiFi
*Anberlin
*A New Found Glory
*Angels & Airwaves
*Anna Nalick
*Armor For Sleep
*Ashley Parker Angel
*the Ataris
*A Thorn For Every Heart
*Atreyu
*the Audition
*Authority Zero
*Avenged Sevenfold
*the Beatles
*Billy Talent
*Blink 182 // Boxcar Racer
*Brad Paisley
*Bright Eyes
*..Butch Walker.. // Marvelous 3
*Cartel
*Christina Aguleria
*Chronic Future
*Cinematic Sunrise
*the Click Five
*Cobra Starship
**Cute Is What We Aim For
*Dashboard Confessional
**Death Cab for Cutie
*Depeche Mode
*Dierks Bentley
*Disturbed
*Dragonforce
*Dropkick Murphys
*Duran Duran
*Eisley
*Evanescence
**Eve 6
*Faith Hill
*the Fall of Troy
**Fall Out Boy
*Flyleaf
*the Foo Fighters
*the Fray
*From First To Last
*..Genesis..
**Goo Goo Dolls
*Gym Class Heroes
*Hawthorne Heights
*Head Automatica
*Hit The Lights
*The Hush Sound
*Incubus
*Ingram Hill
*Interpol
*Jack Johnson
**Jack's Mannequin
*Jet
**..John Mayer.. ?
*the Juliana Theory
*Keane
*Kill Hannah
*Killswitch Engage
**Led Zeppelin
*LIT
*LostProphets
*Matchbook Romance
**Mayday Parade
**Mindless Self Indulgence ???????
*Motion City Soundtrack
*MXPX
*My American Heart
*My Chemical Romance
*Natalie Imbruglia
*Nelly Furtado
*Nickelback
**..Nickel Creek..
*Nirvana
*Norah Jones
*Norma Jean
*..Oasis..
*One Less Reason
*Our Lady Peace
*Panic! At The Disco
*the Pink Spiders
*Plain White T's
*Puddle of Mudd
*Queen
*the Ramones
*Ratt
*Red Jumpsuit Apparatus
*Relient K
**Revis
**..Rise Against..?
*the Rolling Stones
*Rufio
*Saving Jane
*Scary Kids Scaring Kids
*Secret Machines
*Senses Fail
*Sevendust
*Shinedown
*Silversun Pickups
*Something Corporate
*the Summer Obsession
*Switchfoot
*Taking Back Sunday
*..Three Days Grace.. ?
*Too Sorry For Apologies
*Underoath
*Under The Influence Of Giants
*Unwritten Law
**the Used
*Wakefield
*the White Stripes
*30 Seconds To Mars
*311
*3 Doors Down

<3

..

Movies

**The Boondock Saints

**Dogma

**Heathers

**Jay and Silent Bob Strike Back

*Eternal Sunshine of the Spotless Mind

*Labyrinth

*Big Fish

*The Breakfast Club

*The Prestige

*Moulin Rouge

*Interview With A Vampire

*The Matrix

*The Truman Show

*Ed Wood

*Edward Scissorhands

*Nightmare Before Christmas

*A Muppet Christmas Carol

*X-Men (1,

2

,

& 3)
etc.

,

etc.

,

etc...

Television

Books

******Midnight in the Garden of Good and Evil: A Savannah Story
**Go Ask Alice
**Angels and Demons
*Stranger In A Strange Land
**the Harry Potter series (<3!)
*The Perks Of Being A Wallflower
*The Big Book of If
*The Lovely Bones
*anything Michael Crichton
*anything Dean Koontz
*anything Ray Bradbury...

Heroes
Play

Play Next

Add to queue

Play

Play Next

Add to queue

Play

Play Next

Add to queue

Play

Play Next

Add to queue

Play

Play Next

Add to queue
About me:
Oh, and
..this..
is where the party is.
.."I'd like to thank the good Lord for making me a Yankee."
-- Joe DiMaggio..
"I'm just a fucked up girl looking for my own peace of mind."
--from
Eternal Sunshine of the Spotless Mind
..
"From the minute you're conceived, you're trying to escape from New Jersey. Then after you leave, you always want to come back."
--Mikey Way
hi, I'm
Tori
Pacifico.
ask me questions, you'll get answers.
I can climb most things.
I'm actually a "good kid".
My morals are solid.
I overthink basically everything.
I'm a theatrekid, for ..
life
...♥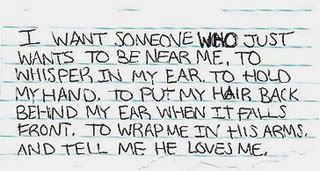 "Er-well-ghosts are transparent-" he said.
"Oh, very good," interrupted Snape, his lip curling. "Yes, it is easy to see that nearly six years of magical education have not been wasted on you, Potter.
Ghosts are transparent
."
--from Harry Potter and the Half-Blood Prince
"Certainly 'Thou art God'-- but who isn't?"
-- from Stranger in a Strange Land
<3
..
Who I'd like to meet:
People who just wanna have fun.
The Coolest Person In The World
..Nik!..
: bahaha, I love you! You're my husband ((12.12.06)), and I love you. "Don't let him have sex with you." "I thought they we like extinct!?" "I'm just calling to say I love you and that I'm getting Monster at the store..." dsghaj I MISS YOU.
"...here's to the night we felt alive
here's to the tears you knew you'd cry
here's to tonight
tomorrow's gonna come too soon..."
Status:

Single

Here for:

Friends

Hometown:

Pittstown, NJ

Orientation:

Straight

Body type:

5' 6" / Slim / Slender

Ethnicity:

White / Caucasian

Religion:

Agnostic

Zodiac Sign:

Sagittarius

Children:

Someday

Smoke / Drink:

Yes / Yes

Education:

Some college

Occupation:

server/waitress.<br>being Tori.

Income:

Less than $30,000
Ga Perimeter Col-clarkston

Clarkston,GA

Graduated:

N/A

Degree:

Associate's Degree

Major:

Business Administration

Minor:

Theatre

2008 to Present

Shiloh High School

Snellville, GA

Graduated:

N/A

Student status:

Alumni

Degree:

High School Diploma

Clubs:

Shiloh Onstage

2007 to 2008

Parkview High School

Lilburn, GA

Graduated:

N/A

Student status:

Alumni

Degree:

None

Clubs:

Stagecraft. Track & Field: Pole Vault.

2006 to 2007

Warren Hills Reg High Sch

Washington, NJ

Graduated:

N/A

Student status:

Alumni

Degree:

none

Clubs:

Drama Club

2006 to 2006

Shiloh High School

Snellville,Georgia

Graduated:

N/A

Student status:

Alumni

Degree:

None

Clubs:

Shiloh High Track & Field (Pole Vault), Shiloh High Advanced Chamber-Mixed Chorus, JCL.

2004 to 2006
Outback Steakhouse

Stone Mountain, GA US

Hostess/Take-Away/Server

March 2007 -- January 2010

Buckhead Life Restaurant Group

Buckhead/Atlanta, GA US

Hostess/Coffee Bartender (Barista)/Server

September 2009 --