No recent updates in this category.
Why not...
Zombie Zak hasn't earned any badges yet... have you?
General

Brains. Have I mentioned that before? Ichor (look it up if you don't know what it means).

What kind of Zombie are you?

You are an Evil Dead Zombie. The spirits of the dead took over your body in a lonely cabin, and now it's your job to kick some Ash ass. Sadly, while you'll succeed in beating the bejeezus out of Ash repeatedly, he will ultimately wipe you from existence. You can only be killed by bodily dismemberment.

Take this

quiz

!

Quizilla | Join | Make A Quiz | More Quizzes | Grab Code

Music

Music!:

Black Sabbath

Cannibal Corpse

Voivod

Slaughter

Edge of Sanity

Iron Maiden

Judas Priest

Rob Zombie

White Zombie

a bunch of others.

Movies

Movies!:

28 Days Later

Alien/Aliens/Alien Resurrection

Army Of Darkness

Attack Of The Killer Tomatoes 1,

2

,

3

,

4

,

5
Blade 1

,

2

,

3
Blob

,

The
Blood And Donuts
Boogens

,

The
Brotherhood Of The Wolf
Bordello Of Blood
Critters 1

,

2

, 3

Cube

Dawn Of The Dead

Decoys

Demon Seed

Dracula

Evil Dead

Evil Dead II

Feast

Frankenstein

Ginger Snaps 1,

2

,

3
I Dismember Mama
Jesus Christ Vampire Hunter
Mummy

, The

Night Of The Comet

Night Of The Living Dead

Phantasm

Resident Evil 1 & 2

Silence Of The Lambs

Slither

Split Second

Tremors

and a whole bloody heap of others

Television

Books

Anything by Clive Barker, Edgar Allen Poe, Keith Laumer, and H.P. Lovecraft.

Heroes

The Green Manalishi With The Two Pronged Crown. Eddie.

.... .. .. .. .. ..
Get your own countdown at BlingyBlob.com


My face it is hidden by brightness of bitter day;
My name it is written by shadows of darkness.
I am the warrior who walks the path of twilight
I am the poet who shadows the wonders of daybreak.
I am the parent of actions best left unsaid.
I seek the moderate epitome of the broken wheel.
I enshroud the destinies of the mighty,
And lay low the fortunes of the lesser known.
The totality of being is in question.
Doubt of the being, is the essence of thought.
Twisted, torn, tattered and born
We, of the unloved, scattered and scorned.
Eschew, we, the dead, those of the living.
Failure, we find, amongst the green and growing.
Essence, essence, wrack and ruin,
The grounds are of the borderline insane.
Run as you might, scatter as you try.
Escape is neither option nor form.
Time will whither the weapon you rely on; perish.
As we, wicked, the wicked we are, shall squander,
Your lives, upon the soil of our fertile imagination.
Testify, your salvation is at hand; woe is;
That your fate that awaits a certain doom.
Time now, it sits before you, choose.
Be you hunter or prey?
Be you garden or gardener?
Be you fair or foul?
Either way, the zombie chickens are hunting tonight.



About me:
.. ..
..
I'm hungry. I'm always hungry. One day, maybe I won't be so hungry. Maybe I will. Maybe, the world will end. Maybe not. I'm hungry. Where are the brains? I think I need to find some brains. Yes; I'm hungry.
PS: We are now accepting applications for new recruits of the up and coming Zombie Freedom Army. Join now, before the crush.
The Dead Shall Rise Again! And Hell shall be spread upon the earth like peanut butter...... Come follow me:
Who I'd like to meet:
People with brains. Nice, juicy, large brains. Smart brains are tastier than tiny, small minded brains. Pretty brains are just sweeter than most anything.
"Might be innocent, might be sweet.
Not half as nice as rotting meat."


Oh, and to anyone who reads my blogs. I'm a writing fiend, don't you know.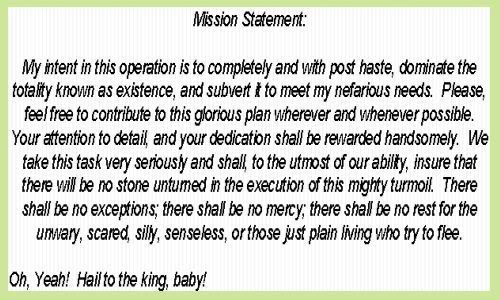 Status:

Single

Here for:

Networking, Friends

Orientation:

Straight

Body type:

4' 11" / Some extra baggage

Ethnicity:

White / Caucasian

Religion:

Other

Zodiac Sign:

Pisces

Children:

I don't want kids

Smoke / Drink:

No / No

Occupation:

Hunter Gatherer