No recent updates in this category.
Why not...
Zach Selwyn hasn't earned any badges yet... have you?
General

Music

Neil Young. Eagles

,

Beastie Boys

,

G. Love and Special Sauce

,

Gram Parsons

,

Old 97's

,

Whiskeytown

,

Ryan Adams

,

Slick Rick

,

Black Sheep

,

Kinky Friedman

,

Rolling Stones

,

Allman Brothers

,

Jackson Browne

,

Wilco

,

Early 70's California stoner country-rock. Pistol Opera

,

Dylan Connor

,

Coby Brown

,

Heath

,

Bobby Joyner

,

Sundowners

,

Bryson Jones

,

Jonny Kaplan

,

Mike Stinson

,

Walkie Talkie

,

Emmylou Harris

,

Warren Zevon

,

I See Hawks in LA

Movies

Grease 2. Princess Bride. Dead and Breakfast. Seems Like Old Times. Soapdish. Stir Crazy. Same Time Next Year. Woody Allen comedies. Clint Eastwood westerns. Decadent rock-n-roll documentaries. Honeymoon in Vegas. Better Off Dead. A Hard Days Night. Dont Look Back. Gimme Shelter. Festival Express. Bad Santa. The Last Waltz. Heartworn Highways. Billy Wilder films. Fast Times at Ridgemont High,

Big Lebowski and all Coen Brothers films...

Television

Attack of the Show! Parker Lewis Can't Lose. Herman's Head. Married... With Children. Six Feet Under. Curb Your Enthusiasm. Sopranos. Deadwood. ESPN SportsCenter. Law and Order SVU. Big Handsome Guy and his Little Friend. That Guy. Mad TV. And 1 Street Ball. Arrested Development. Scrubs. X Files. Chicago Hope. Sabrina the Teenage Witch. Dragnet. Around the Horn. P.T.I. Extreme Dodgeball. Simpsons. Family Guy.

Books

Bukowski. Tom Robbins. James Frey. Woody Guthrie. Jack Kerouac. John Fante. David Sedaris. Hunter S. Thompson.

Heroes

Jackson Browne, Bob Dylan, Charles Bukowski, Kevin Perreira, Keith Richards, Gram Parsons, Don Mattingly, Sean Elliott, Dave Winfield, Waylon Jennings, Johnny Cash, Kris Kristofferson, Adrian Zmed, Maxwell Caulfield, Michelle Pfieffer, Wendy Lynne Thompson...
About me:
Zach Selwyn has enjoyed a unique and diverse career trajectory in this town of Hollywood, California. He has been in numerous films and television shows, but gained notoriety as the runner-up to ESPN's DREAM JOB show in 2004. Considered "The most talented contestant" by America and ESPN, he took his talents to "Extreme Dodgeball," "Around the Horn," a new ESPN pilot called "Holla Back" and shows for Bravo and Discovery Channel. Recently, Zach has joined the popular G 4 show "Attack of the SHow" and he is looking forward to traveling the world submitting field pieces that feature his own brand of humor, talent and originality. Zach also fronts the outlaw country hip-hop band Zachariah and the Lobos Riders. He looks forward to meeting and communicating with all the fans of the show, both new and old. AND check out his outlaw country hip-hop band at
myspace.com/zachariahandthelobosriders
- FERGIE from Black Eyed Peas used to be in the band, but she decided to go become a millionaire instead. Smart move.
Here's our newest SKETCH from Attack of the SHow - 'Porn School...'
....


Here's my NEW VIDEO "Cartoons I'd Like to F***" - CD availale for sale at www.cdbaby.com/zachariah2 -

....

.. CDBABY LINK for ZACHARIAH: Cartoons I'd Like to F*** -->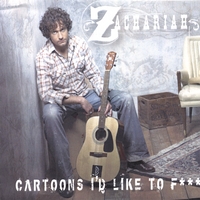 Here's a sketch I recently WROTE and acted in for Attack of the Show - Enjoy!

..
VODKA IN A STAPLER - a NEW sketch I wrote for ATTACK of the SHOW!

....
Status:

Married

Hometown:

Los Angeles, California

Orientation:

Straight

Zodiac Sign:

Taurus

Drink:

Yes

Education:

College graduate
G 4 Network Television

Los Angeles, California US

Host of ATTACK of the SHOW!

2006 - ?