Play

Play Next

Add to queue
Play

Play Next

Add to queue

521 plays

Play

Play Next

Add to queue

1,221 plays

Play

Play Next

Add to queue

281 plays

Play

Play Next

Add to queue

1,341 plays

Play

Play Next

Add to queue

1,448 plays
Genre: Breakbeat / Hip Hop / Soul

Location SOUTH SIDE CHICAGO (EAST), Illinois, US

Profile Views: 16870

Last Login: 12/28/2010

Member Since 5/16/2006

Website 2017blackart.com

Record Label Nephew of Frank Records

Type of Label Major

Bio

.... .. .. .. .. .. .. .. .. .......... .......... .. ...... .. NEW 2017 AFRIKAN ART FOR SALE NOW .... .. 2017 BLACK ART SIGNED AND NUMBERED 15 DOLLARS AND UP (BUY ONLINE)..2017 BLACK ART PRINTS FOR SALE BY MARCELLOUS LOVELACE LIMITED EDITIONS PLEASE GET THEM BEFORE THEY DON'T EXIST... SIGNED AND NUMBERED ..............LIL BLACK GIRL LOOKS (PRINT)....Title: Lil Black Girl Looks Artist: Marcellous Lovelace Medium: Printing Ink & Collage Artist Commentary: "To Believe is not to know so stop lieing to eve's seeds we are the ether in utopia so the lil black girl is every thing pure like total Darkness." size: ............GOD FREE COOK (PRINT)....Title: God Free Cook Artist: Marcellous Lovelace Medium: Oil and Pastels Artist Commentary: "Once a homeless man roamed the streets of Atlanta around the historicaly black universities of HIGHER LEARNING and he couldn't find a dollar to eat." signed and numbered size: ............SOL BLACK MUSIK(PRINT)....Title: Sol Black Musik Artist: Marcellous Lovelace Artist Commentary: "The Staple Singers, such as "I'll Take You There," as well as the 1970s recordings, done at Willie Mitchell's Royal Recording in Memphis, of Al Green." Size: ............BUTTER FLY SESSIONS(PRINT)....Title: Butter Fly Sessions Artist: Marcellous Lovelace Medium: Acrylic and Pastels / Mixed Mediums Artist Commentary: "People tend to judge people without understanding or knowing their true nature and when you do this, it prohibits you from actually knowing someone." size: ............THE PLAYER(PRINT)....Medium: Water Color Artist Commentary: " With his trumpet and its upturned, golden bell, goatee, black horn rim glasses and beret, Gillespie became a symbol of both jazz and a rebellious, in" Glicee print on canvas ............ANU STAR(PRINT)....Medium: Acrylic Artist Commentary: "To Anu was assigned the control of the heavens, to Bel (Marduk) the earth, and to Ea the waters." size: ............GODDESS MOTHER MY BABY(PRINT)....Title: Goddess Mother My Baby Artist: Marcellous Lovelace Medium: Tempra Artist Commentary: "The TRUE LOVE WITH IN THE MOTHER OF CIVILIZATION IS THE GREATEST CARE TAKER" size: SIZES AND WIDE SELECTION POSTED ON SITE 15 DOLLARS AND UP SIGNED AND NUMBERED PRINTS .... .... .. .. .. .. .. .. .. .. ...... .. .. .. .. .. .. .. .. .. .. .. .. .. .. .. .. .. .. .. ........when you think about creativity .. you think 2017 .. ..THORNBOX .COM on ITUNES DEC 2, 2006.... .. ..new Infinito album on ITUNES DEC 12, 2006.... .. .. .. .. .. .. .. .. .... ..Get Your Own!.. | ..View Slideshow...... .. ...... .... .. .. .. .. .. .. .. .. .. .. .... Marcellous Lovelace is 2017blackart for 7102 .... African (Af Ra Kam) People and Soul Black People and Art Struggle and reality all bring out a certain vibe in me -- I'm inspired by myself and my family (soul) to create images and sound for all the right reasons. For the love of myself and my kind -- Complete oneness with love and thought for the original people -- If you be your self and not anyone else you can express your self better or just give up because its not meant to be learn to build from within to connect -- .... When it all started : Born in 1975 the work of Marcellous Lovelace is almost completely self-taught. Since a very young age Marcellous has been into art. Raised and bred on the south side of Chicago Illinois. It all began drawing pictures from his favorite cartoons he has long had a since for color and style. His favorite subject has to be the human form or the figure. Either it is an action hero with a muscular shape or a nude black woman with a smooth well-defined shape he has always been spell bound by the human shape. Through art he has learned how to break down this form in an abstract way, or simple cubism. Art to Marcellous is the motivation from inside himself to express his deepest emotions (energy in motion) on a 2 dimensional object or in lamens terms a piece of paper. Reading from African peoples in Americas his story he has come up with many moods. From slavery to the deepest love a mother has for a son who steals from her to survive in the everyday struggle. Music is another driving force that keeps this mans mind occupied be it the most conscious of hip hop or the jazz of Alice Coltrane Marcellous has a love for his peoples creativity in sound. This musical art form is a driving factor in a studio to small to paint yet live in to put it more precisely Marcellous doesnt have a studio his paintings began on the living room floors and kitchen tables of his mothers, grandmothers, and aunts different homes. He paints in many different mediums from oil (to expensive), acrylic, pastels (favorite), glue, magazines, house paint, shoe polish, Georgia red dirt, and your simple house hold ink pens all together or separate use it can be worked out. Art is this mans passion besides the many relationships with woman that have caused a lot of the different stages of design and also inspiration of his southern born family who he loves more then anything in this universe. Self-taught Marcellous has had some schooling along the way of his stubborn born style from elementary where teachers didnt teach well because of The Conspiracy to Destroy Black Boys (a book by Jawanza Kunjufu) he took his own rout doing more sketching in class then passing and dealing with a lot of moving during school the younger Marcellous had to deal with many a city in the United States where he didnt fit in causing him to be self contained and real creative in places like Radcliff, KY and Memphis, TN. From these places he became a better artist and today is able to socialize with a wider variety of people and create more with any tools. .... Time is infinite .... More to come .... .... .. .. .. .. .. .. .. .. .......... .......... .. 2017 black art by Marcellous .... ...... .. ......................................................being an art dude............................................................................yes i do have 4000 or more paintings / get to work kids................................................................WWW.2017BLACKART.COM FOR MORE.... .. ..New 2017 Black Art by Marcellous Lovelace Interview and Review on his Books , Music and Life.. ....http://www.blackfolioonline.com/main.html.... .... .. ...... ..Comment on this article in our ..Forums....... .. .. .. ........ .. .. .. ........ ..

Members

.... ....Marcellous Lovelace Art @ African Painters.com.... .. .... ....Marcellous Lovelace Art @ NegroArtist.com.... .. .... 2017 AFRIKAN ART - BUT I DON'T LIKE COMUTERS SHOW.. .... .. .. .. .. .. .. .. .. .......... ..Get Your Own!.. | ..View Slideshow...... .... ........click here .... Art for 28 years and counting -- Marcellous Lovelace and some Paint and the floor and some dirt and the ghetto and being myself. .... I paint on anything i can find and i don't answer to no one on how i should exist in my life -- i have over 4000 paintings and counting and i do this because i love to create my thoughts :) stay BLACK or like me AFRICAN or Malian to be exact nation -- An Active Activist for the people i am the grass in the roots (lmao) .... .. .. .. .. .. .. .... ohhh i went to Art School (Memphis College of Art / Art Institute of Chicago / San Francisco Art Institute) and what ever hmmm yo School never gave me what the South Side of Chicago and Coli Park in Atlanta or South Memphis or West Philly or Brooklyn or Ricmand in Oakland ... hmmm i guess i'm not cut out for institutions for my own Creation -- so my degree comes from my Grandma Madear ... thank you :) -------- my art is not meant to be over priced just give me my worth -- and prints are not that exclusive so all you hippie fake Euro Centrics .. you in the wrong place ... .... yeah and i'm the regular black dude i'm 6'1 200 pounds and into being positive and being who i am not what society wants ... yeah thats enough info .. word to David Walker and Fred Hampton .... POOR IS A MENTAL CONDITION YOU CAN NEVER GROW OUT OF -- Laughter puts something positive in the body ... .... by Dick Gregory........ .. .. .. .. .. .. .. .. .......... ..........

Influences

My Mother, Brother, Father, Grandmother, Aunts, Uncles, Cousins, Nephews, Nieces, Family, Malcolm X, Marcus Garvey, C. Diop, Mrs. Smith at Hamilton High in Memphis, My art Teacher at Lowell Longfellow in Harvey,Il, Paul Mooney ---- Cause they always let me be me .... the future .... People I like: .... Nat Turner, Gordon Parks, Jacob Lawrence, Charles White, Ernie Barnes, Horace Pippen, Benjamin Banneker, Harriet Tubman, Romare Bearden, Henry O. Tanner, Elizabeth Catlett, George Hunt .. more to come .... ..

Sounds Like

Myself
No recent updates in this category.
Why not...
03:45 | 298 plays | Jul 13 2007
Bio:
NEW 2017 AFRIKAN ART FOR SALE NOW ....
2017 BLACK ART SIGNED AND NUMBERED 15 DOLLARS AND UP (BUY ONLINE)
2017 BLACK ART PRINTS FOR SALE BY MARCELLOUS LOVELACE LIMITED EDITIONS PLEASE GET THEM BEFORE THEY DON'T EXIST... SIGNED AND NUMBERED
LIL BLACK GIRL LOOKS (PRINT)
Title: Lil Black Girl Looks Artist: Marcellous Lovelace Medium: Printing Ink & Collage Artist Commentary: "To Believe is not to know so stop lieing to eve's seeds we are the ether in utopia so the lil black girl is every thing pure like total Darkness." size:
GOD FREE COOK (PRINT)
Title: God Free Cook Artist: Marcellous Lovelace Medium: Oil and Pastels Artist Commentary: "Once a homeless man roamed the streets of Atlanta around the historicaly black universities of HIGHER LEARNING and he couldn't find a dollar to eat." signed and numbered size:
SOL BLACK MUSIK(PRINT)
Title: Sol Black Musik Artist: Marcellous Lovelace Artist Commentary: "The Staple Singers, such as "I'll Take You There," as well as the 1970s recordings, done at Willie Mitchell's Royal Recording in Memphis, of Al Green." Size:
BUTTER FLY SESSIONS(PRINT)
Title: Butter Fly Sessions Artist: Marcellous Lovelace Medium: Acrylic and Pastels / Mixed Mediums Artist Commentary: "People tend to judge people without understanding or knowing their true nature and when you do this, it prohibits you from actually knowing someone." size:
THE PLAYER(PRINT)
Medium: Water Color Artist Commentary: " With his trumpet and its upturned, golden bell, goatee, black horn rim glasses and beret, Gillespie became a symbol of both jazz and a rebellious, in" Glicee print on canvas
ANU STAR(PRINT)
Medium: Acrylic Artist Commentary: "To Anu was assigned the control of the heavens, to Bel (Marduk) the earth, and to Ea the waters." size:
GODDESS MOTHER MY BABY(PRINT)
Title: Goddess Mother My Baby Artist: Marcellous Lovelace Medium: Tempra Artist Commentary: "The TRUE LOVE WITH IN THE MOTHER OF CIVILIZATION IS THE GREATEST CARE TAKER" size: SIZES AND WIDE SELECTION POSTED ON SITE 15 DOLLARS AND UP SIGNED AND NUMBERED PRINTS





when you think about creativity .. you think 2017

..THORNBOX .COM on ITUNES DEC 2, 2006
..new Infinito album on ITUNES DEC 12, 2006
Get Your Own!
|
View Slideshow
Marcellous Lovelace is 2017blackart for 7102
African (Af Ra Kam) People and Soul Black People and Art Struggle and reality all bring out a certain vibe in me -- I'm inspired by myself and my family (soul) to create images and sound for all the right reasons. For the love of myself and my kind -- Complete oneness with love and thought for the original people -- If you be your self and not anyone else you can express your self better or just give up because its not meant to be learn to build from within to connect --
When it all started : Born in 1975 the work of Marcellous Lovelace is almost completely self-taught. Since a very young age Marcellous has been into art. Raised and bred on the south side of Chicago Illinois. It all began drawing pictures from his favorite cartoons he has long had a since for color and style. His favorite subject has to be the human form or the figure. Either it is an action hero with a muscular shape or a nude black woman with a smooth well-defined shape he has always been spell bound by the human shape. Through art he has learned how to break down this form in an abstract way, or simple cubism. Art to Marcellous is the motivation from inside himself to express his deepest emotions (energy in motion) on a 2 dimensional object or in lamens terms a piece of paper. Reading from African peoples in Americas his story he has come up with many moods. From slavery to the deepest love a mother has for a son who steals from her to survive in the everyday struggle. Music is another driving force that keeps this mans mind occupied be it the most conscious of hip hop or the jazz of Alice Coltrane Marcellous has a love for his peoples creativity in sound. This musical art form is a driving factor in a studio to small to paint yet live in to put it more precisely Marcellous doesnt have a studio his paintings began on the living room floors and kitchen tables of his mothers, grandmothers, and aunts different homes. He paints in many different mediums from oil (to expensive), acrylic, pastels (favorite), glue, magazines, house paint, shoe polish, Georgia red dirt, and your simple house hold ink pens all together or separate use it can be worked out. Art is this mans passion besides the many relationships with woman that have caused a lot of the different stages of design and also inspiration of his southern born family who he loves more then anything in this universe. Self-taught Marcellous has had some schooling along the way of his stubborn born style from elementary where teachers didnt teach well because of The Conspiracy to Destroy Black Boys (a book by Jawanza Kunjufu) he took his own rout doing more sketching in class then passing and dealing with a lot of moving during school the younger Marcellous had to deal with many a city in the United States where he didnt fit in causing him to be self contained and real creative in places like Radcliff, KY and Memphis, TN. From these places he became a better artist and today is able to socialize with a wider variety of people and create more with any tools.
Time is infinite
More to come
2017 black art by Marcellous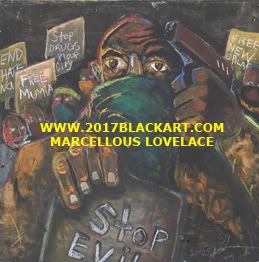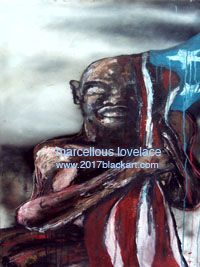 ..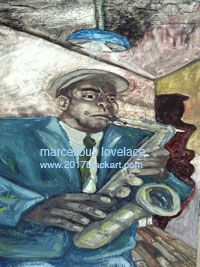 ..
..
being an art dude
..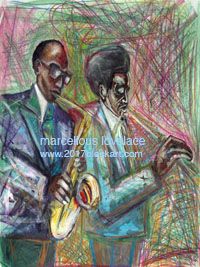 ..
..
..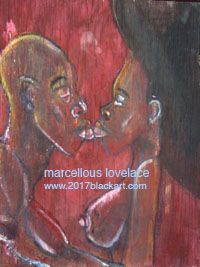 ..
..
yes i do have 4000 or more paintings  / get to work kids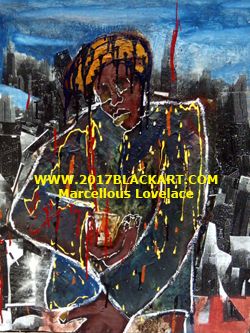 ..
..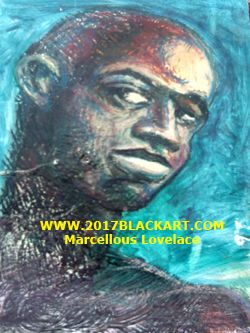 ..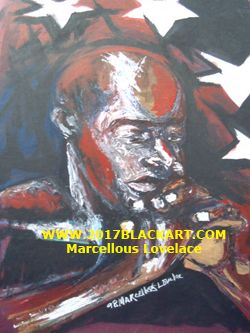 ..
..
..
WWW.2017BLACKART.COM
FOR MORE
..
New 2017 Black Art by Marcellous Lovelace Interview and Review on his Books , Music and Life
http://www.blackfolioonline.com/main.html
Comment on this article in our
Forums.
Member Since:
May 16, 2006
Members:
Marcellous Lovelace Art @ African Painters.com


Marcellous Lovelace Art @ NegroArtist.com


2017 AFRIKAN ART - BUT I DON'T LIKE COMUTERS SHOW

click here
Art for 28 years and counting -- Marcellous Lovelace and some Paint and the floor and some dirt and the ghetto and being myself.
I paint on anything i can find and i don't answer to no one on how i should exist in my life -- i have over 4000 paintings and counting and i do this because i love to create my thoughts :) stay BLACK or like me AFRICAN or Malian to be exact nation -- An Active Activist for the people i am the grass in the roots (lmao)
ohhh i went to Art School (Memphis College of Art / Art Institute of Chicago / San Francisco Art Institute) and what ever hmmm yo School never gave me what the South Side of Chicago and Coli Park in Atlanta or South Memphis or West Philly or Brooklyn or Ricmand in Oakland ... hmmm i guess i'm not cut out for institutions for my own Creation -- so my degree comes from my Grandma Madear ... thank you :) -------- my art is not meant to be over priced just give me my worth -- and prints are not that exclusive so all you hippie fake Euro Centrics .. you in the wrong place ...
yeah and i'm the regular black dude i'm 6'1 200 pounds and into being positive and being who i am not what society wants ... yeah thats enough info .. word to David Walker and Fred Hampton
POOR IS A MENTAL CONDITION YOU CAN NEVER GROW OUT OF -- Laughter puts something positive in the body ...
by Dick Gregory
Influences:
My Mother, Brother, Father, Grandmother, Aunts, Uncles, Cousins, Nephews, Nieces, Family, Malcolm X, Marcus Garvey, C. Diop, Mrs. Smith at Hamilton High in Memphis, My art Teacher at Lowell Longfellow in Harvey,Il, Paul Mooney ---- Cause they always let me be me .... the future

People I like:

Nat Turner, Gordon Parks, Jacob Lawrence, Charles White, Ernie Barnes, Horace Pippen, Benjamin Banneker, Harriet Tubman, Romare Bearden, Henry O. Tanner, Elizabeth Catlett, George Hunt .. more to come

..
Sounds Like:
Myself
Record Label:
Nephew of Frank Records