Play

Play Next

Add to queue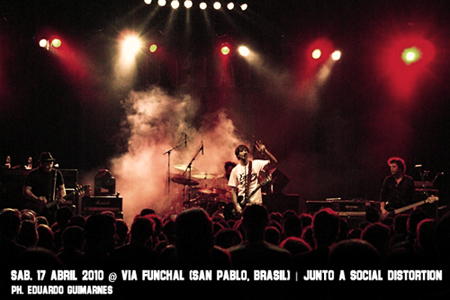 ALL THE HATS (ATH) es una banda de punk rock formada a mediados de 2001 en la ciudad de Rosario, Argentina. Inicialmente su repertorio era totalmente en inglés, pero posteriormente incorporaron canciones en castellano.
ATH recorrió muchas ciudades de Argentina, como también países tales como Alemania, Holanda, Brasil, Perú y Chile, con giras extensas que le llevaron a ganar reconocimiento en dichas tierras y a distribuir su material en nuevas latitudes. Desde el comienzo, sus integrantes fueron partidarios de autogestionar las actividades de la banda, así llegaron a montar el sello independiente Basstard Co., con el cual editaron discos propios, de otros artistas y compilaciones, entre el 2002 y 2007.
ATH compartió escenario con leyendas del género como Social Distortion, NoFx, Bouncing Souls, Down By Law, además de grupos argentinos de gran reconocimiento a nivel local como Carajo, Attaque77, Massacre, Cadena Perpetua, El Otro Yo, Boom Boom Kid, Los Violadores, Bulldog y Eterna Inocencia, entre muchos otros.
En pleno proceso de composición de un nuevo disco, a mediados de 2010, sus miembros decidieron tomar un descanso del proyecto para enfocarse en sus actividades personales, otros proyectos musicales y respectivas familias, entrando ATH en un hiatus por tiempo indefinido, aunque hay rumores de que se reunirían para realizar algunos shows en el transcurso de 2011, en conmemoración a los 10 AÑOS de ALL THE HATS.

Integrantes:
Lucas Moreno (voz/gtr)
G.S. Petrich (gtr/coros)
Matias Damato (bajo/coros)
Billie Gomez (batería)

Discografía:
* RENT-A-HAT & JOIN US (EP / año: 2002 / sello: Bad Luck, reeditado en 2003 por Basstard Co.)
* NO SIGNAL (LP / año: 2003 / sello: Basstard Co. + Patea Records)
* STAND YOUR UNDERGROUND (LP - Compilación que incluye "Rent-a-hay & join us", "No Signal" y la canción Revolución, primera de la banda en castellano / año: 2005 / sello: Pinhead Records)
* RED, BLACK & WHITE (LP / año: 2006 / sello: Pinhead Rrecords)
* UNITE (Single / año: 2009 / sello: D.O.G.work + Lepork Records)
* All the Hats participó en más de 20 compilados, tanto nacionales como internacionales.



MANAGEMENT

e-Mail: deathorglorywork@gmail.com
|| Facebook || Twitter || Blog || Flickr ||



Genre: Punk / Rock

Location Rosario, Ar

Profile Views: 110980

Last Login: 2/21/2012

Member Since 1/8/2006

Website www.allthehats.com.ar

Record Label D.O.G. Work | Pinhead Records | Patea Discos | Basstard Co.

Type of Label Indie

Bio

Members

Influences

Sounds Like
No recent updates in this category.
Why not...