Play

Play Next

Add to queue
Play

Play Next

Add to queue

75,242 plays

Play

Play Next

Add to queue

92,106 plays

Play

Play Next

Add to queue

89,397 plays

Play

Play Next

Add to queue

36,091 plays

Play

Play Next

Add to queue

36,757 plays
Genre: Funk / Fusion / Rock

Location Virginia Beach, Virginia, US

Profile Views: 995374

Last Login: 12/21/2010

Member Since 11/8/2005

Website myspace.com/allthread

Type of Label Major

Bio

.... .. .. ..MyGen.. ..Profile Generator.. .. .. .. .. ...... .. .. .... .. ...... .... .. Formed as trio in winter of 2003, with vocalist James Walrod , guitarist Jimmy George, and drummer Kevin Moore. James and Jimmy met at college in Blacksburg, VA through a close net of friends. Discussions about music led to the two performing at various open mic nights and some other social gatherings. Jimmy had previously performed with a local group called Bitter Pill with hometown friend Kevin Moore on drums.The duo gained studio experience at the age of 16 and worked on home demos other local projects. Kevin Moore went to art school in Richmond, VA in pursuit of joining a band but nothng serious came about. The two returned home and ideas about getting a group together was becoming a common topic. The trio rehearsed at Kev's room-over-the garage- for their initial months, which has now become Southcross Studios. Due to a suggestion from James , the band chose the name from a machine at his workplace, an intentional vague description of their sound, especially coming from a human tongue. To find the fourth element of the group , the trio went to Sep Briscoe, a bassist who participated in older projects with the group. The band recorded five songs "Waited, Southern Comfort, Hot Shit (aka The Way it Goes), Failing, and 89th Street. in first or second takes, with seperate vocal overdubs. The group had an official/rough demo to shop around with. Shortly after, due to personal reasons, Sep left the band and went on to pursue more serious challenges. Left without a bassist again, Craig Lowell, who was previously in a rock /hip/-hop band called Modified Friction responded to a bassist wanted left in a local music store. The four automatically clicked and began performing and writing new material. The band released their first Self Titled debut in July of 2008... Their first album Self Titled (2008) recorded and produced by All Thread, introducing captivating lyrics, catchy melodies and intense grooves that evolve a sound that is fresh for a new group. The upbeat tunes "Funk Groove","Krangz", and "Downtown" are with out a doubt radio friendly. Attracting listeners and fans from both mainstream and independent. Mixed by North Hollywoods own Giff Tripp. Other projects Giff has been involved in was 311s "Dont Tread On Me" and Peppers" No Shame. The group turned to Joe Gastwirt aka "the warm analog genius" to master the 11 track album. Gastwirt brings the natural and warm analog recordings to the digital world. Some of his clients include 311, Jimi Hendrix; The Grateful Dead; The Beach Boys; Crosby, Stills & Nash; YES; Emerson, Lake & Palmer, and many others. The band couldn't have any better support for their first LP... All Thread has continued to build a strong fan base by performing all year along the east coast region from their current home base in Virginia Beach, VA. Not only is the group captivating on stage but also articulate in their own home recording studio, the band has brought many of their songs like "Downtown" "Krangz" and "One of These Days" to the masses. The group displays a unique blend of various styles including fusion/ funk /punk rock with a twist of reggae while parallels have been drawn between acts such as 311, Red Hot Chili Peppers, The Police and Weezer All Thread provides a positive energy and full of head banging rock rhythms. ...... ....All Thread.. on Facebook............ .... ........ .. .. .. .. .. .. .. .. .. .. .. .. .. .. .. .. .......... .......... .......... .. .. .. ........ .... .. .. .. .. .. .. .. ..

Members

........ James Walrod - Vocals, Guitar .. ........ Craig Lowell - Bass .. ........ Kevin Moore - Drums, Vocals .. ........ Jimmy George -Guitar, Vocals ..

Influences

..........JOIN THE MAILING LIST.............. .. ..

Sounds Like
No recent updates in this category.
Why not...
01:29 | 129 plays | Dec 8 2006
..
.. .. ..
Formed as trio in winter of 2003, with vocalist James Walrod , guitarist Jimmy George, and drummer Kevin Moore. James and Jimmy met at college in Blacksburg, VA through a close net of friends. Discussions about music led to the two performing at various open mic nights and some other social gatherings. Jimmy had previously performed with a local group called Bitter Pill with hometown friend Kevin Moore on drums.The duo gained studio experience at the age of 16 and worked on home demos other local projects. Kevin Moore went to art school in Richmond, VA in pursuit of joining a band but nothng serious came about. The two returned home and ideas about getting a group together was becoming a common topic. The trio rehearsed at Kev's room-over-the garage- for their initial months, which has now become Southcross Studios. Due to a suggestion from James , the band chose the name from a machine at his workplace, an intentional vague description of their sound, especially coming from a human tongue. To find the fourth element of the group , the trio went to Sep Briscoe, a bassist who participated in older projects with the group. The band recorded five songs "Waited, Southern Comfort, Hot Shit (aka The Way it Goes), Failing, and 89th Street. in first or second takes, with seperate vocal overdubs. The group had an official/rough demo to shop around with. Shortly after, due to personal reasons, Sep left the band and went on to pursue more serious challenges. Left without a bassist again, Craig Lowell, who was previously in a rock /hip/-hop band called Modified Friction responded to a bassist wanted left in a local music store. The four automatically clicked and began performing and writing new material. The band released their first Self Titled debut in July of 2008.
Their first album Self Titled (2008) recorded and produced by All Thread, introducing captivating lyrics, catchy melodies and intense grooves that evolve a sound that is fresh for a new group. The upbeat tunes "Funk Groove","Krangz", and "Downtown" are with out a doubt radio friendly. Attracting listeners and fans from both mainstream and independent. Mixed by North Hollywoods own Giff Tripp. Other projects Giff has been involved in was 311s "Dont Tread On Me" and Peppers" No Shame. The group turned to Joe Gastwirt aka "the warm analog genius" to master the 11 track album. Gastwirt brings the natural and warm analog recordings to the digital world. Some of his clients include 311, Jimi Hendrix; The Grateful Dead; The Beach Boys; Crosby, Stills & Nash; YES; Emerson, Lake & Palmer, and many others. The band couldn't have any better support for their first LP.
All Thread has continued to build a strong fan base by performing all year along the east coast region from their current home base in Virginia Beach, VA. Not only is the group captivating on stage but also articulate in their own home recording studio, the band has brought many of their songs like "Downtown" "Krangz" and "One of These Days" to the masses. The group displays a unique blend of various styles including fusion/ funk /punk rock with a twist of reggae while parallels have been drawn between acts such as 311, Red Hot Chili Peppers, The Police and Weezer All Thread provides a positive energy and full of head banging rock rhythms.
..
Member Since:
November 08, 2005
Members: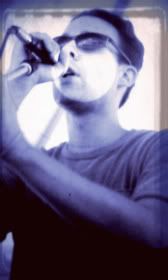 James Walrod - Vocals, Guitar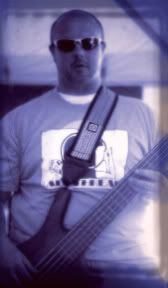 Craig Lowell - Bass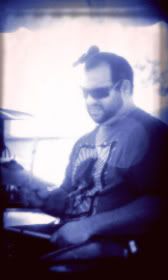 Kevin Moore - Drums, Vocals
Jimmy George -Guitar, Vocals
Influences:
..JOIN THE MAILING LIST
......


....
All Thread has 10066 friends.