Play

Play Next

Add to queue
Play

Play Next

Add to queue

754 plays

Play

Play Next

Add to queue

535 plays

Play

Play Next

Add to queue

363 plays

Play

Play Next

Add to queue

409 plays

Play

Play Next

Add to queue

456 plays
Genre: Folk Rock / Other

Location Lebuhraya Utara-Selatan, MY

Profile Views: 58034

Last Login: 4/17/2012

Member Since 7/23/2005

Website http://www.msplinks.com/MDFodHRwOi8vd3d3LmF6bXlseXVub3IuY29t

Record Label rapidear, Troubadours

Type of Label Indie

Bio

...... .. .. .. .. New album 'Warga' out now! Get it a gigs or mail order (email: dimtravels@gmail.com)! .. .. ...... .. .. SOLO: .. .. Live in Salon Badabie, Seoul, South Korea (courtesy of Park Daham): .. .. .. .. .. .. .. .. ......09. 11. 13 Azmyl Yunor @ Salon Badabie.. from ..Park Daham.. on ..Vimeo..... .. .. "Ballad of Mat Som".. on The Weekend Session 1, June 2008 (courtesy of The Weekend Sessions): .. .. .. .. .. .. .. .. .. ..AZMYL YUNOR & The SIGARETTES: .. .. .."Makan Gaji".. @ Rockin' the Region, Singapore, April 2008 (courtesy of thepornographer): .. .. .. .. .. .. .. .. .. .."Something I Wrote".. @ KL Jam Asia, Malaysia, Feb 2007 (courtesy of dimtravels): .. .. .. .. .. .. .. .. .. .."Coming Home".. music video: .. .. .. .. .. .. .. .. .. Available soon via download: .. .. ...... .. ..Tenets.. EP (Rapidear, 2005) .. .. .. Also appears on: .. .. .. :..VOICES FROM NEXT DOOR.. compilation (Troubadours, 2006) .. Track "..Flesh.." featured. .. .. :..PANIC IN THE PENINSULA.. compilation (Disarseter Records, 2005) .. Track "..Makan Gaji.." featured. .. .. :..COME TOGETHER.. compilation (Umbrella Records, 2005) .. Track "..Bone Dry.." featured. .. ....

Members

..A.Y... will be occasionally backed live by ..KUGIRAN WARGA.. on the ..Warga 2010 Tour..: .. .. ..Raje Kumar.. - ..drums and percussion.. .. ..The Alia.. - ..keys and cello.. .. ..Adrian Yap.. - ..bass.. .... .. .. ..A.Y... has also been ably rocked live by ..THE SIGARETTES..: .. .. ..Keng Lee.. - ..superflous electrifried guitar.. .. ..Adrian Yap.. - ..low-end master bass.. .. ..Jeremy Liew.. - ..big rapid drum beats.. .. ..Shanon Shah.. - ..keys maestro and vox.. .. ..The Alia.. - ..keys and cello femme fatale.. .. ..Aziz Ali.. - ..pied-trumpeteer/clarineteer.. .. ..Ryan Lee Bhaskaran.. - ..spidery drums.. .. ..Boon.. - ..steady drum beats.. .. ..Tomas Tam.. - ..back-up bass.. .. ..Fang Han.. - ..electric guitar jams.. .. ..Ron Khoo.. - ..gusto keys and laptop heroics..

Influences

under them

Sounds Like

".....a versatile musician who is constantly trying something new to challenge the music scene....." - Time Out KL .. .. ".....spectacles, acoustic guitar and real heart (all equally battered)....." - Ricecooker .. .. ".....you'd be hard-pressed to find another soulfully shredded local indie singer-songwriter of such conviction and nerve....." - The Star .. .. ".....an enigma as strange as his music....." - Kakiseni .. .. ".....we hear a twist there, a hook here, and we are allured into his world of diasporic loneliness, raw and frighteningly vulnerable....." - Think .. .. ".....sloppy like Will Oldham, engaging like Nick Drake, disturbing like Skip Spence....." - The Malay Mail .. .. ".....Azmyl Yunor is folk song embodied....." - KLue .. .. ".....dirty and rugged folk not afraid of telling it as it is....." - Junk .. .. ".....one of Asia's best songwriters....." - Unpopular Radio .. .. ".....Dylan inspired singer-songwriter with captivating personality - highly entertaining....." - Living Arts Malaysia
Bio:
..



New album 'Warga' out now! Get it a gigs or mail order (email: dimtravels@gmail.com)!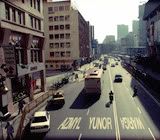 SOLO:

Live in Salon Badabie, Seoul, South Korea (courtesy of Park Daham):



09. 11. 13 Azmyl Yunor @ Salon Badabie from Park Daham on Vimeo.



"Ballad of Mat Som"
on The Weekend Session 1, June 2008 (courtesy of The Weekend Sessions):
AZMYL YUNOR & The SIGARETTES:

"Makan Gaji" @ Rockin' the Region, Singapore, April 2008 (courtesy of thepornographer):

"Something I Wrote" @ KL Jam Asia, Malaysia, Feb 2007 (courtesy of dimtravels):

"Coming Home" music video:

Available soon via download: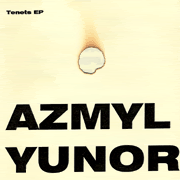 Tenets EP (Rapidear, 2005)


Also appears on:


:VOICES FROM NEXT DOOR compilation (Troubadours, 2006)
Track "Flesh" featured.

:PANIC IN THE PENINSULA compilation (Disarseter Records, 2005)
Track "Makan Gaji" featured.

:COME TOGETHER compilation (Umbrella Records, 2005)
Track "Bone Dry" featured.
Member Since:
July 23, 2005
Members:
A.Y. will be occasionally backed live by KUGIRAN WARGA on the Warga 2010 Tour:

Raje Kumar - drums and percussion
The Alia - keys and cello
Adrian Yap - bass
.. ..
A.Y. has also been ably rocked live by THE SIGARETTES:

Keng Lee - superflous electrifried guitar
Adrian Yap - low-end master bass
Jeremy Liew - big rapid drum beats
Shanon Shah - keys maestro and vox
The Alia - keys and cello femme fatale
Aziz Ali - pied-trumpeteer/clarineteer
Ryan Lee Bhaskaran - spidery drums
Boon - steady drum beats
Tomas Tam - back-up bass
Fang Han - electric guitar jams
Ron Khoo - gusto keys and laptop heroics
Influences:
under them
Sounds Like:
"...a versatile musician who is constantly trying something new to challenge the music scene..." - Time Out KL

"...spectacles, acoustic guitar and real heart (all equally battered)..." - Ricecooker

"...you'd be hard-pressed to find another soulfully shredded local indie singer-songwriter of such conviction and nerve..." - The Star

"...an enigma as strange as his music..." - Kakiseni

"...we hear a twist there, a hook here, and we are allured into his world of diasporic loneliness, raw and frighteningly vulnerable..." - Think

"...sloppy like Will Oldham, engaging like Nick Drake, disturbing like Skip Spence..." - The Malay Mail

"...Azmyl Yunor is folk song embodied..." - KLue

"...dirty and rugged folk not afraid of telling it as it is..." - Junk

"...one of Asia's best songwriters..." - Unpopular Radio

"...Dylan inspired singer-songwriter with captivating personality - highly entertaining..." - Living Arts Malaysia
Record Label:
rapidear, Troubadours