No recent updates in this category.
Why not...
Azteca Productions hasn't earned any badges yet... have you?
General

Comic books, Graphic Novels, Comic Strips, Independent Self-Publishers, Artists, Animators, Cartoons, Classic Pulp Stories, Superhero Movies, Action Films, Kung-Fu Flicks, Lucha Libre, Toys and Collectables, Various Mythologies, Folklore, Legends, ETC.
About me:
AZTECA PRODUCTIONS is the premiere pop culture company of diversity, creativity and most of all...quality. We started publishing back in October of 1993 with our flagship title, EL GATO NEGRO. While some publishing companies had come and gone and others went 'belly up' before their first issue ever hit the stands...AZTECA PRODUCTIONS has seen and witnessed all of this and guess what? WE'RE STILL HERE!!! We're proud to say that we've also opened the floodgates for many other Latino publishers and creators. AZTECA PRODUCTIONS is also the publishers of TEAM TEJAS and the resurrection of Judge Margarito Garza's RELAMPAGO!, which is still... by far, America's FIRST Mexican-American comic book superhero! Coming soon: THE ACOLYTE:DEMON HUNTER, and LUCHA GRANDE COMICS featuring the SILVER AGE EL GATO NEGRO!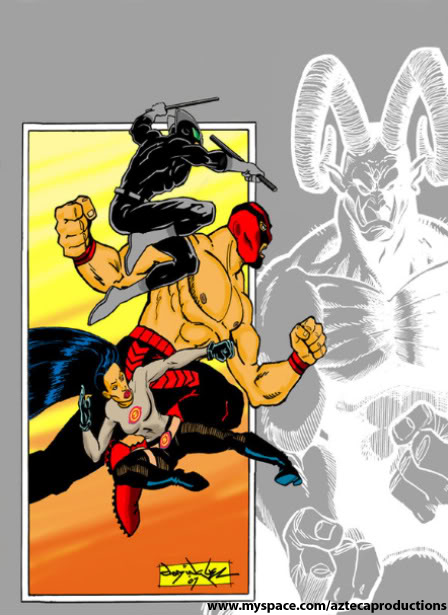 Azteca Productions' own El Gato Negro will join forces with Adversary Comix'
El Valiente
and Geronimo Press'
Aym Geronimo
as they battle Orcus' demonic undead soldiers at the ancient ruins of Teotihuacán, in the upcoming
War of the Independents saga!
Who I'd like to meet:
Why, you of course! Please message us for any ordering information on our titles. (Monthly subscriptions currently unavailable at this time) Please do not send any application invites, surveys, free credit cards, or get-rich-quick schemes. Any inappropriate content will be deleted.
Status:

Single

Zodiac Sign:

Aries