Genre: Comedy / Pop / Rock

Location Skipton, UK

Profile Views: 30314

Last Login: 1/5/2010

Member Since 10/18/2006

Record Label Zany's Entertainment

Type of Label Indie

Bio

Barry Peters and Kevin are an 80's throwback father and son combo brought to life by Mike Keat and Archie Easton of The Cuban Brothers fame. These hilarious alter egos feature Keat as Barry Peters, a misguided, middle aged local DJ personality and Easton as Kevin his hyper active teenage son. Barry's career launched through Halifax Hospital Radio where he donned the decks in the early 1980's with a flamboyant discography of timeless tunes – This and a long term residency at Zany's Niteclub in Skipton and summer sets in Zany's Corfu set the precedent for his delusions of DJ grandeur – thinking himself an unsurpassed talent whilst actually being a slightly under achieving star of the mobile disco world. However, Barry Peters is a loveable rogue, a cheeky 40 something Northerner with an eye for the ladies who's life on the road is full of dark comic mishaps and malcontent observations. Kevin is his constant companion on the Peters roadshow and there is a powerful father son bond that mostly transpires into a slapstick power struggle scenario. Basically, Kevin has been groomed for fame by his ambitious father whose pushy, over- protective nature gives the only indication that he has resigned himself to being a failure – the only possibility of stardom being achieved through his very own Billy Elliott, his only son Kevin. Kevin Peters trained at the Skipton School of Dance and was the star pupil. A council estate kid, his natural flair earned him a scholarship and soon he was busting Fame style eighties moves in local stages and talent competitions across the regions. After graduating from the locally famed stage school, Kevin was embraced by Barry's newly formed talent agency Zany's Entertainment and Barry and Kevin's life opens up into a world of eye opening opportunities, hilarious escapades and dark comic interactions. Consequently there are moments where Baz's competitive nature and blatant bully boy tactics come back on him as Kevin steals his limelight when they embark on their two man, father and son live mobile disco shows. Barry Peters and Kevin are often joined by kooky sidekick Dave, a Halifax Hospital ward attendant (aka the Cuban's DJ Russ H) who fires up the wheels of steel in the Barry Peters and Son live sets. It is in this live stage environment that the true dynamic of this madcap trio comes to life. The live show is a combination of sharp witted anecdote, classic party rocking 80's tunes and Flashdancer fever moves and grooves. As the story unfolds, Barry orchestrates a dance troupe with Kevin and his pals – limp wrested disco champion J.J Jones and mysterious oriental eye-candy Derek Japan. The act, Triple Threat sends the crowd wild at every Zany's Entertainment gig – unleashing their camp but sharp contemporary dance routines to awestruck audiences. For more information on Barry Peters and Kevin or The Cuban Brothers please contact: Dan Gray Tel: 0207 604 2944 – dangray@getinvolvedltd.com .... .. .. .. .. .. .. .. .. .......... ..Get Your Own!.. | ..View Slideshow...... .. .. .. .. .. .. .. .. .. .. I edited my profile with ..Thomas' Myspace Editor V4.4.. .. .. .. .. .. .. .. .. .. .. ...... ......

Members

Barry Peters , Kevin Peters , Dave and Derek Japan

Influences

Sounds Like
No recent updates in this category.
Why not...
Bio:
Barry Peters and Kevin are an 80's throwback father and son combo brought to life by Mike Keat and Archie Easton of The Cuban Brothers fame. These hilarious alter egos feature Keat as Barry Peters, a misguided, middle aged local DJ personality and Easton as Kevin his hyper active teenage son. Barry's career launched through Halifax Hospital Radio where he donned the decks in the early 1980's with a flamboyant discography of timeless tunes – This and a long term residency at Zany's Niteclub in Skipton and summer sets in Zany's Corfu set the precedent for his delusions of DJ grandeur – thinking himself an unsurpassed talent whilst actually being a slightly under achieving star of the mobile disco world. However, Barry Peters is a loveable rogue, a cheeky 40 something Northerner with an eye for the ladies who's life on the road is full of dark comic mishaps and malcontent observations. Kevin is his constant companion on the Peters roadshow and there is a powerful father son bond that mostly transpires into a slapstick power struggle scenario. Basically, Kevin has been groomed for fame by his ambitious father whose pushy, over- protective nature gives the only indication that he has resigned himself to being a failure – the only possibility of stardom being achieved through his very own Billy Elliott, his only son Kevin. Kevin Peters trained at the Skipton School of Dance and was the star pupil. A council estate kid, his natural flair earned him a scholarship and soon he was busting Fame style eighties moves in local stages and talent competitions across the regions. After graduating from the locally famed stage school, Kevin was embraced by Barry's newly formed talent agency Zany's Entertainment and Barry and Kevin's life opens up into a world of eye opening opportunities, hilarious escapades and dark comic interactions. Consequently there are moments where Baz's competitive nature and blatant bully boy tactics come back on him as Kevin steals his limelight when they embark on their two man, father and son live mobile disco shows. Barry Peters and Kevin are often joined by kooky sidekick Dave, a Halifax Hospital ward attendant (aka the Cuban's DJ Russ H) who fires up the wheels of steel in the Barry Peters and Son live sets. It is in this live stage environment that the true dynamic of this madcap trio comes to life. The live show is a combination of sharp witted anecdote, classic party rocking 80's tunes and Flashdancer fever moves and grooves. As the story unfolds, Barry orchestrates a dance troupe with Kevin and his pals – limp wrested disco champion J.J Jones and mysterious oriental eye-candy Derek Japan. The act, Triple Threat sends the crowd wild at every Zany's Entertainment gig – unleashing their camp but sharp contemporary dance routines to awestruck audiences. For more information on Barry Peters and Kevin or The Cuban Brothers please contact: Dan Gray Tel: 0207 604 2944 – dangray@getinvolvedltd.com
Thomas' Myspace Editor V4.4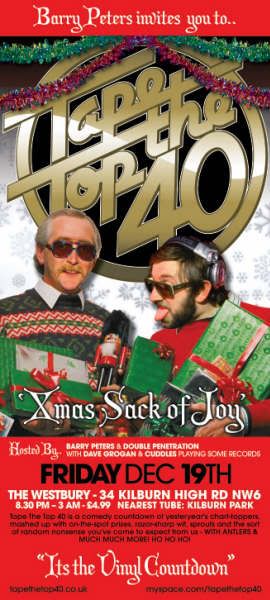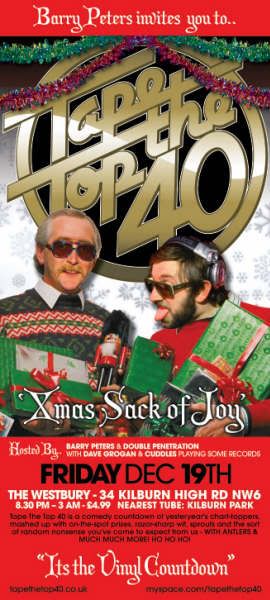 Member Since:
October 18, 2006
Members:
Barry Peters , Kevin Peters , Dave and Derek Japan
Record Label:
Zany's Entertainment