Play

Play Next

Add to queue
Play

Play Next

Add to queue

3,321 plays
Genre: 2-step / Hardcore / Metal

Location Strafford, New Hampshire, US

Profile Views: 19206

Last Login: 5/14/2008

Member Since 5/28/2005

Website www.myspace.com/basb

Record Label No Label/D.I.Y.

Bio

.. .... .. .. .. .... ......History........Buried And Still Breathing........ .... ....The band Buried And Still Breathing was pretty much formed out of the ashes of Cipher Zero and a few failed attempts in between. Emerging 2 years after the members of Cipher Zero went their seperate ways, the guitarist (Josh) was in the middle of working with newly found drummer (Shaun) and Justin was recently released from the band called Tainted... after some jamming time... not much was really accomplished until a half a year later... when they entered into it with a new agreement and understanding... The actual birth of B.A.S.B. in it's current form was in the fall of 2004... Working with a revamped Cipher Zero song as their base... they constructed a few songs and then found a talented Bassist (Kevin). The spring of 2005 saw a few major changes with Kevin turning to guitar and Tyrus (former Cipher Zero also) joining the ranks as a bassist. The sound changed as the second guitar kicked in, and they turned to Kevin for a more balanced sound as he progressed in writing with Josh. Singing gave way to screaming lead vocals, and they started implementing gang vocals for that traditional hardcore sound. In December of 2005, Shaun left due to conflicts within and outside the band. Shaun was quickly replaced by Ian, an open minded and promising drummer. Justin left in June of 2006, and was quickly Judge John, formerly of The Maybrick Diaries. John was only the vocalist for a few shows before being seperated from the band due to creative differences. After a few months of hiatus, Jason (former Below The Rise) was accepted as the new vocalist. After merely one show, he returned to Below The Rise, and now the band, tired of struggling along, has decided to call it quits. One final show included all of the members that were ever in the band on December 8th, 2006... .... ......2006 Demo........Buried And Still Breathing........ .... ........ ......Buried Away.. 1:44.. ..Much More Than Beautiful.. 5:18.. ..Dissonance And Discord.. 4:52.. ..Undaunted.. 4:43.. ..Still To This Day (Demo).. 4:03.... Instructions: Click the song to play or Right-Click the desired song title and select "Save Target As..." Choose a location for the image and hit the "Save" button....... ....I decided to release the demo completely online in order to save some copy and distribution time. Feel free to download the songs and make copies. The release includes:.... ..1 - Buried Away..2 - Much More Than Beautiful..3 - Dissonance And Discord Featuring Arthur Reading of A Timely Demise..4 - Undaunted Featuring Jim McMahon of NeverSayNever..5 - Still To This Day (Demo)..as well as, Still To This Day (Video).... ..Credits:...... Josh Batchelder - Guitar and Vocals.. Ian Gove - Drums.. Justin Hardcore - Vocals.. Tyrus James - Bass.. Shaun Kearns - Drums (On Still To This Day).. Kevin Mosely - Guitar and Vocals.... Gang vocals include Justin, Josh, Kevin, and Jim McMahon of NeverSayNever..... Recorded by Leo Reading of .."Watch Your Head" Studios...... Artwork by Justin Hardcore and Sean Greenman.... ..Justin's Thanks:.. I'd like to thank Leo, for all his hard work recording, editing, and mastering the demo, and considering we paid him in caffeine and nicotine... we got a real good deal. Art as well, helping transport his ass, and then sitting there through all the recording shit... It was really great to have other people there to keep things humorous and keep us in the band from killing each other. Art also lent his voice to Dissonance and Discord which is truly awesome. Jim from NeverSayNever for helping with vocal settings and letting me use his place for finishing my vocals, as well as providing all around good times. BASB, for helping to finish this recording project that we started, even though they will be moving on to new material. Kevin and Josh for vocals, and Tyrus for finishing all of his bass tracks. And finally, thanks to everyone that's supported me and continues to support me, I felt much more motivated to finish this demo knowing that people around me wanted it done so they could get copies. Thanks everyone......... ......Media........Buried And Still Breathing........ .... ....Below is a video compilation of 2005/2006 live show footage with our single, "Still To This Day" mixed over it..... .... .... .. .. .. .. .. .. .... ....The photo reel below is of pictures taken on December 9th, 2006, our final show..... .. .. .. .. .. .. .. .. .. .. .. .. .. .. .. .. .. .. .. .. .. .. .. .. .. .. .. .. .. .. .. .. .. .. .. .. .. .. .. .. .. .. .. .. .. .. .. .. .. .. .. .. ..loodlettingpropaganda/BASBdec8th/Resized_100_7166.jpg> ../Resized_100_7165.jpg> .. .. .. .. .. .. .. .. .. .. .. .. .. .. .. .. .. .. .. .. .. .. .. .. .. .. .. .. .. .. .. .. .. .. .. .. .. .. .. .. .. .. .. .. .. .......... ......AOL Instant Messenger Icons.... .. Instructions: Right-Click the desired AOL Icon and select "Save Target As..." Choose a location for the image and hit the "Save" button. Then, with AOL Instant Messenger running, Right-Click the AOL IM in the lower right-hand corner of your screen and select the "Preferences..." option. When the preferences window pops up, click the "Expressions" category. Find and click on the desired image, then hit the "Select" button. Back in the AOL preferences window, hit "Apply" and "OK" Your new icon will now be present in all of your AOL contact windows... .... .. .... .. .. ...... .. .. .. .. ...... .. .. .. .. ...... .. .. .. .... ..Computer Desktop Backgrounds.... .. Instructions: Click the thumbnail of the desired dimensions. When the browsers goes to the image page, make sure the image is correctly sized by using the resize button at the lower right hand corner of the image. Once its fully sized, Right-Click and select "Save Target As..." Choose a location for the image and hit the "Save" button. Then go to your desktop and Right-Click again. This time choose "Properties" When the Properties window pops up click the "Desktop" tab. Click the "Browse" button and locate the saved image. Select the image and hit "Open". Then just hit "Apply" at the bottom of the properties window and you're all set!...... .. .... ..800 X 600.. .... ...... .. ...... .. .. ..1024 X 768.. .... ...... .. ...... .. .. .. .. .... ............ ............ ............ ..

Members

.. ..Bass, Vocals - Tyrus James.. .... .......... ..Drums, Vocals - Ian Gove.. .... .. ........ ..Drums, Vocals - Shaun Kearns.. .... .......... ..Guitar, Vocals - Josh Batchelder.. .... .......... ..Guitar, Vocals - Kevin Moseley.. .... ...... ..Vocals - Jason.. .... .......... ..Vocals - Judge John Eastman.. .... .......... ..Vocals - Justin Hardcore.. .... .......... ....Associated Sites:.... ...... ...... ...... ...... ...... ...... ...... ...... ...... ...... ...... ...... ...... ......

Influences

Our main influences stem from the genres we typically listen to, whether it's Metal, MetalCore, Hardcore, Tough Guy Hardcore, Death Metal, GrindCore, Experimental Hardcore, Post Hardcore, EmoCore, Screamo, whatever... We all have similiar influences, and then our own unique aspect to it. Below is a list of of the artists that have had the biggest impact on us. .. ..Influential Artists.. ..All That Remains.. ..As I Lay Dying.. ..Atreyu.. ..Bleeding Through.. ..Bury Your Dead.. ..Cannae.. ..Converge.. ..Despised Icon.. ..Diecast.. ..Every Time I Die.. ..From Autumn To Ashes.. ..Haste The Day.. ..Hatebreed.. ..Into The Moat.. ..It Dies Today.. ..Lamb Of God.. ..Madball.. ..Pantera.. ..Since The Flood.. ..Terror.. ..The Agony Scene.. ..The Dillinger Escape Plan.. ..Throwdown..

Sounds Like

Diecast, All That Remains, Throwdown, The Agony Scene
No recent updates in this category.
Why not...
00:00 | 384 plays | Apr 2 2006
Bio:
..
History
Buried And Still Breathing
The band Buried And Still Breathing was pretty much formed out of the ashes of Cipher Zero and a few failed attempts in between. Emerging 2 years after the members of Cipher Zero went their seperate ways, the guitarist (Josh) was in the middle of working with newly found drummer (Shaun) and Justin was recently released from the band called Tainted... after some jamming time... not much was really accomplished until a half a year later... when they entered into it with a new agreement and understanding... The actual birth of B.A.S.B. in it's current form was in the fall of 2004... Working with a revamped Cipher Zero song as their base... they constructed a few songs and then found a talented Bassist (Kevin). The spring of 2005 saw a few major changes with Kevin turning to guitar and Tyrus (former Cipher Zero also) joining the ranks as a bassist. The sound changed as the second guitar kicked in, and they turned to Kevin for a more balanced sound as he progressed in writing with Josh. Singing gave way to screaming lead vocals, and they started implementing gang vocals for that traditional hardcore sound. In December of 2005, Shaun left due to conflicts within and outside the band. Shaun was quickly replaced by Ian, an open minded and promising drummer. Justin left in June of 2006, and was quickly Judge John, formerly of The Maybrick Diaries. John was only the vocalist for a few shows before being seperated from the band due to creative differences. After a few months of hiatus, Jason (former Below The Rise) was accepted as the new vocalist. After merely one show, he returned to Below The Rise, and now the band, tired of struggling along, has decided to call it quits. One final show included all of the members that were ever in the band on December 8th, 2006.
2006 Demo
Buried And Still Breathing
I decided to release the demo completely online in order to save some copy and distribution time. Feel free to download the songs and make copies. The release includes:


1 - Buried Away
2 - Much More Than Beautiful
3 - Dissonance And Discord Featuring Arthur Reading of A Timely Demise
4 - Undaunted Featuring Jim McMahon of NeverSayNever
5 - Still To This Day (Demo)
as well as, Still To This Day (Video)
Credits:
Josh Batchelder - Guitar and Vocals
Ian Gove - Drums
Justin Hardcore - Vocals
Tyrus James - Bass
Shaun Kearns - Drums (On Still To This Day)
Kevin Mosely - Guitar and Vocals
Gang vocals include Justin, Josh, Kevin, and Jim McMahon of NeverSayNever.
Recorded by Leo Reading of
"Watch Your Head" Studios
Artwork by Justin Hardcore and Sean Greenman
Justin's Thanks:
I'd like to thank Leo, for all his hard work recording, editing, and mastering the demo, and considering we paid him in caffeine and nicotine... we got a real good deal. Art as well, helping transport his ass, and then sitting there through all the recording shit... It was really great to have other people there to keep things humorous and keep us in the band from killing each other. Art also lent his voice to Dissonance and Discord which is truly awesome. Jim from NeverSayNever for helping with vocal settings and letting me use his place for finishing my vocals, as well as providing all around good times. BASB, for helping to finish this recording project that we started, even though they will be moving on to new material. Kevin and Josh for vocals, and Tyrus for finishing all of his bass tracks. And finally, thanks to everyone that's supported me and continues to support me, I felt much more motivated to finish this demo knowing that people around me wanted it done so they could get copies. Thanks everyone.
Media
Buried And Still Breathing
Below is a video compilation of 2005/2006 live show footage with our single, "Still To This Day" mixed over it.
The photo reel below is of pictures taken on December 9th, 2006, our final show.
..
..loodlettingpropaganda/BASBdec8th/Resized_100_7166.jpg> ../Resized_100_7165.jpg>
..
AOL Instant Messenger Icons
Instructions: Right-Click the desired AOL Icon and select "Save Target As..." Choose a location for the image and hit the "Save" button. Then, with AOL Instant Messenger running, Right-Click the AOL IM in the lower right-hand corner of your screen and select the "Preferences..." option. When the preferences window pops up, click the "Expressions" category. Find and click on the desired image, then hit the "Select" button. Back in the AOL preferences window, hit "Apply" and "OK" Your new icon will now be present in all of your AOL contact windows.
Computer Desktop Backgrounds
Instructions: Click the thumbnail of the desired dimensions. When the browsers goes to the image page, make sure the image is correctly sized by using the resize button at the lower right hand corner of the image. Once its fully sized, Right-Click and select "Save Target As..." Choose a location for the image and hit the "Save" button. Then go to your desktop and Right-Click again. This time choose "Properties" When the Properties window pops up click the "Desktop" tab. Click the "Browse" button and locate the saved image. Select the image and hit "Open". Then just hit "Apply" at the bottom of the properties window and you're all set!
Member Since:
May 28, 2005
Members:
..
Bass, Vocals - Tyrus James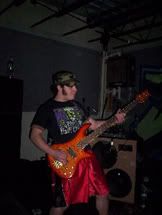 Drums, Vocals - Ian Gove
Drums, Vocals - Shaun Kearns
Guitar, Vocals - Josh Batchelder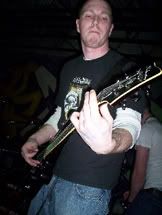 Guitar, Vocals - Kevin Moseley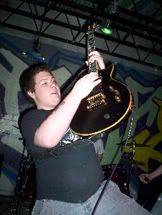 Vocals - Jason
Vocals - Judge John Eastman
Vocals - Justin Hardcore
Associated Sites:






Influences:
Our main influences stem from the genres we typically listen to, whether it's Metal, MetalCore, Hardcore, Tough Guy Hardcore, Death Metal, GrindCore, Experimental Hardcore, Post Hardcore, EmoCore, Screamo, whatever... We all have similiar influences, and then our own unique aspect to it. Below is a list of of the artists that have had the biggest impact on us.
Sounds Like:
Diecast, All That Remains, Throwdown, The Agony Scene
Record Label:
No Label/D.I.Y.