Play

Play Next

Add to queue
Play

Play Next

Add to queue

1,450 plays

Play

Play Next

Add to queue

1,026 plays

Play

Play Next

Add to queue

10,914 plays

Play

Play Next

Add to queue

6,930 plays
Beyond Perception was originally formed in the summer of 2004 as a Progressive / Rock band by Kalavrezos Kostas (guitar), Panos Kalavrezos (bass) Tolis Toleas (drums) and Paris Poukamisas (vocals, guitar). After a while the band takes a different direction. Mainly influenced by Metal / Rock music. They drastically changed their musical intentions.

 Having composed the musical material that expresses them, they record and release the first demo, which has a positive response from the fans. The band goes on tour and gives live shows in Greece, as their music evolves into something more serious and aggressive. Two years later Paris leaves the band, because of different music approaches. The band is facing many difficulties since it has a new musical material and needs a singer too.

 Panos Karnaris (former singer of WFDD), a musician with unusual attitude and extraordinary music preferences, becomes the new singer and enhances the band. They record another demo with their new singer and after several months of hard work, they record their first professional album, with the encouragement of their fans. Soon after the release of their album, Beyond Perception are on tour again, playing with famous bands of the Greek Metal scene. They sign a contract with Casket Music and they quickly become known abroad, through various music websites. 

On September 2010, Blood & Whiskey is released through DSN Music, an American independent label in Arizona. Soon after this release, they lead a quite successful tour in England and Ireland, where their material has a very warm reception. Beyond Perception was the support group to Spiritual Beggars and Annihilator in Athens (winter 2010). 


Genre: Metal / Rock / Southern Rock

Location Athens, Un

Profile Views: 126452

Last Login: 3/9/2013

Member Since 7/6/2007

Website beyondperceptionband.com

Record Label DSN USA

Type of Label Major

Bio

Beyond Perception Οι Beyond Perception διαμορφώνονται αρχικά το καλοκαίρι του 2004 ως μια Progressive/Rock μπάντα από τους Κώστα Καλαβρέζο (κιθάρα), Πάνο Καλαβρέζο (μπάσο), Τόλη Τολέα (κρουστά) και Πάρη Πουκαμισά (φωνητικά, κιθάρα). Η πορεία της μπάντας όμως παίρνει άλλη κατεύθυνση μετά από λίγο καιρό. Επηρεασμένοι κυρίως από τη Metal/Rock μουσική αλλάζουν δραστικά την ιδιοσυγκρασία και τις μουσικές συνθέσεις τους. Αφού έχουν δημιουργήσει το μουσικό υλικό που τους εκφράζει, ηχογραφούν και κυκλοφορούν το πρώτο demo τους και βρίσκουν θετική ανταπόκριση από τους θαυμαστές τους. Η μπάντα πηγαίνει σε περιοδεία και παίζει ζωντανά σε όλη την Ελλάδα, καθώς η μουσική τους εξελίσσεται σε κάτι πιο βαρύ και επιθετικό. Δύο χρόνια αργότερα ο Πάρης αποφασίζει να αποχωρίσει λόγω μουσικών διαφορών. Η μπάντα είναι σε δύσκολη θέση αφού έχει νέο μουσικό υλικό και χρειάζεται τραγουδιστή, έτσι αρχίζουν να ψάχνουν για δέκα μήνες περίπου προσπαθώντας να βρουν ένα άξιο τραγουδιστή που να πληροί τις μουσικές τους προδιαγραφές. Τελικά βρίσκουν τον Πάνο Καρναρή (πρώην τραγουδιστή των W.F.D.D) με ασυνήθιστο χαρακτήρα και προτιμήσεις, οι οποίες αναβαθμίζουν μουσικά την μπάντα. Ηχογραφούν ένα ακόμη demo με τον καινούργιο τους τραγουδιστή και μετά από μερικούς μήνες σκληρής δουλειάς και την παρότρυνση των θαυμαστών τους ηχογραφούν το πρώτο τους επαγγελματικό δίσκο. Αμέσως μετά την κυκλοφορία του album, οι Beyond Perception περιοδεύουν και πάλι, και παίζουν μαζί με μεγάλα ονόματα της Ελληνικής Metal σκηνής, υπογράφουν συμβόλαιο με την Casket Music και γίνονται γρήγορα γνωστοί και εκτός του ελληνικού μουσικού κοινού μέσω ποικίλων websites. Το Σεπτέμβριο του 2010 κυκλοφορεί το album Blood & Whiskey από την αμερικανική ανεξάρτητη δισκογραφική εταιρία DSN με έδρα στην Αριζόνα. Ακολουθεί μια απόλυτα επιτυχημένη περιοδεία στην Αγγλία και την Ιρλανδία, όπου οι Beyond Perception έχουν πολύ θερμή υποδοχή από το κοινό. Οι Beyond Perception έχουν μοιραστεί τη σκηνή ως support με σημαντικές μπάντες του εξωτερικού όπως οι Spiritual Beggars και οι Annihilator. www.myspace.com/beyondperceptionband Beyond Perception Beyond Perception was originally formed in the summer of 2004 as a Progressive / Rock band by Kostas Kalavrezos (guitar), Panos Kalavrezos (bass) Tolis Toleas (percussion) and Paris Poukamisas (vocals, guitar). After a while the band takes a different direction. Mainly influenced by Metal / Rock music. They drastically changed their musical intentions. Having composed the musical material that expresses them, they record and release the first demo, which has a positive response from the fans. The band goes on tour and gives live shows in Greece, as their music evolves into something more serious and aggressive. Two years later Paris leaves the band, because of different music approaches. The band is facing many difficulties since it has a new musical material and needs a singer too. Panos Karnaris (former singer of WFDD), a musician with unusual attitude and extraordinary music preferences, becomes the new singer and enhances the band. They record another demo with their new singer and after several months of hard work, they record their first professional album, with the encouragement of their fans. Soon after the release of their album, Beyond Perception are on tour again, playing with famous bands of the Greek Metal scene. They sign a contract with Casket Music and they quickly become known abroad, through various music websites. On September 2010, Blood & Whiskey is released through DSN Music, an American independent label in Arizona. Soon after this release, they lead a quite successful tour in England and Ireland, where their material has a very warm reception. Beyond Perception was the support group to Spiritual Beggars and Annihilator in Athens (winter 2010). www.myspace.com/beyondperceptionband

Members

Makis Makoulas:vox, Kwstas Kalavrezos:guitar, Panos Kalavrezos:bass, Tolis Toleas:drums

Influences

Sounds Like
BEYOND PERCEPTION - BLOOD & WHISKEY album reviews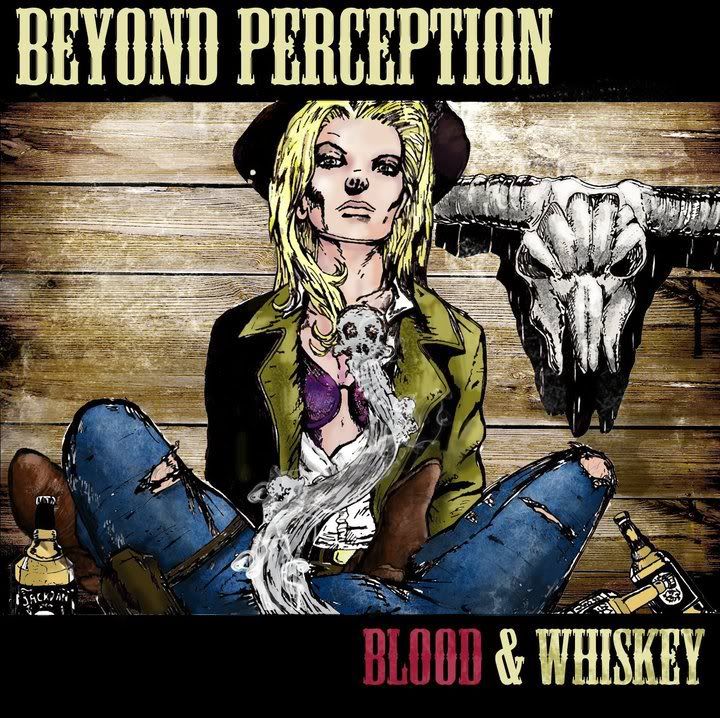 "…These guys are like one of the best kept secrets of metal, makes me wish I was more in tune with the European metal scene."
http://rockgodzz.blogspot.com/

"…incredibly groovy riffs that make even the haters of this kind of music want to bang their heads…" http://sawbiz.gr

"…these guys have made a solid effort in composing and producing "Blood & Whiskey". Along with the awesome artwork this album shows that Beyond Perception is a hard-working, professional band." http://www.publicstage.gr

"Twelve smoking tracks, the perfect soundtrack to drink a couple of bourbons and smash some heads off…"
http://www.downtunedmag.com

"…Blood & Whiskey is here to add its piece to the evolution of the Greek stoner/sludge scene…" http://strangejournal.wordpress.com

"…albums like Blood & Whiskey make a difference in the Greek metal scene…"
http://rockoverdose.gr

"As a collection of songs, the record is very consistent, delivering the spacious sound that you'd expect from this style, layering on chugging guitars and precise, if sparse drumming."
http://ridewiththedevil.blogspot.com

"…a high-standard album which shows that the bar in the Greek metal scene has been raised over the past few years…"
http://roadcrew.gr

"…total respect to any album that starts with a sample from "The Blues Brothers"…."
"….worshipping Bud Spenser in their booklet full of saloon atmosphere and gun fights…Good Stuff!!"
http://www.rockpages.gr/

"…one of the best albums of its kind, with a very good production which points out the quality of the band…"
"…Overall, anyone who is interested in this kind of music should absolutely listen to "Blood & Whiskey"
http://www.southernrock.gr/

"…Beyond Perception is here, along with their true metal sound…"
http://ela-mesa.blogspot.com

"…inside Blood & Whiskey you'll find many remarkable spots…if you ever have the chance to hear it you won't waste your time…"
http://greekrebels.gr


BEYOND PERCEPTION - THE FINAL DESCEND debut album reviews:


-"...with metallic aggresion tempered by bluesy riffs and moody spoken word segments..."
"...the spirit of sludgy southern rock...'' (Kerrang,KKK)

-"..imagine Kyuss jamming with SOD and you're on the money..."
"...the songs are straighforward but they're carried off with a penchant for a hook that'll stay with you like twelve-pint hangover..."
"...a vocalist that sounds as though he eats babies for breakfast..."
(Terrorizer 7/10)

-"...music that could easily be coming from Georgia USA..."
"...great song-writing..."
(Metal hammer 7/10)

-"...sludge fans,aggressive stoner lovers "The final descend" album is exactly what the doctor's ordered..."
"...this album is certainly a worthy addition to such people's record collections..."
(Concrete web,9/10)

-"...Beyond perception one of the greek bands that i really enjoy hearing..."
"...sludgy,stoner riffs that get to you and make you want to rock your head off..."
"...powerfull album,heavy sound just like it should be..."
(www.greekrebels.gr,8/10)

-"...the heavy and choppy guitar riffs give the album a heavy groove..."
"...a very aggressive,noisy distorted album..."
(The metal observer,7.5/10)

-"...Beyond perception a greek stoner metal act with enough heaviness to turn your testicles to dust..."
"...riffing that gets stuck in your head...a singer with great vocal abilities..."
(Metal-tample.com,3.5/5)

-"...their rumbling metal would be more at home in the American South than enywhere in Europe..."
"...huge grooves,kick-ass riffs from rocking your face off..."
(Rock Midgets,3/5)