Play

Play Next

Add to queue
Play

Play Next

Add to queue

236 plays
First EP - Official Release : 30th of May 2012
Members:
Jo: Computer
Charles: Electric Bass
Cyp: Saxophone, Clarinet, Ney, Melodica
Phil: MC, Beatbox, Scratchs
Sandro: MC, Kaoss Pad
Clem: VJ & Artwork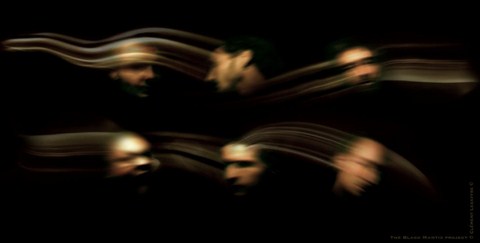 -------------------------------
[FR]
Né de la rencontre entre un Dj/producteur adepte des infrabasses, et un compositeur syncopathe, The Black Mantis Project va progressivement évoluer au cours de son parcours et des ses rencontres vers une formule Live qui rafraîchira les classiques du genre.
Quatre membres agrémentent désormais le duo: l'ossature puissante des machines se fusionne à la basse, la batterie, au kaval et au saxophone afin de créer une alchimie profonde enrichie par deux Mcs aux timbres complémentaires . Ce mélange de caractères, soutenu par un live set vidéo, offre un voyage sans limites à travers les styles et puisant son inspiration dans l'entrelacement des genres.
Aux frontières d'un rite traditionnel et d'une rave extatique, The Black Mantis Project ravivera vos sens pour une expérience live singulière et énergique.
-------------------------------
[EN]
Juggling between dubstep, breakbeat,drum'n'bass and atmospheres from over the globe, the french duet brings us an exclusive live set and a fresh new concept. At the origin of the project, the meeting of two musicians with complementary influences.
Swag Mantis, originaly guitarist, quickly discovers the electronic music: he started to experiment digital and original rhythmic programmings within a afro-jazz-electro band. Influenced by the abstract hip-hop, but also such names as Amon Tobin or Flashbulb, he invest into a solo project - Swag Mantis - where he develops a unique musical universe, in constant exploration of textures and new atmospheres, at the same time as his activity of sound designer for video games.
Bass player, Blackwizard meets at the beginning of 2001 the universe of Drum and bass, whom he will consider as a revelation: quickly, he develops behind the decks a dynamic, dark and progressive style, which brings him naturally to compose its own tracks, where the multiple influences can express themselves completely: electronic music, metal, world and classical music meet for a real dance-floor experience. Diverse collaborations will ensue, in particular with SHRI or JAMALSKI for the "International / We ready fe dem" single, noticed on the NBA 2K9 soundtrack with Beasty boys and N.E.R.D
Regularly accompanied on stage by talented musicians (MCs, saxophone, ney, clarinet), The Black Mantis Project, determinedly on the look-out for new tones and for a fusion of the kinds, offers us a digital sound for a journey of 5 senses where steams of incenses, rough textures, wild rhythms and spicy flavours are mixed for the pleasure of eyes and especially ears!