Play

Play Next

Add to queue
Play

Play Next

Add to queue

24,640 plays

Play

Play Next

Add to queue

17,787 plays

Play

Play Next

Add to queue

2,477 plays
Genre: Hardcore / Metal

Location GLASGOW, UK

Profile Views: 103029

Last Login: 3/11/2012

Member Since 1/21/2005

Website www.brokenoath.co.uk

Record Label RUCKTION RECORDS

Type of Label Indie

Bio

.. .. .. .. .. .. .. ..Broken Oath formed in 2001, after several minor lineup changes their first demo was self released. Limited to 300 copies this sold out fast!.. .. More lineup changes followed as well as extensive touring of the UK. The now settled lineup released a split CD (What lies ahead) with Peterborough band Eviscerate AD. The release of this CD on Unity Worldwide Recordings saw the band hit mainland Europe for the first time..... The band was asked by Rucktion Records to record a new CD. Blood Cleanse the Streets was the result. This CD, accompanied by wider European distribution saw Broken Oath reaching out to many new fans. A European tour with Bristol band Burning Skies followed. Appearances at both Filled With Hate Fest 2006 and BFLBU fest 2006 capped a successful period in the band's history..... 2007 will see the release (on Rucktion Records once again) of the "Given Half a Chance" CD which will be a more focussed and straight up record. A return to the road will follow!....Click on the following images to order CDs and T-Shirts. ........ ...... ...... .......... .... .... .. .... .... .. .. .. .. .. .. .. .. .. .. .. .. .. .. .. .. .. .. .. .. .. .... .. .. .. .. .. .. .... .. .. .. .. .. .. .. ....

Members

Lee Marshall - Vocals.. Craig Lavery - Guitars.. Steve McClintock - Guitars/Backing Vocals.. Iain Berekis - Bass.. Ali Walker - Drums..

Influences

......

Sounds Like
No recent updates in this category.
Why not...
Bio:
..
Broken Oath formed in 2001, after several minor lineup changes their first demo was self released. Limited to 300 copies this sold out fast!
More lineup changes followed as well as extensive touring of the UK. The now settled lineup released a split CD (What lies ahead) with Peterborough band Eviscerate AD. The release of this CD on Unity Worldwide Recordings saw the band hit mainland Europe for the first time.
The band was asked by Rucktion Records to record a new CD. Blood Cleanse the Streets was the result. This CD, accompanied by wider European distribution saw Broken Oath reaching out to many new fans. A European tour with Bristol band Burning Skies followed. Appearances at both Filled With Hate Fest 2006 and BFLBU fest 2006 capped a successful period in the band's history.
2007 will see the release (on Rucktion Records once again) of the "Given Half a Chance" CD which will be a more focussed and straight up record. A return to the road will follow!
Click on the following images to order CDs and T-Shirts.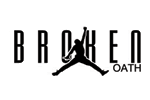 .... .. .. .. .. .. .. .. ..
.. .. .. .. .. ..

..

.. .. .. .. .. .. .. ....
Member Since:
January 21, 2005
Members:
Lee Marshall - Vocals
Craig Lavery - Guitars
Steve McClintock - Guitars/Backing Vocals
Iain Berekis - Bass
Ali Walker - Drums

Influences:
Record Label:
RUCKTION RECORDS
Label Type:
Indie
Broken Oath (is just a memory, RIP) has 5011 friends.