05:34 | 130 plays | Oct 7 2010
Halcyon Pink has 6683 friends.
About me:
I'm a media mogul and a spiritual infant.
FAQ's
Q:
What do you do exactly? Are you a dancer? An actor? Director?
A:
Yes. :) I am a lifestyle artist and digital explorer. I pay my bills as an .. consultant. It pays me enough that I can work part-time, and then spend the rest of my time on digital projects. The projects, in turn, give me experience so that I am useful as a consultant… And so on.
Q:
Why Pink?
A:
Pink is the color of hugs.
Pink is the color of love...without the aggression of red.
Pink is often associated with girls and gays...I am neither. I like that it makes people question assumptions.
Pink is vibrant and bold. You can't be a wallflower with a traffic cone on your head.
We are all pink on the inside.
Q:
Will you be my friend?
A:
HELL YES! It would be an honor. I consider the myspace universe to be a huge meeting space where people with similar mindsets can connect. If you vibrate like I vibrate, I would love to stay connected. I am allll about
Digital Intimacy.
NOTES:

if you are the myspace admin for a band, product or company, I probably will not add you. Feel free to add me as yourself, however!
I'm also probably gonna delete any 'chain letter' comments ('send this to 6 friends!!').
And if you leave me "Help me win a free IPOD!" comments, I'll block you. Nothing personal....just not what I think this place is for.
Q:
Are you gay?
A:
I am sexy to the core. I'll sleep with whomever I am attracted to. That is almost always women, but I'd rather not be limited by a label.
Q:
What's with "The PBC"?
(
www.pinkbroadcasting.com
)?
A:
The PBC is my one-man TV station. Ya see, My dream is to be an independent media mogul.
When I first heard about the internet 10 years ago, I visualized everyone with our own TV stations. But technology and bandwidth weren't ready.
We are FINALLY on the brink. So I am like a pig in muddy zen as I wrestle around with social networking and broadcast technologies. I love this shit.
Anyhoo… I have been doing a personal broadcast of sorts (see:
cockybastard.com
) for a decade. And now my TV network is REAL.
I produce 2 regular (weekly or more) shows that are distributed globally on Veoh Networks (TV quality) and as Flash internet versions on myspace, veoh, & youtube.
I feel blessed to be alive in such an age. I'm tickled pink.
The PBC Fall Shows: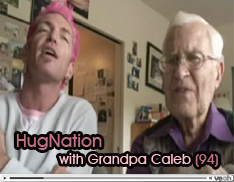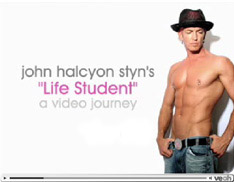 ..
..
Who I'd like to meet:
Anyone open to love, freedom, and hope.

www.HugNation.com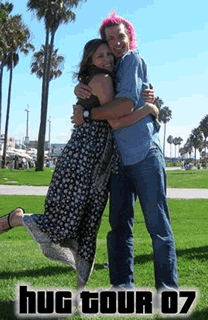 www.hugmobile.com
People who can glimpse the miracle in every moment.
Lovers. Dreamers. Adventurers. Mystics. Hedonists. Burners.
Status:

In a Relationship

Here for:

Networking, Dating, Serious Relationships, Friends

Body type:

6' 0" / Slim / Slender

Religion:

Other

Zodiac Sign:

Gemini

Smoke:

No

Occupation:

Digital Explorer
General

Web, Video, Living as an Artform. Burning Man.

(caddle prod photo)

Music

Movies

hugnation.com Halcyon Level 3 Red Couch Interview Webby Awards

At the Webby awards, I got interviewed on the Red Couch.

The Big Lebowski. Waking Life. Fight Club. Princess Bride. HERO.

Gifting It

.

Television

Books

Alan Watts, Byron katie, Richard Bach, Eckhart Tolle

Heroes

Jacob Glass

,

My Grandpa Caleb

, Jon Stewart, Perry Farrel, Hunter S Thompson, MLK Jr., Mr. Rogers, Victor Frankl, Eckard Tolle

"To be nobody but yourself in a world which is doing its best, night and day, to make you everybody else means to fight the hardest battle which any human being can fight; and never stop fighting". ~e.e. cummings