Play

Play Next

Add to queue
Play

Play Next

Add to queue

42,828 plays

Play

Play Next

Add to queue

37,214 plays

Play

Play Next

Add to queue

44,548 plays

Play

Play Next

Add to queue

33,769 plays

Play

Play Next

Add to queue

12,881 plays
Genre: Dub / Latin

Location Long Beach, California, US

Profile Views: 132632

Last Login: 7/10/2010

Member Since 8/20/2005

Record Label Gold Standard Labs

Type of Label Indie

Bio

.. DE FACTO hailed from El Paso, TX by way of Long Beach, California. Bassist Omar Rodriguez and drummer Cedric Bixler are well known as members of the acclaimed, and now defunct band, AT THE DRIVE-IN, as well as powerhouse THE MARS VOLTA. In those other groups, however, Rodriguez plays guitar and Bixler sings. DE FACTO was not and never will be about keeping up with peoples' expectations, though... that much is certain..... Having relocated to California from El Paso around 2000, Bixler and Rodriguez teamed up with keyboardist Ikey Owens (formerly of the LONG BEACH DUB ALL STARS) and fellow-Texan Jeremy Ward and re-launched their longtime 'side project', DE FACTO, alongside AT THE DRIVE-IN. DE FACTO mined an eclectic and constantly-evolving composite of sounds, hinging squarely on tripped-out, instrumental dub. Rooted within the realm of Dub reggae pioneers like Lee Perry and the Dr. Alimantado, DE FACTO the group also tampered in electronica, Latin/"salsa", and jazz which gave their sound a distinct, timeless quality. They've utilized the surprisingly-effective melodica (a relatively cheap plastic 'keyboard' played by blowing through one end like a trumpet) made famous by AUGUSTUS PABLO with great skill and the results are stunning: their music transcends genres and ages, and suffers none from the decision to leave the songs instrumental and let them speak for themselves..... The band released their GSL debut, Megaton Shotblast!, in mid-2001. Critically-acclaimed, the record is a fascinating document of the musical alter-egos of some of the most influential players in post-punk/alternative rock. Well worth checking out are their other releases, including a superb EP on Grand Royal (the only record to feature Cedric's vocals) and their re-issued debut, How Do You Dub...?, on Restart Records. Since 2001, THE MARS VOLTA has taken center-stage in the lives of the bandmembers. The group played occasionally through 2003, including an appearance at an outdoor festival in Long Beach where the band was joined onstage by John Frusciante of RED HOT CHILI PEPPERS. Omar mentioned more than once that John would be playing on the "next" DE FACTO record. Sadly, Jeremy Ward's untimely death at his home in Los Angeles in May 2003 has left a question mark on the future of the band. .. .. .. .. ..

Members

Jeremy Ward (vocals, sound loops/effects).. Omar Rodriguez (bass).. Cedric Bixler (drums, vocals).. Ikey Owens (keyboards, 2000-2003)

Influences

Sounds Like
No recent updates in this category.
Why not...
Bio:
.. DE FACTO hailed from El Paso, TX by way of Long Beach, California. Bassist Omar Rodriguez and drummer Cedric Bixler are well known as members of the acclaimed, and now defunct band, AT THE DRIVE-IN, as well as powerhouse THE MARS VOLTA. In those other groups, however, Rodriguez plays guitar and Bixler sings. DE FACTO was not and never will be about keeping up with peoples' expectations, though... that much is certain.
Having relocated to California from El Paso around 2000, Bixler and Rodriguez teamed up with keyboardist Ikey Owens (formerly of the LONG BEACH DUB ALL STARS) and fellow-Texan Jeremy Ward and re-launched their longtime 'side project', DE FACTO, alongside AT THE DRIVE-IN. DE FACTO mined an eclectic and constantly-evolving composite of sounds, hinging squarely on tripped-out, instrumental dub. Rooted within the realm of Dub reggae pioneers like Lee Perry and the Dr. Alimantado, DE FACTO the group also tampered in electronica, Latin/"salsa", and jazz which gave their sound a distinct, timeless quality. They've utilized the surprisingly-effective melodica (a relatively cheap plastic 'keyboard' played by blowing through one end like a trumpet) made famous by AUGUSTUS PABLO with great skill and the results are stunning: their music transcends genres and ages, and suffers none from the decision to leave the songs instrumental and let them speak for themselves.
The band released their GSL debut, Megaton Shotblast!, in mid-2001. Critically-acclaimed, the record is a fascinating document of the musical alter-egos of some of the most influential players in post-punk/alternative rock. Well worth checking out are their other releases, including a superb EP on Grand Royal (the only record to feature Cedric's vocals) and their re-issued debut, How Do You Dub...?, on Restart Records. Since 2001, THE MARS VOLTA has taken center-stage in the lives of the bandmembers. The group played occasionally through 2003, including an appearance at an outdoor festival in Long Beach where the band was joined onstage by John Frusciante of RED HOT CHILI PEPPERS. Omar mentioned more than once that John would be playing on the "next" DE FACTO record. Sadly, Jeremy Ward's untimely death at his home in Los Angeles in May 2003 has left a question mark on the future of the band.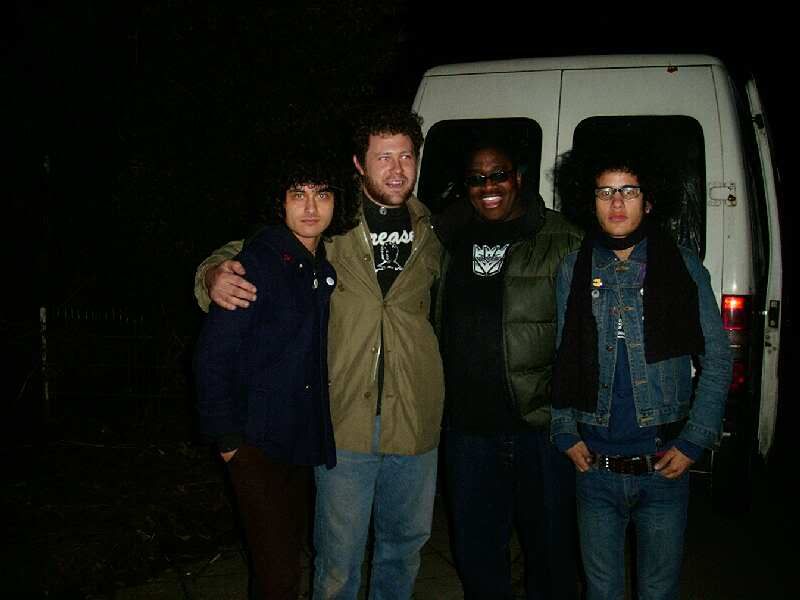 ..
Member Since:
August 20, 2005
Members:
Jeremy Ward (vocals, sound loops/effects)
Omar Rodriguez (bass)
Cedric Bixler (drums, vocals)
Ikey Owens (keyboards, 2000-2003)
Record Label:
Gold Standard Labs