Play

Play Next

Add to queue
Genre: Black Metal

Location US

Profile Views: 187948

Last Login: 2/27/2011

Member Since 2/2/2005

Record Label Unsigned

Type of Label Indie

Bio

.... ..........Copy the code below to repost banner or add to your page............. .... .. ...... .. ....1992 - DEMONIC CHRIST was formed by Satania after the demise of the all female death/doom band Mythic..... 1993 - "Deceiving The Heavens" demo was released. Aragon Amori (RIP) of Profanatica handled bass duties. The tape was spread throughout the underground with the help of Osmose Productions in Europe and Wild Rags Records in the USA. Roughly 600 copies were produced and sold or traded..... 1995 - "Punishment For Ignorance" CD was released on Morbid Granny Records/Moribund Records. In late 1995 a 2 song Promo Tape was released with the songs "Nocturnal Empire" and "Passing of the Storms"..... 1996 - Demonic Christ decided to expand their sound by adding a second guitarist. Late 1996 another 2 song promo tape including "Blut Und Ehre" and "Witches Fall" was released..... 2000 - "Demonic Battle Metal" and was released on Cryonics Records. It is very rare being that the pressing was limited to 250 hand numbered copies..... 2001 - "Demonic Battle Metal" was released on Picture Disc format on Painkiller Records. This is an extremely limited press of 300..... 2005 - "Punishment For Ignorance" and "Demonic Battle Metal" were re released on US label BlackMetal.com. Remastered, with new booklets, live tracks and videos..... 2006 - Painkiller Records released the Picture Disc version of "Punishment For Ignorance". Strictly limited to 500 copies with artwork by Nornagest (Enthroned). After 10 years without a new release, two new tracks were recorded in December 2006 at the legendary Noise Farm Studio in TX with Gilles de Rais (Teratism, Evil God) on bass and Desekrator (Teratism) on drums. One track, "Gloria Satanas" is exclusive to a split 7" EP gatefold release with Teratism for Obscure Abhorrence Records (Ger) to be released sometime in 2008. The other track "Bound To Damnation" is for promotion. ....2007 - Shed the dark light for the first live performance in 10 years at the Sacrifice of the Nazarene Child Fest VII in San Antonio, TX on 2-24-07. ....The true meaning behind Black Metal is the Devil and Demonic Christ will never compromise that! Praise Hail Satan!!! ........ .. .. .. .. .. .. .. .. .. .. .. .. .......... .. .. .. .. .. ....>..Footage from 1996.... .. ..BOTH RE RELEASES ARE NOW AVAILABLE!!! "PUNISHMENT FOR IGNORANCE" AND "DEMONIC BATTLE METAL"NOW AVAILABLE NOW THROUGH.... BLACKMETAL.COM!...... ..DO TO SPAMMING ALL COMMENTS MUST BE APPROVED! NO IMAGES ALLOWED!!! <.... .. .. .. .... ....

Members

Satania - Founding member; Guitars & Vox + All Music & Lyrics.... .. .. ..

Influences

..........Sigil of Demonic Christ..

Sounds Like

DEMONIC CHRIST
No recent updates in this category.
Why not...
Bio:

Copy the code below to repost banner or add to your page.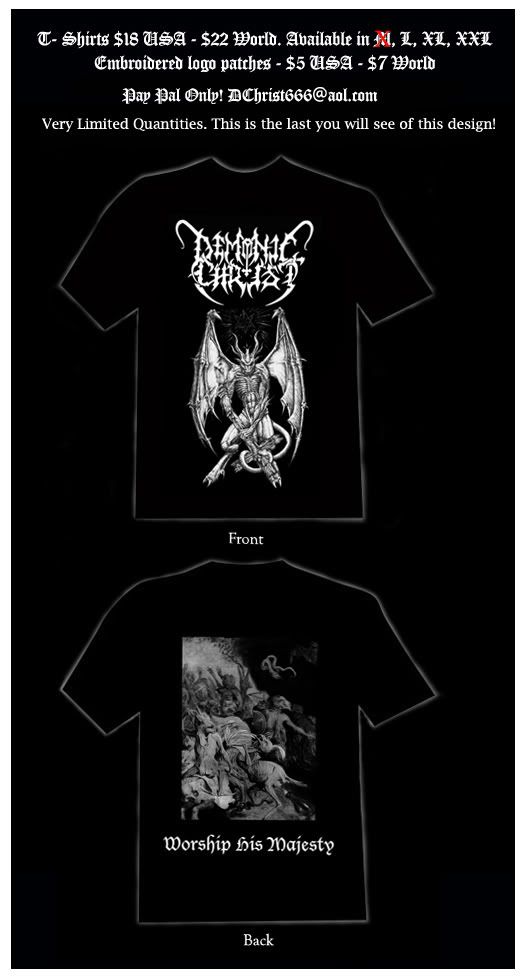 1992 - DEMONIC CHRIST was formed by Satania after the demise of the all female death/doom band Mythic.
1993 - "Deceiving The Heavens" demo was released. Aragon Amori (RIP) of Profanatica handled bass duties. The tape was spread throughout the underground with the help of Osmose Productions in Europe and Wild Rags Records in the USA. Roughly 600 copies were produced and sold or traded.
1995 - "Punishment For Ignorance" CD was released on Morbid Granny Records/Moribund Records. In late 1995 a 2 song Promo Tape was released with the songs "Nocturnal Empire" and "Passing of the Storms".
1996 - Demonic Christ decided to expand their sound by adding a second guitarist. Late 1996 another 2 song promo tape including "Blut Und Ehre" and "Witches Fall" was released.
2000 - "Demonic Battle Metal" and was released on Cryonics Records. It is very rare being that the pressing was limited to 250 hand numbered copies.
2001 - "Demonic Battle Metal" was released on Picture Disc format on Painkiller Records. This is an extremely limited press of 300.
2005 - "Punishment For Ignorance" and "Demonic Battle Metal" were re released on US label
BlackMetal.com
. Remastered, with new booklets, live tracks and videos.
2006 - Painkiller Records released the Picture Disc version of "Punishment For Ignorance". Strictly limited to 500 copies with artwork by Nornagest (Enthroned). After 10 years without a new release, two new tracks were recorded in December 2006 at the legendary Noise Farm Studio in TX with Gilles de Rais (Teratism, Evil God) on bass and Desekrator (Teratism) on drums. One track, "Gloria Satanas" is exclusive to a split 7" EP gatefold release with Teratism for Obscure Abhorrence Records (Ger) to be released sometime in 2008. The other track "Bound To Damnation" is for promotion.
2007 - Shed the dark light for the first live performance in 10 years at the Sacrifice of the Nazarene Child Fest VII in San Antonio, TX on 2-24-07.
The true meaning behind Black Metal is the Devil and Demonic Christ will never compromise that! Praise Hail Satan!!!


.. .. .. .. .. ..
....>
Footage from 1996
BOTH RE RELEASES ARE NOW AVAILABLE!!! "PUNISHMENT FOR IGNORANCE" AND "DEMONIC BATTLE METAL"NOW AVAILABLE NOW THROUGH
BLACKMETAL.COM
!
DO TO SPAMMING ALL COMMENTS MUST BE APPROVED! NO IMAGES ALLOWED!!! <.... ..
..
....
Member Since:
February 02, 2005
Members:
Satania - Founding member; Guitars & Vox + All Music & Lyrics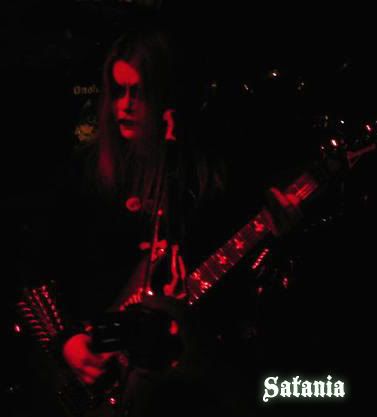 Influences: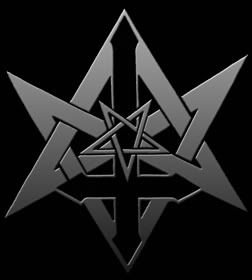 ..
Sigil of Demonic Christ
Sounds Like:
DEMONIC CHRIST
Record Label:
Unsigned
Label Type:
Indie