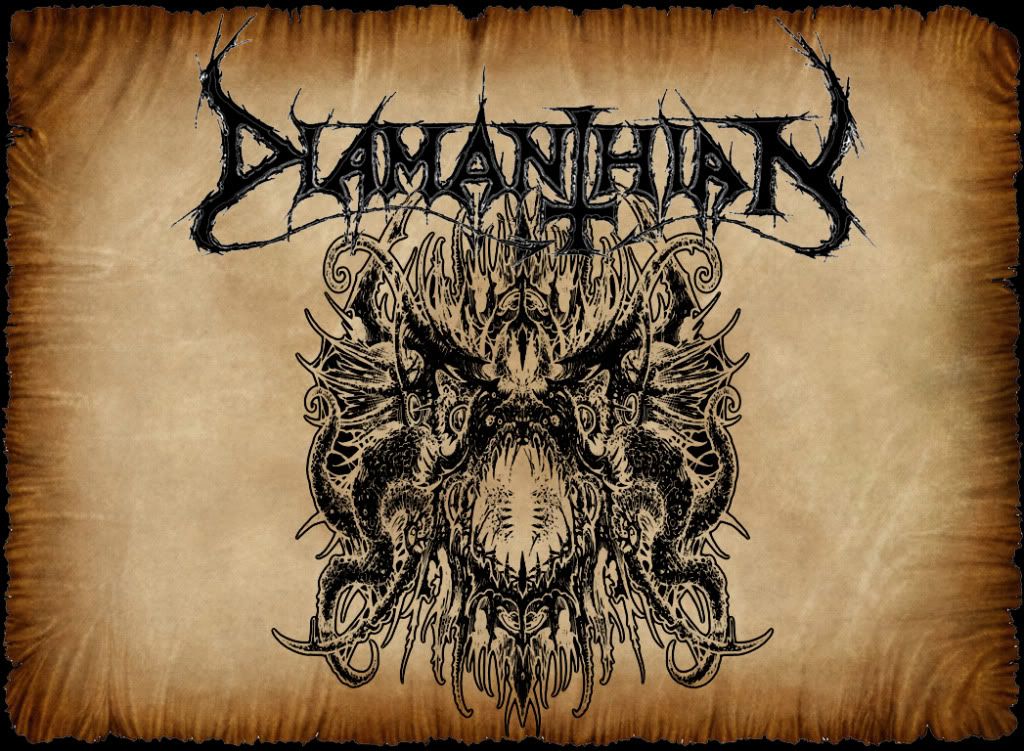 Play

Play Next

Add to queue
Play

Play Next

Add to queue

4,278 plays

Play

Play Next

Add to queue

5,980 plays

Play

Play Next

Add to queue

80 plays

Play

Play Next

Add to queue

7,434 plays




Bio
Diamanthian was formed in 2000 by Scott (vox/guitar 2000-present) & Pete Watson (Drums 2000-06). Mick Gorry (Bass 2000-3) joined shortly afterwards.
The band started gigging regularly from mid 2001 onwards after Stuart Penderghast (Lead guitar 2001) completed the line-up. For the first year Diamanthian concentrated mainly on the North West, then branched out playing all over the UK, from Glasgow to London and everywhere in between.

2002 saw Stuart leave the band to concentrate on his recently revived Malefic. After a five month search for a new axe man, enter Kev 'Troy' Dixon (Lead Guitar 2002-present). 

The first 'official' Diamanthian demo; 'Orchestrated Violence' was recorded in early 2003 which was well received throughout the UK underground scene and the band ended up selling literally hundreds of copies over the next couple of years.
By September 2003 Diamanthian would regretfully lose Liverpool's number 1 Heavy Metal maniac Mick Gorry, who emigrated to Australia. He was soon replaced by long time friend of the band Iain Turner (Bass 2003-05).

In the 2004 Terrorizer magazine readers poll Diamanthian was voted 'best unsigned band' and came 9th in the 'best live band category' (While being the only unsigned band in this category).

In August 2004 whilst doing a summer tour of Finland with Maple Cross, the debut album 'The Infinite Descent' was recorded which was co-produced by Jeff Walker. The album was released in March 2005 through London independent label Black Aura Records. 'The Infinite Descent' received much praise throughout out the global Metal press and went on to sell copies all over the world. Shortly before the release, Iain Turner left the band due to family commitments. A fantastic replacement was found in the form of Death Metal veteran Kev Gurell (Bass 2005-07). 

The band went on to play with many established International acts such BEHEMOTH, VADER, KRISIUN, and MARDUK, to name but a few.

In January 2006 Diamanthian completed its second tour of Finland, again with Maple Cross, to great success, finishing with a slot at the Jalometalli Winterfest in front of 1200 people.  The next few years saw a few line up changes with some of the band members starting families, changes of career, etc... Founding member Pete Watson, would be replaced by Thrash fanatic Andy 'Hatchets and Hammers' Campbell (drums 2006-present).

2007 saw the band do a mini tour of Spain for the first time with technical metal demons BAALPHEGOR (Spa). When the tour was over Kev Gurell retired from the band to concentrate on his hectic career in Logistics. The favour was returned with the Baalphegor guys by organising a 4 date UK tour in October '07.
The band then went on to record the '2007 promo' in September to remind everyone that the band was still a force to be reckoned with. In January '08 Texan label OSSUARY INDUSTRIES' heard the results and signed the band.

2008 saw the band continue to play all over the UK, culminating with a 5 date tour of Switzerland & Holland with Swiss metal veterans CENSORED (SWI) & MELTDOWN (SPA) in October. 

In March 2009 Diamanthian recorded the long anticipated follow up to The Infinite Descent; 'ARCANA DOCTRINA' at Foel studios in Wales with Chris Fielding at the production helm. Shortly after this, a replacement for bass duties was found in the form of Mat "The Fist" Campbell. In November/December of 2009 Diamanthian went on to tour Scotland, UK and Spain for the release of the album. The tour was a resounding success.

2010/11 have seen the band rigorously touring the UK and Europe further – this year playing at Hammerfest 3 and supporting some great bands such as Blood Red Throne. Prostitute Disfigurement, Satyricon. Dead Congregation and Entombed to name a few but now we are concentrating on the follow-up album to "Arcana Doctrina" which we plan to record in 2012.

We also intend to darken the lives of many at some of the European Festivals in 2012 and give a larger audience the chance to experience Diamanthian live. It is difficult to convey the atmosphere and sheer crushing brutality on CD so to see us is to truly understand us!


S.G. LINTON




Debut album 'The Infinite Descent' and latest release 'Arcana Doctrina' out now!
Click to order

Sevared Records(USA)
Comatose Music(USA)

..
Member Since:
June 08, 2005
Members:
Scott - Guitar & Vox
Troy - Lead Guitar
Mat - Bass
Andy - Drums
Past Members
Stuart Pendergast - Lead Guitar
Mick Gorry -Bass & visuals
Iain Turner - Bass
Kev Gurell - Bass
Hurlock Holmes - Session Bass
Pete Watson - Drums
Influences:
Too numerous. Do you really want to read a list of bands, artists, authors, etc? No, me neither.
Sounds Like:
A cold, cruel, amalgamation of the Death, Black, and Doom genres.
Record Label:
OSSUARY INDUSTRIES
Genre: Black Metal / Death Metal / Down-tempo

Location Liverpool, Un

Profile Views: 81136

Last Login: 2/2/2013

Member Since 6/8/2005

Website fuckingmetal.net

Record Label OSSUARY INDUSTRIES

Type of Label Indie

Bio

Members

Scott - Guitar & Vox.. Troy - Lead Guitar.. Mat - Bass.. Andy - Drums..

Influences

Too numerous. Do you really want to read a list of bands, artists, authors, etc? No, me neither.

Sounds Like

A cold, cruel, amalgamation of the Death, Black, and Doom genres.