Play

Play Next

Add to queue
Play

Play Next

Add to queue

956 plays

Play

Play Next

Add to queue

433 plays

Play

Play Next

Add to queue

373 plays

Play

Play Next

Add to queue

404 plays

Play

Play Next

Add to queue

387 plays
Genre: Hip Hop / Turntablism

Location DENVER, Colorado, US

Profile Views: 30771

Last Login: 12/3/2011

Member Since 7/26/2006

Website www.basementalism.com

Type of Label Major

Bio

.. .. .. .. .. .. .. .. Cysko Rokwel is a Denver based Turntablist who has been doing mixtapes, battles, and Basementalsim radio since the year 2000. .. .. Cysko is a rhythmic genius, who is never satisfied with the minimum; he gets bored quickly when things become simple, and is therefore always trying to find new ways to challenge himself. Because of this Cysko is quickly becoming one of the most innovative and skilled DJ's in the United States. He has respectively won regional titles in Denver(DMC) & San Francisco(Guitar Center Spinn Off) and has also represented CO in three National championships.(2006 DMC USA Finals, DMC USA head to head finals, & Guitar Center Top 6 USA Spin OFF). .. Dj Dylon Basementalism.. .. .. With a childhood filled with B-Boying and graffiti, Cysko Rokwel has always been immersed in Hip/Hop culture. It wasn't until he broke his arm and could no longer dance or write that he realized his passion for manipulating beats on the turntables with his friend, DJ Tense. As a member of the Crunk Bros.' DJ crew, he battled his way to national recognition several times, most recently finishing second in the DMC US finals. This isn't good enough for Cysko, he intends on taking first place this year. His skills, though obvious with his large list of titles, are beyond impressive. This man of few words lets his hands do all the talking. His cut-ups and sample choices speak of his undoubtedly enormous record collection, as well as his appreciation of Hip/Hop history. Watching him on stage is fascinating; he makes the most challenging feats look easy. Though successful and talented independently, these three men had no idea what a power they would become when they joined forces. .. Nicole Cormier Colorado Music Buzz January 09 3 The Hardway Article.. .. www.coloradomusicbuzz.com/index.asp?id=&CATID=1&SUBCATID=1&VOL=3&ISSUE=8 .. .. ............Myspace Layouts.. - ..Image Hosting.. - ..Comments.... .. .. ...... .. Sideways Cuttin .. .. .. .. .. .. .. 2007 DMC USA 2nd Place Routine .. .. .. .. .. ..

Members

...... .. .. ...... .. .. .. .. ...... .. Going back to L.A. won't be the same. We will miss u homie. One Love!

Influences

..Masthead Banner Made with MyBannerMaker.com! Click here to make your own!............ .. .. .. .. .. .. .. ....

Sounds Like

Here is a link for a free download of a recent set at basementalism(2parts 20min each) .. Part One .. ..http://www.mediafire.com/?6dgoxkuiyje.. .. Part Two .. ..http://www.mediafire.com/?6dd3h1ytxjj.. .. and the Infamous Don't Mow The Lawn!!!!!!!! .. .. ENJOY AND DROP ME A REVIEW ON MY COMMENTS PLEASE. .. Check the basementalism Podcast everyweek. .. http://basementalism.mypodcast.com/
No recent updates in this category.
Why not...
Bio:
Cysko Rokwel is a Denver based Turntablist who has been doing mixtapes, battles, and Basementalsim radio since the year 2000.
Cysko is a rhythmic genius, who is never satisfied with the minimum; he gets bored quickly when things become simple, and is therefore always trying to find new ways to challenge himself. Because of this Cysko is quickly becoming one of the most innovative and skilled DJ's in the United States. He has respectively won regional titles in Denver(DMC) & San Francisco(Guitar Center Spinn Off) and has also represented CO in three National championships.(2006 DMC USA Finals, DMC USA head to head finals, & Guitar Center Top 6 USA Spin OFF).
Dj Dylon Basementalism
With a childhood filled with B-Boying and graffiti, Cysko Rokwel has always been immersed in Hip/Hop culture. It wasn't until he broke his arm and could no longer dance or write that he realized his passion for manipulating beats on the turntables with his friend, DJ Tense. As a member of the Crunk Bros.' DJ crew, he battled his way to national recognition several times, most recently finishing second in the DMC US finals. This isn't good enough for Cysko, he intends on taking first place this year. His skills, though obvious with his large list of titles, are beyond impressive. This man of few words lets his hands do all the talking. His cut-ups and sample choices speak of his undoubtedly enormous record collection, as well as his appreciation of Hip/Hop history. Watching him on stage is fascinating; he makes the most challenging feats look easy. Though successful and talented independently, these three men had no idea what a power they would become when they joined forces.
Nicole Cormier Colorado Music Buzz January 09 3 The Hardway Article
www.coloradomusicbuzz.com/index.asp?id=&CATID=1&SUBCATID=1&VOL=3&ISSUE=8
..

Myspace Layouts - Image Hosting - Comments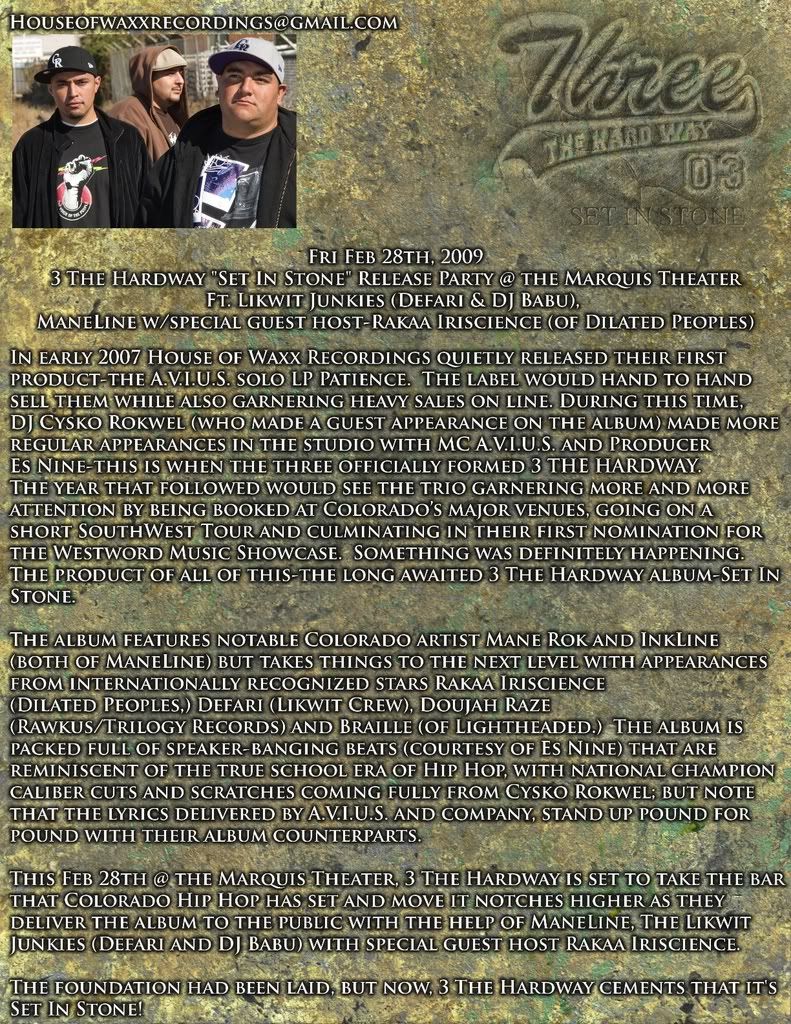 Sideways Cuttin
2007 DMC USA 2nd Place Routine
Member Since:
July 26, 2006