Play

Play Next

Add to queue
Play

Play Next

Add to queue

1,865 plays

Play

Play Next

Add to queue

4,049 plays

Play

Play Next

Add to queue

44,305 plays

Play

Play Next

Add to queue

26,738 plays

Play

Play Next

Add to queue

10,847 plays



The project called DNR starts in 2005, when Kira, bass player, since ever artistically influenced by the Jrock/Visual Kei japanese scene, decides to create a band that would be the perfect fusion between two opposite sounds: the european groove and the asiatic melodic lines.
A mix between Orient and Occident, a new genre called "Eurovisual", which transport us in an avant garde universe where electronic and melody meet powerfull riffs made in USA.
Along with Ash (drums), Sieg (guitar), Mantis (voice), Delord (keyboard), DNR project comes to life. The band records some songs including their first single Visual Evolution and the Ep Visual Reloaded. In 2009, due to artistic differences, the original trio and the singer comes to a split deciding to follow their own different ways.
During the same year, the band turns its name into Dreams Not Reality (DNR) and finally finds its definitive voice with Axia, which vocal qualities open new ways to the band's work. His dynamic and aggressive tone, heritage from his past cooperations with hard rock cover bands, his scenic charisma acquired through his experience on foreign stages, help DNR guys to get their uniqueness, the only band in its genre which focus attention in Italy and the rest of the world. Attention who will drive them to play live in their own country and in many other east european territories, filling venues and driving the crowd crazy.
In 2009 also comes an unexpected collaboration, "bizarre" we could call it. Luminor, Cinema Bizarre ex-keyboard player/second voice, gets interested in their project and record some track with them as special guest. He will also join the band performing live shows around Italy and Europe.
In 2011, after recording their first single/video "Beyond This World", the quartet decides to come back to 5 elements, definitely completing the line-up with the coming of the "quintessence", directly from Tokyo, Japan; actor, model singer and keyboarder, the amazing Sebastiano Serafini aka: SEBA on keys and vocals.
Welcome to EUROVISUAL.

I DNR nascono nel 2005, da un'idea di Kira, bassista del gruppo, da sempre artisticamente influenzato dalla scena Jrock/Visual Kei Giapponese, decide di creare una band che abbia per obbiettivo la fusione di due sonorità apparentemente inconciliabili: il groove europeo e le linee melodiche asiatiche. Un incontro tra Oriente ed Occidente, un genere nuovo, battezzato "Eurovisual", che ci trasporta in un universo d'avanguardia dove l'elettronica e la melodia incontrano riffs tipicamente made in USA.
Insieme ad Ash (batteria), Sieg (chitarra), Mantis (voce), Delord (tastiere) il progetto prende vita.
Il quintetto registra diversi brani tra cui il suo primo singolo, Visual Evolution, ed in seguito l'EP Visual Reload.
Nel 2009, il trio originario ed il cantante, al seguito di divergenze artistiche decidono di separarsi per proseguire ognuno su strade fondamentalmente diverse.
Lo stesso anno la formazione, ribattezzata Dreams Not Reality, trova finalmente la sua voce definitiva nella persona di AxiA, le cui doti canore danno una nuova forza alla band. Il suo timbro dinamico ed aggressivo, eredità delle sue collaborazioni con cover band hard rock, il suo carisma scenico, dovuto anche alla sua esperienza di palchi esteri, contribuiscono a rendere i DNR un gruppo unico nel suo genere, che suscita sempre più curiosità, in Italia e all'estero. Curiosità che li porterà ad esibirsi sia sul nostro territorio che nei paesi dell'Est, dove diventano un vero fenomeno, riempendo locali e suscitando un' immediata ammirazione tra le fan.
Nel 2009 arriva anche una collaborazione inaspettata, "bizzarra" forse. Luminor, ex tastierista/seconda voce dei Cinema Bizarre, interessato al loro progetto, registra insieme a loro degli inediti come special guest e li accompagna per una serie di concerti in Italia e all'Estero.
Nel 2011,dopo aver registrato il primo singolo/video "Beyond this world" il quartetto decide di tornare in 5 elementi chiudendo definitivamente la line-up con l'arrivo della "quinta essenza" direttamente da Tokyo, Giappone; l'attore, modello cantante e tastierista, il poliedrico Sebastiano Serafini aka: SEBA.
Welcome to EUROVISUAL.


info@dnrofficial.com

press.office@dnrofficial.com

info@magixpromotion.it


Mattia Rissone

Shiyun Lee

AsterDesign

Laura I.

Cristina "Crazy Head" Balena

Alessia Traisci

Katalina

Sheila

Naomi
Genre: Glam / Rock / Visual

Location Modena, Modena, It

Profile Views: 675023

Last Login: 4/27/2013

Member Since 5/2/2008

Website www.dnrofficial.com

Type of Label Unsigned

Bio

Founders of a new musical genre, EUROVISUAL. An incredible mix of J-rock, Electronic and Hard Rock along with an astoishing Visual Kei chic. Between sweet melodies, impressive lyrics, nearly dance rhythmics and strong riff, "Dreams Not Reality" will drive you into a world where the eastern melody meets the western groove. Welcome to our dream.This is Eurovisual.

Members

AxiA (vocals), Sieg (guitar), Kira (bass), Seba (Keyboards&vox), Ash (drums)

Influences

Sounds Like



Add this banner to your page!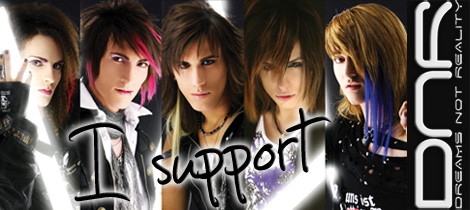 If somebody is interested in doing a DNR Official fanclub/Official support/Official Street Team first you should write to the following contact for permissions.

eMail: supports@dnrofficial.com







DNR Official has 61592 friends.