Play

Play Next

Add to queue
Genre: Ambient / Experimental / Psychedelic

Location AUSTIN, US

Profile Views: 42770

Last Login: 6/20/2012

Member Since 5/10/2005

Website http://www.douglasferguson.us

Record Label http://www.distilleryrecords.com

Type of Label Indie

Bio

.. ..Click Here to Buy Music.... ..Click Here Watch You Tube...... .. .. .. .... I dedicate in order to target.. Universalizing awareness... I seal the input of flowering.. With the crystal tone of cooperation... I am guided by the power of intelligence.. I am a galactic activation portal ... enter me... .... !!*******!! .... .. .. .. .. .. .... .. Insert the inviolable disc, neophyte, and press play. Now close your eyes and visualize the one true Douglas Ferguson. Mark that he placidly maintains the full lotus, unwavering beneath the wild ragged locks of an ascetic, and sporting some very hip boots. He floats effortlessly atop the glassy surface of a deep singing flow of quicksilver drone wider than big muddy, churning and roiling just as darkly beneath. Notice no clouding of his brow as the flow quickens upon entering a narrow, twisting gorge. Now hear the ghosts of laughing melodies reverberating between rock faces over the raging river. No fear, your pulse will resume as Douglas pilots the mercury surge through a gently widening delta, spreading across the endless mirrored plane of a polished ocean, under the pale light of a rising moon. .... Now peel back the curtain of this visual device and look beyond. Ignore the odor of burnt flux and overheated vacuum tubes in the cramped space lit by flickering LEDs emitting in all corners of the visual spectrum. Focus on Douglas Ferguson at the center of a heavy table draped in dark velvet and richly appointed with analog devices of confounding size and shape, connected by a throbbing nest of tangled cable. Notice the predominance of homemade, bent, and tweaked circuits; rheostats labeled with alchemical symbols, and switches carved from bone. Douglas sits immobile before this tangled mass, surrounded by banks of vintage outboard piled man-high, glowing warmly and giving off a dry heat. Note a single vein over his temple pulsing in complex counterpoint to the dancing indicator bulbs. Trace seven thin, uninsulated leads through the tangle draped over his arms, around his neck, and into that mass of hair, intersecting the scalp at seven cardinal points of cranial fissure. Mark the dried blood and angry pink swelling at each insertion point. This was not a sanctioned operation. .... Now forgo these visual props. Increase the playback volume, bathe in the caressing sound, and meld with it as you divide your focus sevenfold to drop through each golden strand, seeking the source. Through dura and forebrain, terminating limbic, pineal, and reptilian. Feel out the resonant frequencies of subsynaptic quantum tunnels, inducing morphic concurrance in the delocalized carbon rings of dancing neurotransmitters. Penetrate the buzzing electron clouds of these ecstatic messengers and attune your awareness while drinking in the stillness of the intraatomic void. .... You now stand at the threshold. How far will you follow? .... Eric Arn, Vienna.. ..primordial undermind.. ...... ..Click Here to Buy Music.... ..Click Here Watch You Tube...... .. .. .. .. ..Subscribe to my mailing list... .. .. .. .. .. .. .. .. .. .. .. .. ..

Members

Douglas Ferguson

Influences

Sounds Like
No recent updates in this category.
Why not...
Bio:
..
Click Here to Buy Music
Click Here Watch You Tube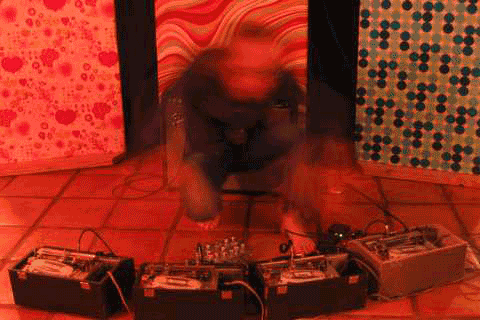 I dedicate in order to target

Universalizing awareness.

I seal the input of flowering

With the crystal tone of cooperation.

I am guided by the power of intelligence

I am a galactic activation portal ... enter me.

!!*******!!


Insert the inviolable disc, neophyte, and press play. Now close your eyes and visualize the one true Douglas Ferguson. Mark that he placidly maintains the full lotus, unwavering beneath the wild ragged locks of an ascetic, and sporting some very hip boots. He floats effortlessly atop the glassy surface of a deep singing flow of quicksilver drone wider than big muddy, churning and roiling just as darkly beneath. Notice no clouding of his brow as the flow quickens upon entering a narrow, twisting gorge. Now hear the ghosts of laughing melodies reverberating between rock faces over the raging river. No fear, your pulse will resume as Douglas pilots the mercury surge through a gently widening delta, spreading across the endless mirrored plane of a polished ocean, under the pale light of a rising moon.

Now peel back the curtain of this visual device and look beyond. Ignore the odor of burnt flux and overheated vacuum tubes in the cramped space lit by flickering LEDs emitting in all corners of the visual spectrum. Focus on Douglas Ferguson at the center of a heavy table draped in dark velvet and richly appointed with analog devices of confounding size and shape, connected by a throbbing nest of tangled cable. Notice the predominance of homemade, bent, and tweaked circuits; rheostats labeled with alchemical symbols, and switches carved from bone. Douglas sits immobile before this tangled mass, surrounded by banks of vintage outboard piled man-high, glowing warmly and giving off a dry heat. Note a single vein over his temple pulsing in complex counterpoint to the dancing indicator bulbs. Trace seven thin, uninsulated leads through the tangle draped over his arms, around his neck, and into that mass of hair, intersecting the scalp at seven cardinal points of cranial fissure. Mark the dried blood and angry pink swelling at each insertion point. This was not a sanctioned operation.

Now forgo these visual props. Increase the playback volume, bathe in the caressing sound, and meld with it as you divide your focus sevenfold to drop through each golden strand, seeking the source. Through dura and forebrain, terminating limbic, pineal, and reptilian. Feel out the resonant frequencies of subsynaptic quantum tunnels, inducing morphic concurrance in the delocalized carbon rings of dancing neurotransmitters. Penetrate the buzzing electron clouds of these ecstatic messengers and attune your awareness while drinking in the stillness of the intraatomic void.

You now stand at the threshold. How far will you follow?

Eric Arn, Vienna
primordial undermind
Click Here to Buy Music
Click Here Watch You Tube
..
Subscribe to my mailing list.
..
..
.. ..
Member Since:
May 10, 2005
Members:
Douglas Ferguson