Edwin Neal hasn't earned any badges yet... have you?
General

http://twitter.com/edwinneal

Movies

The Man Who Came Back
Holy Hell
Vengence
Tiger Blade
Resist Evil
Shudder
The Forest
Mr. Hell
The Ocean
Satan's Playground
It Came from Trafalgar
Murder-Set-Pieces
Deus Ex: Invisible War
Zombiegeddon
"Sakura Wars TV"
M.O. of M.I.
"Happy Lesson"
"King of Bandit Jing"
"Final Fantasy: Unlimited"
Conquest: Frontier Wars
Majinkaizâ
"Power Rangers Lightspeed Rescue"
The Fate of Lightspeed: Part 1
StarLancer
"Power Rangers Lost Galaxy"
"Chikyû bôei kigyô Dai-Guard"
Sonic the Hedgehog: The Movie
"Senkaiden Hôshin engi"
"Power Rangers In Space"
"Devilman Lady"
"Chenji!! Gettâ robo: sekai saigo no hi"
Queen Emeraldas
"Power Rangers Turbo"
Turbo: A Power Rangers Movie
Makai tenshô: Jigoku-hen
"Lost Universe"
"Power Rangers Zeo"
"Mighty Morphin' Power Rangers"
City Hunter: Secret Service
Makai tenshô: mado-hen
Crusader: No Remorse
"Wedding Peach"
My Boyfriend's Back
The Divine Enforcer
Kuro no shishi
JFK
Nadia: The Secret of Fuzzy
Knight Rider 2000
Breathing Fire
"Fushigi no umi no Nadia"
Neurotic Cabaret
My Two Loves
Future-Kill
The Texas Chain Saw Massacre
"Kagaku ninja tai Gatchaman"


oh...wait...those are all movies I've been in..hmmm..I think they meant..which movies do I like that I havent' been in..oh..well..hmmm..lesseee... well..right now I'm watching "Captivity"..

Television

CSI

,

Cold Case Files

, SwingTown

Books

Last Book I Read??..."My Plan to Pave Iran and Open the World's Largest Skate Rink" by T. Boone Pickens



Heroes
Play

Play Next

Add to queue

Play

Play Next

Add to queue

Play

Play Next

Add to queue

Play

Play Next

Add to queue

Play

Play Next

Add to queue
About me:
Happy and Creative 2010!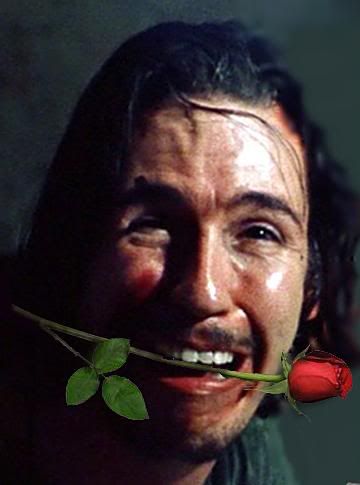 I like to count the waves
with my eyes closed and paint sunsets
with the tip of a rose


I like to talk trash to brash parrots in San Juan and find a Gondola in Venice I can get on

And I like to take my bath in the waterfall Where the monkeys grin and say 'you'all'
On the set filming "The Undertakers"
Tribute To TCM's Hitchiker
Who I'd like to meet:
More horror fans and friends!
Status:

In a Relationship

Here for:

Networking, Friends

Hometown:

Houston, Tx.

Height:

6' 2"

Children:

Proud parent

Education:

College graduate

Occupation:

Actor-Writer-Voice Talent