Play

Play Next

Add to queue
Play

Play Next

Add to queue

822 plays

Play

Play Next

Add to queue

1,368 plays

Play

Play Next

Add to queue

2,038 plays

Play

Play Next

Add to queue

4,206 plays

Play

Play Next

Add to queue

2,738 plays
Genre: Blues / Folk / Rock

Location ALBANY, New York, US

Profile Views: 33357

Last Login: 8/11/2010

Member Since 11/10/2005

Website www.erinharkes.com, buy our new CD at cdbaby.com

Type of Label Major

Bio

...... ...... Erin Harkes is an original singer/guitar/piano player from upstate New York. Erin began writing songs at the age of 19 and has since released four albums of original material. The first album, "Bar Napkins and Magic Markers" was recorded at St. Andrew's college in North Carolina. The CD features nine tracks and was a learning experience for Erin, as she recorded the album entirely by herself. Her second CD was recorded live at the Elbow Room in NYC on September 21st, 2001 and contains 4 songs; two of which were not on the first CD. The following year, she recorded first studio project with her band, The Rebound entitled "Rough". The CD featured nine original songs. Now 28, Erin currently resides in Albany, NY. In addition to her own band, she performed with another local band, Folding Sky, for the Colossal Contender Blues Competition. They performed at the Empire State Plaza in front of thousands of people. Out of the three finalists, they received 60% of the votes to win the Northeast Blues Society's "Colossal Contender" contest in 2004, earning a position in the international finals in Memphis, Tennessee in 2005. Don Wilcock or the Troy Record had this to say of Erin's performance. "…standing firmly on two feet, this dirty blonde banshee belted out her music with no vibrato, no soft feminine wiles, just a blast-furnace breath of fire that singed the hair of everyone in the last aisle at the top of the museum steps watching her performance." Though blues has been known as her forte, her original material bounces from one genre to the next for an alternative/folk/rock mix. She has opened for such dissimilar national acts as David Allen Coe (country), Melissa Ferrick (folk), Fred Eaglesmith (Alternative) and the Fleshtones (Rock); each time well received. She even sat in with the Fleshtones for a song, and John Suvannavejh from the Metroland had this to say; "Harkes …was freed to let loose with her raspy, blues-inflected croon. Although it certainly doesn't hurt to have one of the finest garage bands in the land backing you, Harkes' deep-hearted rendition was absolutely mesmerizing, and even gave Mr. Van Morrison a run for his money." Erin has appeared on several local radio shows such as 104.9 "Acoustic Kaleidoscope", 91.5 WRPI's "Curious Travels", 91.1 FM Saratoga, popular morning show 106.5's "Wakin' up with the Wolf" and 103.1 Big Break with Jason Keller. She also appeared on television Fox News Big Break in 2003 for a song and interview. In March of 2005, Erin received the coveted front cover of local Arts and Entertainment magazine, the 'Metroland'. Soon after, Erin released a live album called "Special I Am" featuring 11 original songs. As Erin's audience and playing area continue to grow, her set is becoming more original material and less cover tunes. She is known to bust out a crowd favorite every once in awhile, giving her bit of an alter ego that can touch a wide and eclectic arrangement of fans, all the while making her original songs just as much the crowd favorite as any cover she might do. .. ..MyGen.. ..Profile Generator.. .. ...... ...... ...... ...... .. Voted Metroland Readers' Picks 2006, 1st place 2007, Best Solo Musician. Voted Metroland Best of 2005; female solo musician. Cover in March 2005.

Members

Matt McQuilkin on Drums, Blaze on Lead Guitar, Dave Decker on Bass. .... .. .. .. .. ....Try JibJab Sendables® ..eCards.. today!......

Influences

Sounds Like
No recent updates in this category.
Why not...
Bio:
Erin Harkes is an original singer/guitar/piano player from upstate New York. Erin began writing songs at the age of 19 and has since released four albums of original material. The first album, "Bar Napkins and Magic Markers" was recorded at St. Andrew's college in North Carolina. The CD features nine tracks and was a learning experience for Erin, as she recorded the album entirely by herself. Her second CD was recorded live at the Elbow Room in NYC on September 21st, 2001 and contains 4 songs; two of which were not on the first CD. The following year, she recorded first studio project with her band, The Rebound entitled "Rough". The CD featured nine original songs. Now 28, Erin currently resides in Albany, NY. In addition to her own band, she performed with another local band, Folding Sky, for the Colossal Contender Blues Competition. They performed at the Empire State Plaza in front of thousands of people. Out of the three finalists, they received 60% of the votes to win the Northeast Blues Society's "Colossal Contender" contest in 2004, earning a position in the international finals in Memphis, Tennessee in 2005. Don Wilcock or the Troy Record had this to say of Erin's performance. "…standing firmly on two feet, this dirty blonde banshee belted out her music with no vibrato, no soft feminine wiles, just a blast-furnace breath of fire that singed the hair of everyone in the last aisle at the top of the museum steps watching her performance." Though blues has been known as her forte, her original material bounces from one genre to the next for an alternative/folk/rock mix. She has opened for such dissimilar national acts as David Allen Coe (country), Melissa Ferrick (folk), Fred Eaglesmith (Alternative) and the Fleshtones (Rock); each time well received. She even sat in with the Fleshtones for a song, and John Suvannavejh from the Metroland had this to say; "Harkes …was freed to let loose with her raspy, blues-inflected croon. Although it certainly doesn't hurt to have one of the finest garage bands in the land backing you, Harkes' deep-hearted rendition was absolutely mesmerizing, and even gave Mr. Van Morrison a run for his money." Erin has appeared on several local radio shows such as 104.9 "Acoustic Kaleidoscope", 91.5 WRPI's "Curious Travels", 91.1 FM Saratoga, popular morning show 106.5's "Wakin' up with the Wolf" and 103.1 Big Break with Jason Keller. She also appeared on television Fox News Big Break in 2003 for a song and interview. In March of 2005, Erin received the coveted front cover of local Arts and Entertainment magazine, the 'Metroland'. Soon after, Erin released a live album called "Special I Am" featuring 11 original songs. As Erin's audience and playing area continue to grow, her set is becoming more original material and less cover tunes. She is known to bust out a crowd favorite every once in awhile, giving her bit of an alter ego that can touch a wide and eclectic arrangement of fans, all the while making her original songs just as much the crowd favorite as any cover she might do. ..
MyGen
Profile Generator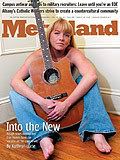 Voted Metroland Readers' Picks 2006, 1st place 2007, Best Solo Musician. Voted Metroland Best of 2005; female solo musician. Cover in March 2005.
Member Since:
November 10, 2005
Members:
Matt McQuilkin on Drums, Blaze on Lead Guitar, Dave Decker on Bass.
Try JibJab Sendables®
eCards
today!