Play

Play Next

Add to queue
Play

Play Next

Add to queue

268 plays

Play

Play Next

Add to queue

155 plays

Play

Play Next

Add to queue

132 plays

Play

Play Next

Add to queue

120 plays

Play

Play Next

Add to queue

136 plays
Genre: Hardcore / Rock

Location munich, DE

Profile Views: 67678

Last Login: 7/6/2011

Member Since 9/8/2004

Website http://www.flyswatter.de

Record Label Eat The Beat Music - Sony *Cologne / Germany*

Type of Label Indie

Bio

...... ..there..s a light that never goes out....... .. ...wussten schon die smiths ihrerzeit, darum ist es für uns jetzt zeit "servus" zu sagen!.. .. ..flyswatter gehen in den ruhestand..... .. nach 12 jahren, ca. 12 wechselnden mitgliedern, viel spass auf tour und im studio sagen wir all den freunden und fans der letzten jahre .."THANK YOU"..... .. wir werden euch allen natürlich weiterhin musikalisch erhalten bleiben... seid also gespannt was passieren wird! besucht weiterhin unsere myspace seite, schreibt uns, und habt weiter spass an unseren 3 alben!.. .. ..we love you.. ::: yours ::: florry, gudz, kryshi, lirkos, joi.. .. ---------------------------------------------------------------------------.. .. ..there..s a light that never goes out....... .. ...is what the smiths already knew at their time, and by now our time has come to say goodbye. .. .. ..flyswatter are going to discontinue..... .. after 12 years, about 12 changing members, tons of fun on tour and in the studio we shout out a big .."THANK YOU".. to all our friends and fans of the last years... .. we'll certainly keep up making music... so stay tuned for our future projects, write us on myspace, and keep enjoying our past 3 albums!.. .. ..we love you.. ::: yours ::: florry, gudz, kryshi, lirkos, joi.. .. .. .. In a musical universe, where more and more acts claim the genre emo-core while actual emotion, passion and sincerity falls to the wayside, it is indeed refreshing to watch these five Bavarian musicians reclaim the landscape of passionate punkrock, melodic hardcore, hard hitting rock, intense indie music or whatever name so-called authorities try to choke the musical content with this week (we leave this part to the people who get paid for making up genres like that) The facts about Flyswatter speak louder than any slogan or shallow definition ever could: the band is in its 11th year of existence, where other bands tried to fly their opportunist-flags in whichever direction the market-wind was blowing at the time, they got more intense and they sound more focused and passionate than everuntouched by the ups and downs of the ever changing tastes, they earned their keeps in todays German and European scene. No stage too small to conquer Steady live shows have turned them into not only a tight machine, but more importantly a real unit5 personalities feeding off of each other on and off stage. And while other bands would waste their time complaining why lesser US-acts get treated like emperors on European ground and yet local bands have to persuade every audience member with their sweat & talent, Flyswatter chose to do just thatplaying to more people time and time againhaving a great time providing honest and heartfelt music to whoever is down for the cause and making it hard not to feel that you are witnessing something real, while seeing them play, hearing their records or just hanging out with them as people. 3 full length records into their career they get ready to strike once more, widening the genre-gaps between songs, breaking new ground with a new record in 2005. Real emotion by real people... .. - robert ehrenbrand:::boysetsfire:::2005.. .. .. .. ..Current video.. - Saviour Glore (2006).. .. .. .. .. .. .... .. ...... Bright Idea:.. Embed this video in your profile! Simply copy & paste the code below... .. .... .. .. .. .. .. ..

Members

..Flo Kämmerling.. - vox, guitar.. ..Gudz.. - guitar, vox.. ..Los lirkos.. - bass, vox.. ..Kryshi.. - guitar, vox.. ..Joi.. - drums

Influences

Fugazi, The Smiths, Sunny Day Real Estate, Jettison, The Afghan Whigs, Depeche Mode, All, Pete Yorn, Jawbreaker, Nine Inch Nails, Quicksand, The Cure, Big Collapse, Ryan Adams, Jesse Malin, Maxeen, Mediengruppe Telekommander, Def Leppard, The Hot Snakes, Sea and Cake, Helmet, Fu Manchu, Anti Flag, P.A.I.N.,Turbo ACs, Weezer, Snot, R.H.C.P., Van Morisson, Iron Maiden, Ignite, Thrice, Elliott Smith, Beatles, IAMX, Unbroken, Johnny Cash, Sneaker Pimps, Boy Sets Fire, Fisherspooner, Himsa, Atreyu, Wilco, Converge, Ostkreutz, Social Distortion, The Used, Air, Amon Tobin, Der Automat, Beastie Boys, Björk, Boards of Canada, The Cinematic Orchestra, Coalesce, Console, Daft punk, The Dandy Warhols, Dj Shadow, Elbow, Elektrolochmann, Elmodic, Goldfrapp, Jack Johnson, Jaga Jazzist, Kings of Convenience, Klaus Paul Quintett, Kylie, Lali Puna, The Locust, Loretta, Miles, Mr Oizo, Mitote, Moloko, Monochrome, My Hero Died Today, Nada Surf, The Notwist, NTR, Outkast, Paint The Town Red, Phoenix, Pink Floyd, Portmanteau, Portishead, Psycho Realm, Pulp, Radiohead, The Rolling Stones, Röyksopp, Simian, Sonic Youth, Soul Assassins, Starmarket, The Streets, Tiger Lou, U.N.K.L.E., Zoot Woman, ...

Sounds Like

flyswatter
No recent updates in this category.
Why not...
03:41 | 2369 plays | Jun 1 2006
Bio: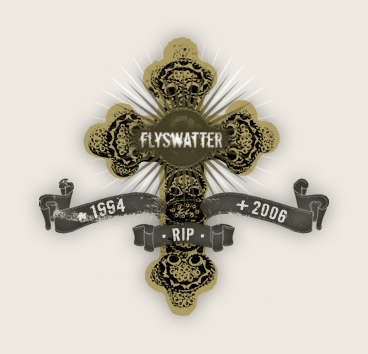 there..s a light that never goes out...
...wussten schon die smiths ihrerzeit, darum ist es für uns jetzt zeit "servus" zu sagen!
flyswatter gehen in den ruhestand.
nach 12 jahren, ca. 12 wechselnden mitgliedern, viel spass auf tour und im studio sagen wir all den freunden und fans der letzten jahre
"THANK YOU"
.
wir werden euch allen natürlich weiterhin musikalisch erhalten bleiben... seid also gespannt was passieren wird! besucht weiterhin unsere myspace seite, schreibt uns, und habt weiter spass an unseren 3 alben!
we love you
::: yours ::: florry, gudz, kryshi, lirkos, joi
---------------------------------------------------------------------------
there..s a light that never goes out...
...is what the smiths already knew at their time, and by now our time has come to say goodbye.
flyswatter are going to discontinue.
after 12 years, about 12 changing members, tons of fun on tour and in the studio we shout out a big
"THANK YOU"
to all our friends and fans of the last years.
we'll certainly keep up making music... so stay tuned for our future projects, write us on myspace, and keep enjoying our past 3 albums!
we love you
::: yours ::: florry, gudz, kryshi, lirkos, joi
In a musical universe, where more and more acts claim the genre emo-core while actual emotion, passion and sincerity falls to the wayside, it is indeed refreshing to watch these five Bavarian musicians reclaim the landscape of passionate punkrock, melodic hardcore, hard hitting rock, intense indie music or whatever name so-called authorities try to choke the musical content with this week (we leave this part to the people who get paid for making up genres like that) The facts about Flyswatter speak louder than any slogan or shallow definition ever could: the band is in its 11th year of existence, where other bands tried to fly their opportunist-flags in whichever direction the market-wind was blowing at the time, they got more intense and they sound more focused and passionate than everuntouched by the ups and downs of the ever changing tastes, they earned their keeps in todays German and European scene. No stage too small to conquer Steady live shows have turned them into not only a tight machine, but more importantly a real unit5 personalities feeding off of each other on and off stage. And while other bands would waste their time complaining why lesser US-acts get treated like emperors on European ground and yet local bands have to persuade every audience member with their sweat & talent, Flyswatter chose to do just thatplaying to more people time and time againhaving a great time providing honest and heartfelt music to whoever is down for the cause and making it hard not to feel that you are witnessing something real, while seeing them play, hearing their records or just hanging out with them as people. 3 full length records into their career they get ready to strike once more, widening the genre-gaps between songs, breaking new ground with a new record in 2005. Real emotion by real people.
- robert ehrenbrand:::boysetsfire:::2005
Current video
- Saviour Glore (2006)
..
Bright Idea:
Embed this video in your profile! Simply copy & paste the code below.
.. ..
Member Since:
September 08, 2004
Members:
Flo Kämmerling - vox, guitar
Gudz - guitar, vox
Los lirkos - bass, vox
Kryshi - guitar, vox
Joi - drums
Influences:
Fugazi, The Smiths, Sunny Day Real Estate, Jettison, The Afghan Whigs, Depeche Mode, All, Pete Yorn, Jawbreaker, Nine Inch Nails, Quicksand, The Cure, Big Collapse, Ryan Adams, Jesse Malin, Maxeen, Mediengruppe Telekommander, Def Leppard, The Hot Snakes, Sea and Cake, Helmet, Fu Manchu, Anti Flag, P.A.I.N.,Turbo ACs, Weezer, Snot, R.H.C.P., Van Morisson, Iron Maiden, Ignite, Thrice, Elliott Smith, Beatles, IAMX, Unbroken, Johnny Cash, Sneaker Pimps, Boy Sets Fire, Fisherspooner, Himsa, Atreyu, Wilco, Converge, Ostkreutz, Social Distortion, The Used, Air, Amon Tobin, Der Automat, Beastie Boys, Björk, Boards of Canada, The Cinematic Orchestra, Coalesce, Console, Daft punk, The Dandy Warhols, Dj Shadow, Elbow, Elektrolochmann, Elmodic, Goldfrapp, Jack Johnson, Jaga Jazzist, Kings of Convenience, Klaus Paul Quintett, Kylie, Lali Puna, The Locust, Loretta, Miles, Mr Oizo, Mitote, Moloko, Monochrome, My Hero Died Today, Nada Surf, The Notwist, NTR, Outkast, Paint The Town Red, Phoenix, Pink Floyd, Portmanteau, Portishead, Psycho Realm, Pulp, Radiohead, The Rolling Stones, Röyksopp, Simian, Sonic Youth, Soul Assassins, Starmarket, The Streets, Tiger Lou, U.N.K.L.E., Zoot Woman, ...
Sounds Like:
flyswatter
Record Label:
Eat The Beat Music - Sony *Cologne / Germany*
Label Type:
Indie