No recent updates in this category.
Why not...
Gary Baseman hasn't earned any badges yet... have you?
General

Save the Date: May 2nd, 2009

Urbanix Gallery in association with Bezalel Academy of Art & Design are proud to present Gary Baseman's first solo show in Israel. "The Sacrificing of the Cake" opens Thursday, January 8 at 8 p.m. at Urbanix Gallery in Tel Aviv. Baseman's show is not about birthdays or cakes. It is about self-examination, observation of the past, correction and change. In a picturesque childish language and a sweetish color palette, Baseman displays a series of new works, acrylic paintings along with color pencil drawings on paper. The exhibition features the image of the dragon "Ooga" (meaning "cake" in Hebrew), slaughtered again and again by feminine nude images of erotic girls or nymphs, radiating sexuality - an allegory to the artist's struggle against his private demons from the past. The narrative of Baseman's work in this show indicates in an almost hidden way, his struggle to release himself from the heritage of his parents, east European Holocaust survivors that raised him according to the "American Dream." Sacrificing the dragons of the past symbolically entitles Baseman to release himself from the burden represented by his parent's world perception, allowing him to re-mold his individual path. The show runs through March 12, 2009.

Knowledge Comes With Gas Release

New Series of Paintings from Gary Baseman's Solo Exhibition in Barcelona

This book is a sample of Baseman's latest series of paintings, "Knowledge Comes With Gas Release." He sez: "I removed the narrative and concentrated solely on the iconic nature of my work. I simplified the main subject, so I could become more complex with the design form of the Manifestations of Desire. I challenged myself to interact with the portrait element in the most extreme way possible. Desire now not only lives in the atmosphere, but also on the figure itself. The figure wears desire like a hat, hair, beard, ears, pimple, flowers, pollen. Open to all and every interpretation. Melting, dripping, clinging, oozing, dripping, dripping, dripping. The desire bubbles have popped." Oversized, hardcover, color.

Introducing ChouChou, who takes all your negative energy and hate, and turns it into creamy gooey love....out of his bellybutton.

Hide and Seek in the Forest of ChouChou

New Paintings by Gary Baseman

July 14th-August 11, 2007

Billy Shire Fine Arts

5790 Washington Blvd, Culver City, CA 90232

(323) 297-0600

12 full page Baseman Paintings and the cover in the new issue of WeAr Magazine.

Heroes

..My inspirations: Man Ray, Walt Disney, Andy Warhol, Charles Addams, Dr. Suess, Leonard Cohen, Velvet Underground, The Beatles, Jeff Koons, Yoshitomo Nara, David Bowie, Philip Guston, Charles Bukowski, Marcel Dzama, KAWS and all my wonderful artist friends like Mark and Marion, Timmy and Seonna, Rob and Christian, and Camille..
Baseman has 14330 friends.
About me:
Introducing ChouChou
He takes all your negative energy and hate away, absorbs it and oozes out Creamy Gooey Love out of his bellybutton.
Limited to only 100 special souls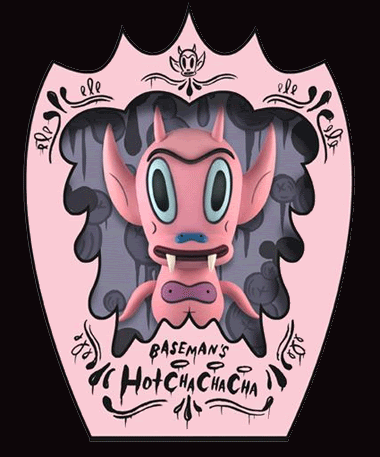 Introducing the Pink HotChaChaCha!
the long awaited and coveted, ultra stylish pink HotChaChaCha! This little devil is 6 1/2 inches tall, made of gorgeous pink vinyl, and comes housed in an amazing pink haute couture box. It's Coco Chanel's worst nightmare and sweetest dream all rolled into one incredible vinyl sculpture. He's fiendish. He's fabulous. He's haute.
This three-legged wily imp is a mean 6 1/2 inches tall. HotChaChCha is made of Pink Stylish Vinyl and is contained (for your safety) in his own pink coffin box.
Dying of Thirst catalogs Gary Baseman's solo show, "I Melt in Your Presence," at Modernism Gallery in San Francisco. Baseman's paintings reflect an oozing, sexual frenzy and dripping, cream-filled energy. This full-color, large-format, hardcover collector's edition features beautiful reproductions of Baseman's artwork. It includes nude studies in mixed media, and paintings such as Dripping With Desire, The Hills of Creamy Goodness, Dying of Thirst, The Battle for Independence and Creamy Fulfillment, The Rose, In the Presence of True Desire, The Goodness of Creamy Wonderment, The Battlefield of Glory and Desire, and Madonna and the Chou Chou. Named "One of the 100 Most Creative People in Entertainment" by Entertainment Weekly Magazine, Baseman blurs the line between toy culture and fine art with his strong iconic images, both playful and dark, childlike and adult, id-driven and thought-provoking.
A Taste of Venison, New Collection of Drawings and Paintings, Hard Cover, 64 pages, Baby Tattoo Books, nearly sold out and Venison Seltbelt bag produced by Harveys
Pervasive Artist. Painter. TV/Movie Producer. Toy Designer. Humorist.
"Baseman has exhibited in Rome, Los Angeles, NYC, Taipei, Barcelona, and Berlin. He also had an installation at the Pasadena Museum of California Art and had a two man show at the Laguna Art Museum titled Pervasion. Mr. Baseman blurs the line between toy culture and fine art with his strong iconic images, both playful and dark, childlike and adult, id driven and thought provoking. Besides his painting, Mr. Baseman is the three-time Emmy award winning creator and executive producer of "Teacher's Pet," the critically acclaimed animated series and film. His artwork can also be seen in The New Yorker, Time, The New York Times, Rolling Stone, and on the best selling game "Cranium." . Entertainment Weekly Magazine named Baseman as one of the 100 Most Creative People in Entertainment. His 352 page book of his art, titled "Dumb Luck" was just published by Chronicle Books. You can see his urban vinyl on the cover of the new book "Vinyl Will Kill." But his biggest claim to fame is that his mom was the head bakery saleslady at Canter's Bakery in LA for 35 years."
.. .. ..
Who I'd like to meet:
Status:

Single

Here for:

Friends

Hometown:

Los Angeles

Zodiac Sign:

Libra

Occupation:

Artist