Play

Play Next

Add to queue

2,818 plays

Play

Play Next

Add to queue

1,726 plays

Play

Play Next

Add to queue

1,542 plays

Play

Play Next

Add to queue

1,578 plays
Genre: Other

Location BROOKLYN, New York, US

Profile Views: 71961

Last Login: 7/18/2011

Member Since 4/21/2006

Website http://www.glomag.com

Record Label how last century...

Bio

....DaMaGe...... ..2009, 8bitpeoples.com...... ...... As Roland walked on through the desolation, he was acutely aware that he had lost something intangible. His only clues came to him by way of the DMG in his pocket. The lamprey was willing, for the moment, to help him search the debris for the small cartridges that fit into the DMG, each one supplying a new, crucial piece of information. The hidden truth would be thus revealed to him slowly, in sequence..... ..Download tracks or buy CD at 8bitpeoples.com!.. .... .... ..UPCOMING SHOWS:...... .. ..05.14.10.... .. .. Goodbye Blue Monday, NYC.... .... .. ..PREVIOUS SHOWS:...... .. ..12.07.09.... .. .. I/O, NYC.... .... .. .. ..11.14.09.... ...... .. 8Static, Philadelphia.... .... ..08.30.09.... .. .. Public Assembly, NYC.... .... ..07.30.09.... ...... .. Era New Horizons Festival, Wrocslaw, Poland.... .... ..07.24.09.... ...... .. Blip Europe, Aalborg, Denmark.... .... ..06.21.09.... ...... .. Godxiliary Tour: NYC.... .... ..06.21.09.... ...... .. Splice/Xray/Make Music NY present SPLICE/XRAY OUTSIDE BROADCAST ............ ...... .. Death By Audio, NYC, June 1, 2009 .... ...... .. Plan 9 Festival, Pécs, Hungary, May 15, 2009 .... ...... .. Media Ruimte, Brussels, Belgium, May 22, 2009.... ...... .. Game Over Festival, Delft, Zuid-Holland, May 23, 2009 .... .. .. XRAY NYC, April 30, 2009 .... .. .. Rockem Sockem @ Otto's Shrunken Head.... .. .. live on WFMU, Monday, March 30, 8-11pm.... ........ live at Blip Festival 2008, Friday, December 5.... .. .... .. .... .. .... .. .... .. .... .. .... .. .... .. .... .. .... ..NEW VIDEO:...... The excellent video artist,..Raquel Meyers.., made this for the glomag track "Furious Clubfoot." New York is burning, FTW..... ..Go to Blip.tv to see it... .... ..03.21.08 - The Gate @ The Rotunda, Philadelphia.... ...... Blip Festival 2007.. ........ NOVEMBER 29 - DECEMBER 02 at EYEBEAM ATELIER, NYC, presented by THE TANK and 8BITPEOPLES ...... .................. ....BIO........ Glomag has been making 8 bit music since 2001. He has performed in France, Belgium, Austria, Spain, Canada and the US. His music has played in films, on television and on the internet. The machinima series ..This Spartan Life.., which he writes and directs as well, features his music as well as music from other 8 Bit artists. ...... ....RELEASES.. .... .. .............. .. .... .. .. .. Out Now:.... ..8 Bit Operators.... ..Astralwerks.., V/A.. CD.... ..ORDER NOW! 8-BIT OPERATORS CD at Amazon!.. .... ..ORDER NOW! 8-BIT OPERATORS CD at ITUNES!.. .... The 8 Bit Community is on fire these days. What can one say? The Blip Festival, the 8 Bit Peoples comp and now this? FTMFW!.. Glomag contributes a version of "Pocket Calculator" to this super cool comp. ...... .... .. ............ .. .. .. Out Now:.... ..8 Bit Operators - 12".... ..Astralwerks.., V/A.. 12" Vinyl.... Pocket Calculator Mega-Mix .. b/w The Robots.... Glomag created this mega-mix of the classic Kraftwerk song with contributions from twelve 8 Bit artists:.. 0x7f, Bit Shifter, firestARTer, glomag, Hey Kid Nice Robot, Ladybug, M-.-n, Nullsleep, Psilodump, Random, Sidabitball, and David E Sugar. .. Rocking the B Side with "The Robots" are the original L.A. gangsta robots, ..8 Bit. ...... .... .. ............ .. .. .. Out Now:.... ..8BP050.... ..8 Bit Peoples.com.., V/A.. 2 CDs plus mp3s.... A two CD, 50 artist, all 8 bit compilation by the coolest record label ever. Glomag is featured along with a shit load of friends who also happen to be ..god-monsters.. of the chiptune universe. This exceptional release is available now from ..8bitpeoples.com.. along with a third downloadable disc full of more great tracks... ...... .. .. .. ............ .. .. .. Out Now:.... ..GB/V.A.... ..Intikrek Records.., V/A.. CD.... Another great compilation from the fabulous Intikrek label in Tokyo. Put together by insane chip maniac and part time panda, ..Aonami.., this release features some of the best 8 bit music to be heard anywhere. Many of these artists are not featured on the 8 Bit Peoples release. Available now from ..Intikrek.... ...... .. .. .... .. .. .. .. .. .. .. .. .. .. ..8-Bit Operators.. | ..8-Bit Operators Myspace.... ..Astralwerks Records.. | ..Buy At Amazon.com.. ...... ..

Members

Influences

Hayao Miyazaki, Luis Bunuel, Jean-Luc Godard, Nobakazu Takemura, Theresa Duncan, David Bowie (Aladin Sane!), The Associates, RadioHead, The Fall, Pylon, Joy Division, Wire, Michael Nyman, Ivor Cutler, TV On The Radio and all the astounding 8 bit artists with whom I have shared a stage- what an amazing scene.

Sounds Like
No recent updates in this category.
Why not...
00:17 | 194 plays | Dec 22 2007
Bio:
DaMaGe
2009, 8bitpeoples.com
As Roland walked on through the desolation, he was acutely aware that he had lost something intangible. His only clues came to him by way of the DMG in his pocket. The lamprey was willing, for the moment, to help him search the debris for the small cartridges that fit into the DMG, each one supplying a new, crucial piece of information. The hidden truth would be thus revealed to him slowly, in sequence.
Download tracks or buy CD at 8bitpeoples.com!
UPCOMING SHOWS:
05.14.10
Goodbye Blue Monday, NYC
PREVIOUS SHOWS:
12.07.09
I/O, NYC
11.14.09
8Static, Philadelphia
08.30.09
Public Assembly, NYC
07.30.09
Era New Horizons Festival, Wrocslaw, Poland
07.24.09
Blip Europe, Aalborg, Denmark
06.21.09
Godxiliary Tour: NYC
06.21.09
Splice/Xray/Make Music NY present SPLICE/XRAY OUTSIDE BROADCAST
Death By Audio, NYC, June 1, 2009
Plan 9 Festival, Pécs, Hungary, May 15, 2009
Media Ruimte, Brussels, Belgium, May 22, 2009
Game Over Festival, Delft, Zuid-Holland, May 23, 2009
XRAY NYC, April 30, 2009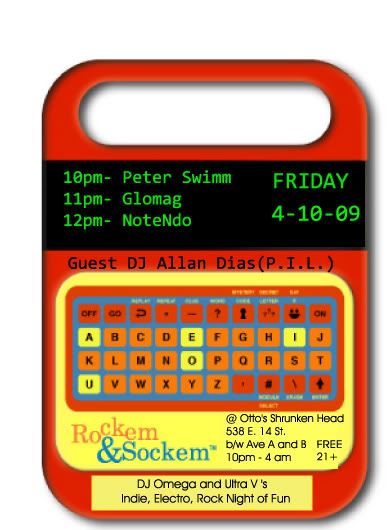 Rockem Sockem @ Otto's Shrunken Head
live on WFMU, Monday, March 30, 8-11pm
..
live at Blip Festival 2008, Friday, December 5
NEW VIDEO:
The excellent video artist,
Raquel Meyers
, made this for the glomag track "Furious Clubfoot." New York is burning, FTW.
Go to Blip.tv to see it.
03.21.08 - The Gate @ The Rotunda, Philadelphia
Blip Festival 2007
NOVEMBER 29 - DECEMBER 02 at EYEBEAM ATELIER, NYC, presented by THE TANK and 8BITPEOPLES
BIO
Glomag has been making 8 bit music since 2001. He has performed in France, Belgium, Austria, Spain, Canada and the US. His music has played in films, on television and on the internet. The machinima series
This Spartan Life
, which he writes and directs as well, features his music as well as music from other 8 Bit artists.
RELEASES
 
Out Now:

8 Bit Operators - 12"
Astralwerks, V/A
12" Vinyl

Pocket Calculator Mega-Mix
b/w The Robots

Glomag created this mega-mix of the classic Kraftwerk song with contributions from twelve 8 Bit artists:
0x7f, Bit Shifter, firestARTer, glomag, Hey Kid Nice Robot, Ladybug, M-.-n, Nullsleep, Psilodump, Random, Sidabitball, and David E Sugar.
Rocking the B Side with "The Robots" are the original L.A. gangsta robots,
8 Bit.
 
Out Now:

8BP050
8 Bit Peoples.com, V/A
2 CDs plus mp3s

A two CD, 50 artist, all 8 bit compilation by the coolest record label ever. Glomag is featured along with a shit load of friends who also happen to be god-monsters of the chiptune universe. This exceptional release is available now from 8bitpeoples.com along with a third downloadable disc full of more great tracks.

 
Out Now:

GB/V.A
Intikrek Records, V/A
CD

Another great compilation from the fabulous Intikrek label in Tokyo. Put together by insane chip maniac and part time panda, Aonami, this release features some of the best 8 bit music to be heard anywhere. Many of these artists are not featured on the 8 Bit Peoples release. Available now from Intikrek

Member Since:
April 21, 2006
Influences:
Hayao Miyazaki, Luis Bunuel, Jean-Luc Godard, Nobakazu Takemura, Theresa Duncan, David Bowie (Aladin Sane!), The Associates, RadioHead, The Fall, Pylon, Joy Division, Wire, Michael Nyman, Ivor Cutler, TV On The Radio and all the astounding 8 bit artists with whom I have shared a stage- what an amazing scene.
Record Label:
how last century...