Play

Play Next

Add to queue
Label
: The Royal Potato Family
Play

Play Next

Add to queue

1,143 plays

Play

Play Next

Add to queue

1,045 plays

Play

Play Next

Add to queue

1,497 plays

Play

Play Next

Add to queue

22,987 plays

Play

Play Next

Add to queue

489 plays
Hailing from South Alabama and spending over a decade in New Orleans, revered singer-songwriter Grayson Capps has found listeners the world over enthralled by his stinging tales of the Southern Gothic. He explains in his own words: "I write songs which have the voice of dead prophets masquerading as town drunks screaming 'look at us we're pretty, too!'" ...


... Over the course of four critically acclaimed studio albums and cameo appearance in the Golden Globe Award-nominated film A Love Song For Bobby Long, one will find a stunning depth to his discography, authenticating Grayson Capps as a rare American gem, equal parts country singer, bluesman, rock star, philosopher and poet. As Jambase recently declared, "New Orleans' marvel Grayson Capps is alive and well and slowly building one of the most phenomenal ..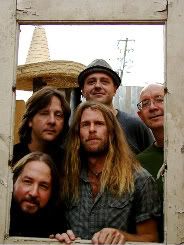 songbooks in America today. If ever there were a cat primed to pick up where Lowell George and John Prine have left off, it's Capps."


... Grayson Capps tours internationally with his band, The Lost Cause Minstrels ...


Featuring: Corky Hughes (lead guitar), Chris Spies (Hammond B-3),Christian Grizzard (bass) and John Milham (drums)

... The new album 'The Lost Cause Minstrels' is going to be released on June 7th through Royal Potato Family.


Grayson Capps & The Lost Cause Minstrels perform "Mercy"


Grayson Capps performs "New Orleans Waltz"

Grayson Capps performs "I Can't Hear You"



Grayson Capps performs "Goin' Back To The Country"
..



Grayson Capps performs "Poison"

04:51 | 602 plays | Aug 27 2009
Influences:
Can't be satisfied- Muddy Waters, Evil-Howlin' Wolf, Dust my Broom-Elmore James, Ghost riders in the sky- Vaughan Monroe, Angel from Montgomery- John Prine, Sixteen tons- Merle Travis, St. James Infirmary- traditional, Guilty- Randy Newman, Ramblin' Man- Hank Williams, Preachin' blues- Son House, Ain't no tellin- Mississippi John Hurt, Little red rooster- Howlin' Wolf, Hallelujah- Leonard Cohen, Loaded gun- Reveren Horton Heat, Fishin' blues- Taj Mahal, Ring of Fire- Johnny Cash, Columbus Stackade- trad., Windy and warm- trad., James Alley Blues- Rabbit Brown, Guitar Rag- Sylvester Weaver, Deep River Blues- Delmore Brothers, Champagne and reefer- Muddy Waters, Lamp trimmed and burnin'- Mississippi Fred McDowell, Give me back my wig- Hound Dog Taylor, Ol' Black Mattie- R.L. Burnside, God don't never change- Blind Willie Johnson, Barbara Allen- trd., Travelling Riverside blues- Robert Johnson, Yesterday is here- Tom Waits