Play

Play Next

Add to queue
Play

Play Next

Add to queue

2,459 plays

Play

Play Next

Add to queue

2,422 plays

Play

Play Next

Add to queue

3,262 plays

Play

Play Next

Add to queue

19,785 plays

Play

Play Next

Add to queue

8,176 plays
Genre: Black Metal / Christian

Location MX

Profile Views: 136697

Last Login: 3/4/2012

Member Since 1/12/2006

Record Label Exhort Metal

Type of Label Major

Bio

........ ....CARGANDO LOAD......... .. .. .. ...... ...... ...... ...... .. .. .. .. .. .. .. .. .. .. .. .. ...... .. .. .. .. .. .. .......... .. .. ........ .. .. .. .. ..................................................................................................... Hortor was formed in March of the 2004 In México City due to the disbanding of Thusiasterion which included both Azmaveth and Askenaz. After the break up they decided to continue but under the name of Hortor (to Animate and/or To exhort). Hortor draws their style from the roots of the Black metal, Symphonic Black metal and Viking Metal. July of 2004 Hortor would record what would become its first demo, which was simply titled, "Hortor". "Hortor" consisted of 7 tracks, including a cover of Antestor's, "A Sovereign Fortress". The three years to follow Hortor would not record any new material however In June of 2007 the band would begin recording a new EP entitled, "By the Sword of the Almighty Emperor". With the release of this EP the band began to see more doors opening for them, including their first live performance outside of their home country. 2007 proved to be a busy year for Hortor, in October they released their debut full length album entitled, "Decapitación Absoluta al Falso Profeta". Despite the fact of the low-fi recording Hortor once again was able to open doors securing the album distribution in Europe, South America and North America. Musically the band changed compared to their earlier recordings, but the elements remained the same, crude and atmospheric and the addition of clean female vocals parts... Fast forward to June of 2008, thanks to the acceptance of "Decapitación Absoluta al Falso Profeta", Sullen Records/Open Grave Records takes notice and picks up Hortor for the release of a new EP that is to be released later in the year via Sullen Records. As well Hortor is preparing a tour of South America, which will include Colombia, Ecuador, Venezuela and Peru. While it may not be a popular concept within the black metal community, Hortor has never lost the vision with which they began in 2004. The message of Hortor has always been completely direct, never hiding their faith and portrayed in each of their concerts and lyrics their beliefs. Knowing that what they do is simply exaltation, praise and proclaiming the name of a man who died and was resurrected for all of humanity, Jesus Christ! .. ..................................................................................................... .. .. ...... .. .. .. ...... .. .. .. ...... .. ......Thursday, November 19, 2009...... Hortor esta de regreso a tierras Aztecas, después de un largo tour por centroamerica. Fue un tour tremendo, no hay palabras para describirlo, Dios hizo cosas brutales; y a pesar de que en ocasiones hubo muchas dificultades todo salio excelente; claro, también fue muy muy cansado, pero valio la pena al ver tanta gente que se entrego a Dios, eso nos llena de un gusto tremendo. Agradecemos de todo corazón a Fernando Arbizu por todo lo que hizo en este tour, también agradecemos a Edwin, Israel, Jacobo y a toda la gente de Quiche y de Motozintla; también a la gente de El Salvador, a Ivan de Consumado, Alma blanca, y a todos los chavos que nos llevaron a cenar, a todos ustedes muchas gracias, ¡¡esperamos verlos pronto!! br /> Hortor returns to Aztec lands, after a long tour through Central America. It was a tremendous tour, there are no words to describe it, God did brutal things, and although at times there were many difficulties all came out excellent, of course, there was very very tired, but it was worth seeing so many people who give his life to God, That fills us with a tremendous taste. Wholeheartedly thank Fernando Arbizu for everything you did on this tour, we also thank Edwin, Israel, Jacob and all the people of Quiche and Motozintla; also people from El Salvador, Ivan de consummated, Alma White, and all the guys who took us to dinner, all of you thank you very much, hope to see you soon!... ....Monday, August 27, 2009...... Hortor gets ready for Central American tour, returning to Guatemala present the new album "Ancient Satanic Rituals Are Crushed in Dust" is the return of those lands for the band after two years, also will be presenting in El Salvador, Honduras and Nicaragua, will be almost 3 weeks of intensive presentations, which opens to the band the tour for the launch of the new CD in several other places that are still confirming and will be announced soon, we appreciate the support of all the people involved in this tour, see you soon!... Hortor se alista para la gira Centroamericana, regresando a presentar a tierras Guatemaltecas su nuevo Album "Ancient Satanic Rituals Are Crushed in Dust" es el regreso de la banda por aquellas tierras después de dos años, también se estaran presentando en El Salvador, Honduras y Nicaragua, seran casi 3 semanas de intensas presentaciones, lo cual abre el tour de la banda para la presentación del nuevo CD en varios otros lugares que aun se están confirmando y pronto se daran a conocer, agradecemos el apoyo a toda la gente involucrada en este tour, nos vemos pronto... Extreme Mexican black metal band Hortor sign on to Sullen records for the release of their upcoming yet to be titled EP, which will see a release late in 2008. Hortor, is a band that has worked hard over the course of the last 4 years. They have independently released three previous recordings which have all been received well from with the black metal community. This partnership between Sullen and Hortor will continue to strengthen their foothold in the Spanish scene while at the same time exposing them to many more potential fans world wide. Expect a release around October of 2008. .. .. .. .. .. .. ...... .. .. .. .. .. ...... .. ...... .. .. .. ...... .. ..

Members

...... .. ...... .. ...... .. ...... .. .. .. ...... .. .. .. ...... .. .... .. .. .. .. .. ...... .. ...... .. .. .... .. .. .. .. .. ........ .. ...... .. .. ......

Influences

Sounds Like
No recent updates in this category.
Why not...
05:13 | 2212 plays | Nov 25 2007
Bio:
..

.. ..


...................................................................................................
Hortor was formed in March of the 2004 In México City due to the disbanding of Thusiasterion which included both Azmaveth and Askenaz. After the break up they decided to continue but under the name of Hortor (to Animate and/or To exhort). Hortor draws their style from the roots of the Black metal, Symphonic Black metal and Viking Metal. July of 2004 Hortor would record what would become its first demo, which was simply titled, "Hortor". "Hortor" consisted of 7 tracks, including a cover of Antestor's, "A Sovereign Fortress". The three years to follow Hortor would not record any new material however In June of 2007 the band would begin recording a new EP entitled, "By the Sword of the Almighty Emperor". With the release of this EP the band began to see more doors opening for them, including their first live performance outside of their home country. 2007 proved to be a busy year for Hortor, in October they released their debut full length album entitled, "Decapitación Absoluta al Falso Profeta". Despite the fact of the low-fi recording Hortor once again was able to open doors securing the album distribution in Europe, South America and North America. Musically the band changed compared to their earlier recordings, but the elements remained the same, crude and atmospheric and the addition of clean female vocals parts.
Fast forward to June of 2008, thanks to the acceptance of "Decapitación Absoluta al Falso Profeta", Sullen Records/Open Grave Records takes notice and picks up Hortor for the release of a new EP that is to be released later in the year via Sullen Records. As well Hortor is preparing a tour of South America, which will include Colombia, Ecuador, Venezuela and Peru. While it may not be a popular concept within the black metal community, Hortor has never lost the vision with which they began in 2004. The message of Hortor has always been completely direct, never hiding their faith and portrayed in each of their concerts and lyrics their beliefs. Knowing that what they do is simply exaltation, praise and proclaiming the name of a man who died and was resurrected for all of humanity, Jesus Christ!
...................................................................................................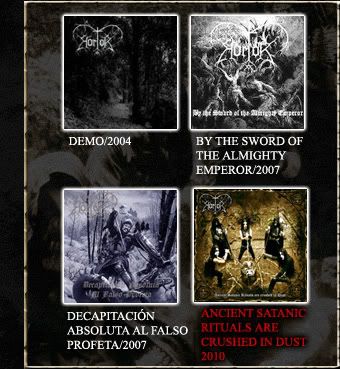 Thursday, November 19, 2009
Hortor esta de regreso a tierras Aztecas, después de un largo tour por centroamerica. Fue un tour tremendo, no hay palabras para describirlo, Dios hizo cosas brutales; y a pesar de que en ocasiones hubo muchas dificultades todo salio excelente; claro, también fue muy muy cansado, pero valio la pena al ver tanta gente que se entrego a Dios, eso nos llena de un gusto tremendo. Agradecemos de todo corazón a Fernando Arbizu por todo lo que hizo en este tour, también agradecemos a Edwin, Israel, Jacobo y a toda la gente de Quiche y de Motozintla; también a la gente de El Salvador, a Ivan de Consumado, Alma blanca, y a todos los chavos que nos llevaron a cenar, a todos ustedes muchas gracias, ¡¡esperamos verlos pronto!! br /> Hortor returns to Aztec lands, after a long tour through Central America. It was a tremendous tour, there are no words to describe it, God did brutal things, and although at times there were many difficulties all came out excellent, of course, there was very very tired, but it was worth seeing so many people who give his life to God, That fills us with a tremendous taste. Wholeheartedly thank Fernando Arbizu for everything you did on this tour, we also thank Edwin, Israel, Jacob and all the people of Quiche and Motozintla; also people from El Salvador, Ivan de consummated, Alma White, and all the guys who took us to dinner, all of you thank you very much, hope to see you soon!.
Monday, August 27, 2009
Hortor gets ready for Central American tour, returning to Guatemala present the new album "Ancient Satanic Rituals Are Crushed in Dust" is the return of those lands for the band after two years, also will be presenting in El Salvador, Honduras and Nicaragua, will be almost 3 weeks of intensive presentations, which opens to the band the tour for the launch of the new CD in several other places that are still confirming and will be announced soon, we appreciate the support of all the people involved in this tour, see you soon!.
Hortor se alista para la gira Centroamericana, regresando a presentar a tierras Guatemaltecas su nuevo Album "Ancient Satanic Rituals Are Crushed in Dust" es el regreso de la banda por aquellas tierras después de dos años, también se estaran presentando en El Salvador, Honduras y Nicaragua, seran casi 3 semanas de intensas presentaciones, lo cual abre el tour de la banda para la presentación del nuevo CD en varios otros lugares que aun se están confirmando y pronto se daran a conocer, agradecemos el apoyo a toda la gente involucrada en este tour, nos vemos pronto.
Extreme Mexican black metal band Hortor sign on to Sullen records for the release of their upcoming yet to be titled EP, which will see a release late in 2008. Hortor, is a band that has worked hard over the course of the last 4 years. They have independently released three previous recordings which have all been received well from with the black metal community. This partnership between Sullen and Hortor will continue to strengthen their foothold in the Spanish scene while at the same time exposing them to many more potential fans world wide. Expect a release around October of 2008.
Member Since:
January 12, 2006
Record Label:
Exhort Metal