Play

Play Next

Add to queue
Play

Play Next

Add to queue

841 plays

Play

Play Next

Add to queue

621 plays

Play

Play Next

Add to queue

2,809 plays

Play

Play Next

Add to queue

703 plays

Play

Play Next

Add to queue

5,104 plays
Genre: Pop

Location SAINT LOUIS, Un

Profile Views: 86452

Last Login: 1/14/2013

Member Since 2/16/2005

Website www.jonhardy.com

Type of Label Unsigned

Bio

.. .. .. .. .. .. ......Little Criminals.. from ..Jon Hardy & The Public.. on ..Vimeo..... ..Press for ..Working in Love........ ..It's albums like this that make me wish I could do more for artists. This is a very, very good CD. If you see these guys coming to your town, don't miss a chance to see them... -..Berkeley Place, Weblog...... JH & P's new record, Working in Love, is a great mix of guitar driven pop, insightful lyrics and hooks. The band has the talent to make a nice little name for itself, so why not get on board early?.. -..Hero Hill Weblog...... Cassius Clay is not only the best song on the album, it's one of the better songs of 2007... -..Captian Obvious Weblog...... There is never a dull moment to be found on the impressive Working In Love... ..Obscure Sound, Weblog...... Cruising the backroads at night with this album as your soundtrack is something close to musical bliss. I am starting to think that Jon Hardy and The Public are one of St. Louis' best kept secrets. I have a feeling that will be changing soon... -..Your Standard Life, Weblog...... Jon Hardy and The Public just released an excellent album called Working in Love, and I have been listening to it nonstop for two weeks. The band has been described as alt-country, but their use of horns, xylophones, and shimmering guitars makes them far more than that... -..Dividing by Zero Will Get You Nowhere, Weblog...... Jon Hardy and The Public tread in Americana's dreamier realm, thanks to chiming, echo-laden guitar strokes and big-hearted choruses that threaten to tear songs apart at their seams... -..The Riverfront Times, Weekly...... .................. .. ..made with the Cosmoedit ..Myspace Editor.... .. .... .. ..

Members

Jon -front /// Greg -left /// Kevin-left/// Glenn -right /// Johnny- right /// Mike -back

Influences

"The quintet's new EP has all the pieces in place: Perfectly reverbed guitars, a soulful, bouncy low-end and scene-setting organ chords all frame Hardy's wonderful, undiminished voice."-Riverfront Times, 2011 "This record is about as original as any grass-roots recording is going to get at this late date" -No Depression, 2005

Sounds Like

I've spent several hundred words in the RFT's music section extolling the virtues of Jon Hardy & the Public, so I won't take up too much more space other than to say: Goddamn. Even with a new bass player and a fill-in drummer, this group manages to amaze. I asked fellow music writer Roy Kasten to name a better song than Hardy's "Cassius Clay" to come out of St. Louis since Uncle Tupelo's "Gun." He couldn't. -RFT, Christian Schaefer
05:18 | 0 plays | Apr 15 2013
Bio:
Little Criminals from Jon Hardy & The Public on Vimeo.
Press for Working in Love
It's albums like this that make me wish I could do more for artists. This is a very, very good CD. If you see these guys coming to your town, don't miss a chance to see them.
-Berkeley Place, Weblog

JH & P's new record, Working in Love, is a great mix of guitar driven pop, insightful lyrics and hooks. The band has the talent to make a nice little name for itself, so why not get on board early?
-Hero Hill Weblog

Cassius Clay is not only the best song on the album, it's one of the better songs of 2007.
-Captian Obvious Weblog

There is never a dull moment to be found on the impressive Working In Love.
Obscure Sound, Weblog

Cruising the backroads at night with this album as your soundtrack is something close to musical bliss. I am starting to think that Jon Hardy and The Public are one of St. Louis' best kept secrets. I have a feeling that will be changing soon.
-Your Standard Life, Weblog

Jon Hardy and The Public just released an excellent album called Working in Love, and I have been listening to it nonstop for two weeks. The band has been described as alt-country, but their use of horns, xylophones, and shimmering guitars makes them far more than that.
-Dividing by Zero Will Get You Nowhere, Weblog

Jon Hardy and The Public tread in Americana's dreamier realm, thanks to chiming, echo-laden guitar strokes and big-hearted choruses that threaten to tear songs apart at their seams.
-The Riverfront Times, Weekly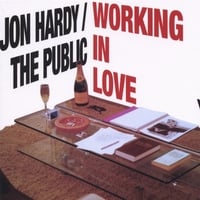 ..

made with the Cosmoedit

Myspace Editor
..
Member Since:
February 16, 2005
Members:
Jon -front /// Greg -left /// Glen -right /// Johnny- right /// Shae -back
Influences:
"This record is about as original as any grass-roots recording is going to get at this late date" -No Depression, 2005
Sounds Like:
I've spent several hundred words in the RFT's music section extolling the virtues of Jon Hardy & the Public, so I won't take up too much more space other than to say: Goddamn. Even with a new bass player and a fill-in drummer, this group manages to amaze. I asked fellow music writer Roy Kasten to name a better song than Hardy's "Cassius Clay" to come out of St. Louis since Uncle Tupelo's "Gun." He couldn't. -RFT, Christian Schaefer
Label Type:
None