Rich Medina hasn't earned any badges yet... have you?
General

What a great blessing to celebrate the first Afro Funke' of 2011 with the Afro Funke' Sound System featuring resident DJs Jeremy Sole & Glenn Red plus host Rocky Dawuni with all of our extended family of revelers! Special thanks to percussionist Tom Orr for gracing us with his music as well as surprise guests Marwan Mograbi on percussion and Fuzzbee Morse on flute. This week we have a VERY special super star DJ guest for his return to Zanzibar after many many moons. Do NOT miss this show – presale tickets available now!! www.templebarconcepts.tickets.musictoday.com/TempleBarConcepts/calendar.aspxJoin US....

-----------------:~0~:------------------

------------------:~0~:------------------

THURSDAY, January 13, 2011

------------------:~0~:------------------

AFRO FUNKE'

WEEKLY FUNK INVOCATION ------------------:~0~:------------------ Afrobeat, Brazilian, Dub, Reggae, Cumbia, Samba Disco, African Salsa, Afro-Latin House, Indian Beats, Makossa, Balkan, Funk, Blues, Highlife, Broken-Afro-Beat, Salsa, & Other deep-rooted soul music from around the world ------------------:~0~:------------------

THE RETURN OF RICH MEDINA

guest deejay:

RICH MEDINA There are few nightclub DJs that have accomplished as much on a global scale as Rich Medina. From his humble beginnings as a young b-boy-turned-DJ in Lakewood, NJ, to his current status manning the decks as one of the most popular DJs in Philadelphia NYC, Rich Medina has consistently taken multi-ethnic crowds on a sonic journey through hip-hop, house, Afrobeat, funk and soul, unearthing one musical gem fter another, for almost 20 years. Rich Medina cemented his name in the DJ world with his infamous 90's partnership with Cosmo Bakerat The Remedy in Philadelphia.In 1998, his Fun party with DJ Language was part of turning the Lower East Side of Manhattan into the new hot spot for club life. Then came the mother lode, Lil' Ricky's Rib Shack, a weekly dance function that started out as a 20-person party at APT in 2001, and evolved into an irreplaceable mid-week NYC institution for over 8 years. There, he connected with fan and hip-hop legend Q-Tip in 2005, eventually combining forces to create the Friday night weekly called Open at the Andrew W.K.-owned Santos Party House in 2007, and was soon considered the hottest Friday night party in NYC for the next 2 years. No less revered is Rich's Happy Feet party—where he and another pioneer of the turntables, Nuyorican DJ Bobbito Garcia have traded off dance, salsa, and soul music at clubs all around the world. Next of his branded events in line would be Props, the continuation of Li'l Ricky's since the closing of APT in March of 2010. In 2008, he also co-founded What The Funke, a James Brown/Fela Kuti tribute party with DJ Spinna. In addition to his own events, Rich has performed in front of crowds of thousands, DJing shows with artists like Lauryn Hill, De La Soul, Erykah Badu, Seun Kuti, Tony Allen, Nathan Haines, Roy Ayers, Gil Scott-Heron, The Roots, Jill Scott, Antibalas, Zap Mama, and Femi Kuti, among many others. From NYC to LA to London to Tokyo, and everywhere in between, music lovers know not to miss a club night when Rich Medina is manning the decks. www.richmedina.com

resident deejays:

JEREMY SOLE (KCRW/theLIFT/Musaics)

**Hear Sole's new remix for David Bowie featuring Ticklah, the Budos Band and the Dap-Kings:

www.kcrw.com/bowie www.kcrw.com/jeremysole www.facebook.com/jeremysolefamily www.twitter.com/jeremysole www.soundcloud.com/jeremysole

resident deejay:

GLENN RED (Eclectica / NextAid) www.glennred.com

hosted by:

ROCKY DAWUNI **New Album "Hymns for the Rebel Soul".. available at: www.itunes.apple.com/album/hymns-for-the-rebel-soul/id350260482 www.rockydawuni.com www.myspace.com/rockydawunimusic EPK: www.rockpaperscissors.biz/go/rocky

afro funke' photography, booking & production:

CARY SULLIVAN www.myspace.com/carysullivan www.facebook.com/afrofunke

------------------:~0~:------------------

AFRO FUNKE': Thursdays @ Zanzibar

1301 5th St Santa Monica, CA 90401 9pm | 21+ (EVERYONE Must Have ID!) | 310-451-2221

PRE-SALE TICKETS

$12 presale / $15 at door!

www.templebarconcepts.tickets.musictoday.com/TempleBarConcepts/calendar.aspx ZanzibarLive.com

|

AfroFunke.com www.twitter.com/afrofunke

------------------:~0~:------------------ UPCOMING: January 20, 2010

DJ JUN

(Umoja)

www.djjun.com

------------------:~0~:------------------ TAKE A SEC TO JOIN THE FUNKE' FAMILY:

JOIN THE AF EMAIL BLAST

Add AFRO FUNKE' on:

MYSPACE

|

TWITTER

------------------:~0~:------------------

*Exclusive

Afro Funke' T-Shirts

@ the club each week. Plus hand made hats, bags, belts & more provided by:

www.bigalhats.etsy.com

------------------:~0~:------------------ With a little help from our friends:

+

------------------:~0~:------------------

"No problem can be solved from the same consciousness that created it. We must learn to see the world anew." Albert Einstein

>

..

OFFICIAL GRAND REOPENING PRESS RELEASE JUMP N FUNK RETURNS OCTOBER 2008 Back in August of 2001, I started "Jump N Funk", aka "JNF", with then partners Debbie Sealy, and Trevor Schoonmaker. From it's humble beginnings as a 4 hour after work party at Shine (now called Canal Room), the event soon became a full blown club night and grew to be known as America's very first and most consistent DJ/Club event dedicated to the music and social contributions of the legendary Fela Anikulapo Kuti. After a year, Trevor moved on to a fruitful curatorial career, pursuing his museum dreams with "The Fela Project", and amiably leaving Debbie and I to run the "JNF" party on our own. We then connected with Peggy Jean Louis, who served as a partner from the time of Trevor's departure until her own departure to the UK to pursue her personal career with NYLO and other interests in 2006, where she continues to see consistent success today. From 2002 until 2006, "JNF" rocked The Winter Music Conference in Miami annually to rave reviews (Google it!), and made stops at The Coral Room, Martinez Gallery, and Cielo, before eventually ending up at SOB's in 2004. The relationship with SOB's is still alive and well today, but unfortunately in 2006, Debbie and I parted ways as partners, due to personal and creative differences. At that point, out of respect for the "JNF" brand's history, and the need to regroup, I stopped using the JNF name. I took a few months off after The Winter Music Conference in 2006, and renamed "JNF" to "Afro Disco." In my mind ths was the most diplomatic way I could continue the JNF tradition at the time…, new energy, new perspective, new name, and new visual presentation. "Afro Disco" in turn has been an incredible success as well, with The Winter Music Conference in March 2007, and successful events at SOB's (NYC), Fluid (Philly), Atlanta, Chicago, Washington DC, Los Angeles, San Francisco, and Boston. Despite the success of "Afro Disco", I've been asked on an almost daily basis "What happened to JNF?" "When you gonna do another JNF?" "Is Afro Disco like JNF?". Funny but true…So, after a great deal of thinking, I have made a decision to bring back the "Jump N Funk" name, live and direct, on my own. You wouldn't believe the number of requests I've had to help me reintroduce the party, or people offering to host the party for me, promote it, play there with their band, and so on and so forth. It has been truly unbelievable, and the energy I've felt from those moments has led me to reopen the event anew, sans partnership. With that, I'm proud to announce the grand reopening of "JUMP N FUNK" in October of 2008 in NYC, Philly, and Washington DC, in a trio of Fela Anikulapo Kuti birthday celebrations! We will begin with JNF at Fluid in Philly on October 10th, 2008, followed by JNF at SOB's in NYC on October 16th with special guests Zozo Afrobeat Band, followed by JNF in Washington DC with Kat ( Li'l SoSo Productions) on October 18th ( stay tuned for venue details). The "Jump N Funk" myspace page will be reopened with new information and photos as of Monday September 22nd, 2008. We are also already in talks with 5 other US cities about hosting the party as well. Things are looking really good, and we are expecting some incredible moments to come about from this rejuvenation. I write this press release today as a message to our fans who have prodded me into starting this party again, and to say thank you for your undying love and support for what we started with "JNF" back in 2001. I also write this press release sending love and peace to my former partners, and wishing them the world in their new endeavors, far and wide. We started a beautiful thing together, and I want you to know that I plan to continue carrying the torch, despite our not working together at "JNF" any longer. Fela still smiles down from heaven upon us. With that, I hope this finds everyone in good spirits and health, and here's to a new start for "Jump N Funk"! See you guys in Philly, NYC and DC in October! Love Afro Life! Music Is The Weapon Of Choice! Rich Medina Jump N Funk 2008 For press inquiries and bookings information please contact: rich@richmedina.com

www.myspace.com/jumpnfunk

Heroes

Fela Anikulapo Kuti ..............
About me: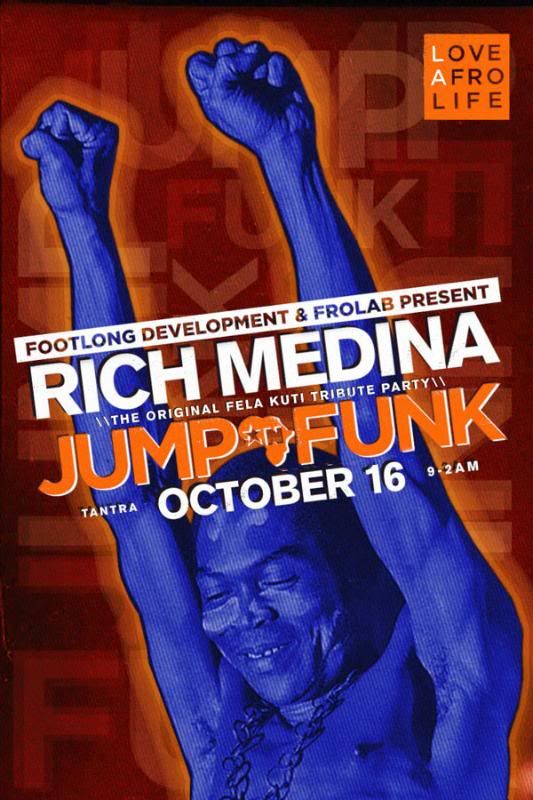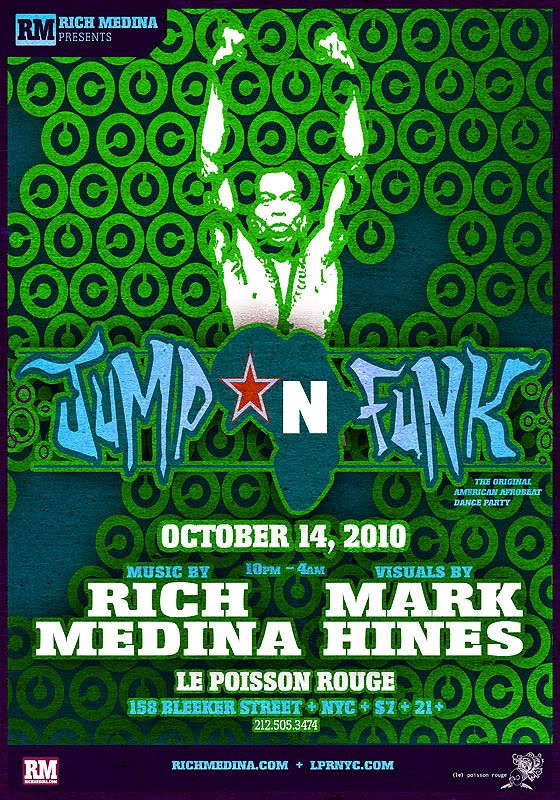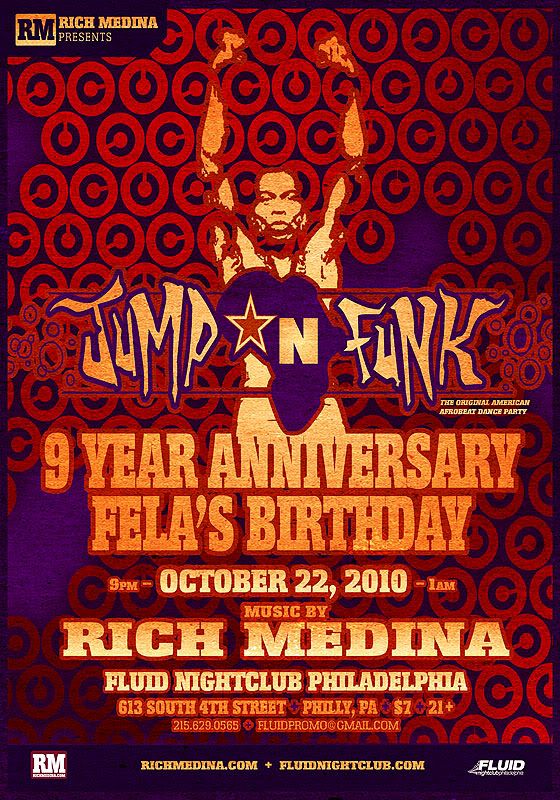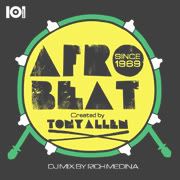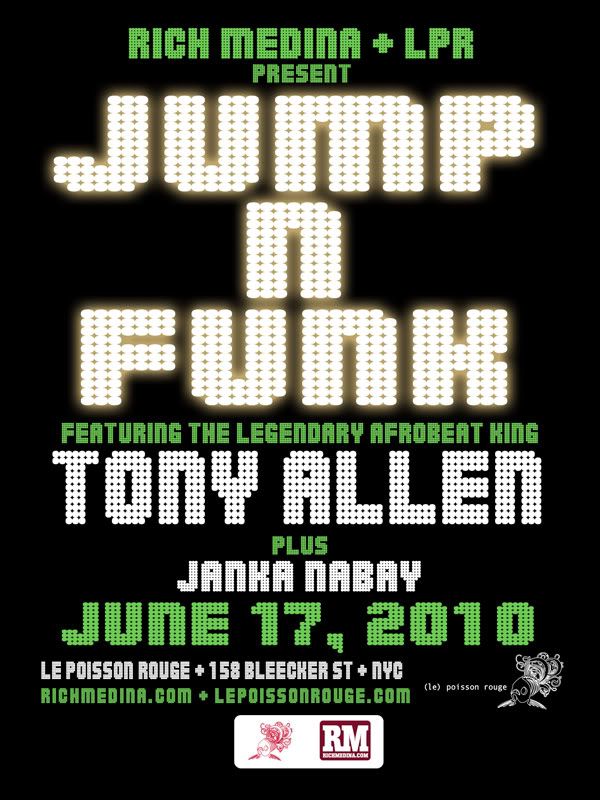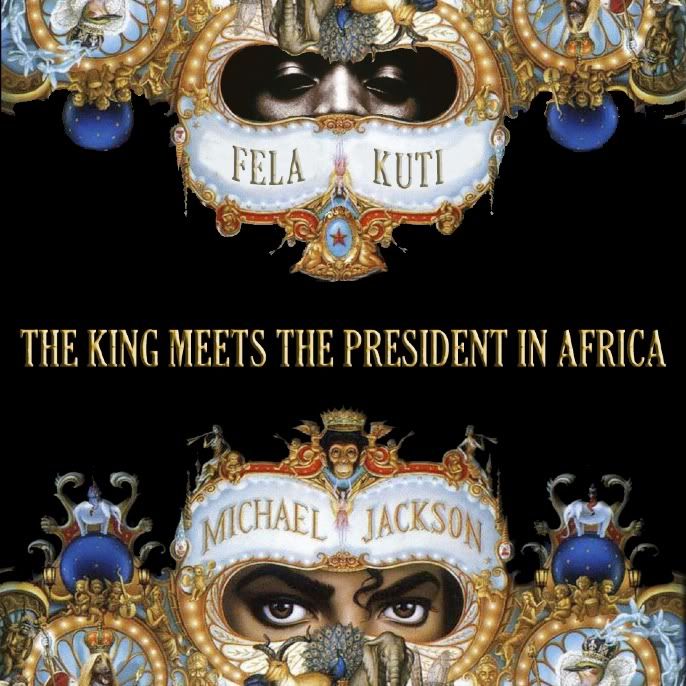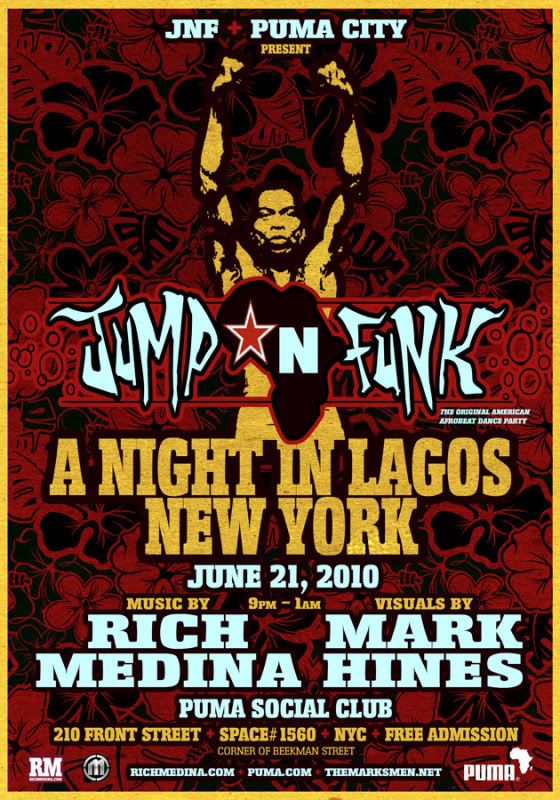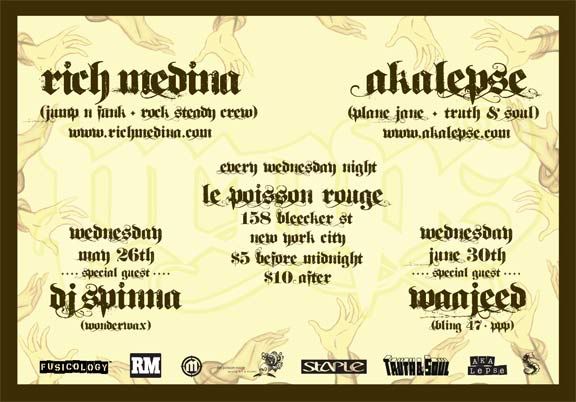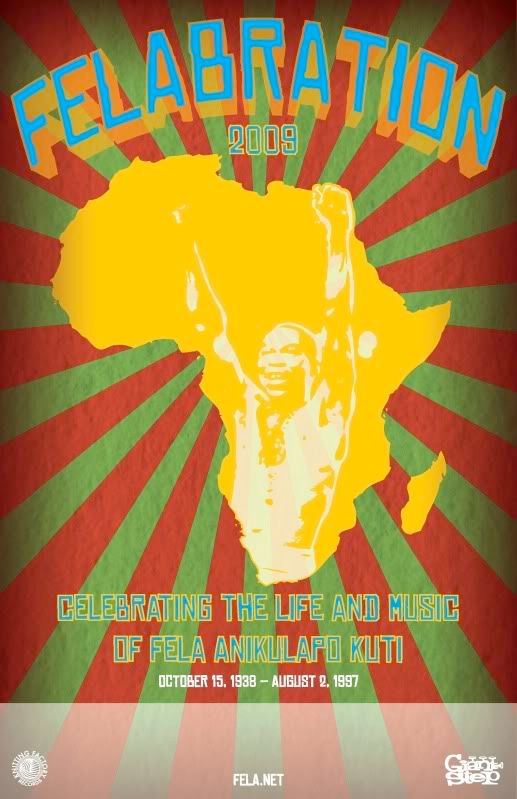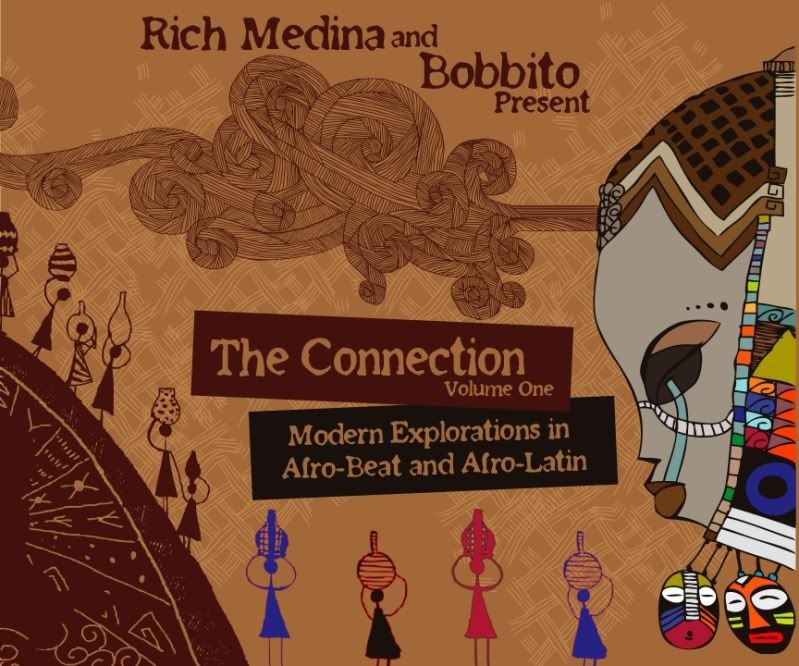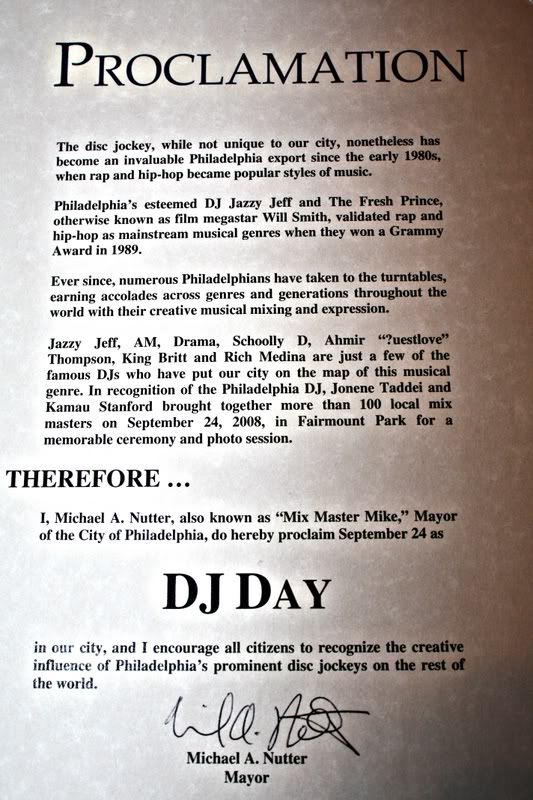 ..
A TASTE OF JUMP'N'FUNK
New York's Original Afrobreat Fela Tribute Dance Party!
Monthly @ SOB's , Check www.jumpnfunk.us for more info...
Imagine this: you are intelligent, and you are gorgeous. Not too hard, is it? Now imagine you have a cause worth fighting for. This is a little more difficult, no? Now imagine you have a place to go where there are other, intelligent, beautiful people talking about the same concerns and fighting for the same rights; and not just talking but dancing and grooving to powerful music that speaks to the soul and the fighting spirit of mankind.
This may be impossible to imagine unless you have partaken in one of the most socially-aware parties this side of a Central Park Anti-War protest. The place: The JUMP N FUNK Party. The reason: To celebrate the work of FELA ANIKULAPO KUTI, the pioneer of Afro-Funk and the solitary voice of the Nigerian people during the post-colonial rule of Nigeria in the early Seventies and Eighties.
JUMP N FUNK party brings the people in, with enticing sexy sounds of FELA. A crucible that threatens to boil over with every FELA favorite the DJ spins. This rebellious energy is the engine of resistance against the oppressive regimes anywhere in the world. As FELA KUTI has said, "Music is a weapon" and the people who participate in the collective outpouring of dance and conversation at the JUMP N FUNK become the most potent political ammunition: educated people.
Music and dance don't change policy, but they give people the joy and strength they need if they are to keep their struggles going in the face of repression, inertia, and despair.
FELA knew all this, and so does everybody who bounces to his genius all night. FELA's spirit lives on through his music and the best way to experience his music is with the floorboards thumping with the heavy stomps of a liberated people. The bass fills a room and shakes any curious investigators as soon as they walk in . It is hard to ignore the inviting non-intimidating vibe of the staff and guests.
Soon everyone is moving in a sea of sexy inhibition and an orgy is taking place all around you. Hands will grab your waist and full bottom will be thrust into your body like a drunken lover. The wrong idea is very rarely received nor given because this is the experience that FELA intended us to have; a feeling of safety and sexy, an impression of right and rebellion and an embracing of Africa and America.
..
Who I'd like to meet:
Status:

In a Relationship

Here for:

Networking, Friends

Orientation:

Straight

Zodiac Sign:

Libra

Education:

College graduate

Occupation:

DJ/FELA LOVER!