No recent updates in this category.
Why not...
JUNK GYPSY hasn't earned any badges yet... have you?
GYPSYViLLE.COM has 6400 friends.
Play

Play Next

Add to queue

Play

Play Next

Add to queue

Play

Play Next

Add to queue

Play

Play Next

Add to queue

Play

Play Next

Add to queue
About me:
..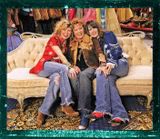 Greetings to all you junkers, DreAmers, rEbeLs, lOvErs, FighTers & wannabe pIraTes!!!

In case you are wondering WHAT the tarnation JUNK GYPSY is . . . well here ya go: ***Junk GYpSy is a small GrAsSRooTs junk & lifestyle business that was started by two sisters and their mom in 1998.***

***Amie Sikes, Janie Sikes and Jolie Sikes-Smith quickly grew their dream into a reality being recognized by media outlets such as FORTUNE small business magazine, COUNTRY LIVING, COUNTry HOME, INTouch Weekly, E! news, and most recently being featured on the NBC TODAY SHOW.***

***GYPSYVILLE is The raucous and rowdy home of gypsies, junkers, DREAMERS and true-blue REBELS! The Junk Gypsy company, with our TROUPE of talented scavengers, travels NEAR and FAR to find roadside treasures, decadent decor and exotic goods that bring a SmiLe to the FAcE!!!***

***And our team of rebellious designers work to bring you spunky COUTURE through the Junk Gypsy tees, jewelry and other charming wearables.***

***So with a little wanderlust in your soul and a rebellious gleam in your eye. . . take a magic carpet ride through our wild and spirited world!***
We believe in DREAMING the DREAM!
We believe in fighting the GOOD FIGHT!
We believe in the beautiful, wild human spirit - age 1 to 101.
We believe in LOVING TO LIVE & LIVING TO LOVE.
And most of all, we "BELIEVE in BELIEVING."
til then HAppY TrAilS to and THrouGh YaLL!!!!

Status:

Single

Zodiac Sign:

Capricorn
Texas A & M University

College Station,TX

Graduated:

N/A

Student status:

Alumni

Degree:

Master's Degree

Major:

agriculture and biomedical science

1991 to 1997

West Rusk H S

New London,TX

Graduated:

1991

Student status:

Alumni

1989 to 1991

Overton H S

Overton,TX

Graduated:

N/A

Student status:

Alumni

1985 to 1993