No recent updates in this category.
Why not...
kime buzzelli hasn't earned any badges yet... have you?
General

Eating, Painting, sewing crafts, drawing on old paper/wood/walls, metallic foil wallpapers, solving the mystery, cloning my cat, ghost stories, making out in the closet, glitter and glue projects, puppet shows, psychedelic fabrics, embroidered doilies, mobiles, old piano sheet music, art deco buildings, digging through piles of vintage 12 feet high, rollerskating,sleeping in a fort in the desert, trampolines, costumes, willow trees, capes, spooning, stained glass windows, jellyfish, spiderwebs, chandeliers, peonies, ...

MOTEL gallery show

Music

anything that seems like it could've been from a soundtrack to a movie

,

anything that makes me want to dance

,

weird women

, Psychedelic heart exploding music.

Movies

I like those late 60's early 70's films that involve haunting women in capes or coming of age...in some psychedelic manner. I love makeover movies,

Loves of a Blonde

,

fourteen year old matt dillon in over the edge Gloria

,

Daisies

,

anything Altman

,

Valley Girl

,

The Ice Storm

,

Bonnie and Clyde

,

Babydoll

,

the Bad Seed

,

I love you To Death

,

BunnyLake is Missing

,

the Cement Garden. I LOVE YOU ALICE B. TOKLAS

,

Virgin Suicides

,

Holy Mountain

,

SWEET MOVIE

,

Xanadu

,

Flashdance

, (pretty much any 80's movie that involved wanting to be a dancer)

Television

Books

Anything to do with Fashion-CRAFTS- Old Hollywood--Teen Drama--The Lonely DOLL, books by Ian McEwan, Native Flash and Funk

Heroes
About me:
I have a curious right hand. Have an infatuation with solving mysteries. Hypnotized by glitter. I prefer making art on the floor. I can spend hours gazing into the eyes of my cat that looks like a muppet with owl eyes. If you give me a pretty piece of paper and the perfect pen, I'm yours forever. I like sleeping in the clothes I am wearing, setting my alarm clock ahead and waking up before it. I don't really enjoy combed hair. Sometimes when I'm on a high balcony I imagine myself jumping and wings burst out of my back.
..

.. I got my layout at
Cleanupmyspace.com
Who I'd like to meet:
Someone who is amazed at my lack of organizational skills, George Harrison on a cloud, Someone I haven't met before. A candy colored sunset, Bedazzled ladies who lunch and lounge, people with a gap in their teeth, an appreciation for Ohio and all things sparkly. It would help if you talk fast, think quick and have a sarcastic retort on hand. At the moment I am accepting applications for the position of a.) :motivational organizer. *also like to meet- Christopher Walken for a dance lesson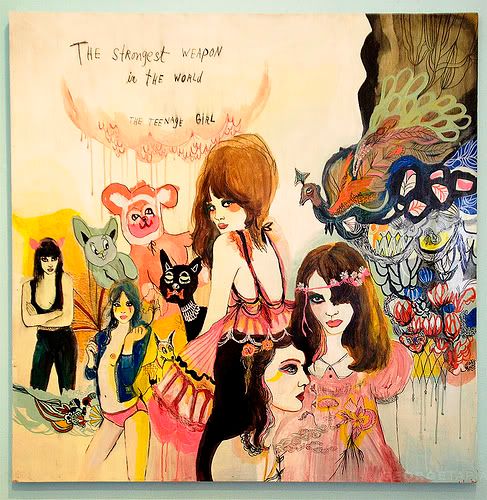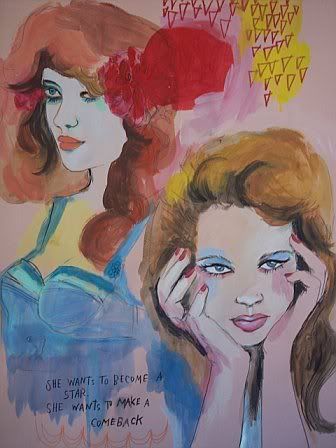 Status:

In a Relationship

Here for:

Networking, Friends

Hometown:

OHIO

Zodiac Sign:

Scorpio

Education:

College graduate

Occupation:

Artist, Clothing designer