Play

Play Next

Add to queue
Bio:
idiota
"Se aplica con enfado a la persona que molesta con lo que dice o hace, por su inoportunidad o indiscreción."
(Diccionario de uso del español. María Moliner)
"Go to Fuck Her Way" (2008 video by José Carreño)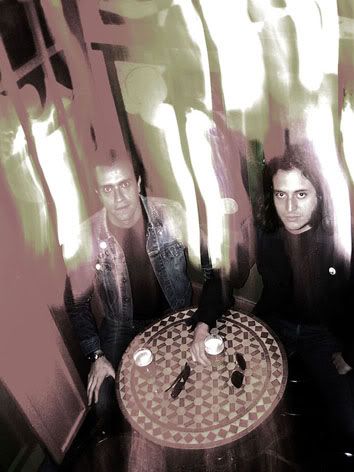 "You can be assured that this duo has one hell of a garage-rockin' sound with a kick-ass live show!!"
PJ DIRTY WATER
It did all start around 2001, in Amsterdam. Two very old friends from Valladolid who shared an obsessed liking for R'n'B, Rock and Roll, Garage, Punk Rock, Blues... They had belonged earlier to the most legendary garage band in Valladolid, Los Estuches.
In 2002 they premiered at SLEAZE FESTIVAL III in Amsterdam, making out of it a real Rock and Roll party. Afterwards, they had no problem to arrange concerts in the most significant clubs in terms of Dutch Rock and Roll and garage. They played at places like DE DIEPTE, MALOE MELO, MORLOCK GALLERY, WATERFRONT, PACIFIC PARC, dB's...
They were even demanded for the famous BUMP'N'GRIND FESTIVAL in Utrecht, and so good it was that the next year, in 2003 they were again called to share stage with the American band The Hard Feelings.
We cannot forget the spontaneous participation in the very well mentioned "MEDINA SONORA FESTIVAL" in Medina del Campo.
In 2004 Los Idiotas keep on rocking through Holland. Moreover, they play in Switzerland and they even go on a tour around Spain together with the famous Holland garage band The Skidmarks. The same year they include one of their songs on the compilation recorded as Medina Sonora III: Terror Sonoro.
Due to their compact trash sound, they keep on touring through Holland and Spain, playing in places such as PRIMITIVE FESTIVAL II – Dutch International Garage Festival in Rotterdam, where they confirm that they are in fit.
At the beginning of 2007 they went to record in Magoo Studio in Oviedo. They have got two EPs at the end of 2007, one for the American discography SLOVENLY RECORDINGS and other one for the Spanish IEKK! SOUNDS.
On their last concerts they have shared stage with Carbonas, The Spits, Jack Oblivian, Lover, Harlan T. Bobo, The Bigpay Pack, Muletrain, El Vicio... they have also played at FREAKLAND FESTIVAL & FUNTASTIC DRACULA CARNIVAL, and Los Idiotas are currently working in the studio to bring you more trash-ruacanrola.
introLOSIDIOTASoutro (video by Ál Carmona 2009)
..
Member Since:
April 03, 2007
Members:
Two beautiful Spanish idiots, former transplants to the frigid swamp known as the Netherlands, and now back in their tortilla-munching motherland. Side A was recorded in Amsterdam and brings me straight back to a 1998 MOTARDS gig. Remember them? The B-side was cut in Spain and has more of a Zeke/Dwarves sound. Don't forget the accent on the 'e'!
PETE SLOVENLY
El primer disco de estos dos pirados, que al final fue el segundo, con el añadido, si mi memoria no me falla, de ser el primer disco que unos pucelanos editan en los USA. De la mano de Slovenly, comparten escudería con bandas tan recomendables como Insomniacs, Rippers, Black Lips, Hipshakes o Masonics entre otros. Los tres temas que entregan son punk rock en toda regla, guitarras que crujen, ritmo endiablado, fuzz a destajo y diversión en forma de rock and roll, todo ello a piñón fijo desde ese "The Blob" en directo o pasando por los dos temas en castellano, con ese soberbio "Una vez tuve tu amor" ó el "Déjame en paz" chatarrero y espasmódico, sin la obsesiva necesidad de mirar a las bandas foráneas . Atención a su actuación en el Freakland de este 2008
OSCAR KICK OUT THE JAMS FANZINE http://oscarkotj.blogspot.com/
Los Idiotas, que dia a dia van creciendo, con Pelayo y Lissa moviendo, desde hace años, este proyecto y que en este 2007 que se termina, pueden estar orgullosos de editar dos ep..s. Este que nos ocupa y otro para el sello americano Slovenly. El dúo de guitarra y batería, que son una mezcla de punk- rock and roll, Gories, garaje, Cramps, Goner, Empty, y todo lo que se mueva en esos campos, se foguean con temas tan simples como efectivos como "Yeah Yeah", que es todo un hit sin ninguna duda, que necesita ser pinchado una y otra vez, sin olvidar ese clásico local "Tengo una Biblia en casa" con flipante-alucinada sección de viento a cargo de Toño ex-Cardiaco, sin pasar por alto "Feelin.. Allright", llámalos punks, llámalos rockers, llámalos Idiotas, pero no busques sus discos cuando sea demasiado tarde, cuando algún sello grande en el mundillo los fiche y este imprescindible single este sold out.
OSCAR KICK OUT THE JAMS FANZINE http://oscarkotj.blogspot.com/
Influences:
.. .. ..
"Bailando con Satán" (2005 video by Fran Hervada)
Record Label:
SLOVENLY / IEKK! SOUNDS / GHOST HIGHWAY RECORDINGS