No recent updates in this category.
Why not...
Lucy Lou Brown hasn't earned any badges yet... have you?
General

. LUCY LOU FOR MAYOR Tee Shirts, Hats and other memorabilia are NOW AVAILABLE at CafePress.com! Click the link below to go shopping! All profit will be donated to the Rabbit Hash Historical Society.





(Thanks SmittyCity, for the cool graphics!)

People, Dog Food, Bones, Catching sticks, Playing with other dogs (and some cats), swimming, barking, truck rides, going to work. And cats. I like cats. My sister is a cat.

Music

Movies

"Rabbit Hash

, the Center of the Universe"

"Avenging Disco Vampires

"Whiskey Pistolera"

Television

Lassie

,

K-9 Cop

,

Animal Planet

,

Wild Kingdom

, Wishbone
Play

Play Next

Add to queue

Play

Play Next

Add to queue
About me: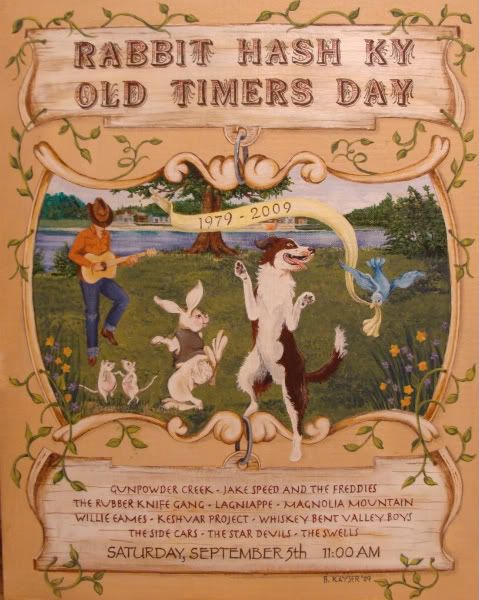 Hi. I'm Lucy Lou, a 2 year old red and white Border Collie who just happens to be the Mayor of Rabbit Hash, KY. Well, "Just Happens" may not be the right way to put it. I ran in a gruelling race against 10 other dogs, a cat and a jack ass last fall, and in the end, my people bought this election fair and square!
You see, in Rabbit Hash we make you pay to vote, and whoever gets the most money wins the election. It's kind of like politics everywhere, we're just more up front about it! And unlike politics in most parts of the world, we don't limit our election to bipeds. As long as you live within one hours chase of a rabbit into our town propper, you're eligible!
As Mayor, my duties are varied. When I'm in town they mainly consist of greeting visitors, giving tours, posing for photographs and catching sticks. However, I keep myself available for media interviews and appearances and act as the spokespet for the Northern KY Women's Crisis Center's Pet Protection Program. I'm usually around for Rabbit Hash's live music events as well. So if you're ever in town, feel free to look me up. I'm looking forward to meeting you!
You can find out more about Rabbit Hash at:
www.rabbithashusa.com
www.rabbithash.com
Favorite Jeopardy question (aired 01/08/09): Under the category of "This Just In", "Election News! The town of Rabbit Hash, in this "Bluegrass State" elected Lucy Lou, a Border Collie, as its Mayor".
Find me on Facebook!



Mayoral hopefuls attend opening | Cincinnati Enquirer | Cincinnati.Com
http://news.cincinnati.com/apps/pbcs.dll/article?A...
Powered by ShareThis
NEW MYSPACE LAYOUTS!
Who I'd like to meet:
YOU!
Status:

Single

Zodiac Sign:

Gemini