Play

Play Next

Add to queue
Play

Play Next

Add to queue

540 plays

Play

Play Next

Add to queue

450 plays

Play

Play Next

Add to queue

569 plays

Play

Play Next

Add to queue

408 plays

Play

Play Next

Add to queue

813 plays
Genre: Electronica / House / Techno

Location Cologne, Nordrhein-Westfalen, Ge

Profile Views: 147834

Last Login: 10/17/2012

Member Since 3/27/2006

Website markuswesen.com

Record Label Ohral, Blu-Fin, Tanzbar, Affin, Restart, Circle

Type of Label Indie

Bio

The musical carreer of Markus Wesen started off in the mid 90's, also appearing under the pseudonym "Alien". Even then music was his passion and he enjoyed working in the music scene. In those days he couldn't make a living out of his hobby, but a short time later his extraordinary talent was discovered and his career was accelerated. With the national DJ-Contest, in which he achieved second place, he gained attention from a nation wide audience. This was the kick-off for several Resident-jobs at venues like Green Komm, one of the most established events in Germany, reaching out to a growing fan community all over Europe who craved for his legendary and hypnotic sets! As a result, he is now sending out sound waves of his unimmitable, eclectic mix of TechHouse and Progressive over the dancing crowds in urban epicentres such as Paris, Zürich, Amsterdam and Brussels. In addition he can be found playing at gigs in the famous Space and Amnesia on Ibiza. Part of his success is most definitely due to his releases with many successful labels like Blu-Fin, Ohral, Tanzbar, We Play Minimal Records, not to mention his numerous Remix-Project contribution for Global Underground, Tapas, Circle, Restart Records and the like. Even the most sophisticated Global Players like Steve Lawler, Dufire, or John Digweed like to and continue to include his tracks in their playlists. So it doesn't really come as a surprise that he has been invited to prove his skills to audiences in Asia and South America. For those who haven't had a chance to listen to him live, you can now catch him on the radio. Since the beginning of 2007 he airs on a regular base in the Radioshow MedicStation (www.medicstation.de), on Germany's biggest Online-Radiostation so that you have the chance to get an impression yourself. He alternates as a weekly host of the show with his studio partner Pierce and welcomes international guests like Luciano, D-Nox, Chris Liebing or Moguai. Releases: 2001 "Final Cut" // Sounds Good Rec. 2002 "Groove Control / Lift Up" // Sounds Good Rec. 2003 "Passion" // Sounds Good Rec. 2004 "Sound Xperience" // Three Elements Rec. 2004 "Tribal Twice" // Bootleg 2005 "Stop Foolin' / Invasion" // Selected Works 2005 "New Skool Acid" // Sounds Good Rec. 2005 "This Music / Spirit of House" // On a Mission Rec. 2006 "Hard Flow / Time To Get Up" // Blu Fin Rec. 2007 "Waiting for Jack / C'mon" // Elektro-Lyte Rec. 2007 "Wir Gefühl / Irr Gefühl" Blu Fin Rec. (with Pierce) 2008 "Tailslide / Mc Twist" // Blu-Fin Rec. 2008 "Invasion" // Majestic Traxx (with Christian Tauber) 2008 "Blackout" // Circle Rec. (with Abel Riballo) 2008 "Hablando" // Restart Rec. (with Abel Riballo) 2009 "Time Machine EP" // Jetlag Digital 2009 "Journey to Afrika" // Tanzbar (with Khaan) 2009 "Pizza/Picknick EP" // Ohral 2009 "Connexion EP" Blu-Fin (with Khaan) 2009 "Kindergarten" // Ohral 2010 "El Supermercado" // Tanzbar (with Khaan) 2010 "House Musique EP" // Ohral 2011 "...in love from Cologne" // Ohral coming soon: "Zeitvertreib" // Ohral (with Hardy Heller) Remixes: 2003 Barbaros "Green Room" Three Elements Blue 2007 Kidland "Stalker" Circle Rec. (with Abel Riballo) 2007 Superlounge "Ghost" Restart Rec. (with Pierce) 2007 Christian Paduraru "Beatport" DiskoMassaka/Christian Rec. (with Pierce) 2007 Kidland "Dynamo" Circle Rec. (with Abel Riballo) 2008 Rubikon "Wonderland" Substream 2008 Marco Magrani "Lost & Found" Affin 2009 Pascal Vert "Bios" Global Underground/Jetlag Digital 2009 Riballo & Adilette Man "Temperature" Sunrise Music 2009 Ben Anders "Indian Spice" Waldliebe 2009 Dualton "Vila" Peepshow 2010 Remerc "Lilium" WePlayMinimal 2010 Sina "Hangin on a string" Seboho Rec. 2010 Hardy Heller "Give them a Haus" Ohral coming soon: Lukas Fritscher "Sounbranded" Tonaroma Jugendstil "Which will" Ohral B Lazo "Faceties" Ohral Sebastian Porter "Evolution" Tapas

Members

Markus Wesen (Producer & Co-Producer also for Lazo, Lukas Fritscher, Khaan, Pierce & Wesen a.o.

Influences

Sounds Like
04:19 | 26 plays | Jul 25 2011
Bio:
NEW WEB-PAGE ONLINE: http://flavors.me/markuswesen
The musical carreer of Markus Wesen started off in the mid 90's, also appearing under the pseudonym "Alien". Even then music was his passion and he enjoyed working in the music scene. In those days he couldn't make a living out of his hobby, but a short time later his extraordinary talent was discovered and his career was accelerated. With the national DJ-Contest, in which he achieved second place, he gained attention from a nation wide audience.
This was the kick-off for several Resident-jobs at venues like Green Komm, one of the most established events in Germany, reaching out to a growing fan community all over Europe who craved for his legendary and hypnotic sets!
As a result, he is now sending out sound waves of his unimmitable, eclectic mix of TechHouse and Progressive over the dancing crowds in urban epicentres such as Paris, Zürich, Amsterdam and Brussels. In addition he can be found playing at gigs in the famous Space and Amnesia on Ibiza. Part of his success is most definitely due to his releases with many successful labels like Sounds Good, Selected Works, On A Mission and Blu-Fin Records, not to mention his numerous Remix-Project contribution for Circle, Three Elements, Restart Records and the like. Even the most sophisticated Global Players like Steve Lawler, Sasha or John Digweed like to and continue to include his tracks in their playlists. So it doesn't really come as a surprise that he has been invited to prove his skills to audiences in Asia and South America.
For those who haven't had a chance to listen to him live, you can now catch him on the radio. Since the beginning of 2007 he airs on a regular base in the Radioshow MedicStation (www.medicstation.de), on Germany's biggest Online-Radiostation so that you have the chance to get an impression yourself. He alternates as a weekly host of the show with his studio partner Pierce and welcomes international guests like John Acquaviva, Sharam Jey, Umek or Moguai.
Releases:
2001 "Final Cut" // Sounds Good Rec.
2002 "Groove Control / Lift Up" // Sounds Good Rec.
2003 "Passion" // Sounds Good Rec.
2004 "Sound Xperience" // Three Elements Rec.
2004 "Tribal Twice" // Bootleg
2005 "Stop Foolin' / Invasion" // Selected Works
2005 "New Skool Acid" // Sounds Good Rec.
2005 "This Music / Spirit of House" // On a Mission Rec.
2006 "Hard Flow / Time To Get Up" // Blu Fin Rec.
2007 "Waiting for Jack / C'mon" // Elektro-Lyte Rec.
2007 "Wir Gefühl / Irr Gefühl" Blu Fin Rec. (with Pierce)
2008 "Tailslide / Mc Twist" // Blu-Fin Rec.
2008 "Invasion" // Majestic Traxx (with Christian Tauber)
2008 "Blackout" // Circle Rec. (with Abel Riballo)
2008 "Hablando" // Restart Rec. (with Abel Riballo)
2009 "Time Machine EP" // Jetlag Digital
2009 "Journey to Afrika" // Tanzbar (with Khaan)
2009 "Pizza/Picknick EP" // Ohral
2009 "Connexion EP" Blu-Fin (with Khaan)
2009 "Kindergarten" // Ohral
2010 "El Supermercado" // Tanzbar (with Khaan)
coming soon:
"Zeitvertreib" // Ohral (with Hardy Heller)
"Mood EP" // Ohral (Mazoo projekt with Lazo)
"House Musique EP" // Ohral
Remixes:
2003 Barbaros "Green Room" Three Elements Blue
2007 Kidland "Stalker" Circle Rec. (with Abel Riballo)
2007 Superlounge "Ghost" Restart Rec. (with Pierce)
2007 Christian Paduraru "Beatport" DiskoMassaka/Christian Rec. (with Pierce)
2007 Kidland "Dynamo" Circle Rec. (with Abel Riballo)
2008 Rubikon "Wonderland" Substream
2008 Marco Magrani "Lost & Found" Affin
2009 Pascal Vert "Bios" Global Underground/Jetlag Digital
2009 Riballo & Adilette Man "Temperature" Sunrise Music
2009 Ben Anders "Indian Spice" Waldliebe
2009 Dualton "Vila" Peepshow
2010 Remerc "Lilium" WePlayMinimal
2010 Sina "Hangin on a string" Seboho Rec.
2010 Hardy Heller "Give them a Haus" Ohral
coming soon
Lukas Fritscher "Sounbranded" Tonaroma
Jugenstil "Which will" Ohral B
Lazo "La Faceties" Ohral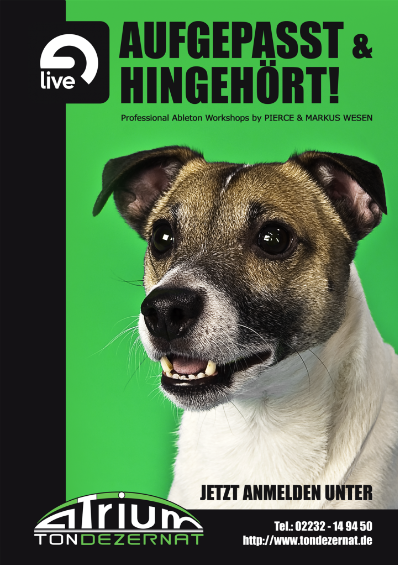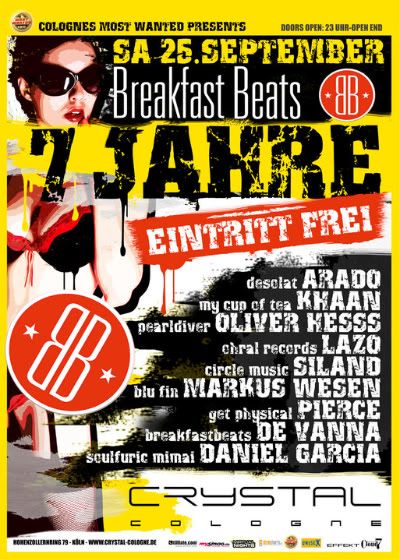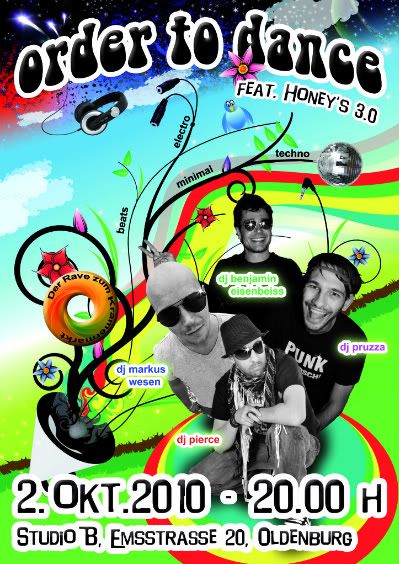 MARKUS WESEN - Kindergarten EP has an amazing feedback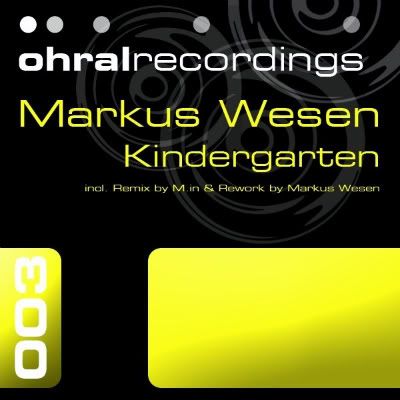 played by: Richie Hawtin, DJ Hell, Joris Voorn, Danny Tenaglia, Phil Weeks, Stephan Bodzin, Steve Lawler, Patrick Lindsey, Osunlade, Damian Wilson, Tim Green, Misjah, Stanny Fanssen, Namito, Hugo, Jelo, Someone Else, Benno Blome, Marc DePulse, Rennie Foster, Jacuzzi Boys, Pierce, Jorge Ciccioli, YNK, Sasch BBC, Patrick Kunkel, DUALTON, Bastian Schuster, and many more
Video-Flyer by Artist ORLANDO for his crazy Partybaby SONDERBEAT. The Gold-Edition will follow;-)


..
Member Since:
März 27, 2006
Members:

Influences:
Another night on a legendary party in Cologne. This was the the birthday celebration of the founder of WAREHOUSE. Round about 20 Years Techno-History and I'm proud to be a part of it,- for sure I'm glad to perform there. This time I play the big floor so my music it's a little more straighter then usual. The audience gave me a great feeback that night, so it's a pleasure to me to give them back something. Here's the Live-Cut of that great night;-) Sorry for some little distrubtions in some short moments,- but some technical troubles happens while recording - thats live :-)))) So feel free to catch or play that mix and enjoy it :-)
Markus Wesen @ Warehouse 04/09/10 by Markus Wesen Promos
This is the second Live-Cut i made at Avsa,- a island 4 h for Istanbul in the Sea of Marmara. This set i was perform in a bar near the harbour while the sundset. I'd started to record it, when the sun just hide behind the horizon. The atmosphere was relaxed and the people need something to dance that moment. So thats the pics to start into the journey of that mix,- hopefully you also let your mind go and follow that sound into the that amazing vibes of that night. Enjoy it!!!!!
Markus Wesen @ Avsa (Turkey) Harbour Mix by markuswesen
My first time ever in Turkey. Mallern & Muzik was the event to play there. One week with some crazy people from Germany with a lot of fun and a lot of party. This is a live-cut from a lazy afternoon at a hotel-beach to start into the evening. Hopefully I catch you on a journey to that place also...just in your head...the people there started to dance into the sun...so let's go!!!
Markus Wesen - Beach-Set @ Avsa Beach, Turkey by markuswesen
another livecut of me, myself & i. this time it was an ohral-labelnight at a club called crystal in cologne. it wasn't really crowded, but atmosphere was amazing. the people was screaming (nearly) the hole time when i was playing. next time i have to take with me a microphone to catch that :-) so enjoy that new mix and sorry about some mixing-faults at the last 20 minutes of that live cut, i wasn't really concentrated anymore that time,- too much impressions
Markus Wesen - Ohral Labelnight @ Crystal by markuswesen
A great carnival weekend in Cologne:-) That mix was recorded at the first two hours at Kit Kat Club sunday's evening in Cologne. A great audience and an really sexy atmosphere wich came to the peek after minutes. The club was complete packed after the first hour open. Nearly 3000 people was there to party to the early monday morning. Really delicious!!!!
Markus Wesen LIVE @ Kit Kat Club 14/02/10 by markuswesen
First weekend after sylvester is always difficult to to get a pact party. Not this time! That was a great party with a great audience. The people did need it a little bit harder so this set is a little bit more techno:-) Just listen to it or download on hour mp3 player and get a part of it. Feedback is appriciated;-)
Markus Wesen @ Elektro-Küche, Cologne 09/01/10 by markuswesen
hi guys, here's a new demo mix, also send at proton-radio 25/11/09 ::: feel free to play or download;-)
Markus Wesen @ Proton Radio 25/11/09 by markuswesen
and another big bang with my buddy pierce:-) this time we've played together at 6 year's cmw b-day at one of colognes most favourit club TEATRO. it was an amazing nigt with an amazing crowd. video and playlist will follow
PIERCE & MARKUS WESEN - DJ SET @ TEATRO Köln 17.10.2009 by PIERCE
ohhh what an night:-) last blu-fin labelnight, which was also my b-day party, was an amazing party really. here are more then two hours of pierce & me back2back in double-action at 4 decks live recorded at bogen 2, cologne germany. thx for all make that party possible!!
Pierce & Wesen live @ Blu-Fin Labelparty 18.09.09 by markuswesen
..
..........
..
..
..........
..
Markus Wesen @ 18 Jahre Warehouse Okt. 09

Markus Wesen @ Dejavue Party Nov. 08

Markus Wesen & Pierce @ Dejavue Party Jan 09

Markus Wesen live @ 304 Radio - Düsseldorf (12/11/08)

Markus Wesen @ Exhibition / Croatia 06/08

AlieNation15/09/07

Meinem Profil hinzufügen | Mehr Videos Heaven - Vienna 04/05

Zu meinem Profil hinzufügen | Mehr Videos Blu-Fin Label Night

Zu meinem Profil hinzufügen | Mehr Videos Markus Wesen live @ GreenKomm Jan.08
..
Record Label:
Ohral, Blu-Fin, Tanzbar, Affin, Restart, Circle
Markus Wesen has 12710 friends.