No recent updates in this category.
Why not...
mehanata Bulgarian Bar hasn't earned any badges yet... have you?
Play

Play Next

Add to queue
About me:
..
MEHANATA BULGARIAN BAR
113 Ludlow btw Rivington & Delancey
Mehanata Bulgarian Bar
, the Lower East Side's ultimate multi-national drunken Balkan disco divebar extravaganza!! Brass bands, belly dancers, hookah, hot girls, RAKIA, and good people! Open Thursday - Saturday until 4:00AM. Available for birthday parties, weddings, and funerals...
THE ICE CAGE
. Mehanata's very own refrigerated glass vodka room. $10 to enter, $20 per head and you'll be clothed in a Russian military uniform and handed an ice shotglass. You have two minutes to drink up to 6 shots... OPA!!
- - -
For all bookings, contact Michelle Christina:
michelle.christina.larsen@gmail.com
- - -
HELP FUND GYPSY CARAVAN
From Jasmine Dellal & Little Dust Productions
"We're off to Hungary this summer to show a film and make a film. And we're asking for your help...
Our aim is to use film to challenge "Gypsy" stereotypes – stereotypes so dangerous that there are frequent attacks on Roma ("Gypsies") purely due to their race. In the past two years, 8 Roma have been lynched in Hungary. Whole villages have been mobbed. Police don't even pursue crimes against Gypsies. Employers openly reject Gypsy job applicants. Kids are kept out of school (this is banned by European courts but everyone knows it continues). Adults are barred from shops & nightclubs. Racism is rampant and accepted.
People say openly that Gypsies are the "Niggers of Europe" (I quote!). In the 21st century, this is totally unacceptable.
Slowly, some charities are trying to change things (and one of the world's richest men, George Soros, supports many such pro-Roma efforts). But it won't be easy, so I think we've all got to pitch in. And one of the best modern weapons against prejudice is film.
Phew – something we can do!"
CLICK TO LEARN MORE & PLEDGE AS LITTLE AS 2 DOLLARS
!
WE NEED $8,000 BY AUGUST 10TH.
UPCOMING PERFORMANCES AT MEHANATA...
EVERY FRIDAY 10:00PM - 12:00AM
YURI YUNAKOV & Grand Masters of Gypsy Music

Internationally acclaimed gypsy wedding music master Yuri Yunakov draws crowds every week until dollars, shoes, and drinks are flying. His fans span Bulgaria, Romania, Greece, Macedonia and Turkey! Come learn the meaning of a festive night out in Manhattan!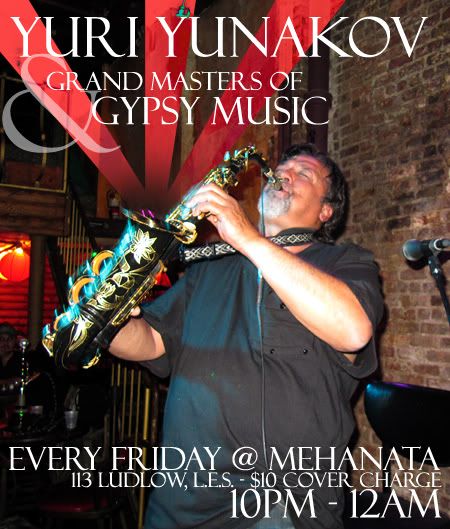 EVERY THURSDAY 11:30PM - 4:00AM
[Burdel Dali Presents] Gypsy Punk Trans-Global Dance Party

A technicolor parade of transglobal merry-makers & music lovers! Gypsy Punk Parrand, Punjabi Bhangra, Remixed Russian Festive, Ex-Yugoslavian anthems, Bulgarian Chalga, Flamenca, and more! A festival for the highly decorated, music-saturated, lovers of life and rowdy companions... → Raphlex... (Arequipa, Peru) → DJ Mishto (Bucharest, Romania). Visit their blog for details & photos.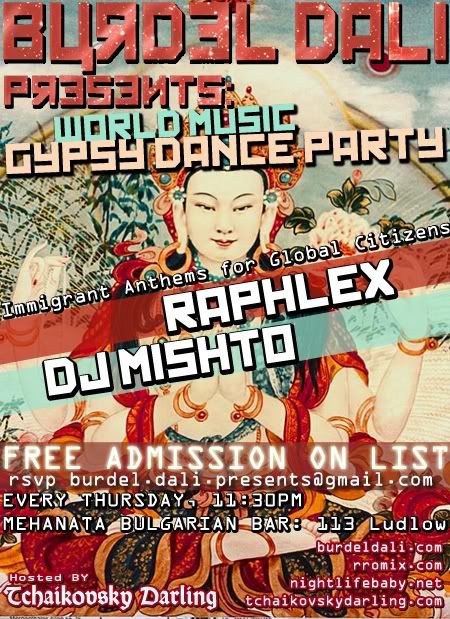 The ICE CAGE is where it's at on Fridays with DJ WHO AM I...




MAGGES, upcoming dates...



<
For the most up-to-date Mehanata schedule, visit Mehanata.com.
Who I'd like to meet:


From NYMAG:

"There are 8 million stories in the Big Apple, and many of the good ones have involved depraved nights at this Bulgarian bar. [...] Those hunting for the old depravity need only ask the bar minx for a ladling of alcoholic apple cider or a bottle of Astika, a Bulgarian pilsner, and then tramp downstairs, where the familiar sign "Get Naked, Get A Free Shot" encourages the sweaty swarm of fashion brats and ex-pats to get every bit as raw as their brick- and stone-walled surroundings."

From YELP:

"After a night here you may wake up thinking, wow, how the heck did I end up at that place and did I really see a man dancing with a chair on his chin? What was the name of that place and will I be able to find it again ? "

"Oh my lord. I thought the Soviet Union had dissembled in the 90s but clearly it lives on in this Bulgarian Bar! I can't even say how refreshing it is to actually hear people say 'opa!" after their shot, and dance around in a circle."
Status:

Swinger

Zodiac Sign:

Capricorn

Occupation:

alcoholic