About me:
..

Myspace Layouts - Myspace Editor - Image Hosting
Well, it's about time that I update this page, too.
Most of you know by now that Twilight Fantasies Publications, the publisher of
Casting Call for Love
has gone belly-up like a Wal-Mart goldfish.
This means that
Casting Call for Love
is no longer available for sale. That does
NOT
mean it's not available!
Check out my home page (link below) for how YOU can win a free copy now!
I'm Melodee Aaron and I write erotica romance for a living.
Some folks would say that I write dirty books.
Maybe I do.
The differences are several.
First, my stories have a lot of romance. A
LOT
of romance. In some places, the romance and the loving relationships between the characters is very sweet, with a young, fresh quality. In others, it's red hot, scorching the pages.
Second, the stories are written for women from a woman's point of view. Frankly, most men will find the stories sappy and wordy. At least until they hit the hot stuff.
I live in Sunny Southern California. Yes, that's the place. The one that's on fire most of the year.
I love what I do, and I can't imagine doing anything else.
For more about me, you can visit my web page or my publishers at the links below.
Melodee Aaron, Erotica Romance Author

Winner of the REC Writer of the Year (2006 Erotica)

Keep Loving!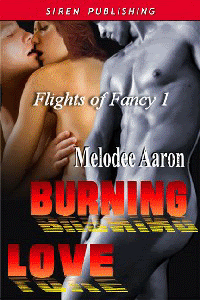 Melodee's Blog
Melodee's Books at Siren Publishing
Melodee's Yahoo! Group
Melodee's Google Group
Inquisitor Betrayer
Who I'd like to meet:

Just Friends. That said, other authors, publishers, and anyone in the industry.

Most of all, READERS are always welcome!

You can E-Mail me at melodeeaaron@yahoo.com


Status:

Married

Here for:

Networking, Friends

Hometown:

The Ozarks

Orientation:

Bi

Body type:

5' 9" / Athletic

Ethnicity:

White / Caucasian

Religion:

Other

Zodiac Sign:

Pisces

Children:

Proud parent

Smoke / Drink:

No / Yes

Education:

Post grad

Occupation:

Professional Author

Income:

$250,000 and Higher
General


Reading, writing, being the center of attention. I like being the center of attention no matter what I do. I'll admit it...I'm an attention junkie. I have the attention monkey on my back. I get the shakes when I'm not the center of attention.

Oh, did I mention I like being the center of attention?



Music

Movies

Television

Books

My own!

Check out my currently available books here:

The Polyamorous Princess Desert Heat For the Love of Payne

Heroes


Wow...this is a tough one...

Martin Luther King, Jr.

Chuck Yeager

The Challenger 7

The Columbia 7

The crew of Apollo 1

Hey! I write sci-fi!


Southeast Missouri State University

Cape Girardeau, MO

Graduated:

1993

Student status:

Alumni

Degree:

Bachelor's Degree

Major:

Liberal Arts

Minor:

Literature

Clubs:

None - Just a little silly if you ask me.

1988 to 1993