Genre: Electro / Electronica / Techno

Location London via Brighton (by way of Devon), Un

Profile Views: 4047456

Last Login: 10/23/2012

Member Since 3/6/2005

Website www.metronomy.co.uk

Record Label Because Music

Type of Label Indie

Bio

The metronome is not a device known for its deviation. It strikes a predictable, functional pattern. Each time Metronomy release an album, on the other hand, there is a scorched earth change of pace and tone. Yet the pulse never disappears, it just reanimates for a brand new dancefloor. Anyone expecting more of the same digital melancholia as heard on the universally-lauded Nights Out is in for a shock – but a pleasant one. The English Riviera, Metronomy's third album – and second, after Nights Out, on Because Music – is a belting, unashamed pop album, a gorgeous record full of languid, sunset funk songs, which looks set to propel Metronomy even further than they have travelled thus far. The gorgeous 'Everything Goes My Way', featuring the voice of Roxanne Clifford of Veronica Falls, is an understated summer classic. The organ hook that defines first single 'The Look' burrows into your head and doesn't leave. Crucially too, it is an album that is even more danceable than its predecessor. Listened to again with this knowledge, much of Nights Out (particularly the opening title-track) sounds like a glorious death march for bedroom recording, for Metronomy at least. "If I stayed recording in my bedroom," explains Mount, "it would be like when rappers keep rapping about their street lifestyle when they are obviously a lot better off. Now it would be a real decision for me to keep doing it on a shit computer, with a battered soundcard. For the first time ever, as studios are cheaper due to the recession, it is in the realms of possibility [for us to record in one]. It might sound quite hypocritical of me, but the problem with home recording is people think that anyone can make music on computers without putting the work in. You forget that there is this real tradition of recording music this way." The new album was recorded in a converted garage in Wapping, east London. "We did it in a studio called the Smokehouse, run by a proper old school guy who is always talking about the Faces and Led Zeppelin," says Mount. "Maybe next time it will be in LA, but for now it's Wapping." If Nights Out was possessed by the feel of the 4am chemical-inspired journey to the next party, The English Riviera is floating over calm waters on a balmy summer's day, with Mount swapping on-edge, nocturnal fuzziness for the warm studio feel of classic 1970s artists, such as Fleetwood Mac, Steely Dan and Stevie Wonder. Though Mount splits his time between London and Paris these days, the album was born out of a newfound focus on where he started making music over a decade ago: Devon. The idea of The English Riviera connects Mount and co with the chunk of the South West coastline near to where he grew up. "I just fantasised that this area was a cutting edge place of music and youth culture, which it isn't at all," he explains. "Imagining that this part of England creates a specific kind of music – the 'Devon Sound' – similar to West Coast studio music of the 1970s. If you went there and you had the geographical landscape in mind you'd end up making quite reflective, introspective music. This was just me writing a fantasy about Devon being this cool place like Portland, Oregon, so saying 'I'm from the English Riviera' to the music press would get you a few column inches, instead of remind you of Fawlty Towers." Mount remembers tuning into regional radio when growing up in Devon, and being appalled by songs like 'American Pie' by Don McLean, and 'Dreams' by Fleetwood Mac. "I would always have the same reaction to those songs. I remember hearing 'Dreams', I was like, 'Oh fuck I hate this song. I don't know why, but I hate it so much.'" Yet an epiphanal listening session transformed his attitude. "A few years ago, I bought Rumours, and when I heard 'Dreams' I thought, 'Oh my God, this is completely amazing.' It had been there all along in my subconscious, and I suddenly thought that Fleetwood Mac are great and that there is nothing to be ashamed of. Being as cocaine-fuelled as they were and also doing this amazing music, which is also really catchy, that's pretty impressive." Metronomy started out in Totnes in Devon, after Mount had spent years drumming in "loads of bands, some questionable" at school. Drunk on Björk and Aphex, he locked himself away in his bedroom and started recording on his computer. Moving to Brighton for educational reasons, he released debut Pip Paine' (Pay The £5000 You Owe) in 2006. When Mount was asked by Erol Alkan to play live at his club, he enlisted Oscar Cash and Gabriel Stebbing to join the project. Mount still writes all the songs, and keeps a "Kevin Rowland-like" grip on the way they are produced, but live Metronomy is definitely a quartet. Ahead of The English Riviera, Stebbing left with the group's blessing, so Mount acquired a drummer and a bass player in Anna Prior and Gbenga Adelekan to add to the remaining core of he and Oscar. "When we started, the three of us wanted to get to the point where we were literally just playing live," he explains. "It has taken a while, but now we don't use backing tracks or anything like that, it is all completely played and so is more of a spectacle." Mount is pleased with the path the band is heading down, although he is still keen to keep things fresh next time round. "I definitely had no intention of doing the same thing again. I like the stuff that changes," he says. "I still feel like we're starting out in our career. One day there might come a time when we'll have released a huge output that people can draw lines between and look for similarities." For now, though, we can just enjoy the warmth of The English Riviera, the latest instalment in Metronomy's epic journey into pop's heartlands.

Members

Joseph Mount, Oscar Cash, Anna Prior, Gbenga Adelekan

Influences

Sounds Like
No recent updates in this category.
Why not...
Bio:





____________________________
Metronomy's forthcoming album "The English Riviera" is available now on
Itunes FR
,
Itunes UK
,
Itunes US
..
BIOG so far...
Metronomy the brainchild of Joseph Mount began ten years ago in the tiny, bohemian market town of Totnes in Devon, when Joseph's Dad sold his son a computer so he could sit in his bedroom and make electronic music inspired by the likes of Autechre, LFO and Aphex Twin, more as a creative hobby than a pop masterplan.
After decamping to Brighton for Uni, Metronomy released the debut album in June 2006. It was called 'Pip Paine (Pay The £5000 You Owe)', and its obtuse but fascinating, largely instrumental electro-pop reflected the eccentricity of its title, and the enduring influence of Totnes.

Joseph admits that he only, finally, saw the commercial possibilities of Metronomy when DJ, producer, Trash founder and electro-punk avatar Erol Alkan began to feature the single 'You Could Easily Have Me' in his sets, and asked Metronomy to play at his club. Cue the need for a proper live show, and the additions of Gabriel, Oscar, dance routines and clothes that blink.

Move on 2 years and 'Nights Out' a wonky love-child of Giorgio Moroder, New Order, Pet Shop Boys and Unfinished Sympathy is a second album that feels like a debut. the first to be vocal-led, with the self-effacing Joseph stepping up and grabbing the mic for most of the tracks; and, crucially, the first to introduce Metronomy as a fully live propsition, rather than a pseudonym for Joseph's solo work.

As Metronomy's busy touring schedule built a buzz amongst kids who instinctively get the dance/art crossover, In April 2009 the Metronomy show took another leap in its evolution, with the addition for the first time of a live drummer in Anna Prior, and bassist Gbenga Adelekan. The new Metronomy was completely live, proving it is possible for electronic bands to put on show as authentic as any rock band.

Meanwhile Joseph has embarked on a series of prestigious remixes for the likes of Klaxons, Franz Ferdinand, Gorillaz and collaborations with Kate Nash, Florence and The Machine. Metronomy produced part of the highly acclaimed Roots Manuva album 'Slime and Reason' and (time allowing) will continue to do so in his usual prolific manner.

And now working hard in the studio for album number 3 and producing Your Twenties.
Member Since:
March 06, 2005
Members:
Joseph Mount, Oscar Cash, Anna Prior, Gbenga Adelekan
Influences:
Booking
matt@primary.uk.com
Press
laura@anoraklondon.com
Management
stephen@moshimoshimusic.com

Sounds Like: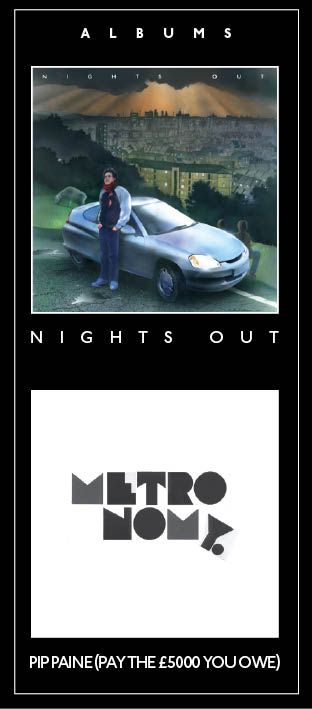 get NIGHTS OUT on iTunes: France / UK / Belgium / Denmark / USA

also available (France): Fnac Music / Virgin Mega / Starzik and SFR
also available (UK):
HMV,
.. Amazon UK,
Play
and
Rough Trade
.
_____________





All available now on iTunes (Worldwide) & 7 Digital.

_____________

Record Label:
Because Music
Metronomy has 52064 friends.